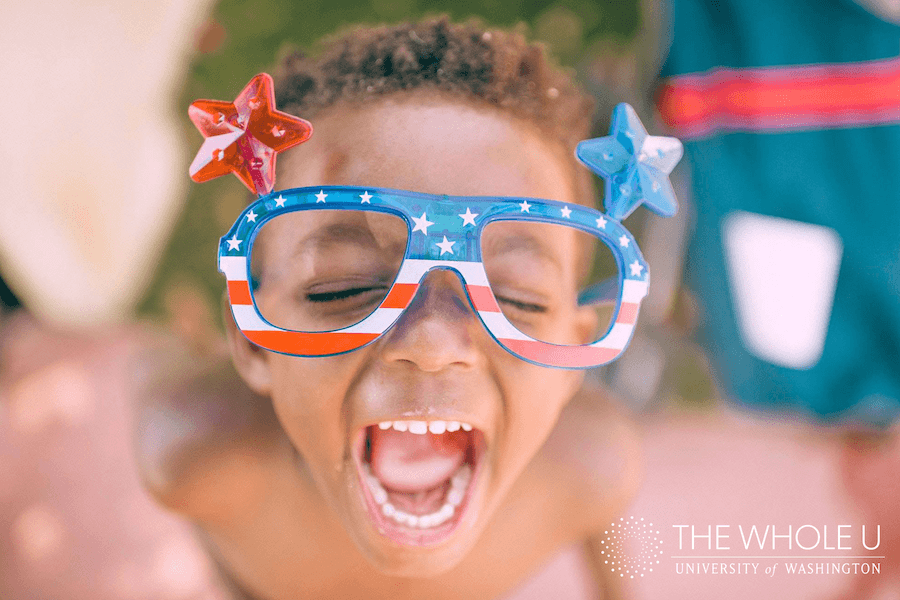 Blast Off: Where To Celebrate This 4th of July
The day full of family fun, barbecuing, and fireworks is finally here! Whether you plan on spending time with the people you love or honoring our veterans, July 4 is a day where people come together to celebrate, spread love, reflect, and express gratitude. But sometimes it can be hard to figure out how, where, and who to celebrate this holiday with.
The Whole U is here to help you, your friends, and family have an engaging, upbeat holiday with a list of near-by events that honor the independence of the United States of America.
What To Do in the Greater Seattle Area on the 4thof July:
---
Gas Works opens at noon and Lake Union opens at 3:00 p.m. with fireworks at 10:15 p.m.
Voted one of the nation's best fireworks shows by USA Today and Business Insider, the show features fireworks with fantastic displays fully choreographed to Seafair's custom musical score, simulcast on WARM 106.9.
At Gas Works Park: 
Throughout the day, guests can enjoy food vendors, live entertainment and exhibit booths. For those 21+, quench your thirst in our beer garden. Kids are invited to participate in the All-American Games featuring pie-eating contests, sack races and more. Admission is free, but to guarantee the best views of the fireworks, reserved seating is available for purchase.
At Lake Union Park: 
Opening new this year, a 21+ location at Lake Union Park provides limited reserved seating and an expansive beer garden.
---
Event begins at 2:30 p.m. with fireworks at 10:05 p.m.
This is Eastside's largest Independence Day celebration, which is presented by The Bellevue Collection. Together with 60,000 people, we'll celebrate our nation's birthday with free admission, live music, kid's activities, food, and family entertainment, all leading up to a firework show set to a Bellevue Youth Symphony Orchestra performance.
---
Race begins 9:00 a.m.
The Bellevue Four on the 4th is an annual, non-competitive 4k event that starts and ends near Ashwood Park in Downtown Bellevue. The post-race celebration includes music, a pet costume contest, photo booths, vendors and more! All participants receive a t-shirt, race bib, and goodie bag full of treats for you and your pup.
---
Events going all day with fireworks at 10:15 p.m.
Join the festivities at the morning parade, a children's decorating event, music, food and community vendors at Marina Park, and finally a fantastic firework display off of Marina Park with viewing from most downtown waterfront parks.
---
Event begins at 9:00 a.m. with fireworks at 10:10 p.m.
Whether this will be your first year at Freedom Fair or your 40th, we hope you will be a part of the 3rd Largest July 4th Event in the USA with 80,000 in attendance. This "destination" event has it all: Multiple Stages with National & Regional Music Acts, Amazing Air Show, Huge Fireworks Presentation, Camp Patriot with Military Displays, Classic Car Show, Funtastic Kids Park with Arts & Crafts Vendors and Delicious International Food Courts & Beer Gardens.
---
Event begins at 8:00 a.m. with fireworks at 10:00 p.m.
Gene Coulon Memorial Beach Park is the perfect summer backdrop for Renton's 4th of July celebration! Entertaining options include two ActivityZones for kids and families, co-ed grass & sand volleyball tournament, live stage entertainment and more. A 25-minute firework display over Lake Washington will conclude the day's events at 10 p.m.
---
Event begins at 11:00 a.m. and ends at 4:00 p.m.
Celebrate our country's birthday at Les Gove Park. The event includes a noon bike parade (meet East of the Bocce Courts), various entertainment on two stages, an arts & craft area with over 50 artists, a car show, 19 inflatable rides, a rock wall, euro-bungee trampolines, train rides and other fun activities for children. 4th of July Wristband sales begin at 10:00 a.m.  You can purchase a wristband for $5 for unlimited activities which include 19 inflatable rides, tubs o' fun, bungee trampolines, rock wall, train rides, mini golf, two pony carousels, laser tag and balloon art.
---
Event begins 8:00 p.m. and ends 11:00 p.m. after fireworks.
Celebrate 4th of July at Sky View Observatory! Tickets include access to Sky View Observatory, one of Seattle's tallest buildings from 8:00 to 11:00 p.m. to watch fireworks! Live music, Sky View's special 4th of July Menu, and a complimentary themed beverage are included. Tickets for over 21 are $110, while designated drivers and children are $90.
---
Depart from dock at 8:45 p.m. and return 11:15 p.m.
Rock the Yacht on our Fourth of July Party Cruise! Dance the night away to the sounds of a DJ spinning your favorite tunes as you take in the stunning front-row views of the fireworks display on Lake Union. An expansive array of gourmet appetizers and desserts, and a full-service bar will top off an unforgettable celebration afloat.
---
Event begins at 2:00 p.m. and ends at 6 p.m.
The Vegan 4th of July BBQ has been a Seattle tradition for over a decade and in celebration of the 10-year anniversary of Plum Restaurants, Makini Howell is hosting her greatest 4th of July party yet! From a Grilled Street Corn Station to an All-You-Can-Eat Mac & Yease Station, this BBQ will bring on live music from Dave Byrd, family friendly activities and prizes!
---
Event begins at 9:00 a.m. and ends at 10:00 p.m.
Bring your family, friends and neighbors to downtown Edmonds for this good old-fashioned community 4th of July. Come early for the fun Beat Brackett 5K and Baby Brackett 1K, then stay for a lively, fun-packed day and evening with two patriotic parades, fantastic food, music, dancing and fireworks! This event is free and all-age inclusive, so don't hesitate to drop by!
---
Event begins at 12 noon and ends at 11 p.m.
The Fourth of July Splash event includes bouncy houses, T-bird puck and shoot, food booths, old-fashioned games, pie-eating contests and more. There will also be various music and entertainment performances throughout the day by the Roomers, Isabella Carlone, NUREK, Abigail Neilson, and more! To end off the day, the fireworks finale will begin at 10 p.m.
---
Event begins 3 p.m. and ends at 5 p.m.
Enjoy Burien's 98th annual 4th of July Parade! Local restaurants and businesses are planning to stay open for the parade and will be offering specials. This FREE event draws thousands of spectators annually to Downtown Burien.
---
Even begins 12 p.m. and ends at 4 p.m.
Come out to the 4thof July Food Truck Festival where there will be lines of food trucks to explore. There will be activities for children including bouncy house, face painting, creative arts, fire truck and much more along with beverages for adults.
---
Event begins 11 a.m. and ceremony begins at noon
Celebrate our nation's independence while congratulating more than 500 new U.S. citizens at the Naturalization Ceremony, the largest daytime Independence Day observance in the Northwest.
---
Event begins 4 p.m. and ends at 11 p.m.
Come out to Federal Way to enjoy live entertainment and music including comedy performances and Kid's Parade. Throughout the event, there will be a variety of field activities including inflatables, Zorb ball, arts and crafts, and interactive sports. In addition, there will be seven different food vendors, so don't miss out on festival treats either!
---
For more places to view fireworks in the Greater Puget Sound area, here is a list!