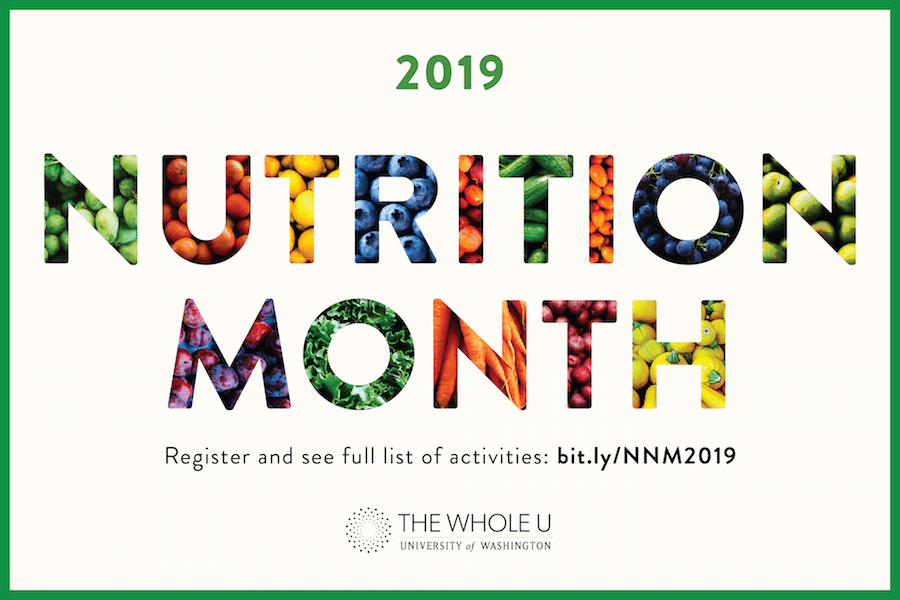 Celebrate Nutrition in March with The Whole U
There's beauty in the basic. When you take care of the basics—the fundamental facets of everyday living—it often goes a long way toward taking care of a good many other things.
"If you're doing the basics, it takes care of 90% of the issues that might come up." That's what Todd Tuetken, director of Olympic Strength & Conditioning for UW Athletics, told us in an interview about how he encourages UW student-athletes to approach everything from physical training to nutrition at meals.
"That's why the basics are the basics," he says. "They work."
You don't need to be an elite athlete to benefit from Tuetken's words of advice. They ring true in so many areas of life—from car maintenance to staying active in small ways—but they are especially prescient when it comes to what we eat.
Throughout March, the Whole U will be celebrating National Nutrition Month—inviting you to join us in getting back to basics of eating well with a focus on the importance of good nutrition and heathy eating patterns.
National Nutrition Month exists as a chance to revisit—and reap the benefits of—the foundational components of the food we prepare and consume. Establishing a diet high in fruit and vegetables is key component to good health, so The Whole U wants to help you set-up and track healthy eating patterns filled with at least 2 servings of fruits and 2 ½ servings of vegetables each day.
Register today for the 31 Days of Fruits and Vegetables Challenge or our Healthy Potluck Competition and experience the daily benefits of good nutrition first hand! If you need more reasons to partake in a month of healthier eating, here are a few further incentives for why you should register for one or all of our National Nutrition Months events!
---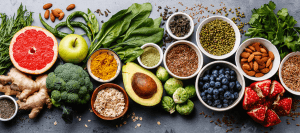 ---
Healthy eating patterns have a positive effect on overall health. In fact, a diet that is high in fruits and vegetables has been shown to reduce the risk of chronic diseases, including heart disease, but only 25% of American eat the sufficient amount of fruit and vegetables. (1)
Better body function. Fruit and vegetables provide the essential vitamins, minerals, and antioxidants to keep our bodies healthy and properly functioning. (2)
Easier weight management. Whole fruits and vegetables are also an excellent source of fiber that can help with weight management, especially when used as a substitute for higher calorie foods. (2)
Sweet release. Fruit can also satisfy your sweet tooth while helping you meet your daily goals of vitamins, minerals, and fiber. It's a win-win! Register for our 31 Days of Fruits and Vegetables Challenge to receive a weekly sweet treat recipe to hit those sugar cravings. (2)
Veggies are as versatile as food gets. Vegetables add versatility to food in the form of flavor and texture. With so many varieties of vegetables to choose from and ways to prepare them, you'll find a host of new, delicious combinations and ways of preparing food before you ever get bored. (2)
Gains in brain and body. Proper nutrition provides the fuel and nutrients our bodies need and can also motive us to be more active. There are so many benefits to physical activity including improved mood and increased energy, but did you also know that it also improves our brain health? (3)
Community connection. Fruits and vegetables, by and large, can be enjoyed—and shared—by most people. The hardest part of changing eating patterns is getting started. Why not kick-off a month on healthy eating patterns by registering for the Healthy Potluck Competition to share healthy recipes with your team or department?
Prize potential. No, we're not talking the blue ribbon for largest pumpkin at the county fair. If the above reasons don't motivate you to register maybe the opportunity to win one of two amazing prizes will! Teams who participate in the Healthy Potluck and share a photo and recipe with the Whole U will be entered into a raffle to win a gift card from Pacific Coast Harvest to have fresh produce delivered to the office! Individuals who complete the 31 Days of Fruits and Vegetables Challenge will be entered into a raffle to win Farm Bucks for the University District Farmers Market.
---
Looking for more inspiration this March to establish healthy eating patterns? Join to Whole U Eating Well Facebook Group for daily tips and motivation. If you want to take your next meal to the next level, check out a complete list of our Whole U resources for eating well here.
Thank you to Pacific Coast Harvest and the University District Farmers Market for sponsoring our Nutrition Month Prizes!
---
Sources:
Department of Health and Human Services and U.S. Department of Agriculture. 2015 – 2020 Dietary Guidelines for Americans. 8thEdition. December 2015. Available at https://health.gov/dietaryguidelines/2015/guidelines/.

National Nutrition Month Presentation

U.S. Department of Health and Human Services, Office of Disease Prevention and Health Promotion. Physical Activity Guidelines for Americans, 2nd edition https://health.gov/paguidelines/second-edition/