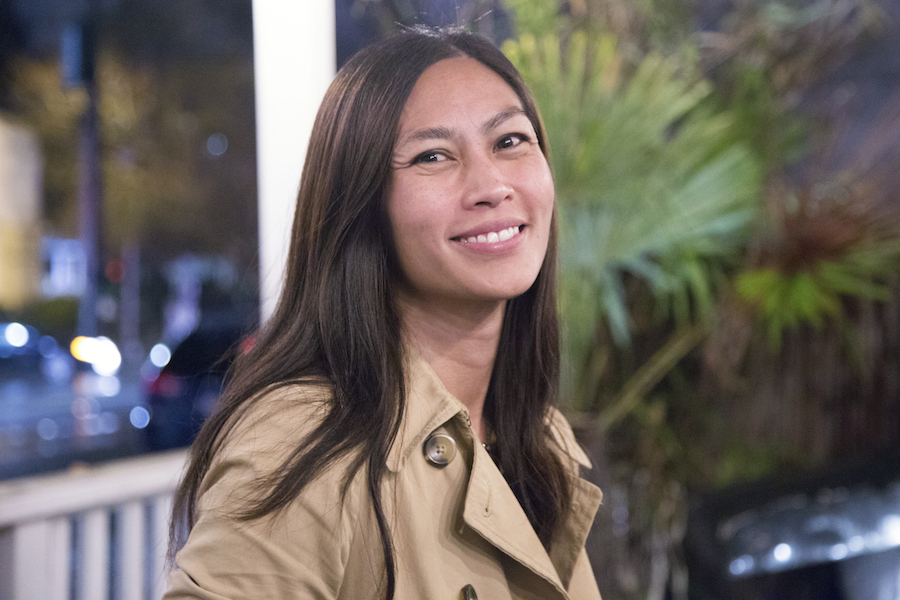 Faculty Friday: Annie Nguyen
"The pursuit of happiness." It's a phrase that helped form our basis as a nation, but could it be that the pursuit of "happiness" is leaving us less happy than ever before? What is happiness, anyway?
Those are questions Annie Nguyen explores in the writing classes she teaches as a lecturer at the University of Washington Tacoma; questions she views as more vital than ever amid the trials and tumult of life in the 21st century.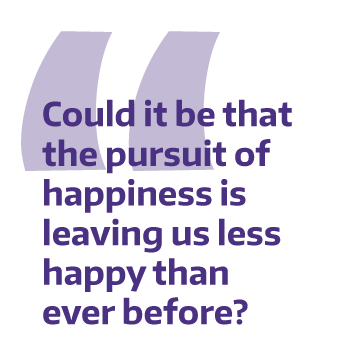 "Having lived in a lot of different places, I'd always been fascinated with how different cultures approached what is important in life," Nguyen says. "I'm exploring the idea of the hedonic treadmill: that we're working toward things and then why we keep working to maintain those things or get more things."
All too often, Nguyen says, pursuit of "happiness" in material forms can be detrimental to our environment and, ultimately, to happiness itself. Property, materials, and "things" all too often become the locus of our lust for what makes life worth living.
In addition to asking students to parse the acquisitive elements that connote "happiness," Nguyen asks her students to investigate and assess concepts of happiness from Western and Eastern perspectives.
"I introduce materials to students so they see happiness from a more global perspective; not so much as an emotion, but rather a whole concept and way of living," she says.
Nguyen cites a 2017 Harvard study—the longest ever on the subject, having begun in 1938—that found the people who were most happy in the long term were those who embraced and fostered relationships with family, friends, and community.
"Camaraderie and community are both big parts of happiness research: your isolation versus your community connection," Nguyen says. "The class also develops students abilities to take a more proactive approach to our mental and physical health too."
Happiness lost and found
According to the World Happiness Report, produced by the United Nations Sustainable Development Solutions Network since 2013, the U.S. isn't close to cracking the top ten "happiest" countries in the world. In 2018, it ranked eighteenth—falling four spots lower than in 2017 and five from 2016. According to report co-editor, Columbia University professor Jeffrey Sachs, the ranking reflects, "ongoing epidemics of obesity, substance abuse and untreated depression."
Despite living in a hyper-connected world, Americans are living more socially isolated lives than ever. As a result, rates of depression, mental illness, and suicide have been steadily rising for the past several decades.
An attempt to quantify happiness on a global scale, the UN report asked nationally representative populations to value their lives on a scale from 0 to 10, with the worst possible life valued at 0 and the best valued at 10. The countries ranked in the top ten—Finland, Norway, Denmark, Iceland, Switzerland, Netherlands, Canada, New Zealand, Sweden, and Australia—frequently had high values for all six of the key variables identified as contributing to overall well-being: income (GDP per capita), healthy life expectancy, social support, freedom, trust (absence of corruption) and generosity.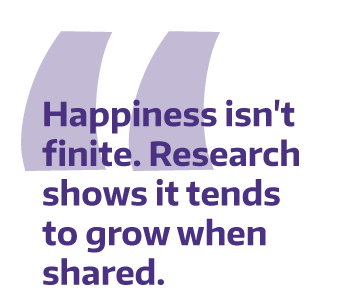 "In a lot of these countries, the social safety net means there's never a fear of failure or of being alone," Nguyen says. "At any point in your life, if you are down and out, there's support to be found." Happiness isn't finite, researchers posit. To the contrary, it actually tends to grow when shared.
"You can focus on your relationships, but you still have to survive and provide," Nguyen says. "Taking care of others or taking care of yourself is really on you and you feel that pressure. And when people have less of a support network built in, what happens after they can't find a job for a few months?"
When forced into marginal or tenuous existences—physically, mentally, financially—peoples' happiness tends to recede. In discussing the concept with students, Nguyen pushes them to think in ways that go beyond monetary success—not sidelining it entirely, but moving it away from central focus.
"Especially with first generation students, there's a lot of pressure to succeed, and so having these conversations about if your only goal in life is monetary success, then what are you sacrificing," Nguyen says. "On the other hand, can you still reach some sort of level of monetary success, but still focus on these other parts that have been proven to make you mentally and physically happy too?"
Nguyen challenges class participants who are reticent to partake in serious discussions of a concept as ephemeral as happiness to think about the last time they actually talked about it openly.
"We often don't talk about what we're really looking for and what, at the end of the day, has us saying, 'That was a good day'?" Nguyen says.
Trials and triumphs
Nguyen acknowledges difficult-to-control factors such as physical suffering can be real inhibitors to achieving greater happiness, but she also looks at her own upbringing as proof that even the most dire-seeming circumstances can still lead to "happy" outcomes.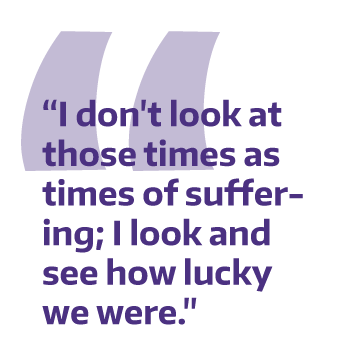 "Looking back, I had a happy childhood, but a poor childhood," Nguyen says. "There were definitely days when I was hungry. My parents were trying as hard as they could, but I don't look at those times as times of suffering; I look and see how lucky we were."
Against the backdrop of the fall of Saigon in late April 1975, Nguyen's parents fled Vietnam with her older brother and sister and much of her mother's family. Her father's status as a captain in the South Vietnamese Navy afforded them the connections with the U.S. military that made fleeing amidst the chaos of the Vietnamese capital's capture possible.
"Had anything been out of place, they wouldn't have made it," Nguyen says. Granted refugee status, the family relocated to Arkansas, settling into a new, albeit "grueling," life working as laborers on a chicken farm.
After two years, they moved to Alabama for better prospects and to join a burgeoning community of Vietnamese expats who had settled there in the wake of the war.
Nguyen's mother, who had been a schoolteacher in Vietnam, now found work as a waitress and a nanny to support the family while Nguyen's father went back to school. Nguyen recalls helping her father translate parts of his engineering textbooks on his way to earning degrees from the University of South Alabama in mechanical and electrical engineering that qualified him to work an engineer aboard a US Navy research vessel.
However, life in Alabama was not without its trials and tragedies. In 1981, Nguyen's older brother died from a brain aneurysm at the age of seven. A few years later, Nguyen's aunt, who supported herself and her family as a waitress in a Waffle House, succumbed to a case of pneumonia.
Had a program like CHIPS (the Children's Health Insurance Program) existed at the time, Nguyen wrote in an open letter to then-attorney general Jeff Sessions in 2017, "perhaps my parents would have been able to afford to take my brother to the doctor when he first complained of a headache." Nguyen speculates things might have also ended differently for her aunt if the families had had some form of preventative care.
But even against such great losses, Nguyen remained unbowed and determined to capitalize on advantages and opportunities that did exist in the U.S., even for one whose family lived well below the poverty line.
She'd attend George Washington University as an undergraduate, studying writing under journalist Steve Roberts, who imparted one of the lessons she shares with students to this day. "There are two kinds of stories," he'd say. "Ones that happen everyday and ones that happen once in a lifetime."
Nguyen's might be said to fall into the latter category.
The past present
In sharing Roberts' axiom with students, Nguyen says she hopes to illustrate the many avenues of autobiographical storytelling and what positive outcomes can result from a writer's process of introspection. Having the opportunity to help students engage those elements—as she herself once learned to—is one of the things she loves most about teaching at UW Tacoma.
"I really enjoy the Tacoma campus and love that I have students from so many different backgrounds, socioeconomically and culturally," says Nguyen, now in her third year at the UW.
She's currently at work on multiple writing projects, but one stands out as most personal. It's a narrative non-fiction exploration of another tragedy that hit close to her Alabama home. Ten years ago, her uncle, then working as a pizza delivery person, was gunned down by juveniles on the street she grew up on when he'd chanced to make a delivery to the house they were in the process of burglarizing.
Recently, the State Supreme Court ruled that sentencing inmates below the age of 18 to life without parole was unconstitutional, setting her uncle's killers up for a retrial.
"I'm writing about the impact of the re-sentencing on families and this whole idea of life without parole," says Nguyen, who has availed herself of the writing space available to UW researchers at The Helen Riaboff Whiteley Center at the University's Friday Harbor Laboratories.
"I'm writing from a place-based perspective because my family still lives on the same road we grew up on and my uncle was killed on that road by boys who also lived on that road."
It's a road that has become more impoverished over time, but one that Nguyen sees as a vital path on her own journey: past, present, and future.
"People who are happy use what they do have to get what they want."
---
Annie Nguyen holds a B.A. in Political Communication; English; Creative Writing from George Washington University and an M.F.A. in Creative Nonfiction from the University of Montana. Catch her Whole U Speaker Series talk on happiness December 5 at UW Tacoma.