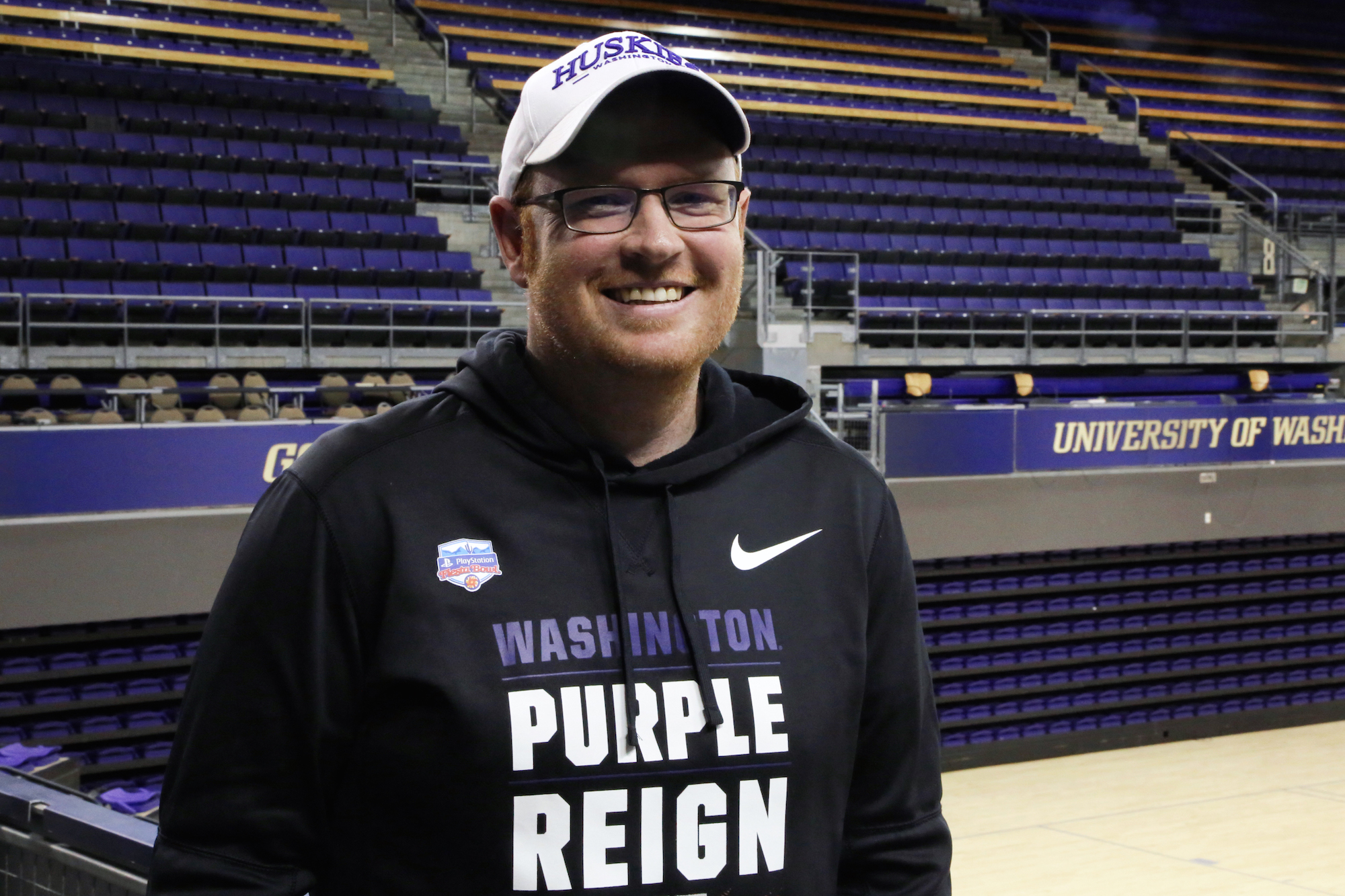 Coaches' Corner: Kenny Dow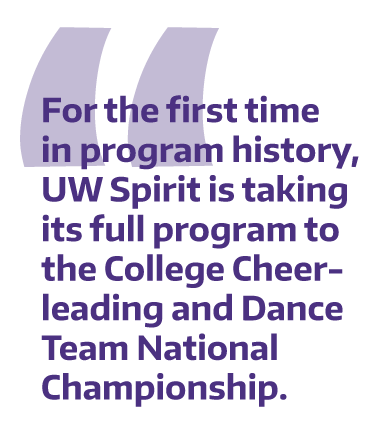 Harry the Husky is about to hit the big time for the first time.
For most of the year, the UW Spirit cheer and dance program follows the schedule of other UW teams, performing at football, volleyball, and men's and women's basketball games.
But this January, the team of 16 dancers, 24 coed stunters and the five athletes who bring Harry the Husky to life are set to make a road trip all their own as UW Spirit takes its full program to the UCA & UDA College Cheerleading and Dance Team National Championship in Orlando, Florida for the first time in UW history.
"The dancing and coed teams have both competed in Orlando separately, but never at the same time," says Kenny Dow, who has led the program as head coach for the past four years.
For Harry the Husky, whose complete unit is comprised of the five athletes who inhabit his costume as well as students in charge of his props and crafting his routines, it's a trip four years in the making.
This year, the ubiquitous dancing dog tied for eighth in the prelims, garnering him a spot after several years of falling just short of the top ten cutoff for mascots. "Harry is pumped," Dow says.
---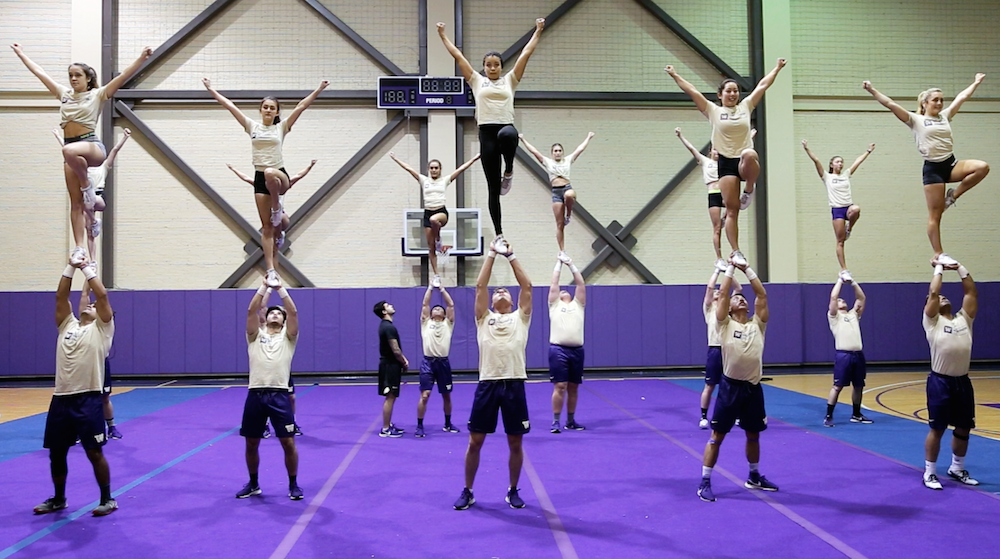 ---
In Orlando, one of the five Harry performers will perform a minute-and-a-half skit with props before a panel of judges, who will tally a score based on that live performance and pre-submitted video footage.
The co-ed stunt team will compete with a two-and-a-half minute routine featuring two sections, performing stunts, pyramids, and baskets to counts with a cheer in the middle. They'll also contend in the Game Day division, performing the fight song, a time-out chant, and a band dance, i.e. spelling out H-U-S-K-I-E-S or "Let's go Dawgs!"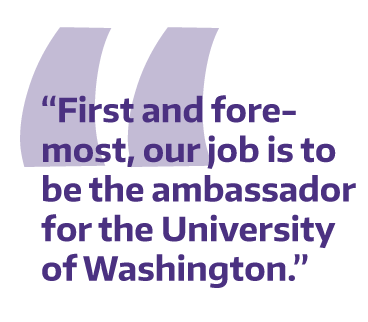 The Dance team will present a two-and-a-half minute routine in the Hip-Hop division, looking to build off past program success when they placed tenth overall in that category.
"We put in 20 hours a week, just like most student athletes," Dow says. "Whether it's practices, game appearances, or elsewhere, they're out there—and with that maintain a 3.51 GPA."
UW Spirit's focus on the whole student-athlete aligns with the emphasis on principles and process that power other UW Athletics teams, but the program's dualistic character sets it apart.
In addition to supporting other UW Athletics teams on the field, UW Spirit athletes also serve as emissaries from the University writ large. When athletes work on skills and strength every day in the gym, it's in preparation for game day and then some.
"First and foremost, our job is to be the ambassador for the University of Washington—and we have a total of 47 student athletes doing that on a daily basis," Dow says, explaining that could involve anything from a presence at alumni functions and donor events to making the trip to China as several UW Spirit athletes did along with Men's Basketball in 2015.
Creating game day memories—or what Dow calls "fan touchpoints"—is high on the list of goals each season.
---
---
"It's about giving that young person something they can aspire to be when they come to college or help open their world to whatever their dream may be here at the University of Washington," Dow says. "You have the athleticism of these students, but you also have the humanistic side that pours out of them when interacting with the fan base."
That spirit of connection rests at the program's core.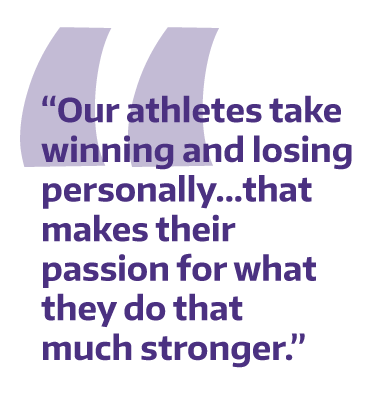 "What makes college cheerleading and being a college mascot so cool is that you work so hard to do all these things and show off, but then you can also get to a little kid's level and make that impact in their life that they'll remember forever."
As head coach, Dow is assisted by David Brazier and Jenna Taino, who coach the coed stunters, and by former UW Spirit member Jordan French, coaching dance. Dow says a major challenge for the coaching staff is helping student athletes balance their emotional involvement in the sports they cheer and channel it in positive ways.
"Our athletes take winning and losing personally because they have so much love for Husky sports and culture," Dow says. "When they live with our wins and losses, that makes their passion for what they do that much stronger." A pro tip for sustaining a high-energy performance throughout a game: act like the score is always close or tied.
Spirit athletes start training in late July with new team members learning core routines by video over the summer. Beginning in August, the squads practice four days a week until school starts up in late September.
By the last home football game—this Saturday versus Oregon State—the team will have learned all the skills they will perform this year. It's one aspect of the season that brings Coach Dow the most satisfaction: "The excitement and joy of achieving a new skill is one of the best feelings as coach."
---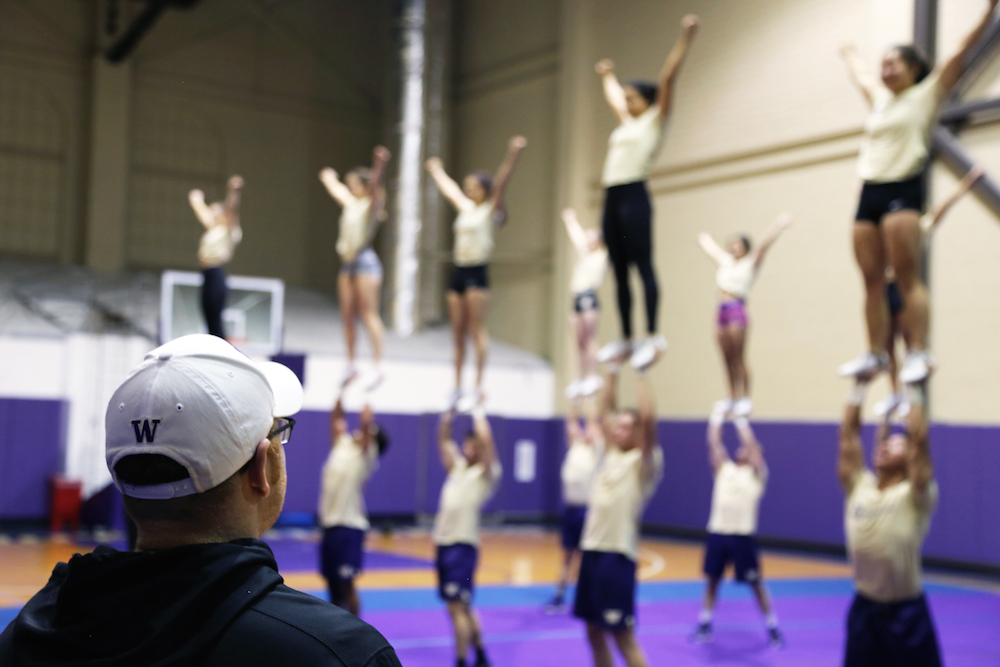 ---
Pride of champions
A high school football and track athlete who grew up in as part of Montana's legendary Petrino family of coaches, Dow spent his formative years steeped in sports, internalizing the ethos of team-oriented toughness they instilled.
"We were indoctrinated in sports, coaching, and using our talents to help student athletes be their best selves," he recalls.
Dow first got involved with cheering on a whim after seeing a flyer during his first month as an undergraduate at University of Montana. UM's head cheering coach Christie Anderson also happened to work in the University's marketing department, where Dow started to intern, effectively setting the stage for his future career.
On graduating with a master's in educational leadership and policy and a B.A. in secondary education and history/political science, Dow joined the UM staff as assistant marketing director, while also helping coach the cheer and dance team.
After two years at UM, he made what would prove a pivotal move: leaving his home state of Montana for Oregon to serve as head cheer coach and assistant athletic director of marketing for the Department of Athletics at Portland State University.
About a month into his new job, Dow met a mentor who would change his life forever: Portland State head women's basketball coach Sherri Murrell, who was, at the time, the only openly gay head women's basketball coach in the country.
Dow had come out as gay as an undergraduate—an anguished process he recounts having silently grappled with since the fifth grade.
New to Portland, Dow still felt unsure of where his identity fit within his professional life. Though he'd come out in college and found a support network among close friends and family, being gay was part of himself he still felt compelled to sideline once he became involved in the world of elite college athletics.
But Coach Murrell convinced him he was stronger for it; that that part of him was going to be integral to whatever he decided to do moving forward in his career.
"She told me to be who I was and stop worrying about what other people thought of me," Dow recalls. "She told me that if I was truly going to be successful in life, I was first going to have to become comfortable with who I was."
With Murrell's support, Dow found the confidence to open up to co-workers, creating closer, more substantive bonds—this time, on his own terms.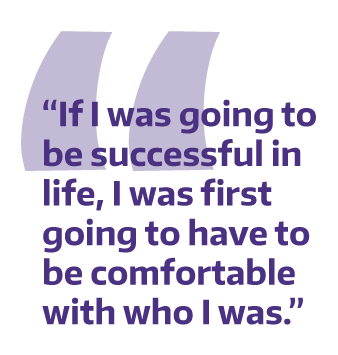 At ease with his true self, he recalls feeling "a family developing around him that wasn't my family" for the first time in his life.
"To have those people who mentored me, you want to pass it on and pay it forward," Dow says. "With the things that I've gone through in the past struggling to be an out, gay man in sports, I hope to take that experience and help others."
It's one of the many elements Dow has come to love about coaching.
"You see people from diverse backgrounds and how you can get them to work together as a team," he says. "That's really powerful for them and helps them grow to who they want to be in the future."
When Dow joined the WNBA's Seattle Storm as senior manager of marketing in 2014, it marked a major next step both professionally and personally. That year, he'd play an integral role in the Storm's efforts in a league-wide push to become the first professional sports league to "come out" with a Pride platform embracing LGBTQ fans, players, and coaches.
Being involved in such a move would have seemed unimaginable for Dow just ten years prior when he was just starting out on a career and spending untold energies trying to stamp all trace of his sexual orientation from his professional life.
"As I move forward in my career, my goal is to help show that success isn't only defined by how many championships you win and the revenue you generate," Dow says.
"Success is also being part of a community that can come together to support one another."
Last year, Dow was busy putting that theory into practice, leading the Storm's social media efforts as the team rallied the city of Seattle on its way to its third WNBA Championship.
"I'm proud to be not just part of the WNBA family and the LGBT community, but to see those two groups so important to my life embrace one another," Dow says, adding that everyone's "coming out" process is different, and that there is no timetable except the one you set.
When that time comes for a person, however, he says multiple communities will be ready to support them.
With the WNBA season running from May to September, Dow is able to split his time between his role with the Storm and his duties as UW Spirit head coach. At this point in the season, it's full-focus on the final home football game and the road to Nationals.
"The coolest thing about our team is that they and our coaching staff take so much pride in representing UW," Dow says. "Every day these athletes come to practice ready to make UW better and to represent the University with the most passion you'd ever want."
Dow remembers seeing that passion first-hand as an undergraduate when the UM cheer and dance teams would meet UW's at training camps.
"To get the job here is such a huge honor and it's something I think about every day," Dow says. "It's just special."
---
On Friday, November 16, the UW Spirit program will host its annual UW Cheer Purple Reign Dinner and Auction at 7 pm in the Conibear Shellhouse. Tickets are $50. All funds raised will benefit the cheer and dance athletes in the form of scholarships. 
---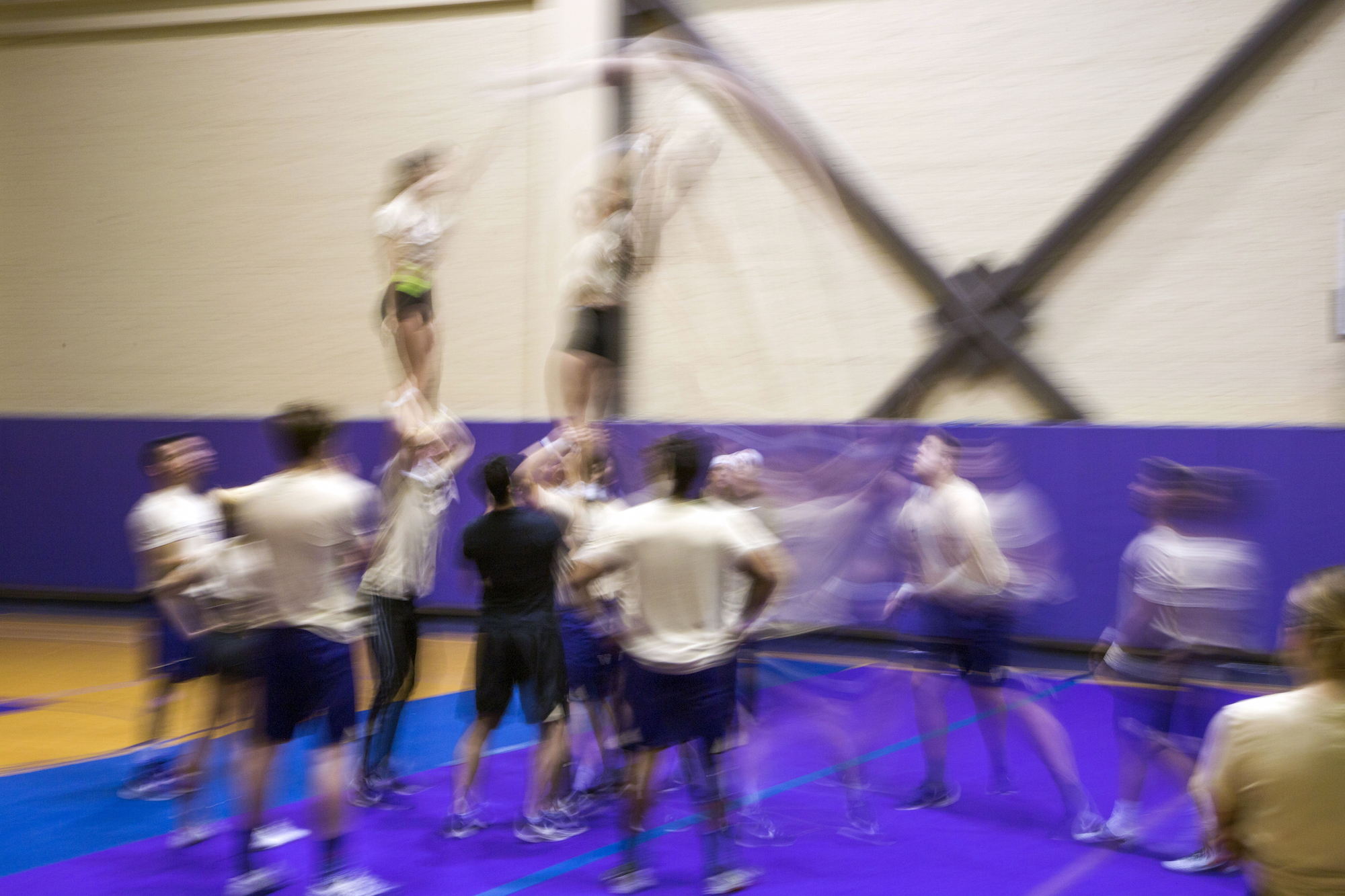 ---