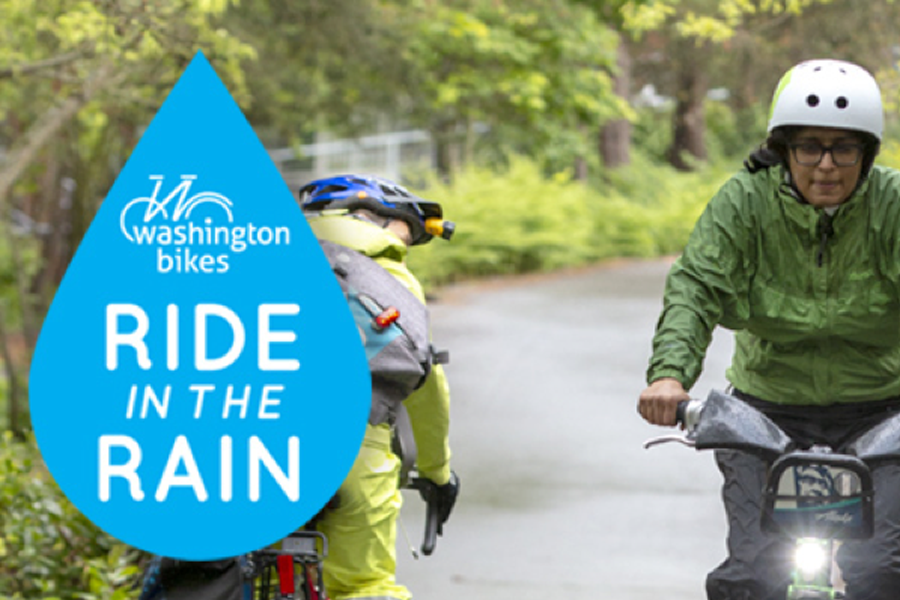 UW Rides in the Rain this November
Grey skies and light drizzles usually marks the start of fall at the University of Washington. It also signals a month-long challenge for bike commuters to Ride in the Rain during the month of November.
A tradition that has been going strong at UW for more than fifteen years now, commuters brave a mistier ride from November 1 to November 30 to continue contributing to a more sustainable way of getting to campus.
As of today, we already have 1,877 trips logged, 7.616 miles cycled, 300 staff cycling, and over 6.168 pounds of CO2 saved. Way to go Huskies!
Whether this is your first time participating in the challenge or you can't remember a November without Ride in the Rain, here are helpful tips and tricks for making bicycling to campus a year-round routine:
Dress to stay dry: Being cold and wet is no fun. Layer up with waterproof vests and jackets to stay dry and stay warm. Water- and wind-resistant gloves are also great to have. Don't be afraid to bring a change of clothes for work or class.
Beware of rainbow patches and puddles: Keep an eye out for rainbow-edged puddles on the street. These are indications of oil patches, which cause slick and dangerous conditions for riding on the road. Be careful on metal surfaces, painted traffic marking, and wet leaves, as these also become slick when wet.
Fenders, fenders, fenders: Installing fenders on both wheels keeps your vision crystal clear during the rainy days.
Light it up: Let other commuters know you're there. Rain and glare from car headlights can reduce your vision while riding, so it's a good idea to ride with bright LED lights both on the front and back of your bike. Go for extra brightness by attaching clip-on lights to your backpack, clothing, or helmet. Just make sure to be conscious of fellow cyclists and walkers, and angle your lights away so you don't blind them.
Still nervous about riding in the rain? Get a Bike Buddy or join a team already participating in the challenge.
Need some extra motivation? Visit the Coffee Commute Station on November 13 from 7 a.m. – 9 a.m. at the HUB Patio/Lawn to warm up after a chilly ride with hot coffee, tea and some snacks, courtesy of UW Transportation Services.
Ride on, Huskies.