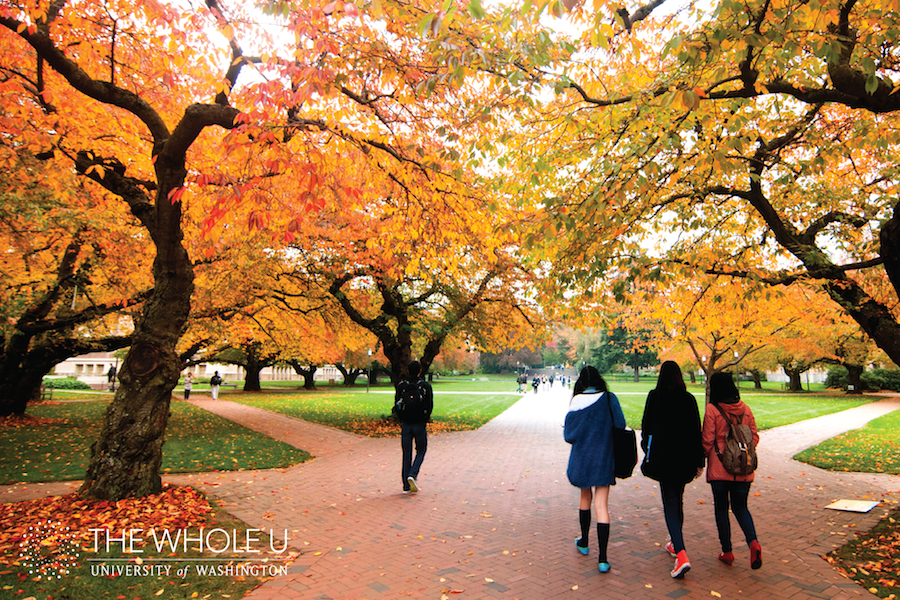 Your Guide to a Healthy, Successful Fall Quarter
As I enter my first quarter as both a graduate student and a staff member here at UW, thoughts of anxiety and concern start to creep into my mind. But before all of the work hours, research papers, assignments and commitments start to overwhelm me, I am taking a moment for myself to map out all the ways I plan to prioritize self-care this fall.
I know that if I want to put my best face forward, I need to ensure that I am healthy and happy, from the inside out. That includes focusing on my mental well-being, physical well-being, and growing my UW community.
The Whole U has abundant programming to support my wellness journey this fall. From guided meditation sessions and strength training videos, from nutritious recipes to community support networks, a few of my favorite tools and activities are listed below.
Mental Wellbeing
Mental health is often de-prioritized in today's society, but our mental wellbeing is the most important component to our health—and of our success. Here are a few ways I plan to put my mental well-being first this fall.
Whole U Speaker Series: Mental Health Benefits of Yoga On and Off the Mat
Stress-Free Zone
Whole U Meditation Page
UW Carelink
Physical Wellbeing
A healthy mind provides us the space to also work on maintaining healthy bodies. With a multitude of ways to be more active and nutritious guides to fuel me, here is how I plan to keep my physical body healthy this fall.
UW Yoga Month 2018
Whole U Strength Training Series with UW Strength & Conditioning
Stretch at Your Desk
Half Marathon Training Plan
Breakfast Toasts
Meals in a Jar
Total Benefits Flu Shot Clinic
Weight Watchers
Fostering Community
I also know that to succeed this fall, I need to surround myself with a strong support network. Here are a few community building resources for both fellow colleagues and students to strengthen our bonds.
Whole U Speaker Series: Expanding Your Notion of "Everyone" When Creating Digital Resources
The Whole U 30-Day Kindness Challenge
Whole U WOW Cards
Whole U Being Active Facebook Group
University Ombud
---
There are many ways to stay healthy this fall. So before you dive head first into your busy schedule, take a moment to list out all of the self-care practices and tools you can reach to as modes of support. And when all else fails, remember to take a moment and just breathe.