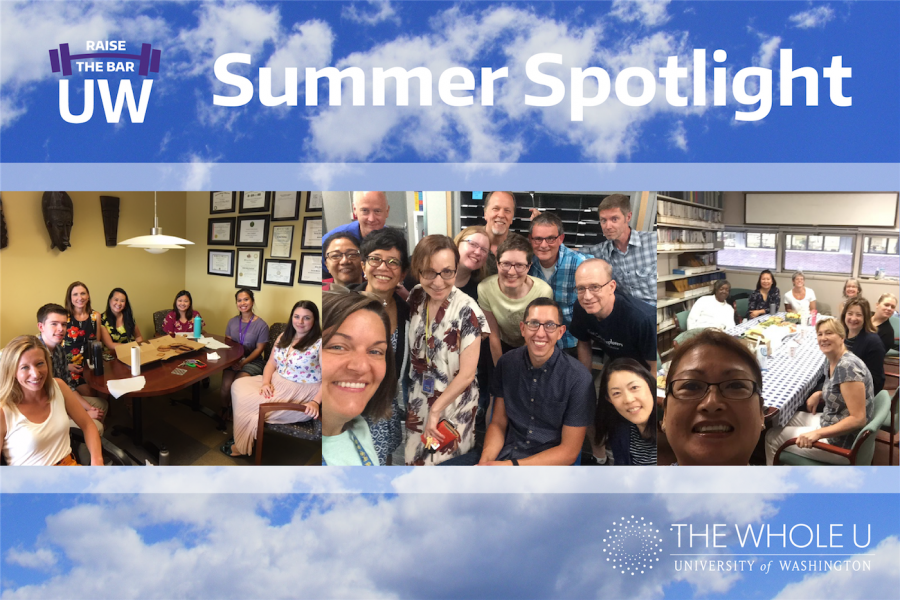 Summer Spotlight: Raise the Bar Week 7
As the skies cleared and the temperature dropped a bit going into our last week of our Raise the Bar summer challenge, teams were able to find a few unique ways to eating well during their lunch hour. See how some teams celebrated the cool down during Week 7 of our summer wellness challenge.
We will be putting together a recap for the past 8 weeks of our challenge, so be sure to continue sharing your wellness efforts with us at wholeu@uw.edu. We also encourage you to join our Whole U Being Active Facebook group to post photos and reflections or share via Twitter and Instagram using #raisethebaruw. Catch up on our previous spotlight articles to stay up-to-date.
---
Community "not a potluck" Lunch
Nina Velikin checked in for Team E-I-E-I-GO of UW's Data Delivery Group to tell us about their solution to build stronger connections within their team: "Bring your Lunch" Day. "Let's have everyone get together for lunch… and not a potluck. Let's just sit together and enjoy each other's company." With contagious laughter, smiles galore, and conversations around the group, the team had the opportunity to know each other better simply by having their own lunches, together!
Amber Walcker shared her thoughts on their team activity, saying: "Bringing individuals together to share a meal together really gave us all the opportunity to chat with individuals we might never have the opportunity to know! I really feel more connected to my UW family after our Community Lunch for the Whole U Raise the Bar Challenge."
Dawn Hemminger also shared an interesting piece of information he learned from his coworker, Kumiko: "I learn so much from my coworkers when we can relax and share a meal together. Today, we learned that shelled edamame are called mukimame in the U.S., and my coworker, Kumiko, who's from Japan, said she'd never heard of the term, but it made sense because 'muki' means 'to peel."
Birthday Potluck
While some teams may go out to a nearby restaurant to celebrate a birthday or two, others may host an in-office potluck instead. Team LoKB took it a step further: a "Tasty Tuesday" healthy breakfast potluck! Mary Jane Lohr, project director of the MOMCare Program at the School of Social Work, checked in to show us the amazing food they had at their potluck to celebrate August birthdays.

"We also learned about the positive effects of doing team sports or exercising in a group, via an article a team member shared on our private Facebook page," said Mary Jane. "We already knew the positive effects our team workouts have on us, but it was interesting to read some of the research too!"
Deeper Reflections
Anna Khoutxaysana, a patient financial specialist II at Harborview Medical Center, shared some more reflections on what she has done to increase wellness efforts in her life, how she sees wellness, and words of encouragement to get you start on your wellness journey.
What have you been able to accomplish throughout the last few weeks to bring
wellness to your health and workplace?"Upped my protein intake. A Daily 5-Minute Routine Stretch (during
breaks & lunch). Created A 30-minutes workout plan; thirty minutes is a
realistic time frame for us to take out of our day to take care of
ourselves. I've tried to make the exercises as close together as possible
as well. Also, try not to waste time walking back and forth across the gym
to get to a specific machine."

How do you see wellness?
"Just go do stuff. Then keep doing it. Regular exercise/workout can have
a profoundly positive impact on stress, creativity, improves memory, helps
you sleep better, and boosts overall mood.

I wish I had started working out sooner. I truly think everyone could benefit
from it. I was super fortunate for the Raise the Bar Summer Wellness Challenge
through The Whole U. That was when I decided I needed to upgrade from just
working out at home to more intense workout by committing to events like UW Fitness Day, Global Running Day, Boot Camp by Ian Fitness & November Project Fitness,
Bollywood Fitness, Kayaking/Canoe Outing, pure barre classes, yoga classes,
and meditations.

Simply, you can just go for a walk. Then next time, try walking a little
longer. Then a little longer. Next thing you know, you'll be walking miles
and miles with no problem at all."
---
Looking for an opportunity in the fall to break a sweat and continue your fitness adventure? Join the Whole U team for the Alaska Airlines Dawg Dash on October 14 and receive $5 off registration and a 6-week training plan!
Celebrate the end of the Raise the Bar summer wellness challenge by going out on a team outing to support the Mariners or Sounders during Dawg Daze – all at a discounted price!
---
Special thanks to our Raise the Bar sponsors: UW Medicine, AT&T, US Bank, BECU, and UW Resilience Lab!