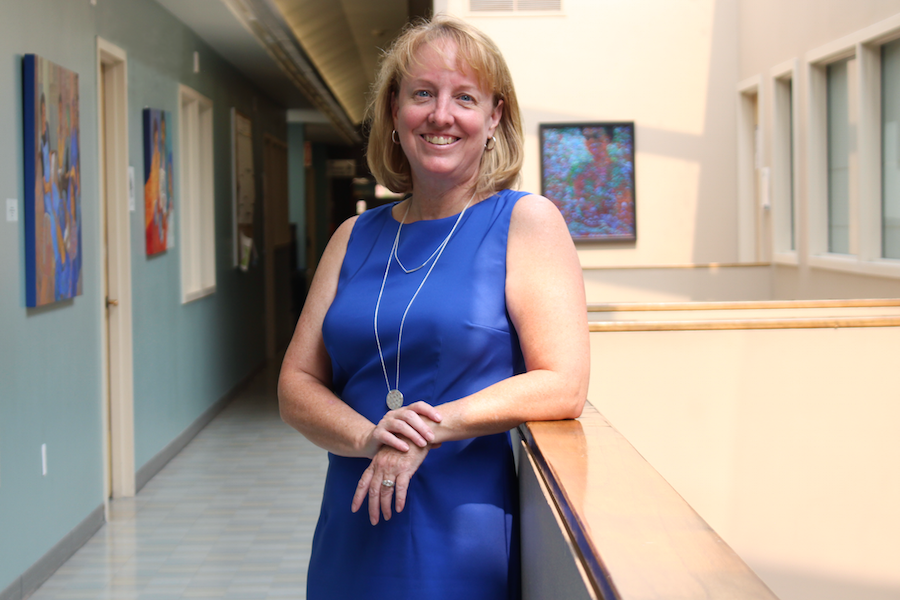 Staff Story: Sandra Kinney
When the stressors of life as a social worker attack, Sandra Kinney jabs back with a two-pronged defense.
By day, Kinney provides training and support to thousands of Washington's child welfare workers, foster parents, and caregivers through more than 125 classes and customized coaching sessions as interim executive director of the Alliance for Child Welfare Excellence at the University of Washington School of Social Work. On weekends, she is a dedicated boxer, training at Seattle Boxing Gym in Capitol Hill—a means of building physical endurance and mental toughness for a career that demands as much.
"There's a high level of stress for social workers," Kinney says. "For a period of time in my career before joining the UW, I was the only administrator of twelve who wasn't on high blood pressure medication. That eventually ended when I had to also start medication like everyone else."
After a 20-year career in the field with stints in Arizona, Colorado and Washington, Kinney took over as interim director for the Alliance for Child Welfare Excellence in 2015. It was a welcome change of pace, but also a chance to ensure others working in the same field received the training and support they needed to be successful.
Created in 2010 at the invitation of the Washington State Children's Administration, the Alliance was devised as a coordinated partnership between UW Seattle, UW Tacoma, and Eastern Washington University as well as Washington's Department of Children, Youth, and Families—a newly formed agency that responds to all child abuse and neglect cases and which licenses all foster parents, caregivers, and child protective services workers.
The Alliance's goal is to provide newly hired child welfare workers with foundational training twice a month. Sessions focus on building skills through live simulations and other teaching techniques borne of research from the UW Schools of Nursing, Medicine, and Law, and other participating institutions.
One such training, called "Interviewing Adults," was developed in conjunction with UW School of Nursing and the UW School of Social Work faculty utilizing the Debriefing with Good Judgement model from the Center for Medical Simulation to create skill based training for social workers.
"We're where research and cutting edge technology hits practice," Kinney says. "This partnership is that bridge between the universities and agencies that carry out the work."
Last January, state social workers participated in a flight of simulations in which they entered courtroom settings overseen by local judges and defense attorneys who work with new staff on how to present testimony—one of the major functions of a social worker.
The new trainings also structure methods of interviewing children, caregivers, and parents on the subject of child abuse and neglect. A key contributor to the training process is Partners for Our Children—a research and policy center affiliated with the UW School of Social Work who provides data collection, evaluation, and analysis to measure and improve the effectiveness of Alliance child welfare training. It's all part of a six-week core training for new DCYF workers.
"If we can train and prepare social workers and foster parents for what they're going to experience and provide them training when and where they need it then that's going to positively affect retention," Kinney says, citing the high rate of turnover for both caregiving foster parents and social workers. "We're offering different trainings based on what's good for your schedule and what's good for you."
With more flexibility comes room to flourish.
"Valuable, hard work."
Under present leadership, the Alliance has overseen a 12-fold increase in training opportunities across the state. In the last fiscal year, the Alliance trained more than 2,500 in its caregiver core training as well as close to 2,000 for in-service training. Kinney says she's already seen more positive outcomes emerge from the new skill-based simulation trainings, which by next year will take place at Alliance hubs in,West Seattle, Tumwater, and Spokane.
"I think it's valuable, hard work," Kinney says, both of the Alliance's efforts and child welfare work writ large. "People working with child protective services face a lot of obstacles—as a social worker in the field and as a foster parent. Social workers come into this work because they want to help people, but often are not seen as being helpful."
For Kinney, providing supportive trainings is personal.
"I wish I had this when I was just starting out: something more impactful and really took all my needs as a social worker into mind," she says, emphasizing that its important for social workers to feel reassured, supported, and knowledgeable. "When I started out, I had two weeks of training and that was it."
Reflecting on the highs and lows of her career, Kinney brushes past specifics on some of the most trying cases she's handled—usually ones involving especially dire situations such as the death of a child—but readily acknowledges there have been many tough moments. But there have been profoundly positive experiences as well—such as being invited to the wedding of a someone who, years earlier, she had helped extricate from an abusive home and place with loving foster parents; or the nine-year-old student who proudly announced to her assembled class that Kinney was her social worker.
"I wish everyone had that child's view of what social workers do," she says. "To get some of the recognition that we're trying to do good work and the right thing would go a long way to keeping social workers and foster parents in the job."
When she's not focused on training Washington's next generation of social workers, Kinney can be found below ground, shadow boxing in front of a mirror or whaling on a behemoth "banana bag" at Seattle Boxing Gym. She took up the sport a few years before joining UW in a nod to her Irish heritage and because, after just a few classes, she found it provided the "most physical outlet" for what was all too often a time-strapped schedule.
"Boxing is that one thing I'm committed to doing that takes me away from any stress at work," Kinney says.
However, just after joining the UW in 2014, Kinney was faced with one of the most challenging episodes of her life. See how her relationship to the ring helped her overcome it: