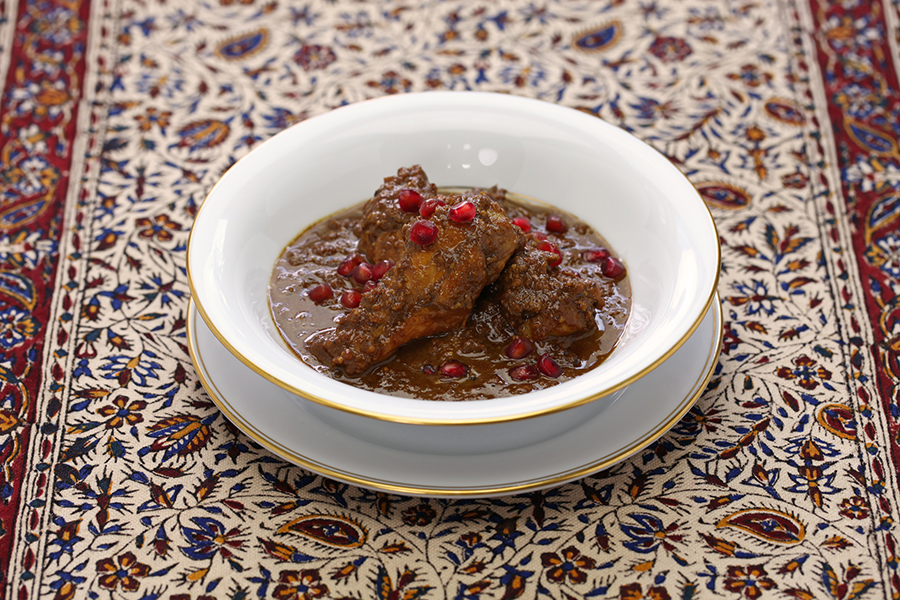 Foods of the World: Fesenjoon
At the ruins of Persepolis, the ancient capital of the Persian Empire, archaeologists found stone tablets that date back to 515 B.C. with the ingredients to one of the most iconic Persian dishes still eaten to this day – fesenjoon.* From weddings to nightly dinners, fesenjoon belongs on any table and to any occasion. Made with pomegranate paste, ground walnuts, onions, and poultry, fesenjoon takes about five hours of boiling to achieve perfection. But the taste can stay with you for a lifetime.
Whenever I go back to Iran to visit my extended family, I know that I am going to be eating fesenjoon at every household. It's become one of one favorites.
Notes: 
If you cannot find pomegranate syrup/molasses in your local store, look at this recipe to make it at home.
CAREFUL: Watch your homemade mixture carefully; if it's boiled for too long, it will turn into hard candy instead of a useable liquid!
---
Serves 6 – 8
Ingredients
1 medium onion
8 tablespoon vegetable oil
1 lbs. walnut (about 2 cups; check to ensure that your walnuts are fresh)
3-4 cups water
2 lbs. boneless, skinless bite-size cuts of chicken breast (omit for vegetarian option)
1 cup pomegranate syrup/molasses
1 tsp salt
¼ – ½ cup sugar (to taste)
Preparation
In a food processor, crush walnuts into small, powdery granules. If using a blender, add some water to the walnuts to make the crushing process easier.
In a large stew pan, over medium-high heat, add crushed walnuts and 4 cups of water and bring to a gentle boil, constantly stirring to prevent settling of the walnut on the bottom of the pot and to also prevent the mixture from boiling over. Add cold water if needed to create a runny consistency if mixture is too thick and clumpy. Bring the heat down to low and continue to stir occasionally for an hour.
Meanwhile, finely dice the onion and sauté over low heat in 4 tablespoons of vegetable oil until it is an evenly golden-brown color. Take extra precaution to not burn onions or have the edges turn black. Once complete, strain the onions from the oil. Discard oil.
Add onions to the walnut mixture and continue to stir.
Add ½ tsp. salt and pomegranate syrup to the walnut mixture; simmer over low heat. Again, continue to stir every thirty minutes to prevent the settling of the walnut at the bottom of the pot. Allow mixture to gently boil for 2-3 hours until the finished consistency is similar to runny oatmeal. If mixture is too thick and clumpy, add cold water to the mix until a runny consistency is achieved. On the other hand, if mixture is runny, continue to cook until excess water is evaporated to reach the correct consistency.
Add sugar (to taste) to the mixture and continue to simmer and stir.
Meanwhile, in the same frying pan used to prepare the onions, over medium-low heat, sauté the chicken pieces for 5-6 minutes. Add 1/2 teaspoons of salt and stir for an additional minute. Do not fully cook the chicken pieces. Omit this step for vegetarian option. Duck is also acceptable.
Transfer chicken and all of the juices left in the frying pan to the walnut mixture. Cook for an additional 30 minutes.
Taste the walnut mixture and add more salt or sugar to taste. Try this dish by pouring the mixture over rice!
* Fesenjoon and fesenjan are both correct spellings of the dish.
---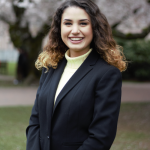 Ava Sharifi is the Student Communications Specialist for the Whole U. Ava is Iranian American and has come to know Iranian cuisine because of her mother — an amazing chef!