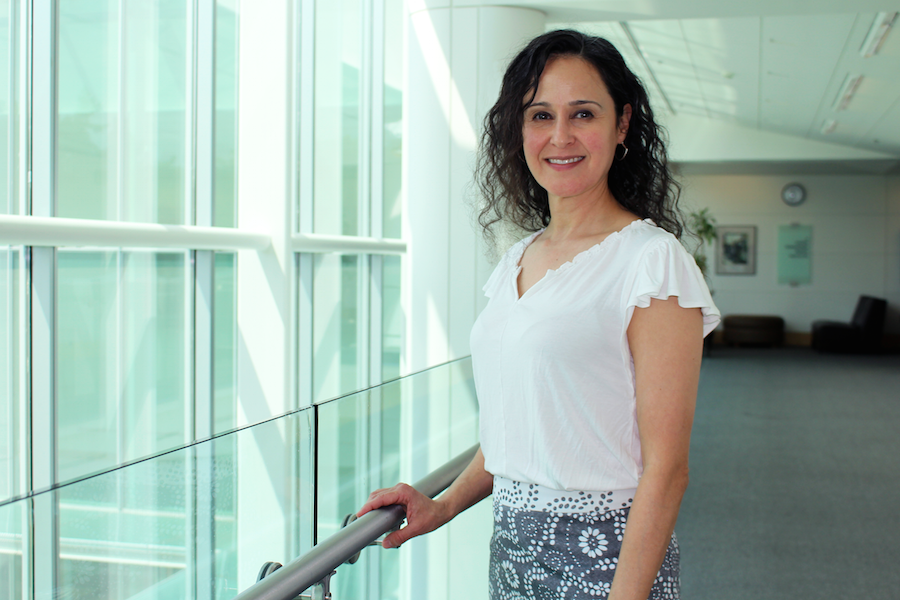 Faculty Friday: Brenda Williams
As co-director of the University of Washington Tribal Court Public Defense Clinic, Brenda Williams' work bridges two worlds.
"When folks hear what I do, they'll often think that University of Washington law students enter the Tulalip Tribal Court space and provide a service, but it's actually the reverse," she says. "What our students gain from the experience is so much more than what we give in terms of the representation—our students are the ones gaining here as they are welcomed into the Tribal Court environment."
As part of the Native American Law Center at UW School of Law, the Tribal Court Public Defense Clinic has partnered with the Tulalip Tribes to serve as the primary public defender in more than 4,000 criminal cases filed in their Tribal Court since 2002. A year before, the Tribes made the decision to take back jurisdiction on the reservation from the State of Washington, necessitating the establishment of a police force and court system to professionally, effectively, and fairly administer justice to the Tulalip community as an essential component of their sovereignty.
"We aim to create the intellectual space for those universal concepts of justice and guide the students as they find the tribal roots for that notion of justice," Williams says.
Led by Williams and co-director Molly Cohan, the UW Tribal Court Public Defense Clinic represent clients year-round, assisted by two staff attorneys as well as a cohort of second- and third-year law students who learn Tulalip Tribal Law, Indian Law, and general criminal law while preparing during Fall Quarter for the Tulalip Bar Exam. Williams says her hope is that the experience "reorients students to center tribal justice systems as they represent clients and that reorientation in turn promotes, for each student, a more complex understanding of justice in terms of humanity."
If not for the opportunity, Williams says many UW law students would graduate not knowing that tribes are sovereign nations, administering their own justice systems; nor would they grasp the nuances of sovereignty implicated as the Tribe charges a violation of tribal law.
"As law students work in the tribal court, they move toward a cultural norm that, most of the time, is different than their own cultural norm," she says. The most satisfying aspect of her work, she adds, is watching students form meaningful connections with clients.
"Students hear their native clients' and ideally, the native client sees the student as somebody who is there to advocate for their interest," she says. "As the attorneys for clients charged in Indian Country, it's a privilege to be there and to be respected in that way. Because we are privileged to be there, our students gain a more complex understanding of justice."
After passing the Tulalip Bar Exam, students work on approximately 20 to 25 cases from January to June, collaborating with Williams and Cohan on a weekly basis to review each case in preparation for time in the courtroom.
"It took me a number of years to get to a space where I felt super competent at what I was doing," Williams says of her own acclimation period to working in tribal law, following a decade as a court appointed criminal defense attorney in the state system. "The first three years, I just had to listen and observe, presuming that direct representation in tribal courts must support clients without altering their value system and tribal identity."
The differences are distinct. First and foremost, Williams says, the Tribal Council passes laws enforced in tribal court, so the laws themselves are different and distinct from federal or state law. Moreover, she explains how "the constitution doesn't apply in tribal courts, but that doesn't make it a place where justice doesn't exist," adding that she tries to guide students away from the notion that the justice system of the United States is the only system of justice.
"I try to instill students with an approach to their practice that centers justice for their client while simultaneously supporting tribal sovereignty. After all, tribal sovereignty is rooted in justice."
That practice for lawyers begins with "centering the tribe" and tribal statutes, laws and customs—i.e. the laws of the tribal people. Within this framework, the criminal defense attorney must then advocate for justice on behalf of their client.
As most of the students in the Clinic come from non-tribal backgrounds, Williams says she aims to guide them to a space "where they naturally see that justice exists in other types of courts and systems." The Tulalip Tribal Court is the largest of its kind in Washington State—operating a civil court and a criminal court in two courtrooms five days a week. Within the US, there are more than 500 federally-recognized tribes, about half of which have tribal courts and exercise some form of adjudicatory or regulatory jurisdiction.
Williams credits a high school mock trial experience at the L.A. County Courthouse for instilling her with the ideal that the courtroom "was a sacred place where we resolve disputes and differences."
"I think I was exposed to that at the right age—about 10th grade," she says, adding that the experience of growing up in southern California with a mother originally from Mexico as a significant factor in shaping her ability to navigate two worlds—and now, legal systems—at the same time. "I've also always had a passion for arguing against authority."
After moving to Seattle when she was 18, Williams attended Seattle Central Community College before transferring to the UW to get her undergraduate degree in political science. She then went on to earn a Master of Public Administration from the UW Evans School and a J.D. from the UW School of Law. After ten years representing defendants in state court in felony, misdemeanor and juvenile cases, Williams saw "incredible opportunity" in the chance to teach students at UW and practice law in the Tulalip Tribal Court.
"When I saw this framework—this setup of tribal courts, law students and the building of a public defense system—it seemed like an opportunity to contribute to an endeavor that's inevitable and to hopefully sway it in a way that preserves the value in Indian Country and excludes what is terrible within the US criminal justice system," she says. "This seemed like an opportunity to water something that might grow into something that improves our own system of justice."
---
Brenda Williams holds a B.A. in Political Science, a Master's in Public Affairs, and a J.D. from the University of Washington. She recently served as Associate Dean for Students, Equity and Engagement.