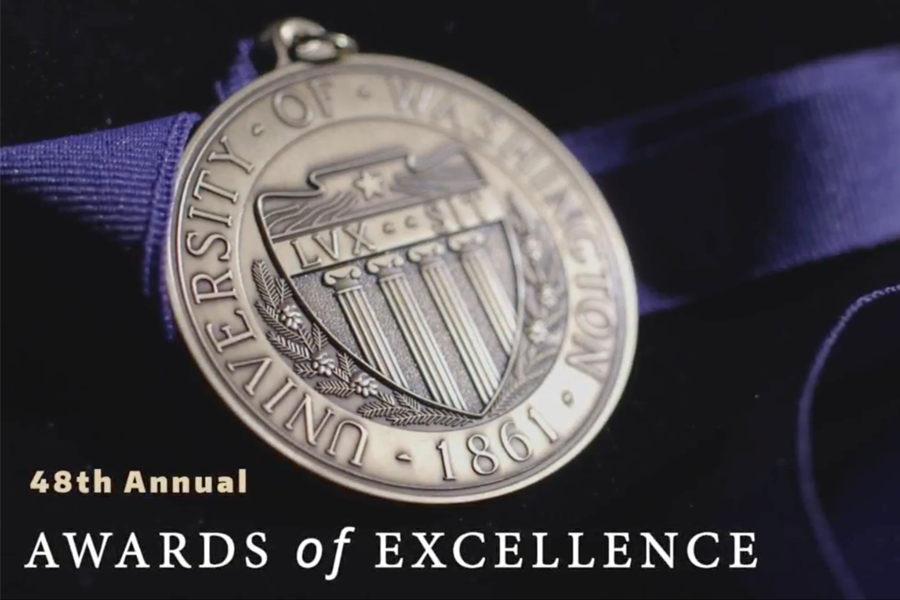 Spotlight: Distinguished Staff Award Winners
Each year, hundreds of staff members at the University of Washington come together to nominate and honor their colleagues for the Distinguished Staff Award—the highest staff honor at the University.
"The Distinguished Staff Awards celebrate the amazing contributions of staff who work tirelessly to make the UW one of the best public research universities in America," says Mindy Kornberg, Vice President of UW Human Resources. "All around us, colleagues are taking on the challenges of the 21st century through innovation and an unwavering dedication to the greater good. We define ourselves through the lens of the global community and these staff inspire us to connect with others while making a positive impact through expertise and compassion."
We caught up with the eight individuals honored this year to get the backstory to what fires their passion in advance of next week's Awards of Excellence program, June 7 at Meany Hall.
---

Jerrett Roberge—The man behind the machines.
Years at UW: 13
As machinery mechanic lead for Facilities Services, Jerrett Roberge takes a proactive approach to maintaining mechanical systems that keep the 70+ buildings that form central core of UW's Seattle campus running every day. From fans and fume hoods to the complex restoration of the damaged Foucault Pendulum in the Physics Astronomy Building, no job is too large or too intricate.
Alex Hansen, facilities/technical services manager in the Biology Department, commended Roberge and his staff for their work identifying and addressing problems before they become critical.
"Over three long days during a recent Christmas break, Jerrett undertook an ambitious project to replace the huge bearings that allow Kincaid Hall's ventilation supply fan to turn—a job large enough that it typically would have been done by an outside contractor," Hansen says. "Jerrett completed this project so that the impacts to research and occupants would be minimized. Without his careful planning, this fan could have failed, leaving a major research building largely unusable for an extended period of time."
How did you first become interested in working with machines?
My father worked in the mechanical field. As a young boy growing up in Alaska, I watched him repair complex things which inspired me to wonder how and why things work.
How did you come to work at the UW?
I worked as a medium-speed diesel mechanic for 16 years that required intensive world-wide travel. I wanted to expand my skills beyond the diesel field and limit the traveling. The UW fit the bill nicely.
What aspect of your work brings you the most satisfaction?
My team and I support research by keeping critical systems running at the UW, as does the entire Facilities Maintenance department. We all have a high degree of stewardship which in essence brings personal satisfaction.
What are words to live by?
When you run into an obstacle you cannot overcome, go around it and continue on.
---

Robin V. Luke—When confidence meets cleanliness.
Dental Hygienist, School of Dentistry
Years at UW: 29
For Robin Luke, the standard for good dental health goes far beyond flossing. Her passion for patient education has reversed countless cases of periodontal disease and empowered people with the skills for lifelong self-care.
One patient ascribes Luke's effectiveness (even in the face of the most adamant adherents of sugar) to her full confidence in her professional knowledge and ability to handle many different kinds of questions: "That boosted the confidence of her patients."
If patients observed it, doctors noticed too—both in practice and in the classroom, where Luke served as an instructor in the undergraduate periodontics clinic at the UW School of Dentistry. She was an instructor there when Ryan T. O'Connor, now a clinical assistant professor of Dentistry – Oral and Maxillofacial Surgery, was in dental school.
"Robin was a meticulous instructor and expected much of her students," O'Connor says. "Robin's expectations for her students directly parallels her expectations for her patients. I know Robin's co-workers have always enjoyed her positive attitude. She works in a very challenging profession which can be taxing, both physically and mentally. Despite these challenges, she manages to be courteous and proficient with her care."
How did you come to work at the UW?
I originally applied for a dental hygiene position that was opening up at the School of Dentistry, Department of Periodontics, having worked in private dental practices for 10 years prior to that. I spent about 23 of those years at the clinic now known as the Advanced General Dentistry Clinic.
Did you encounter any challenges early on? 
My approach to my work was to always provide the best care that I could, which in the early years led me to fall somewhat behind in my daily schedule. In providing dental hygiene services, I never wanted to sacrifice quality of care.
Looking back on almost three decades at UW, what are you most proud of?
I am most proud of having provided an environment to so many people where they could feel well cared for spending an hour or so with me every three to six months. Working with my patients, I always felt there was something interesting to learn about them. Connecting with my patients on a personal level helped them feel comfortable.
How did you find a balance between conviviality and care?
Sometimes I would just ask, "so, what else do you do besides going to the dentist?" Then I'd slip in the occasional question, "how much sugar are you consuming?" My overarching goal in practicing dental hygiene was to share my knowledge of prevention and to get my patients interested in it. I went the extra mile because making that human to human connection felt good to me, and I knew I could make a difference in their health with my professional skills.
You recently retired. What's next?
I have enjoyed being an affiliate clinical instructor at the dental school for the past 10 years or so, which I will continue to do—teaching pre-doctoral students the skills I have honed for nearly 30 years. Teaching is what I've always wanted to do in life. I've just completed a six-week yoga teacher certification, with an emphasis on posture realignment, which will allow me to continue taking care of people.
---
Kelly Canaday—Be more human.
Adviser and Program Manager, Dance, College of Arts & Sciences
Years at UW: 12
Kelly Canaday doesn't own a smart phone or a car. She says both decisions are a way to be more fully present: "I bring this way of moving through life with me to my advising sessions." A fierce advocate for students, Canaday has served the UW for more ten years in multiple capacities, but found her calling in advising.
"She is, in some ways, the greatest spirit of our department," says associate professor of Dance Jennifer Salk. "We are a completely different program because of her. Kelly makes students feel like individuals who are a valued part of the dance department community."
Since Canaday became an advisor and program manager for Dance a little over three years ago, the major has jumped from 32 to 65 students and is still growing. Salk credits Canaday's ability to Kelly's ability to identify when a student is wrestling between majoring in dance and another subject and dance and talks through the major with them, allowing them to see how their goals fit within the major or how they can major in both subjects successfully, stressing dance's development of skills like creative problem-solving, thinking spatially, cooperation, and leadership, among others.
"While the majority of the country is preaching to students to invest in their futures for financial and security purposes," Salk says, "Kelly then tells them that if it brings them great satisfaction and happiness, that is the greatest value of all."
What's your motto or words to live by?
Forget efficiency, be more human. This is truly something I think deeply and often about in regards to how technology is impacting human societies. We are obsessed as a culture with this idea of improving efficiency, sometimes as an excuse to promote some new technology as "superior" to current systems.  In my experience, this added efficiency is impacting how we interact with and embody life.
I truly believe that community exists not just in our work places and friend/family circles, but also in our engagements with folks in the markets, banks, buses, etc. and that having a more complete community gives a greater sense of connectedness. It can also push us outside of our limited socio-economic bubbles and improve empathy to people who are dissimilar to us.
---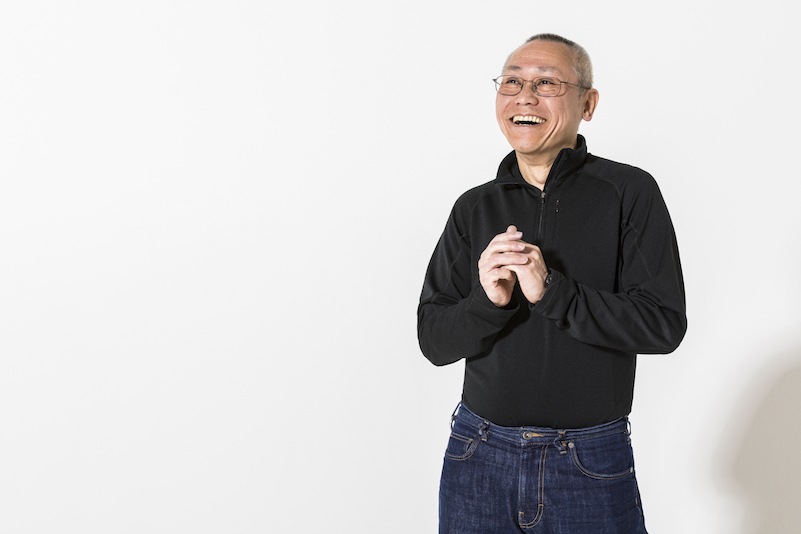 Wai Pang Chan—Excellence, magnified.
Research Coordinator, Biology, College of Arts & Sciences, Division of Natural Science
Years at UW: 14
Wai Pang Chan graduated with a Ph.D. in Zoology from the UW in 1993, but was destined to return.
"In 2003, I came up from Berkeley for a friend's wedding and wandered into the Biology Department and talked to the chair, Tom Daniel," Chan says. "I mentioned that if there were a job opening, I would come back to UW. Tom said there might be one…and I came back a year later." Ever since, he's been running the Department of Biology's Imaging Facility (IF).
"Running the IF" might sound routine, but how Pang does this is truly extraordinary and super high impact," says professor of biology Barbara Wakimoto. "Importantly, Pang opened the facility to researchers from all three UW campuses, providing access that to date has helped individuals from over 20 departments."
Wakimoto says Pang maintains the high-end equipment—such a new, state-of-the-art super-resolution microscope—in "tip top working order," adding that, wherever he can, he learns how to do the repairs himself to save the department money. He also trains undergrads, grads, postdocs, and faculty how to use sophisticated instruments.
"He trained five of my students and each time," Wakimoto says. "I've joined the sessions because I always want to learn from him."
How did you first become interested in working with imaging technology?
In high school, I wanted to be a biologist. I learned how to use the light microscope and enjoyed it since. Both my Master and Ph.D. theses involved scanning electron microscopes and that helped to broaden my interest.
What do you love most about UW?
It's hard to describe. I feel at home here.
What are your words to live by?
The current ones are: if it is easy, it would be done already.
Do you keep any special or meaningful objects in your workspace?
Wonder Woman riding a komodo dragon, both are gifts from my users.
What drives to learn more about your field and educate others in turn?
Mostly I'm driven by the needs of my users and finding ways to help them solve a problem or do better. I am expected to read about the current technology related to my field, but it can be hard to keep up because technology is moving very fast in many directions.
---
Master Plan Core Team, Capital Planning & Development, University Architect and UW Bothell
While many worked on the Campus Master Plan, the core team included two staff members from UW Bothell Planning and Administration: Kelly Snyder, assistant vice chancellor of government and community relations; and Amy Van Dyke, director of physical planning and space management. Two other members of the team were from the UW Seattle campus: Kristine Kenney, university landscape architect and director of campus design; and Julie Blakeslee, environmental and land use planner.
The master plan to guide development of the campus for the next 20 years took effect in January after approval by Cascadia trustees, UW regents and the Bothell City Council.
How long have the four of you worked together as a team?
Amy Van Dyke: The project duration was nearly 2 years.
Kelly Snyder: This was our very first project together as a team. It's great that a team from two different campuses and three different institutions (including Cascadia College) could be new to each other and yet so seamless in our team dynamic.
Kristine Kenney: Kelly and Amy work on many projects and initiatives together at Bothell and Julie and I work on many projects together at all campuses, but this project, as a planning project was new for all of us. 
How would you describe your dynamic or working philosophy? 
KS: This team worked very well together. We were all focused on the end goal and yet flexed and adjusted during each phase of the project to address the changing dynamics internally and externally.
Julie Blakeslee: We also took the view that this was just the beginning and there is going to be a long working relationship, between ourselves, with the City of Bothell and surrounding community.
KK: I would say our team dynamic was one of great collaboration and respect for what each of us brought to the project that resulted in the shared responsibility to create a common vision for the UW Bothell and Cascadia College campus and the tools necessary to achieve that vision. And we had a lot of fun doing it!
AVD: We knew our roles and we understood each other's strengths and weaknesses, as a result we learned to trust each other.
What's something about master planning many people might not realize?
AVD: A master plan is about so much more than pretty pictures or maps on a page, the content of this master plan sets is a new playbook for future campus development.
KS: One thing many people might not realize is that one of our core team members is not a UW employee. Meagan Walker, Cascadia College's vice president of college relations and advancement, was very much part of our core team. Although she wasn't part of the UW award, we definitely share this acknowledgement with her.
JB: One thing many might not realize is that this is not only a master plan for the shared campus, it a development agreement with the City of Bothell. Portions of the plan are in the city code.
KK: I think credit is due to Kelly who worked relentlessly to improve relationships with the surrounding Bothell community of neighbors. Over the course of the project, Kelly developed an extensive outreach plan that engaged and educated the neighbors, integrating their comments into the development of the master plan, which in turn will allow for the necessary growth of the campus in alignment with the neighbor concerns.
What aspect of your work brings you the most joy or satisfaction? 
KK: The understanding that we're at the University to steward the incredible legacies each of our campuses offers, while at the same time creating our own history and legacy for future generations of students to enjoy.
AVD: When the work we can make someone else's job easier.
What are your words to live by or the best advice you ever received?
KS: Work hard, do your best, and be kind to others.  Find the joy in what you do, in others and in yourself. 
JB: Be a part of the solution, not a part of the problem.
KK: Listen, Listen, Listen…Understand the problem before trying to find the solution, believe in what you're doing by being true to yourself and others, and always do what you love. 
AVD: It may not be perfect, but it can be better.
What do you love about the UW—and UW Bothell in particular?
AVD: I love working side-by-side with really smart people who really care about access to quality education and student success.
KS: It's an honor and privilege to work for UW Bothell and make it a place to provide access and opportunity which leads to successful students, alumni and community. As a first generation college graduate (UW Seattle '92 and '05), I really enjoy mentoring students and helping them achieve their dreams.
JB: I share this sentiment. UW Bothell is "UW" to me.
KK: I love that we have 3 very distinct campuses in size, age, character, community, etc., and that each of them approach education in a manner that is appropriate to their location.
What fires your drive to do what you do? 
KS: The ability to make a difference for the students who might not see the potential in themselves and empower them to succeed. 
JB: Making a vision come to life. I love to hear and see a vision, translating that into a plan, and looking ahead to seeing how or what may restrict implementation of the vision and remove or lessen the impact of those restrictions. Incorporating lessons learned from the past that informs a new approach and help to bring strategic partners along with us.
KK: My passion for stewarding campus environments as places that live in the memories of generations of alumni as individual memories or collective, shared moments – whether it's where they met their spouse, where they discovered their future life's work, where they made history, or where they went for respite to restore their soul between classes.
AVD: Hope. Each day is a new opportunity.
---
Connect and celebrate with your team members and the rest of the UW community at the Awards of Excellence program on Thursday, June 7, beginning at 3:30 p.m. at Meany Hall. The event, which includes a one-hour ceremony hosted by President Ana Mari Cauce and Provost and Executive Vice President Jerry Baldasty, is open to the UW community and general public. The program will be followed by a reception with hors d'oeuvres, desserts, and a photo booth.