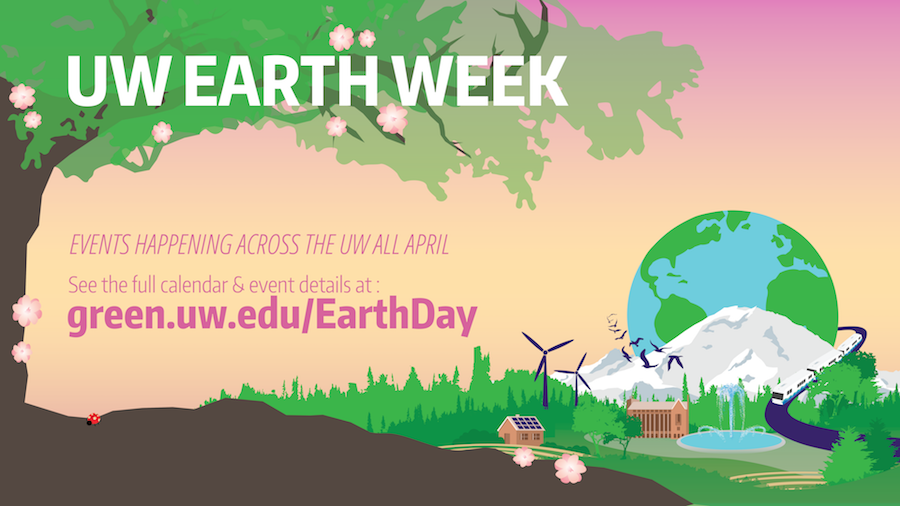 Celebrate Earth Week at the UW!
This Sunday, April 22 is Earth Day, a worldwide celebration to demonstrate support for environmental protection and appreciation of the many gifts the earth gives us! First celebrated in 1970, Earth Day has since vastly grown. Today, it is coordinated globally by the Earth Day Network and celebrated in more than 193 countries each year. Known as the world's largest environmental movement, this year's Earth Day is all about ending plastic pollution.
Here at UW and in the Pacific Northwest, we pride ourselves on being eco-friendly, caring about our impact on the Earth, and celebrating both Earth Day and Earth Week. This year, UW Sustainability and many other campus groups have come together to organize inclusive opportunities all across UW to engage in discussion about environmental impact, learn, and celebrate. From seminars on plastic pollution to restoration work parties and speakers, UW Earth Week has it all. Below is a sampling of the many opportunities and events across the Bothell, Tacoma, and Seattle campus. For a full list with more event details click here.
In partnership with Cascadia College, UW Bothell is offering many opportunities to celebrate and give back to the environment during Earth Week. Believe it or not, these events are only a sampling of the many Earth Week opportunities at Bothell campus all week! For a full list and comprehensive details on each event, visit this link.
Monday – April 16
Start off Earth Week by visiting ASUWB while they table to educate about alternative transportation methods that reduce carbon footprint, discuss the importance of environmental awareness, as well as provide sustainable goodies to all attendees. After, check out a Speaker Mahmoud Ghofrani, Assitant Professor, STEM-Electrical Engineering, to learn about electric vehicles and moving towards clean and sustainable transportation.
Tuesday – April 17
At lunch time, take a student-led sustainability tour of the UW Bothell Campus to learn about what campus sustainability looks like. Next, head to the Food Forest and  join the grounds team in getting the forest ready for the growing season by planting veggie starts! Later in the afternoon, check out the UWB Sustainability Club's event Unpaving Paradise to bring awareness to the forested area that was once between UW1 and UW2.
Wednesday – April 18
Early afternoon Wednesday,  grab some colleagues and peers and help plant a native shrub hedgerow to support pollinators a he Campus Garden. Next, swing by the mobile laboratory to learn about the unique Bothell wetlands, followed by a late afternoon seminar with speaker Karen May from the King County Solid Waste Division about preventing unnecessary food waste.
Thursday – April 19
You won't want to miss the 2nd annual Sustainability Festival on Thursday with tasty food from Taco Time, an electric car show, over 30 community partners sharing their sustainability efforts, tips and tricks, and music brought by UWAVE Radio. Later in the afternoon, join UWB environmental scientist Warren Gold and Mary Gates Research Award winner Jessica Kunder for a tour of the trees on upper campus.
Friday, Saturday, Sunday – April 20-22
Campus Earth Week celebrations continues into the weekend with a Garden Work Party on Friday to plant, harvest, weed, and turn compost at the Campus Garden.  On Saturday, continue your garden work by joining UW REN with the restoration of their site at North Creek Forest, and on Sunday attend a FREE film screening of Chasing Coral, a documentary about the health of our coral reefs.
On Tuesday April 17, UW Tacoma is hosting their campus Earth Day celebration at William Phillip Hall from 11:00 a.m. to 1:30 p.m. The celebration will include performances, activities, and recognition of UW Tacoma's Husky Green Award winners. It's the perfect afternoon event to collaborate, inform, and ignite action towards a more sustainable future. Don't miss out!
UW Seattle Campus kicks off Earth Week celebrations on Thursday April 19 with different opportunities through the weekend both on campus and in the greater Seattle area. For a full list and more details about all of Seattle Campus Earth Week events, click here.
Thursday – April 19
Start your morning off with a Restoration Work Party meeting at Merrill Hall! From 10:00 a.m. until 1:00 p.m. join UW Botanic Gardens in a Union Bay Natural Area restoration work party to learn about the Union Bay Natural Area and ecological restoration. Later at 6 p.m., head to Paccar for ReThink UW's 4th annual Resilience Summit for students, faculty, and local business leaders. You'll come together in discussion to explore current environmental issues.
Friday – April 20
On Friday, Earth Week at UW takes over Red Square with UW Sustainability and UW Sustainability Action Network's signature event: Earth Day. As UW's central celebration, the theme is "Planting the seeds for a sustainable future" and will feature keynote speaker Nikkita Oliver, local musician Paris Alexa, and much more. Mid-afternoon attend the forum Zero Waste Washington and Plastics Pollution to learn about plastic waste and what is being done to reduce plastic pollution in our region. Last but definitely not least, sign up for The Whole U's Earth Day Challenge: Skip the Elevator and Take the Stairs! In an effort to reduce elevator calls across UW, we're challenging you to take the stairs and count your steps. The campus with the most steps wins full bragging rights and a trophy!
Saturday & Sunday – April 21-22
Give your weekend more meaning by joining the Student Conservation Association in partnership with UW Botanic Gardens on Saturday for a Restoration Volunteer Event at the Washington Park Arboretum. You'll help restore the arboretum through planting, mulching, removing invasive species, and maintain trails. To finish off the week, head to the UW Archery Field on Sunday as part of an undergraduate capstone restoration project. All volunteers will be mainly removing English Ivy and Himalayan Blackberry—coffee and donuts provided!
---
We hope to see you at as many Earth Week events as possible! With so much happening all across UW, it's never been easier to dive in and make a positive impact on the environment. There are plenty of opportunities to learn more, engage in discussion, implement change, give back, and most importantly celebrate this beautiful Earth we call home! Share with us how you spend Earth Week by tagging us on Facebook, Instagram, and Twitter.