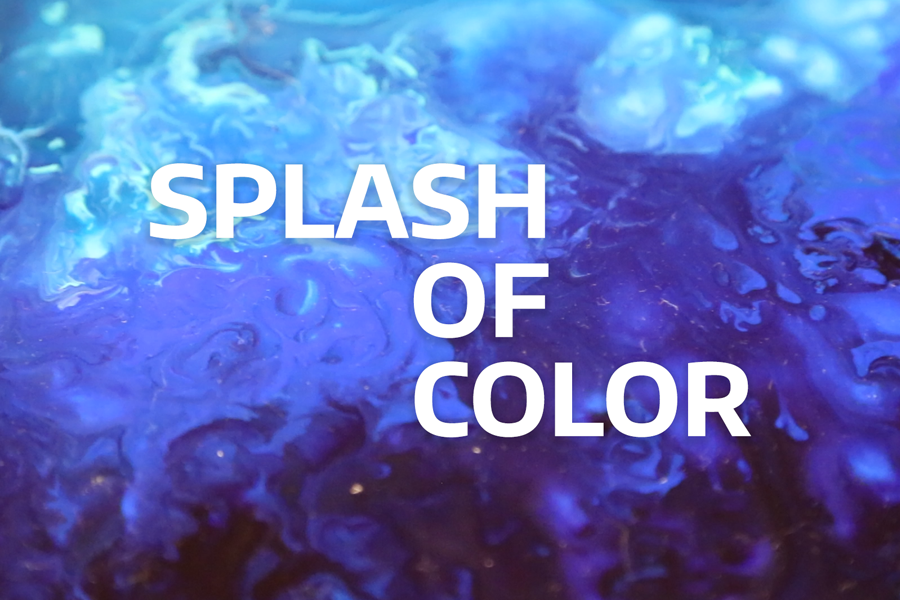 Staff Story: Sarah Guthrie
Sarah Guthrie appreciates a good challenge. Three years ago, she made it her mission to spend 30 minutes a day painting at home in her basement studio—a way of incorporating her lifelong passion for making art into a busy schedule as director of communications for the University of Washington School of Pharmacy.
"It seemed like an almost impossible challenge," she says. "But in the end it really grew my practice."
A year later—searching for an impetus behind what compelled her to paint and create—she embarked on a second challenge. She took to Instagram and asked her followers which three colors brought them joy with the intention of creating a painting for each reply. When she received 25 responses overnight, her latest series was born.
This past weekend, Guthrie opened What 3 Colors Bring You Joy?, a solo show at Blend Studio in Nashville, Tennessee where she gave a demonstration of the painting process she's honed over the past year.
Using fluid acrylic paints on a smooth paper called YUPO, she maneuvers paint around the paper's wet surface with a brush. But instead of being absorbed into fiber, the paint dries atop the synthetic surface.
"What happens is the paint doesn't seep into the fiber because the paper has almost a plastic coating," says Guthrie, who holds an M.F.A. in Visual Arts from Vermont College of Fine Arts. "The paint keeps a lot more of its color, depth, and dimension."
The effect is something close to otherworldly—an extra-planetary paisley in which tendrils of color float together, then apart, atop a fathomless, vibrant void.
"I don't want brushstrokes," Guthrie says. "I really want to celebrate the paint and color to the point that it becomes a conversation with the paint—a partnership in which I get it where I want it to go."
Even so, she admits sometimes the medium doesn't behave in the ways she'd like it to. That's when she falls back on her experience working at the School of Pharmacy. "I think one of the things I appreciate about my scientist colleagues at the School of Pharmacy is they learn to become comfortable with failure," she says. "Not all experiments work and that's important because if they all did, you wouldn't learn anything."
Those lessons, she says, carry over into the studio.
"Another one of the things I love about the scientists I work with is that their arc of thought is generational—they're thinking about the 50-year arc of this research: who have I learned from, who am I training for the future? There's something humble about such brilliant minds putting themselves in that context."
For Guthrie, artists and scientists are something of kindred spirits: "I'm part of a conversation that's generations long," she says. "People have been painting and doing scientific experiments for tens of thousands of years—all with different levels of rigor and knowledge. I'm just trying to build on that using these newer materials—these fluid acrylics—to see where can I take painting next and where can I grow my impact in the world."
"That's exactly what my colleagues in the sciences are doing as well."
---
On Friday, May 4th, "What 3 Colors Bring You Joy?" will open at Spoke Gallery on Vashon Island. From 6-9 pm. Sarah will be painting and creating Joy live during the opening. Learn more here and see more of Guthrie's work on Instgram @artistgu3.