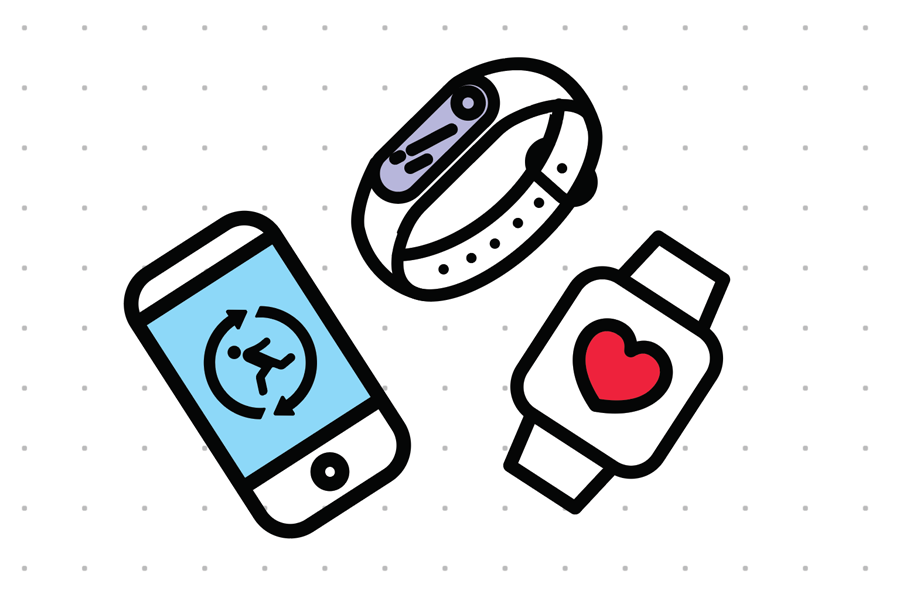 Feeling fit: There's an app for that!
There is no doubt that technology has made major changes to working out and how we experience and quantify exercise as a whole. From the machines we use to the stats we monitor while working out, technology has established its place in the fitness world. Although there are many gimmicks and gizmos on the market, many apps and fitness trackers are ideal for working out and staying on track with our personal wellness journeys. They are capable of providing important insights, motivation, variation, and can teach us new methods and improving technique.
In this article, I will introduce some of my favorite fitness apps and trackers on the market. Whether you're looking for something versatile and easy-to-use or more advanced tech to take your training to the next level, tracking your workouts and regulating your progress has never been easier.
Whether you are an Apple or Android disciple, there are basic options often already on your phone that offer some level of fitness tracking.
What it is: A place to enter and track your activities—meditation time, sleep, nutrition, and physical activity—or simply use the basic tracking technology. The app can track your steps, walking and running distance, and flights climbed throughout the day. 
Why it's cool: You can easily check your daily, weekly, and monthly trends, along with recording body measurements, health records, and much more. The app is also capable of syncing with other health and fitness apps.
---
What it is: Google Fit is Google's competitor to Apple Health and also includes all of the same basic fitness tracking technology. As you walk, run, or cycle throughout the day, Google Fit records your stats and provides insights on speed, pace, route, elevation, and more.
Why it's cool: With Google Fit you can set and record your fitness goals based on steps, time, distance, and calories burned. As with Apple Health, the app can sync with other health and fitness apps.
Who they're for: Both Apple Health and Google Fit are great for anyone looking to be a little more mindful in their daily activities or those of us who benefit from keeping a log about our choices. They are very user friendly because they require little to no set up and many people already own one or the other.
---
Fitness Apps
Looking to go a little beyond your smart phone's in-built programming? Fitness apps are incredibly useful for staying accountable and for helping diversifying a fitness routine. There are hundreds of workout apps you can download, but here are 6 of our favorites:
What it is: An audio fitness app that creates trainer-led, boutique-style workouts you can listen to and follow along on your smart phone. Workouts are varied in type, motivating, and perfectly tuned with upbeat playlists!
Why it's cool: It's 6 workout categories include: outdoor running, treadmill, elliptical, indoor cycling, strength training, and yoga, along with training programs for a 5k, 10k, or full marathon. Each class is categorized as beginner, intermediate, and difficult so as to fit your need and experience, and you can search for different workouts based on duration, speed, max incline, and more.
Who it's for: Aaptiv is particularly useful if you're like me and enjoy instructor led classes, but can never find classes that work with your schedule. If you are busy and want to work out—and work out well—on your own time, Aaptiv makes it possible.
Aaptiv is one of our Fitness Discount Partners and for Dare to Do are offering an entire month FREE along with a special one-time 2018 reduced price subscription.
---
What it is: Sworkit lets users pick from yoga, cardio, strength training, or stretching to a variety of different exercises for a specialized and customized workout.
Why it's cool: With Sworkit you can find guided workout plans, build your own workouts, access over 100 targeted programs, and view exercises demonstrations. Are you a runner that wants to start practicing yoga for recovery? Great. Sworkit has yoga sessions specialized for you.
Who it's for: Sworkit is a great option if you don't want to plan out your entire workout, or want to have a say in which moves you do—but would rather let someone else design the reps and sequence.
---
What it is: Through Charity Miles, sponsors like Johnson & Johnson, Chobani, and Humana donate a few cents to charities per mile you move. You get to choose from over thirty world-class charities such as Stand Up To Cancer, ASPCA, and more.
Why it's cool: Do you consider yourself a master multitasker? With Charity Miles, it's simpler than ever to do two things at once! Simply open the free app and go for a walk or a run, ride your bike to work, walk your dog, and raise money for charities of your choice!
Who it's for: Absolutely everyone! If you're looking to do a little good while staying in great shape, Charity Miles is the perfect motivator. How much do you think you can you raise in a year?
---
What it is: KINETICOACH provides over 600 workouts customized to fit your preferences with beginner, intermediate, and advanced experience level settings, and the ability to specify your workout goals such as gaining muscle, burning fat, or increasing endurance.
Why it's cool: This app is truly user friendly with demo videos and GIFs for each move and a multi-function timer to set intervals, countdowns, and more. My favorite feature is when the app asks me to rate my energy level and mood from "Feeling Stressed & Tired" to "Feeling Great! Bring it On!" so as to create a workout that really fits me.
Who it's for: KINETICOACH is great for people who travel for business or vacation often because it was developed with hotel gyms in mind.
---
What it is: Fitbod creates weight training programs for strength, muscle tone, bodybuilding, and Olympic and powerlifting training. It guides users through recommended sets, reps and weight, so that lifters can focus on their form and craft.
Why it's cool: I love Fitbod because the app studies users' past workouts to understand their strength-training abilities and adapts to user's available gym equipment. My favorite component of the app is the muscle guide showing users what muscle groups they will be working with the exercises included in each set! 
Who it's for: Fitbod is great for anyone looking to learn more about lifting weights or those who already do because of how instructional and useful the app is—each workout set is described in full for proper form with visuals and video!
---
What it is: A free 30-day challenge that has 13 different squat variations and an easy to use calendar to track your completion. If you're looking to work a specific muscle group and enjoy a challenge, these 30-day challenges are perfect!
Why it's cool: The challenge doesn't end after the squatting—check out the Toned Arms, Cardio, and Plank challenges. If you're really up for a challenge, try doing multiple at a time!
Who it's for: Everyone of all skill levels! I love these challenges because there are 2 different challenges per level (beginner, intermediate, and advanced), so you have access to 6 total challenges and there are video demos of each move if you're not sure how to do it.
---
Wearable fitness trackers & smartwatches
Bringing your phone to the gym or on a run can be a hassle, so why not ditch it all together and wear your substitute? Either a wearable fitness tracker or smartwatch can be a great addition to your fitness routine. Here are some of our favorites that fit a variety of uses, from the most basic reminders to an all-inclusive fitness-tracking smartwatch.
What it is: The TomTom Spark 3 is overall a great smart watch with GPS, heart rate monitoring and timing tools that track time, distance, and calories burned while running, walking, cycling, and more.
Why it's cool: It's waterproof, durable, has a long-lasting battery, screen, and an app to view your stats. You can even store songs on the watch and use Bluetooth to sync your (included) wireless earbuds.
Who it's for: For those of us who get frustrated taking our phones to the gym, but aren't ready to invest in an Apple Watch, the Spark 3 model is a perfect option. However, the TomTom Spark 3 runs to the pricier-side of the market.
---
What it is: This well-rounded wearable fitness tracker connects wirelessly to an app on your smart phone and is great lower cost option with a six-month battery life and waterproof features.
Why it's cool: Moov Now users can track their activity across the spectrum of their day and in a range of activities with tracking for boxing and rep-based training, swimming, running and walking, and sleep monitoring.
Who it's for: Because the Moov Now is less advanced when it comes to GPS or some of the more advanced fitness tracking features, it's a great everyday tracker if you're looking for something that doesn't cost too much or take up too much space on your wrist. Note, the Moov Now does not have a screen if you are looking for such a feature.
---
What it is: Fitbit is a popular wrist fitness tracker. Check out our three favorites:
Ionic Smartwatch: Fitbit's newest device is jam-packed with features. With GPS, to being waterproof, a 24/7 heart rate monitor, and sleep tracking information, it amounts to a very high-quality smartwatch with a large watch face screen display.
Fitbit Charge 2: With a smaller screen, heart rate and activity tracker, and GPS through your phone, Fitbit Charge 2 is a slimmer take. Although it is not fully waterproof, there's a Multi-Sport tracking feature that allows you to keep track of weight training and other exercises.
Fitbit Flex 2: Another great fitness tracker on a smaller budget, Fitbit Flex 2 comes in two sizes, connects to Bluetooth, is comfortable and light, and has a 5-day battery life. Fully waterproof and uncomplicated, Fitbit Flex 2 is perfect for anyone looking for something simple and non-intrusive.
---
What it is: This fitness tracker/watch is water resistant, monitors your heart rate, and has a 25-day battery life. The watch's hand dials show the time while a smaller dial shows the percentage of your personal daily activity goal achieved.
Why it's cool: Its sleek look and multipurpose use will definitely come in handy whether at the gym, in a meeting, or on an afternoon outing.
Who it's for: The Nokia Steel HR is a great option for those who want a smartwatch that looks less like the typical smart watch. Its sleek look and multipurpose function will definitely come in handy transitioning from meetings to the gym to social outings.
---
From basic models for children to incredibly high-tech watches for aviation and marine field use, Garmin's fitness trackers and smartwatches have something for everyone. My personal favorite? Their Forerunner series.
Forerunner 10: Is affordable, waterproof, and has a 5-hour battery life with GPS and a screen. It will track distance, pace, and calories, is easy to use, and can be synced with Garmin's Garmin Connect tracking and analysis software.
Forerunner 30: The same basic tech as the 10, but also a smartwatch with multisport features tracking running and cycling, 8 hours battery life with Bluetooth connection, and a built-in heart-rate monitor.
---
At the end of the day, being active and staying fit is all about your personal wellness and what makes you feel the best version of yourself. If you don't like to be tuned into technology when you workout, no problem! If you'd like to get a little more tech savvy in your daily workouts, give one of these a try and let us know your results! And now onto my day 8 of the 30-Day Squat Challenge…