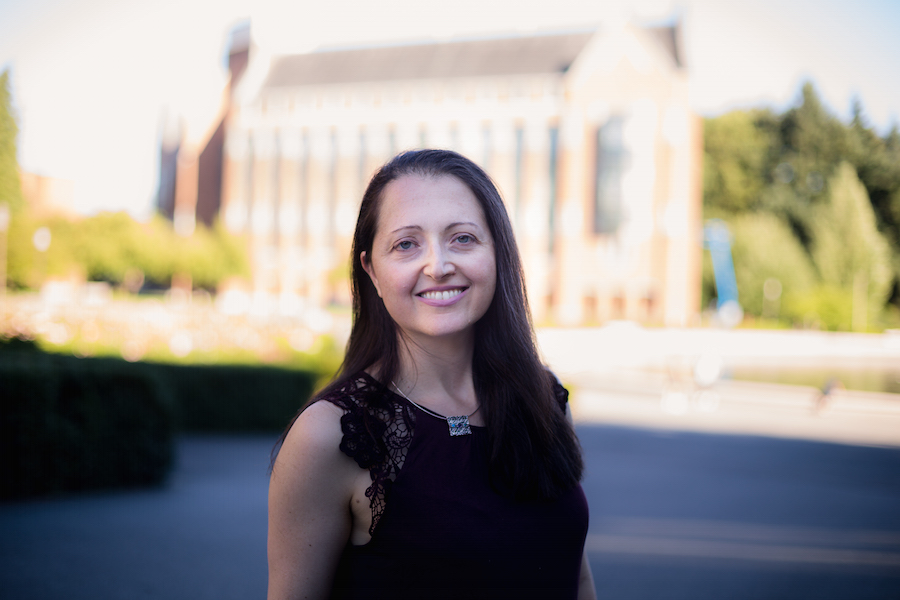 Next time you walk down a Seattle sidewalk, you're stepping directly into the work of Anat Caspi.
As director of The Taskar Center for Accessible Technology based at the University of Washington's Paul G. Allen School of Computer Science, Caspi leads the development, translation, and deployment of open-source, universally accessible technologies that benefit populations with motor limitations or speech impairment.
But in order to achieve user-specific solutions, she and her team hardly stick to a strict and narrow path. Instead, they follow all of them.
Using data crowd-sourced by The Taskar Center's OpenSidewalks project, Caspi and her team mapped all of Seattle and last February launched AccessMap, an online tool that allows Seattle pedestrians to customize routes according to personal preferences based on factors such as elevation change, locations of sloped curb cuts, accessible crossings, and avoidance of construction sites. In under a year, AccessMap already has hundreds of dedicated users.
"That's really encouraging because it means there's a place for personalized routing," Caspi says. "It validates the main tenet of what we're doing, which is that all of us approach the environment in very personal ways."
As a researcher, Caspi is interested in how collaborative commons and communal cooperation can challenge and transform the current economics of assistive technology. She says she is heartened by initial engagement and feedback surrounding the technology, but adds that it only underscores the need for further development.
"The fact that it's useful with the current paucity of information we have is both impressive and begs for more work," she says. In the future, AccessMap will be able to provide information about quality of the sidewalks, signalization of intersections, and publicly accessible elevators. "We know we can improve this in multitudes of ways, we just need enough work time and support and students to work on this project."
In addition to serving individuals in wheelchairs, AccessMap found a devoted user base in parents who map routes for strollers, delivery workers maneuvering heavy hand trucks, and people learning to ride bikes, among diverse others. This kind of universal applicability cuts to the core of Caspi's research as a computer scientist.
"Taking that perspective is really important in the context of accessible technologies," she says of the universal design approach. "We're really designing for a community, as opposed to designing for an individual."
It's one of the primary lessons she tries to impart to students.
"Access is really about usability and we ought to take a departure from who is the end-user, because the end-user can be multitudes," she says, stressing that, "as technologies develop to serve a more heterogeneous population, they start provisioning more situations and different circumstances and that ends up encompassing disabilities as well."
"What we learn," she says, "is that as we become more inclusive in our design, we not only end up designing for many more people as individuals, but we design for relational groupings: parents with children, elderly and their caregivers, friends conversing while walking down the street. And in fact many people engage technology in these small groupings rather than as single-end-users."
For Caspi and her colleagues, the future of designing technologies is one of shared responsibility and benefits. Technology shouldn't be designed to benefit a select few "end-users" (a term Caspi says she dislikes), rather it should seek to address the needs of—and solicit the input from—multitudes.
"The hope is that not only are consumers getting the benefit of this, but that entire cities can also get a holistic view of accessibility in their city," she says, adding that she hopes AccessMap will garner interest from city and transportation planners, having already received inquiries from tech companies whose digital mapping applications are currently closed-source and don't offer individuals customizable solutions.
The "holy grail," she says, would be "seeing more and more people using the app on-the-fly on mobile devices."
"To me, that means individuals with disabilities have the freedom to take care of business, say, in City Hall and then pop in for an impromptu coffee meeting with a buddy downtown," she says. "If we can facilitate people's approach to public transportation, that can promote use of public transportation."
It's a vision Caspi shared with her husband, the late Ben Taskar, an expert in machine learning, computational linguistics, and computer vision who joined UW CSE in 2013 as Boeing Associate Professor Computer Science and Engineering. When CSE established the Taskar Center for Accessible Technology in his memory in 2015, Caspi invoked his vision of what could be achieved via the rapid development of accessible technologies "by combining CSE's expertise in machine learning, robotics, sensors and human centered design with UW's leadership in engineering and rehabilitation medicine."
The user-centric solutions generated from such partnerships, she said, could benefit the more than 52 million people living in the U.S. with some form of disability—as well as the more than five million who live with some form of affected mobility resulting in difficulty or inability to move the upper or lower extremities.
Today, Caspi's work at The Taskar Center speaks to her dedication to her husband's lasting vision—and to another shared legacy: their daughter, Aviv, who is completely paralyzed except for two of her fingers.
Recent advances in sensor technology have made them cheaper, more accessible, and easy to use, allowing computer scientists like Caspi to personalize and customize inputs in a "faster, more facilitated way." This, in turn, has made advances that once seemed daunting and out-of-reach, "completely plausible." Additionally, scientific strides in machine learning and artificial intelligence have lent software products more adaptive parameterization.
"This means that when a software product leaves the warehouse, developers can provision ways of changing the way the software behaves that can customize the way the technology is tailored to individuals," Caspi says.
On a personal and professional level, these advances make Caspi's work more vital than ever.
From the development of an innovative tool to enhance communication devices by immersing the device in a speaker's environment—allowing for context-informed augmentative communication—to the TACcess DIY Switch Accessibility Kit, which can turn many battery-operated toys into switch-adapted toys, allowing users to create customized interactive surfaces to suit the needs and play styles of children, research at The Taskar Center seeks to include, not isolate.
"It's not just about the person who is communicating or mobilizing through a device," Caspi says. "It's about the support network that's required to be there to position the device and ensure that it's being used properly. When you design a communication device, you really ought to consider the support activity around it."
Caspi says the Computer Science department here feels like "a home" because of its similarly inclusionary focus—not only for the populations its scientists serves, but for women and minorities in the computing profession as well, in large part thanks to the work of Ed Lazowska and Hank Levy.
Born in Israel, Caspi moved to Los Angeles when she was 12. Having taken classes in Basic at the encouragement of her mother, a music teacher, she was the sole girl in her high school's AP Computer Science class.
"While alienating at first, it gave me the notion that I could compete," she says of her high school experience. "And I competed just fine." Though once she got to Stanford, she says she experienced "self-doubt like many of the other female students in my computer science courses."
There, she double majored in Feminist Studies alongside Computer Science—a program that she says was "not so much political, but offered a critical framework with which to look at the work that we're doing in computing."
"Nowadays," she says, "technology trumps all and our ability to use technology gives us many more opportunities in U.S. culture. With that come all these responsibilities and powers we have as designers and engineers of technology."
Since joining the UW, Caspi says she's found the environment in Washington "energizing."
"I feel strongly about social entrepreneurship and the environment here allows me to engage with it more and more as part of my work," she says. "As much as you like to be independent of your environment, it is tremendously instrumental if a community supports that kind of work and thought."
---
Anat Caspi holds a B.S. in Computer Science and M.S. in Artificial Intelligence from Stanford University and a Ph.D. in Bioengineering from University of California, San Francisco and University of California, Berkeley.