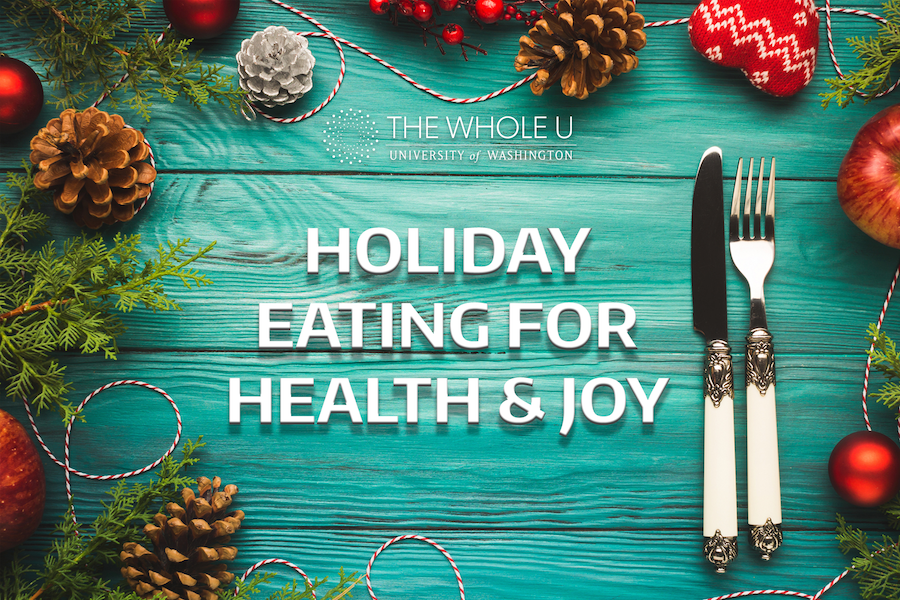 10 Tips from the Tables of UWMC Dietitians
As a dietitian, people are often curious about my personal eating habits—worrying that they cannot eat treats or high fat foods around me or consider me to be "The Food Police." However, dietitians aim to promote awareness, balance, and moderation in all things related to nutrition. The same philosophy applies during the holiday season. This is a special time of year that is full of food-centric gatherings, parties, and events, but it need not be embarked upon as an "all-or-nothing" marathon of deprivation or overdoing it.
I asked several dietitian colleagues at UW Medical Center if they'd share a few of their own tips for helping maintain a healthy lifestyle while still celebrating all the holiday season has to offer.
Selective Indulgence. Liz Spiess, UWMC RD, suggests indulging in the things that make the holidays feel special to you, such as your mom's apple pie, your grandfather's eggnog, or cookies your children decorated. But avoid indulging in the foods that aren't so special: the foods that we could enjoy year round such as cheese & crackers, buttery rolls, chocolate chip cookies.
Be realistic. The holidays may not be the best time to embark on a weight loss plan. Aim for weight maintenance.
Don't skip meals. Arriving to a party on an empty stomach makes it very difficult to make smart choices once you arrive. Follow a regular eating schedule during the day or have a small snack beforehand to help curb your appetite.
Choose wisely. Survey the offerings at the holiday buffet prior to loading up your plate. Choose your favorites, skip your least favorites, and include a generous portion of fruits and vegetables.
Follow the 80/20 rule. Also known as "Hara hachi bu," which roughly translates to "eat until you are eight parts (out of ten) full" in Japanese, this rule emerged from Confucian teaching and says that since our bodies need about 20 minutes for the brain to register, "You are now full," we often overeat by at least 20%. Savor your favorite holiday treats in small portions and eat only until you are satisfied or feel about 80% full, but not stuffed. What does 80% full mean? Just eat until you no longer feel hungry, instead of eating until you are full.
Make time for exercise. Exercise helps relieve holiday stress and prevent weight gain.
Watch liquid calories. Alcohol can lessen inhibitions and induce overeating. Many other classic holiday non-alcoholic drinks (such as punch or egg nog) can also be loaded with calories and sugar.
Take the focus off food. Plan non-edible projects with your family, such as wreath making or a gingerbread house purely for the fun of designing one. Go on a walking tour of decorated homes. Move from the kitchen to the living room for a lively evening of games.
Contribute a healthy dish. Concerned that some of your less health-conscious relatives won't have anything light or healthy to eat? Bringing a healthy side dish is always a great option.
Veggies! Eliza Lagerquist, UWMC RD, emphasizes tasty vegetable side dishes at the holiday table and offers the following favorite holiday recipe.
---
Brussel sprouts, apple and pomegranate salad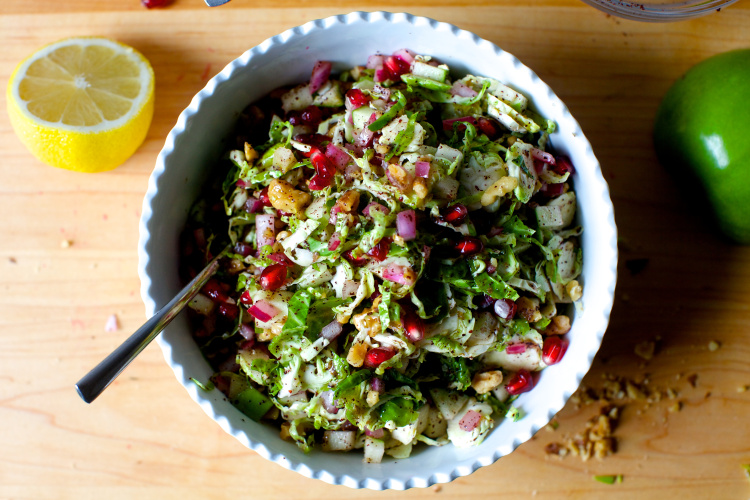 Ingredients
½ large red onion, diced small
2 tbsp red wine vinegar
2 teaspoons ground sumac
¼ teaspoon kosher salt, plus more to season salad
2 cups Brussels sprouts, shredded
½ cup fresh pomegranate seeds (from about ½ large pomegranate)
1 medium or ½ large apple, unpeeled, cored and diced (Granny Smith, Pink Lady or Honeycrisp work well)
Juice of half a lemon, plus more to taste
1 ½ to 2 tbsp honey, plus more to taste
¼ cup olive oil
¾ cup toasted walnuts or hazelnuts, lightly crushed or coarsely chopped
Ground chipotle chili pepper or hot smoked paprika, to taste
Directions
Make the sumac-pickled onions: Combine red onion, vinegar, sumac and 1/4 teaspoon kosher salt in a small dish and set aside while you prepare the other ingredients, or ideally at least 15 minutes.
Combine all salad ingredients, including red onions and their pickling liquid, in a medium bowl and season to taste with salt and red pepper. Taste and adjust ingredients as desired.
This salad can be prepped ahead, but do not dress prior to 1 hour before serving to keep the sprouts fresh and bright!
---
Remember, the holiday season is a time to enjoy your friends and family. The holidays don't have to mean weight gain or ignoring the healthy habits we work hard to implement all year long. Focus on a healthy balance of food, activity and fun, and don't restrict yourself from enjoying your holiday favorites. Wishing you all a healthy Happy Holidays!
---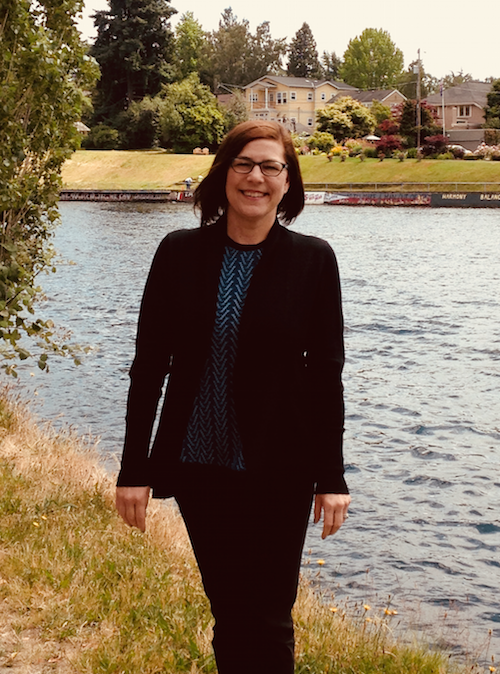 Kristine Carlson is a Registered Dietitian and Certified Nutrition Support Specialist who works with critically ill patients in the ICU setting at the University of Washington Medical Center. Outside of work, you will find her in the kitchen cooking up (mostly) healthy recipes, enjoying a hot yoga class, or hiking with her two dogs, Charlie and  Zach.