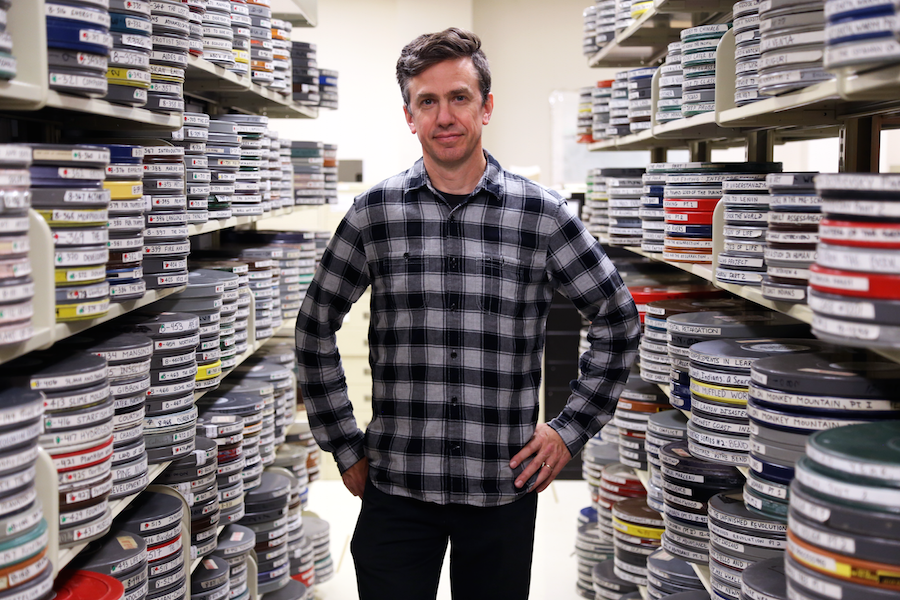 Faculty Friday: John Vallier
Hey hey, my my / Rock and roll can never die / My my, hey hey / Rock and roll is here to stay
Any seasoned musician will tell you that it's one thing to say the lyrics, but another thing to make them ring true. If Neil Young's famous lines are to be recognized as rock gospel, it's people like John Vallier who do the heavy lifting.
Working amidst mouldering cassette tapes, rickety digital-transfer machines, and tape decks that appear increasingly alien with each passing year, Vallier enters his office at Suzzallo Library each morning with two goals in mind: to preserve the sounds of the Pacific Northwest's past and then share them with whoever will listen.
As the ethnomusicology curator and head of media for University of Washington Libraries, Vallier presides over a collection of collections—each comprising thousands of recordings that spell out the story of Seattle and the surrounding region in a dizzying array of sonic stylings and formats. In this capacity, Vallier simultaneously serves as archivist, preservationist, and professor, describing his day-to-day work as that of an "aspiring academic DJ."
With so vast a trove at his disposal, he has no shortage of samples. Rather, it's time that's of limited supply.
"I'm continually searching for and selecting vintage sounds and flicks," Vallier says. "These are the materials where they are going to be unplayable in maybe a decade or so—either because they're going to deteriorate to a point where we can't play them or we just won't have access to the playback equipment we need."
Regional rarities such as what Vallier describes as a "sonically stunning" set performed by the Ernestine Anderson and the Cecil Young Quartet at the 908 Club in Seattle, Washington on May 30, 1951—a part of the Burt Porter Collection.
Compiled by Seattle-based Ampex tape distributor and jazz recordist Burt Porter during the '50s and '60s as he followed acts from venue to venue with cumbersome recording equipment, the collection was "rescued from a decrepit barn" and donated to the UW Libraries in 2012.
Or a funk-soul track, simply and cryptically labeled "Gula Matari," the same name as the acclaimed 1970 studio album by Quincy Jones. It's just one of 11,000 items from the collection of Kearney Barton, a Seattle recording engineer who compiled thousands upon thousands of recordings over the course of 50 years, mostly on reel-to-reel tapes.
Another of Vallier's favorites from the Kearney Barton collection comes in the form of an undated 25-minute "free jazz explosion of energy" by Byron Pope, a composer, alto saxophonist, and blues and jazz historian who taught at the UW during the 1968-69 school year.
"This local music gives us a broader understanding of what Seattle is," Vallier says, adding that the collection represents "a diversity of voices" that goes well beyond Nirvana, Pearl Jam, or Jimi Hendrix.
"These collections offer us a better understanding of our community through time as well as a broader understanding of what music is and what it means to people." Vallier says it's this sense of community that lies at the heart of UW Libraries mission to advance intellectual discovery and enrich quality of life by connecting people with knowledge.
"Whether it's local hip hop recordings or stacks of vintage medical films, these archives both advance discovery and enrich the lives of community members," he says. "Like the University as a whole, these archives lay bare a universe of learning and research possibilities."
Those possibilities are not limited to music. Recently, Vallier and his team finished digitizing every CBS radio news broadcast from 1938 to 1946.
A short elevator ride away in Suzzallo's basement, spools of vintage academic film footage are stacked ceiling-high. This performance by North Indian musicians Ashish Khan and Zakir Hussain is one of Vallier's favorites—part of the UW Ethnomusicology Archives' Garfias Film Collection of ethnographic music and dance performances made by ethnomusicologist Robert Garfias during the 1960s and '70s.
This October and November, Zakir Hussain will again be a visiting artist in UW Ethnomusicology—some 47 years after his first performance was filmed by Garfias at the University of Washington School of Music on May 27, 1970.
"The interesting thing about libraries is that so much material hasn't been made available," Vallier says. "There's still potential for discovery down the road with all this new 'old' material. The more we look at these collections, the larger they seem."
As curator of this audiovisual community, it's also Vallier's job to ensure he's not the only one discovering the collections richness. In addition to serving as steward of UW Libraries' Ethnomusicology Archives and AV Digitization Lab, he oversees the Libraries' AV makerspace, the Media Arcade, where anyone with a Husky Card can mix and mash up audiovisual and archival content.
"It's a space where you can watch and critique, but also create," Vallier says, adding that people use the resource for anything from personal home movies to serious academic work. "We're not going to check your work at the door. We're here to support."
Vallier says that while he implicitly believes in the worthiness of preservation alone, his work feels most valuable in those moments when people finally get to experience media that often is so time-consuming to preserve.
"After we've preserved something and somebody uses it for their research or, say, to hear the voice of a loved one, it's really rewarding to see somebody getting joy or usefulness out of it."
In that sense, then, the media itself harbors less historical value than the human connections it can potentially engender across time and place.
"Music isn't necessarily a universal language," Vallier says. "I think we like to say that, but it means different things to different people, so these collections demonstrate how many different cultural perspectives can be represented through that form."
Roots Music
If Vallier's work at the UW does so much to support Neil Young's famous line about the enduring nature of rock and roll, his path to the University does as much to undo another of Young's oft-quoted classics: that it's better to burn out than to fade away. Freshly returned to Seattle from his second tour of Europe playing drums with the band Swell in 1997, Vallier opted for a third way—no doubt the road less traveled: graduate school at UCLA.
"I wanted to expand my musical talents and learn to play in different traditions," Vallier says he recalls thinking at the time. He was interested in learning Afro-Brazilian rhythms and Hindustani tabla, a North Indian drum similar to bongos.
"I'd spent a lot of time playing music. I'd played festivals and done the band tour thing. I kind of had rock and roll down, so I felt ready to move on to the next phase."
None could fault him for feeling like he'd done, seen, and played almost everything. Since moving to Seattle from his hometown of Santa Cruz, California some four years prior in 1993, Vallier played in a bevy of bands. For a time, he formed part of Climax Golden Twins, an experimental noise band. Then there was Pink Flamingo, a throwback jazz outfit that catered to a cocktail crowd. He supplemented his income in between other singer-songwriter gigs by working for Dale Chihuly, packing and installing artwork as well as assisting on the "hot floor" of the glass studio—a job he fell into only after he started playing music with others already employed by the studio.
So in 1998, he moved back to California with his wife (whom he'd met in Seattle) to study Ethnomusicology with an emphasis on music criticism and writing about music.
"It was a real privilege," he says. "I was lucky to be able to do that; to be able to take some time out and still work, but go to school."
Vallier made good on his intent, studying Hindustani music and Indian tabla, as well as Brazilian and Afro-Cuban percussion traditions. After receiving his master's, he transitioned to the role of archivist at the UCLA Ethnomusicology Archive, where from 2002 to 2006, he developed a series of community outreach and grant-funded projects that focused on the preservation and repatriation of ethnographic sound recording collections, including initiatives that began to trace and preserve records of Filipino-American and Gospel Music in Los Angeles.
"Being in the band focused my thoughts on how much community is a part of music and how much music is a part of community," he says, adding that the transition from indie rock to independent study of archival methods and ethnomusicology was not as difficult as it might seem. He invokes the words of activist Angela Davis: "Radical simply means 'grasping things at the root.'"
---
John Vallier received his B.A. in Philosophy from UC Santa Cruz, his M.A. in Ethnomusicology from UCLA, and his M.L.I.S. from UCLA. In addition to his work for UW Libraries, he teaches classes on local music, remix studies, and "Sonic Spain." Winter Quarter, as an extension of his remix studies course, he will be teaching "Remix as Resistance." Learn more about the resources at the Media Arcade here.