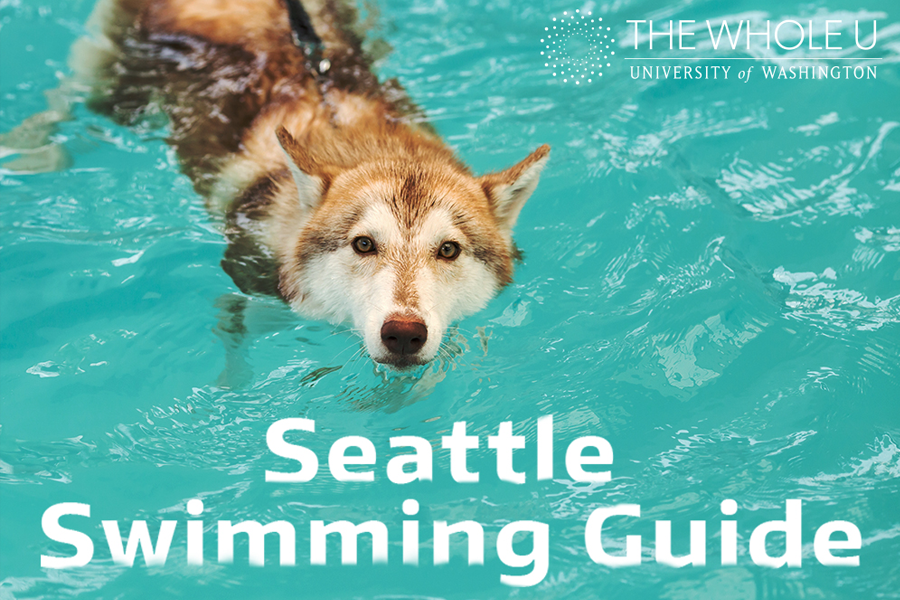 I love long summer days, but when the sun stays out for days on end, I need to keep cool. That's where water comes in. Here's a list of Seattle swimming spots to help you cool off as the weather warms up. So grab your towels and suits and let's dive in!
Lake Washington, WAC – 3710 Montlake Blvd. NE, U-District/Seattle
Wherever you are, Lake Washington is probably nearby and waiting for your visit. You can take a dip up at Magnuson Park, or if you're further south, at Seward or Madrona. At the UW, we have the Waterfront Activities Center (WAC) where you can hop in the lake after taking your canoe out for a spin.
Hours: They change at the WAC monthly, but right now they're open from 10 a.m. – 9 p.m. on weekdays and 9 a.m. – 9 p.m. on weekends.
Restrooms: Most parks with beaches along Lake Washington have picnic areas nearby with restrooms; this map can help you find them.
Parking: At the WAC, parking is free Saturday afternoons, Sundays and holidays, but it's also close to the Link light rail station.
Kid friendly: Children are allowed in the boats as long as they weigh more than 25 pounds and can walk.
Cost: For UW faculty and staff to rent a boat or canoe at the WAC, it'll cost $8 per hour for students and $10 per hour for staff/faculty, but swimming in Lake Washington is free!
Around the Area: The WAC is pretty close to the IMA, so you could go to U-Village for some grub, or cut across Montlake and enjoy beautiful gardens at the Washington Park Arboretum.
Green Lake – 7201 East Green Lake Dr. N, Green Lake
If you're looking for a mellow outdoor swim, Green Lake rocks! Motorized boats aren't allowed in the water, and they have diving boards monitored by a lifeguard in the summer. The lake also features plenty of other spots for your enjoyment without ropes, ladders, or lifeguards dictating your swim session.
Restrooms: You'll find some near the lifeguarded beaches.
Parking: Get there early to snag a good spot on nice days, otherwise you can walk, bike, or run there.
Kid friendly: The great neighborhood, friendly pets, and motor-free waters make this a place for the whole family.
Pet friendly: A trail surrounds the lake and people use it all the time for rollerblades and dogs, so if you have one or both, feel free to bring them (though our furry friends aren't allowed on the beach itself).
Lifeguard: Lifeguard hours differ between the East beach and West beach, but you can find times and dates for those hours on the lake's detail page.
Cost: Free!
Extras: Not only is there a public indoor pool at the lake (Evans Pool), but there's also great food to eat just across the street and Woodland Park Zoo down the road.
The IMA – 3924 Montlake Blvd NE, U-District
Finding somewhere to swim close to work is easy. We've got two pools on campus: the one inside the IMA and Pavilion Pool. Pavilion Pool takes you a little farther from the smoothie bar, but not much, and it's a great place to swim laps if that's your thing. Find the Pavilion with this map.
Hours: Pavilion Pool is only open between 11 a.m. and 1:30 p.m. on weekdays throughout each quarter, but the IMA pool is open throughout the year and closes an hour before the rest of the IMA. Hours vary depending on the quarter and any holidays.
Towels/Lockers: Free with a Husky ID.
Parking: Pay-to-park lots ($3-15 depending on time, day, and how long you keep your car there). The Link light rail station in the U-District might help you avoid the parking costs.
Lanes: The Pavilion Pool is made just for lap swimming. The IMA's pool also has lanes, but includes some lane-free space.
Cost: IMA membership eligibility and pricing varies, but faculty and staff can buy a quarter-long membership for $79.57 or an annual one for $265.23 (more info here).
Guests: Have a non-UW or non-IMA member with you? It'll cost an extra $9.75 each time to bring your pal along.
Extras: Inside the IMA, you'll find Dawg Bites (the aforementioned smoothie bar), and just a short walk away you can do some great post-swim shopping or dining in U-Village.
YMCA – Various Locations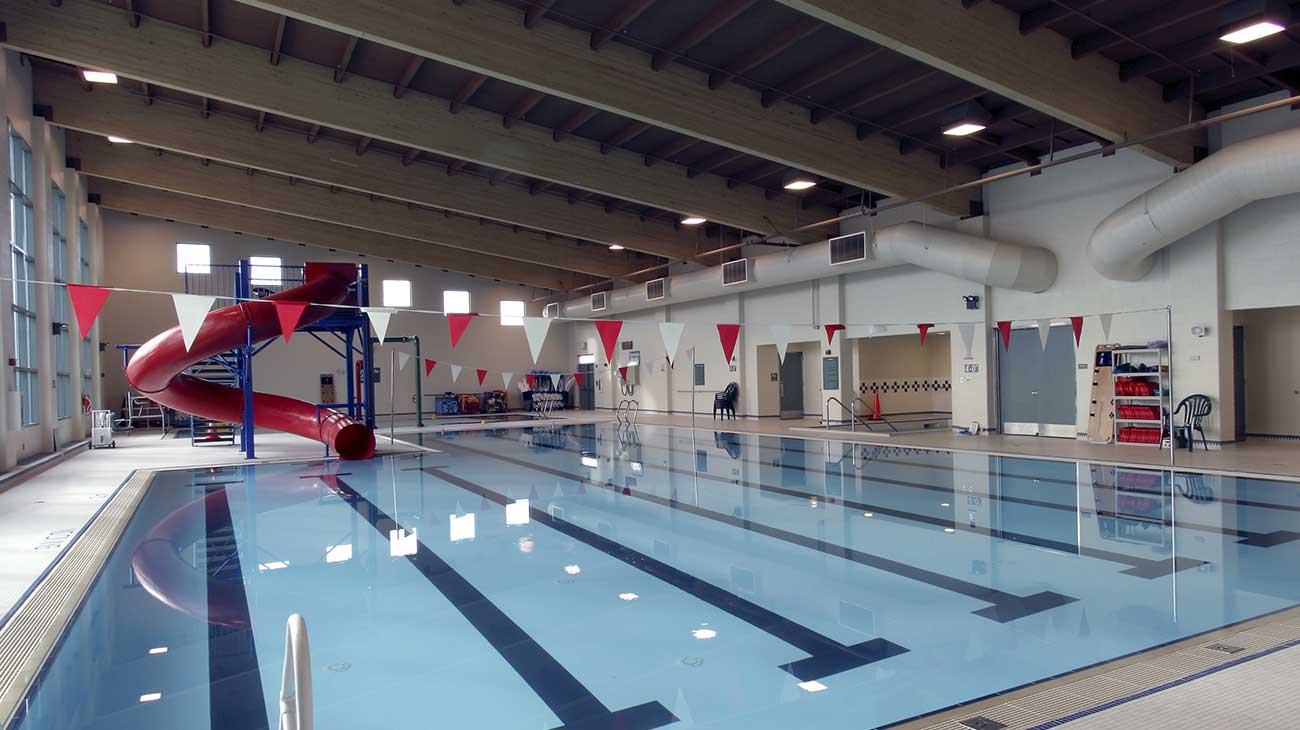 Another great option is the YMCA—a general membership grants you access to any of their 13 locations in the areas. A few local ones with swimming options are Downtown, Meredith Mathews East Madison, and West Seattle and Fauntleroy. Aquatic facilities aside, the YMCA continuously promotes health and wellness, so whether you just want to swim or take steps towards improving your family's health, this is a great place to start.
Hours: Vary between each location, but most are open Monday through Friday 5 a.m. and 9 p.m. Check with your location to find their weekend hours.
Towels/Lockers: Free towels and lockers. Locks in limited supply.
Parking: Most YMCAs have parking for members, but even if they don't, there are usually spots in the surrounding area.
Kid friendly: The Y is definitely a family place, and they feature some great programs for youth.
Cost: With a UW discount, memberships cost between $48 and $120 per month.
Extras: Programs at the Y range from fitness to fun, with summer camps for kids and family events for everyone, so explore your local Y and the unique atmosphere they offer. You can also volunteer!
Highline Athletic Club – 125 South 156th Street, Burien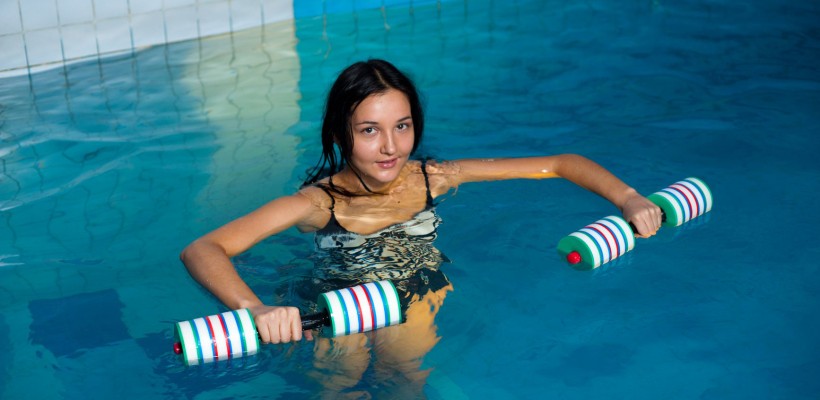 Keep your swim time filled with fitness by trying out the pool at Highline. Their aquatic classes work as part of the British Swim School program, so there's somewhere for you to start no matter your skill level. Instructors teach kids as young as 3 months, so you can bring your babies or just bring yourself for some training. If you don't feel like attending any programs, they have a few hours of "family swim" scheduled on most days of the week, and when classes aren't happening in the pool it's free to use for members.
Hours: Monday through Friday 5 a.m. – 9:45 p.m., Saturday 7 a.m. – 7:45 p.m. & Sunday 8 a.m. – 7:45 p.m. (the pool closes 15 minutes before the rest of the club)
Kid friendly: They have a daycare if you can't take your kids to your class, with prices and schedules for those services listed here.
Lanes: Depending on what time you go they'll have lanes, but during aquatic fitness classes they close the pool.
Guests: There's a (free!) 3-day guest pass on their website, but you can also ask them about their official policy on guests when you become a member.
Lifeguard: Kids under 17 can't use this pool unless the lifeguard is present, but you'll know when there is one on duty by checking out when "family swims" are scheduled.
Cost: For UW faculty and staff, monthly full single memberships cost $69.80, midday singles is $48.45, and senior singles is $48.43.
Extras: There's a Jacuzzi in the club for some extra relaxation after your swim, and you can shop for food, clothes, or dine at one of the many stores around the corner.
If you're looking for different beaches or want to see how your favorite waters are doing, check out King County's swimming beach data. You'll find water temperatures and bacteria levels updated weekly between May and September, so bookmark it and save it for later.
Pools more your style? Seattle's Parks and Recreation pools page has everything you need to know about public swimming including schedules, opening dates, and prices for entry.
Be sure to share your favorite swim spots with us in the comments. Let's get our feet wet, and remember to just keep swimming!