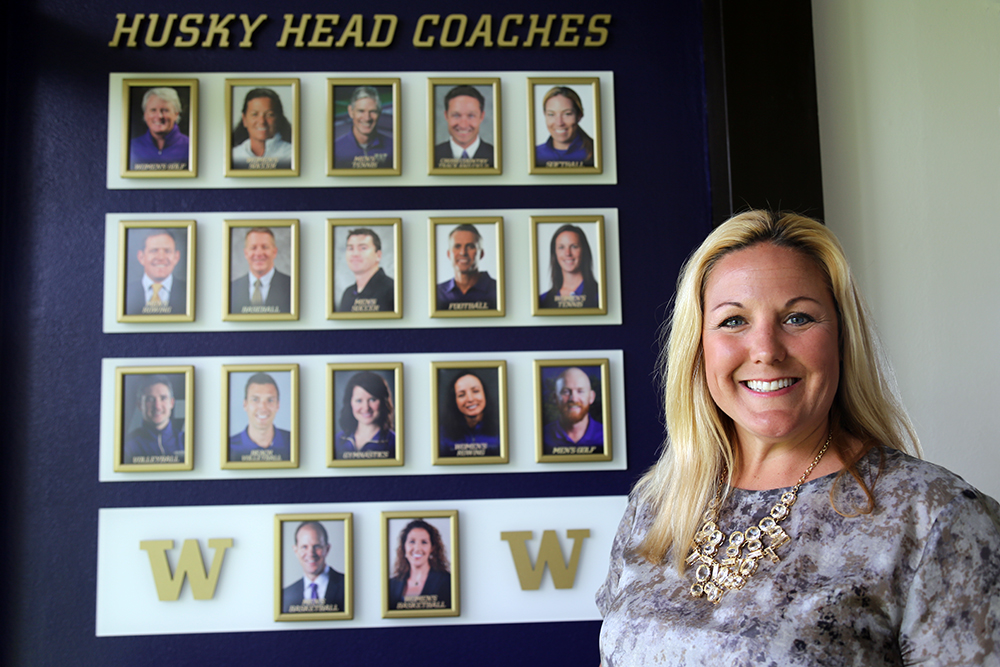 Coaches' Corner: Jennifer Cohen
One of the first things Jennifer Cohen did on becoming athletic director of the University of Washington last May was shelve the hardware.
The UW's previous athletic director, Scott Woodward, had kept an array of championship rings displayed on a wall over a conference table in his office in Graves Hall. In making the space her own, Cohen decided to hang in their place the portraits of the athletic program's 17 head coaches, arranged chronologically in order of years spent serving the University.
It was as though to say, "here are the true jewels of UW Athletics."
The small, but deliberate gesture is indicative of a farther-reaching, holistic program philosophy espoused by Cohen and coaches alike. An end goal is to win championships, to be sure, but only by way of building a championship culture that emphasizes process, perspective, and the whole individual.
"I feel really good about the people we have here and the direction we are headed," Cohen says of her first full year as athletic director. But for all the noise that accompanies any elite teams' on-field performance, Cohen is first and foremost focused on winning one thing: what she calls "the student athlete experience."
"Instead of putting all your effort into winning a championship and hoping the rest of the stuff comes, we start with the value structure and an expectation that our student-athletes are going to be of the highest character and held to that standard," she says. "Then you build out everything else. When you do that really well, typically those programs are succeeding."
It's a win-win scenario of a different sort: develop the whole student-athlete from all angles of their lives and that is likely to translate to a more competitive program.
Cohen believes this more direct emphasis on principles and process over the prize of postseason play causes championship culture to emerge organically, set deeply, and ultimately usher in a more powerful impact—not just in the athletic arena, but in the wider world as well.
"The goal is to compete at the highest level and to have expectations about building and developing our communities," Cohen says. "We talk about that a lot here: are we doing the little things right every day; are we behaving to our core values; are we sticking to what we say our priorities are? If we're doing that, we're going to be rewarded."
And the rewards have come. On her first day as athletic director after being promoted from interim status, Cohen watched from her office as UW Women's Golf defeated Stanford in Eugene, Oregon, to clinch the national championship. More victories have followed, both on field and off.
"It's a mindset of constant improvement," Cohen says, "working to get better every day, in everything that we do."
When people ask her what she hopes her legacy will be, she says her answer often "drives them crazy."
"I'm never going to say, 'Next year, I hope we're going to win a Pac 12 championship in basketball.'"
"It loses sight of why we exist."
Academy of athletes
Sport, for all the commotion it generates, is not the sum total of Cohen's work. As athletic director, she'll often speak of her work in academic terms.
"I am an administrator, one of many at the university," she says. "I manage sports in the same way others have their different departments, each having their own goals in specialty areas."
Each department, in turn, has its own educational objectives, which are served by the athletics component, not the other way around.
"We want to develop whole people," Cohen says of what she calls the "core mission" of Husky Athletics. "How are we going to be the best athletes we can be? It doesn't start with the athletic program; it starts with how are we becoming great as students, great as leaders, and developing the best versions of ourselves as human beings."
She says she's particularly proud of the fact that, for the past two quarters, 18 of 22 teams have registered GPAs above 3.0. It's a culture of pride in and respect for self she sees as extending well beyond the life of the student athlete.
"We're here to serve students, but I think the thing we need to do as an institution is we have to remember to support ourselves too," Cohen says. "We need to model the work ethic, the eagerness to learn, to constantly improve."
It's about driving toward a comprehensive approach to wellness wherever you look.
"Whether that's speakers or training or sharing information about books or whatever, there's a complete tie between The Whole U and what we're doing here [at UW Athletics]," Cohen says. "If you stay open to it, it impacts you every day."
While she admits it can be difficult to compartmentalize life, Cohen says that to be "the best," one should find balance between caring for relationships and friendships, while also taking time to care for oneself by way of personal fitness, nutrition, sleep, and mindfulness. Will everyone achieve success in all of these areas? No. But Cohen says there is only failure if you do not make the effort to try.
"Sport is all about failure and resiliency and picking yourself up again."
Area code
Cohen admits she is not a born winner.
"I failed all the time growing up—I was always second place; I was an average student; I was an average athlete; I was average at everything. I had to work so hard to be great and I still will always still have to work harder because nothing comes easy for me," she says.
Instead, she says her present positive, winning mindset was earned—both through hard work and exposure to the culture and coaches of UW Athletics down through the years.
"I've had to teach myself to have that positive mindset," Cohen says. "These coaches are teachers and mentors. Those are the types of people you want to be around."
The association started early.
Growing up in Tacoma, Cohen would often attend Husky football games with her family. As a fifth grader, she wrote a letter to UW coaching legend Don James declaring her intention to succeed him and become the first female football coach in college athletics. He replied encouragingly—tempering the long-shot odds of landing the gig by suggesting she instead get involved in sports' business side.
After studying as an undergraduate at San Diego State University and earning her master's degree in physical education with an emphasis in sports administration from Pacific Lutheran University, Cohen got a first taste of that dream with intercollegiate athletics administration stints at Pacific Lutheran, the University of Puget Sound, and Texas Tech University before joining the UW in 1998. Almost two decades later, the nostalgic feeling she gets every time she walks into Husky Stadium has hardly subsided.
"There's not a day that goes by where I don't walk in there and feel a certain level of sentiment and feeling of home," Cohen says. "There's something about that space and knowing how much that place means to so many generations and so many people." 
Whether it's coaches in the athletic program, student athletes in the wider campus community, or fans in the stadium, it's the people who make the place and charge it with their own enduring values.
"There's something to be said about the values of people here in the Northwest," Cohen says of the community support she's received in articulating this more holistic vision for Husky Athletics. "We're really lucky that we get to believe this in our hearts and that we're actually in an environment that supports that."
Cohen acknowledges that, in the Pacific Northwest, "sports isn't the end all, but there's a beauty in all that because there's this wonderfully balanced perspective."
When the rigors of her role as AD threaten to upset that that balance, Cohen says she finds solace in being active, working out with friends or carving time out for her own routine. A favorite stop is the Blaine Street Steps, climbing two blocks through Seattle's North Capitol Hill neighborhood.
"Whenever things are really hard or whatever the challenges or day, the views from up there across Seattle are epic," Cohen says, adding that anytime she goes she is buoyed by the sense of community around the 270 steps. "You can conquer anything if you can do those stairs."
In past interviews, Cohen has described working at the UW as a "childhood dream come true." If Cohen is living the dream, she's not ready to take it easy.
Whether it's in the rankings or on the Blaine Street Steps, Jennifer Cohen would rather keep climbing.
---
Join Jennifer and 39 other coaches from UW Athletics, UW Recreation, and our fitness discount partners on the field at Husky Stadium for UW Fitness Day on May 24. Register here.