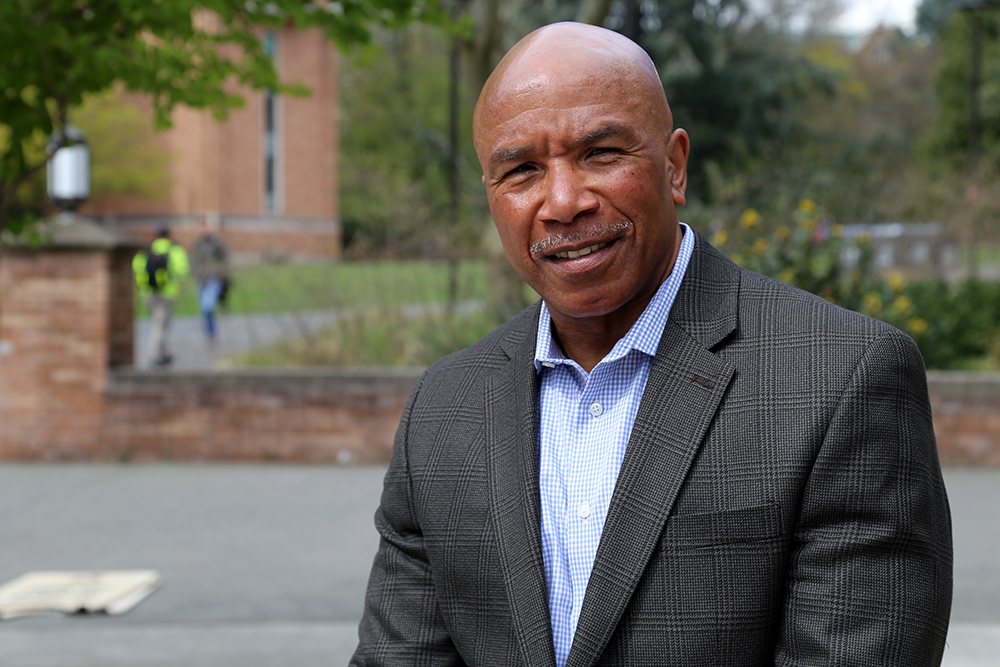 Staff Story: Gene Woodard
Gene Woodard is a man on the move.
The director of the Building Services Department at the University of Washington used to joke that he might be one of the few people who has been in every bathroom on the UW's Seattle campus.
"Then I realized the plumbers probably have me beat there," he says.
Woodard, who has worked at the UW since 1985, is quick to deflect credit away and onto others. It's as much a function of his personality as it is an essential part of the department he leads.
The Building Services Department, with its staff of 283 custodians, is responsible for cleaning all 11.5 million square feet of campus buildings as well as promoting sound waste diversion practices such as preventing waste from going to landfills through recycling and composting. The need for better waste diversion has as much to do with economics as it does the environment.
"We have a big incentive to divert waste because the cost is $160 a ton versus composting or recycling which is about half that: $70 or $80 a ton," Woodard says. "We're voiding well over a million dollars in waste disposal costs."
Doing so day-in, day-out while managing to clean so vast and varied a campus might seem like a labor of Herculean proportions, but it's one Woodard is proving is better approached using brains, not brawn.
"We wanted the custodians to feel like they can solve problems," he says. "The last few years we've been embarking on having a culture of engagement, where employees are influencing how the work gets done, when it gets done, and what tools are used."
Woodard says custodians employ a process of systematic improvement that relies on visual management and idea generation. Custodians track their ideas as a team from new, to in-progress, to complete—a process that typically starts with a natural work group with common interests who are working on a shared problem. Staff members articulate their goals—usually centered on working safely, doing quality work, and meeting or exceeding expectations—and then track their progress through a series of green and red dots. Red dots—issues or tasks that prove consistently troubling or challenging—generate further team discussion and ideation around resolving them.
Woodard says such "huddle sessions" have generated more than 1600 ideas over the past several years, of which 900 have been successfully implemented.
"Some of them are small things that will make a big difference over time," he says. "Then, there are some that are huge."
Woodard cites a custodian-led redesign of how the UW Tower is cleaned as one "big" example.
"With 22 floors, 1800 people, all those cubicles, offices, and restrooms, staff were spending too much time going up elevators," he says. 'So they redesigned the schedule so that one person is responsible for tasks in a smaller space and now they don't waste as much time traveling around."
Another small, idea-generated fix happened at Suzzallo Library's Reading Room, which houses 300 wooden chairs that wouldn't slide when custodians needed to clean.
"They'd have to pick the chairs up to vacuum underneath and staff were getting worn out doing that everyday. It was just a simple thing of installing glides on the chairs," Woodard says, adding, "I would never have come up with that."
No doubt students appreciate it too.
Other often-unseen building "hacks" include putting Velcro on building entry mats so they don't slide underfoot, determining the most ergonomic, movement-efficient equipment custodians use, and, when budget allows, installing hand dryers, which not only pay for themselves in terms of cost of labor saved, but also reduce paper waste. A hidden benefit: they also save staff the effort of cleaning bathrooms of the paper "lint" created each time someone tears off a towel to dry their hands.
"The custodians would change them out and tell us the restrooms were easier to clean because there wasn't fine lint and paper dust everywhere," Woodard says. "That's something we didn't realize."
It's all part of a philosophy that postulates the best ideas and solutions are generated through the people actually doing the work.
"It's ownership; people own what they do now," Woodard says. "They're turning their brains on when they come here and that's been energizing and it's changing the culture."
The approach appears to be working. Under Woodard, the Building Services Department has emerged a world-leader in "green" cleaning—a three-time recipient of the Grand Award for Higher Education in Green Cleaning by American School & University magazine and host to numerous conferences, panels, and observational delegations on best practices.
This April, Woodard's continued leadership in campus sustainability was recognized with a Husky Green Award from UW Sustainability.
But Woodard's prime motivation isn't saving the environment.
"Isn't sustainability about people?" he says.
By placing focus on helping the people who are doing the work, and not just doing the work itself, Woodard says he finds the quality of the work usually takes care of itself. It's that kind of relationship building he says is one of the most rewarding aspects of his role as director.
"We have custodians from all over the world, so I've been able to get to know other cultures without ever traveling there, just through relationships I've formed. I really just enjoy the values of the people I work with and just being around them."
And as much Woodard makes it his staff's aim to "support the students by making this place feel like a home away from home," he makes it his own to ensure staff find campus to be a place for personal growth in their own right.
"Seeing people who have successful careers here, or who just become more confident in their ability to communicate through English in the workplace classes, or who are first-generation immigrants and their children are graduating from here," is what Woodard says he most looks forward to when he rides his bike in to work every day from Edmonds.
"It gives people the opportunity to shine," he says. "And I'm not talking about the shining of the floors. They shine as individuals."
Green before it was cool
When Gene Woodard arrived at the UW more than 30 years ago, he couldn't believe what he saw.
"They were using some of the most toxic, harsh chemicals that were overkill," he says. "We didn't even use that stuff in the hospital I just came from."
For seven years after graduating from Portland State University, Woodard had worked as director of facilities and environmental services department at Portland's Emanuel Hospital. After being hired by the UW, Woodard says he immediately cycled out the chemical-heavy cleaners in favor of the least toxic products that still got the job done.
"That was for our staff," he says. "They're working with this stuff every single day. You've got to care for your people. We started doing that and the industry caught up."
Thinking holistically about staff got Woodard thinking about ergonomics and efficiency of movement, especially in the context of a profession as physically demanding as custodian.
"Maybe there's a handle they can use so they're not torquing their wrist and which puts their hand in a more neutral position," Woodard says, citing just one example. "There's so much that can be explored."
Other changes he's helped implement over the years include making a gradual shift to more daytime cleaning operations and phasing out mop buckets and ringers. He views the latter as a particularly revolutionary development.
"The mop bucket was good—we used it for about 150 years—but basically, we were just smearing dirt around," Woodard says. "Plus we were putting 900,000 gallons of water into the sewer each year, which is a big expense."
In place of the cumbersome buckets, Building Services switched to a lightweight, aluminum mop with a microfiber pad designed to pick up dirt better than a cotton-string mop and which dispenses fresh cleaning solution at the press of a button.
"When we switched to that, two ladies who had worked here more than 15 years who were retirement age approached me and said, 'Gene, I would have been able to work a couple more years if we would've had these mops sooner,'" he says. "That really stuck with me that we would need to look at designing the work so our team members can do this as a career and not end up worn-out when they retire."
Woodard, who publishes between two and three articles a year, speaks internationally, and serves on the leadership council of the Healthy Schools Campaign, a non-profit dedicated to ensuring students have access to healthy school environments, is hardly ready to retire himself. Not when there's work to be done.
At present, he says the University operates at about 64-65% waste diversion and that he'd like to get to 70% by 2020. It's about sending a lot less to landfills.
"Before I retire, I'd like to see us at zero."