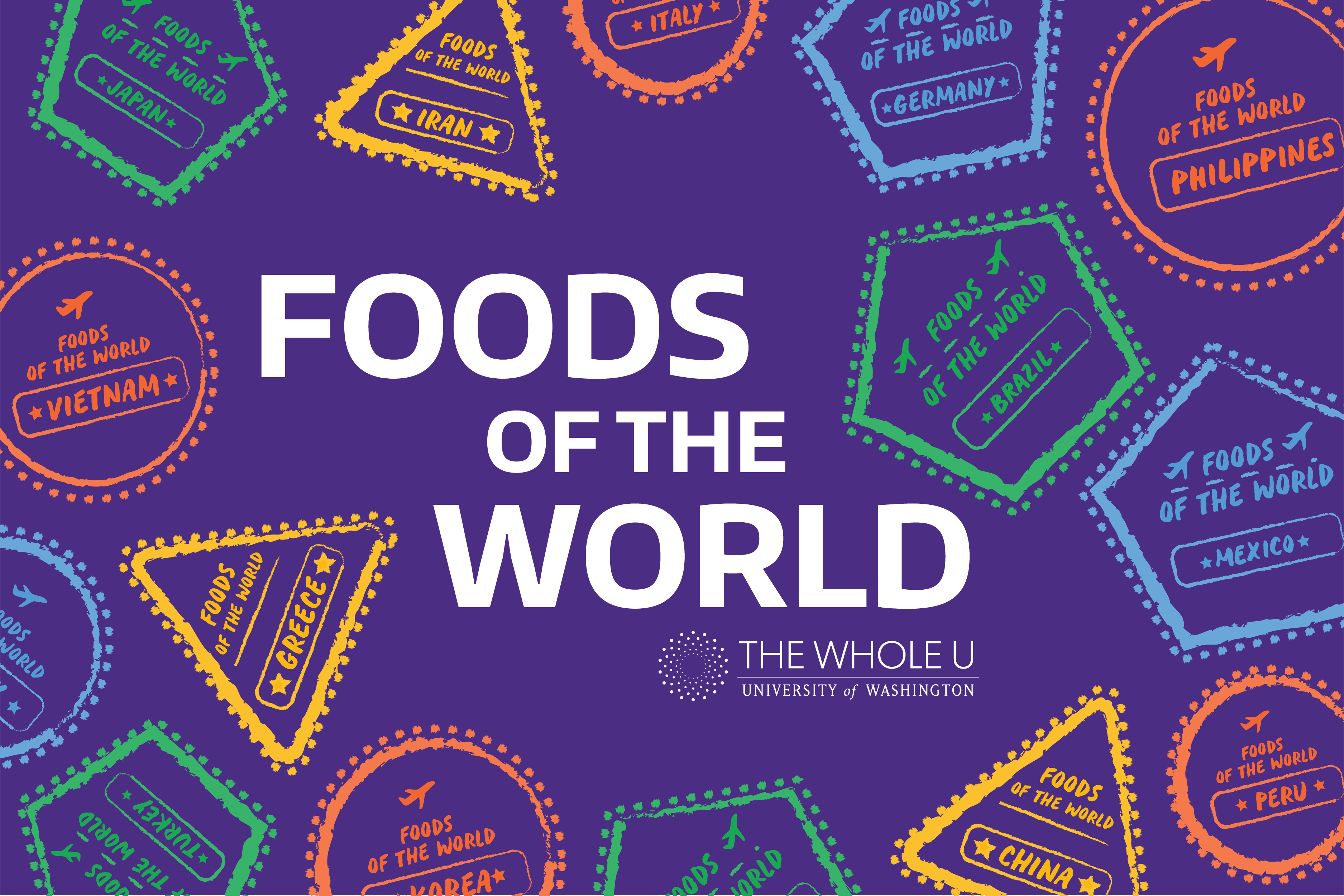 How to Make Gỏi Cuốn, Vietnamese Spring Rolls
When you think of Vietnamese cuisine, what do you think of? Phở? Eggrolls?
When I think of Vietnam, I think of the distinct smells from ma and pa restaurants and the home cooked meals I grew up with. Vietnamese foods are traditional, yet they vary from heavy and hearty to light and refreshing. As delicious as phở is, I didn't grow up eating it every day or every weekend, but there were a few Vietnamese dishes I ate quite often as a child. Every weekend, my mom would ask my dad and me what we would like for dinner and our answers were always the same: gỏi cuốn.
Gỏi cuốn, also known as a Vietnamese spring roll (sometimes referred to as the summer roll), is a dish that can be eaten as a snack, appetizer, or meal. Its simple and refreshing ingredients make for an authentic, distinct flavor that is welcome at any time of the day. A wrap filled with herbs and mixtures, the unique blend is complemented with options of even more unique sauces, nước mắm chấm (dipping fish sauce) or peanut sauce.
Nước mắm is a blend of salty, sour, and hot goodness made of five ingredients: fish, salt, water, sugar, fresh lime or lemon juice (you can add chili to it if you like). The peanut sauce is a thick, creamy peanut-based sauce that is complemented with hoisin sauce and sugar. The traditional recipe calls for a filling of rice noodles, fresh veggies, lean meat, and shrimp. These healthy, fresh ingredients won't leave you feeling guilty in the slightest.
Wrapped in rice paper, gỏi cuốn is convenient to eat on the go. Not only is it fun to eat, it's also just as fun to make! My mom makes various versions of gỏi cuốn, but my favorite are her traditional spring rolls. Here is her recipe. When getting your ingredients, it is important to remember that the many cultures and countries have variations of the spring roll. Select your ingredients carefully!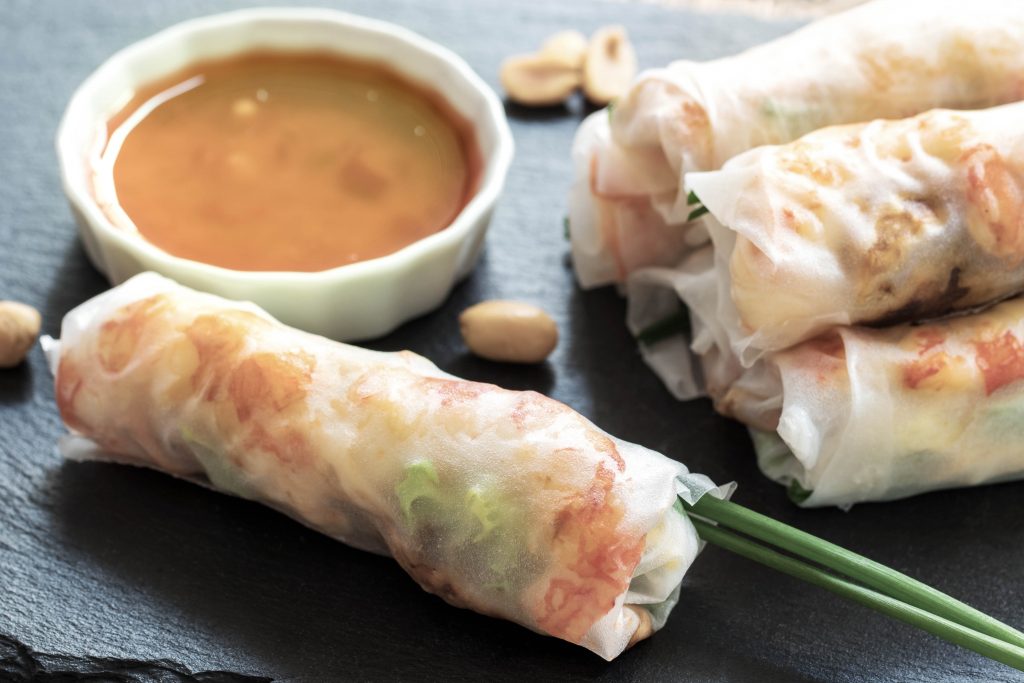 Makes about: 10 rolls or 3 servings
Prep time: About 1 hour
What you'll need:
Spring rolls:
1 pack of rice paper (bánh tráng) – there are multiple brands available at traditional Vietnamese or Asian markets. All of the packaging should have multi-lingual packaging.
1 pack of rice vermicelli noodles
½ pounds of shrimp
½ pounds of pork leg
1 head of green leaf lettuce
A few sprigs of mint
1 bunch of fresh cilantro
1 bunch of fresh chives, trimmed and cut to size
1 ½ tsp of salt
1 tsp of sugar 
Cook the shrimp:

Fill a small pot with water (just enough to cover the shrimp), add ½ teaspoon of salt and bring to a boil.
Add the shrimp.
Boil on medium-high heat until the shrimp is no longer translucent in the center (about 2 minutes).
Remove the shrimp from water and heat. Peel and slice the shrimp into halves along the body.

Cook the pork:

Add pork to a small pot.
Fill the pot with water (about 1 inch above the pork) and add 1 teaspoon of salt and 1 teaspoon of sugar.
Bring to a boil on high heat; then lower to medium heat until the meat is floating or when it is no longer pink in the middle (about 30 minutes).
Remove from water and heat.

Slice the pork as thinly as possible (to make rolling easier).
Cook the rice vermicelli noodles:

Boil 1 gallon of water.
Add 1/3 of the rice vermicelli package to the water.
Boil for 8 minutes.
Drain and cool the noodles under cold running water.

Wash and dry your veggies.
Making your roll:

Have a plate of warm water available to dip your rice paper in before making each roll. Dip each sheet in until the entire surface is soaked. Remove it before it gets too soft to handle and place it on clean plate or cutting board to roll on.
Add some lettuce, cilantro, and mint leaves near the bottom half of the paper, leaving 1 ½ inches on each side.
Add 3 (more or less depending on preference) slices of shrimp at the edge of the lettuce.
Add 3 (more or less) slices of pork on top of the shrimp.
Add the desired amount of noodles on top of the lettuce.
Fold in the sides snugly and add some chives before finishing the roll completely.
Fold up the bottom to cover the noodles and continue to roll tightly (be careful not to tear the rice paper wrap).
Peanut Dipping Sauce:
8 tbsp. of hoisin sauce
2-3 tbsp. of peanut butter
1 can of coco soda – this can be found at most Asian markets, it comes in a green can and is natural coconut flavored soda
Sambal chili paste (optional)
In a small pot, add in peanut butter and coco soda. Bring to boil while stirring occasionally.
Remove from heat and add in hoisin sauce. Stir well.
Serve in a small bowl. Leave sambal chili paste available for others to add to their own dipping bowl as desired.
Nước Mắm Chấm (dipping fish sauce):
6 tbsp. of water
2 tbsp. of sugar
5-2 tbsp. of fresh lime or lemon juice
2 tbsp. of fish sauce
Chopped garlic (optional)
Sambal chili paste (optional)
Add fish sauce to bowl.
Add sugar and water.
Add lime or lemon juice to taste.
Top with garlic and chili (optional).
Stir and serve.
Serve and enjoy!
---
If you'd like to share your knowledge about a particular country and its cuisine (United States included, of course), contact Chiara at chiarai@uw.edu to contribute to our series. As a token of our appreciation, the contributors of featured recipes will get two beautiful Whole U stemless wine glasses. Help us share the world's varied and amazing flavors!