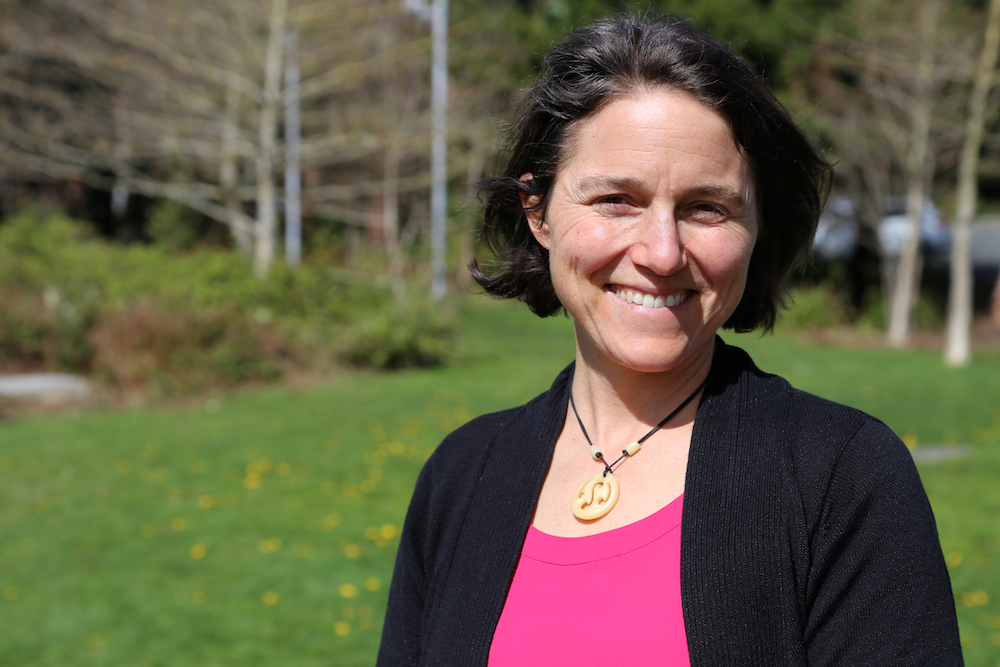 Faculty Friday: Kristi Straus
Somewhere along the way to hauling yet another five-liter jug of water up to her second-floor room in a small village high in Morocco's Atlas Mountains, Kristi Straus decided enough was enough. She paused and looked around, reflecting on the community of subsistence farmers with whom she'd spent the past two years as a 22-year-old Peace Corps volunteer.
"The people I lived with had more than enough; there was almost no waste," Straus says. "They were very poor by U.S. standards, yet were rich in time: they had time to play music and talk to each other and drink tea and enjoy being outside in a beautiful place. It was really impactful for me."
That these farmers' level of subsistence belied an underlying richness to their existence stuck with Straus for the next 20 years. Today, as lecturer in the University of Washington's Program on the Environment, she's passing that lesson along to undergraduates.
"In this country we're compelled toward more, more, more—we never think we have enough—but we don't think about what we lose," Straus says. "I tried to design a class that would give students an opportunity to experience the sustainable, immersive experience that I had."
The result was Environment 239: Sustainability: Personal Choices, Broad Impacts, a course in the Program on the Environment that combines lecture with readings, discussions, and research- and reflection-based writing exercises to encourage students to consider the meanings of "sustainability" in individual, communal, and cultural contexts.
"The goal—the backbone—is to have students do personal sustainability activities where they either change their behavior or examine their behavior and reflect on it," Straus says. "It inspires student to think about what sustainability is, how do we define it, how do we move toward sustainability, and how much our individual choices actually matter."
As references, students draw on textual evidence and their own lived experience, including interviewing elders in their community about changing habits and expectations over time and undertaking personal challenges such as carrying all the garbage and recycling they generate everywhere they go for a week—an activity Straus participates in alongside her students.
"The average American generates 5 pounds of garbage a day," she says. "That's a powerful number, but it's easy to think, 'I'm pretty sustainable; I make good choices; there is no way that I generate that much waste.' But by carrying it around for a week, we notice our consumption and casual waste so much more. Making it so present in that way, then reflecting on it in discussion and online, is a powerful method."
Students also write a short research paper about how people can eat to live more sustainably. At the end of process, they spend a week eating as close as possible to their ideal diet given their own constraints.
"Maybe they live in a sorority house, maybe they're a varsity athlete, maybe they don't have very much money," Straus says, acknowledging that students do have certain limitations. But by tailoring their study to their own life, Straus hopes students learn to examine more critically this interplay of wealth, waste, and want—first on an individual level and then in a broader cultural context.
"Individual choices are important, but are a first step," she says. "We don't just want to take the best option from the choices that we're given; we want to change our society so that more sustainable choices exist."
Straus cites the fact that, in Seattle, it's decidedly more difficult to use public transit to move east-west than it is to go south-north and that many in the city and surrounding area drive even when they might prefer not to.
"It's one thing to choose to bike. It's another thing to improve our society so that more people can take the bus or bike," she says. "My choices are constrained by what my society makes available and what my culture deems appropriate."
Teaching Green
In the spirit of societal impact, Straus's sustainable choices course also offers students optional service learning opportunities to work within the UW or Seattle community on topics such as pedestrian advocacy, sustainable business, and environmental education. In sum, it's about helping students put a methodology behind the act of being mindful and one of the reasons why Straus will be honored this week with a Husky Green Award, along with the UW's Distinguished Teaching Award in March.
"I think that being a UW lecturer is the best job because I get to focus on teaching," Straus says, adding that the uniquely open structure of the Program on the Environment, which draws on faculty from across the University to contribute their pedagogical perspectives to the program, creates an even more conducive environment that allows her to focus on her teaching craft.
"It's a really unique unit at the University of Washington," she says. "The idea behind the program not being a department was that environment is everything. The entire University is comprised of people, in some context, doing environmental work."
Straus credits UW faculty Bob Francis and Julia Parrish as having been "amazing" mentors during her time as a graduate student, earning her Ph.D. from the University of Washington's School of Aquatic and Fishery Sciences.
"Both of them were incredible professors who valued teaching," she says.
Straus says Francis, with whom she worked during her first year of graduate school, taught her to "treat your TAs as peers." She says they would sit as a team every week, mapping out their goals and how to deliver on them.
"It was so empowering."
In turn, Straus says Parrish taught her how to get students to hold themselves accountable by holding each other accountable. She relates how Parrish would give pop quizzes only when students asked for them.
"You still get to make your own choices, but so does everyone else in the class," Straus says of the technique, which she herself has not employed, but which has influenced her emphasis on group work. "Students don't come to class for me; they come to class for themselves and for each other."
While "enough is enough" may serve as Straus' mantra when it comes to checking the hazards and excesses of consumer culture, there's much more in store for the next iteration of the sustainability-focused course this coming fall.
Inspired by the UW Teaching and Learning Initiative, Straus is launching a collaborative online learning and study abroad experience in partnership with Tsinghua University in China, which she dubs an "international flipped classroom." While China leads the world in greenhouse gas emissions, Straus is quick to add that, per person, their emissions are "quite low" and that the U.S. ranks second.
"We're trying to think more deeply about how culture defines sustainability and are there solutions we can think of, cross-culturally, that we might not think of on our own," Straus says, adding she hopes students on both sides of the Pacific will use the course to gain real-world experience collaborating as part of an international, multi-lingual team.
UW and Tsinghua students will work together online to learn course material, co-creating written and video assignments about sustainability in their lives and cities for the 10 weeks of autumn quarter. In addition, Chinese students will likely visit the UW in October, while UW will make the trip to China in December.
"Clearly if we're going to move toward global sustainability, we need the U.S. and China on board," Straus says of the critical need for cross-cultural collaboration in the coming century.
It's as much about collectively conserving our environment as it is about salvaging the connections we have to each other.
"We're so busy trying to get ahead to have more stuff that we don't think about our happiness very often," Straus says, citing studies that point to diminishing contentedness for citizens the world over.
"GDP in this country has more than tripled since the 1950s. If happiness has not kept pace, what's the point?"
---
A lecturer in the College of the Environment's Environmental Studies program, Kristi Straus holds a B.A. in Biology from Colby College and a Ph.D. from the University of Washington's School of Aquatic and Fishery Sciences. The Husky Green Awards will be presented in a ceremony on Red Square on April 21 starting at 1 p.m. as part of the UW's Earth Day celebration.