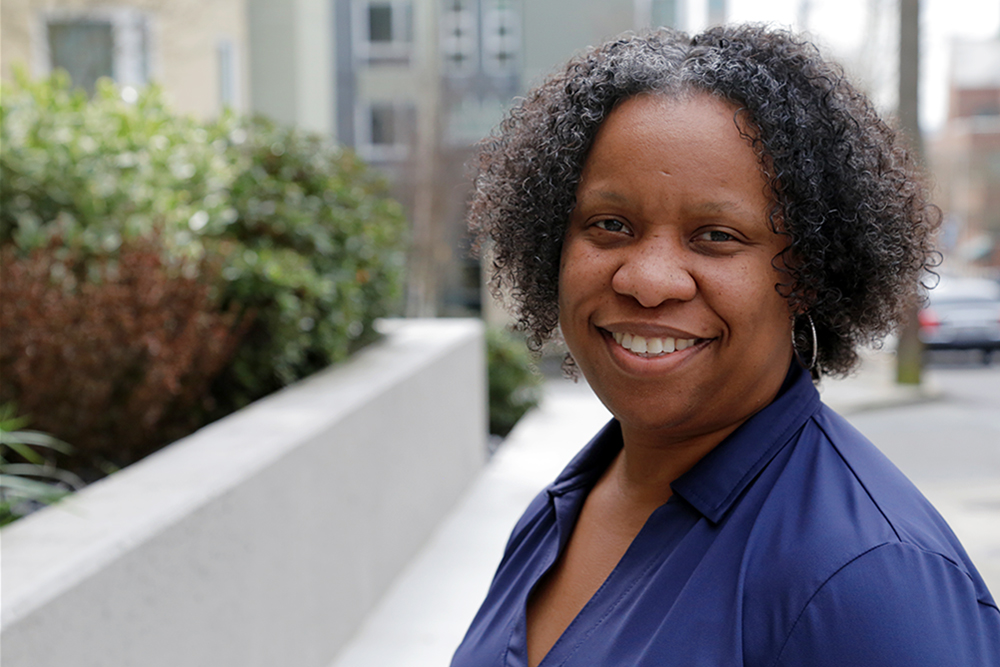 Faculty Friday: Wadiya Udell
Upon earning her Ph.D. in Developmental Psychology from Columbia University, what Wadiya Udell wanted most was to give back to first-generation students in a small liberal arts college atmosphere like the one she had experienced as an undergraduate at Wheaton College in Norton, Massachusetts.
She had her eye on just the place.
Perched high atop a bluff with a forest backdrop, located beside a small city, with a diverse population of students and interdisciplinary academic culture, it hardly mattered UW Bothell lay more than 3000 miles west of New England's low and rolling hills.
"I came here to work at UW Bothell," Udell says of her 2006 decision to pivot cross-country to continue her work as a developmental psychologist in the School of Interdisciplinary Arts & Sciences. "For first-generation students it's really important they're not getting lost in a sea of students. I was a first generation college student who went to a small liberal arts college in New England on scholarship. It got me to where I am. If I'm going to be a faculty member, I want to do what people did for me."
Eleven years later, Udell is an associate professor of Community Psychology and a recently appointed member of the executive council for the University of Washington's Population Health Initiative.
She studies factors contributing to adolescent health—specifically that of youths in the juvenile justice system. It's a group whose experiences are often marked by untreated mental health problems, substance abuse, and trauma histories. They might also lack a safe home environment—living on the street, couch surfing, or with parents they may not be able to rely upon.
Udell says that, put together, these external factors contribute for increased risk behaviors and negative health impacts, especially in the realm of sexual and reproductive health, such as HIV, STIs, and unwanted pregnancies.
"They're engaging in these high-risk behaviors and not getting checked or treated," Udell says, adding that lack of access to healthcare is another factor that can exacerbate an already tenuous, turbulent teenage existence. Care is often received at the detention facility itself, as opposed to out in the community when youth are not detained.
In recent years, Udell's work has been most concerned with how to increase access to care for justice-involved youth, especially in the three areas for which youth can access treatment without parental consent: drug use, mental health, and sexual health.
According to a 2015 Tacoma News Tribune report, Washington detains youth for noncriminal offences, such as skipping school or running away, more often than any other state. In 2011, the last year for which federal data is available, Washington detained 2,705 juveniles—more than twice as many as Kentucky, which detained the next most at 1,048.
In 2012, King County voters approved a $210 million levy to replace the existing courthouse and detention center at 12th Avenue East and East Alder Street with a new complex, formally known as the Children and Family Justice Center. But the initiative has since met with protests from opposition groups demanding more emphasis be placed on alternative resources for rehabilitation.
Udell volunteers once a month at the existing King County juvenile detention center, running a psychosocial group for girls. While her time there is entirely separate from her research on the health of juveniles in the justice system, Udell says interacting with them outside of research helps her retain "a sense of who they are."
But even the decision to pass behind the center's walls to work with the youth requires great thought, Udell says, as it places volunteers along the deep divisions in the debate over whether or not minors should be held behind bars.
"Because I choose to go into the detention center to work with the kids, people think I must be pro-detention," she says. "One of the biggest misconceptions is that when you work at the individual level, you fail to see problems on the structural level."
While she says she agrees the issue of juvenile justice reform must be dealt with on multiple levels and through simultaneous approaches, Udell also acknowledges one person can't do everything, adding, "sometimes you have to be okay with using your expertise and resources to do the best you can."
"To only work at the structural levels means people are in distress and no one's dealing with that," Udell says. "That's not cool for me. Somebody has to go in there and work with the kids, while we're also working with the structures and the systems."
Even so, Udell describes herself as "a little bit of a cynic." She says she has few illusions about the impact of the short monthly group sessions, adding she doesn't believe the short time she spends with detained youth discussing risks, consequences, and emotion regulation is necessarily saving anybody's life.
"I know that they're there for more reasons than having bad decision making skills; that they have traumas, because they're on the streets, because they have mental health problems, because they're addicted to heroin," she says, citing various risk factors that adversely contribute to adolescent health. "That said, we have got a bunch of kids sitting in detention and that sucks, so I do whatever I can to make that a little better."
Interdisciplinary Impact
Udell sees the greatest impact happening back at UW Bothell, where, among other courses, she teaches "Risk and Resilience" and "Realities and Representations of Adolescent Development." This quarter, she is curating a weekly Research in Progress seminar series aligned with the UW Population Health Initiative featuring investigators from varying disciplines across UW Bothell campus from Nursing and Health Studies to STEM and Education. Investigators will be discussing how their research seeks to improve the health and wellbeing of populations from the community level to the world at large.
The next phase of her own research will be to look at ways of creating structural mechanisms to be able help youth access medical care on their own. She is in the process of researching and testing multiple models that not only seek to increase collaboration between health service providers, but also a digital tool to help youth to access and exert more ownership over their own personal data and health information.
Udell says that while developing and testing such a tool might be innovative, a basic question remains.
"Would they even use it?"
The answer is another step towards finding ways to increase access to health care among justice-involved youth
Whatever questions stem from Udell's research emerge from a basic one she asked herself growing up in Brooklyn's Bedford-Stuyvesant neighborhood in the 1980s:
"How do we foster well-being for all urban youth, particularly black youth?"
Her formative years in Bed-Stuy coincided with the nationwide crack epidemic that devastated urban populations.
"I was okay, but not everyone was okay," Udell says. "For me, I just wanted to try to figure out that one thing."
She first considered education, working at what she describes as an "alternative middle school" for students who had been kicked out of the public school system. Through that experience, it became evident to her how deeply these children's problems often ran.
"The more I learned, I found that while education was important, it wasn't necessarily the key," she says. "It became clear to me I was really interested in focusing on health outcomes and adolescent decision making in grad school."
The more Udell studied how effective health outcomes are engineered, the less she found herself wanting to part of a traditional psychology department. It's why she set her sights so firmly on UW Bothell's School of Interdisciplinary Arts & Sciences after receiving her doctorate.
As faculty there, "surrounded by a ton of people with different perspectives on a variety issues," Udell says she has the space to make meaningful collaborative connections, which result in a stronger overall approach, which itself in turn portends a greater likelihood of making progress on questions about population health.
"Working on any kind of health problem, you're going to have to take a variety of approaches," she says. "You need economists; you need sociologists; you need anthropologists, psychologists, and M.D.s. If you want to have impact on real health problem, it has to be interdisciplinary."
---
Wadiya Udell holds a B.A. in Psychology from Wheaton College (Norton, MA) and a Ph.D. in Developmental Psychology from Columbia University. See the full schedule for the Research in Progress seminar here.