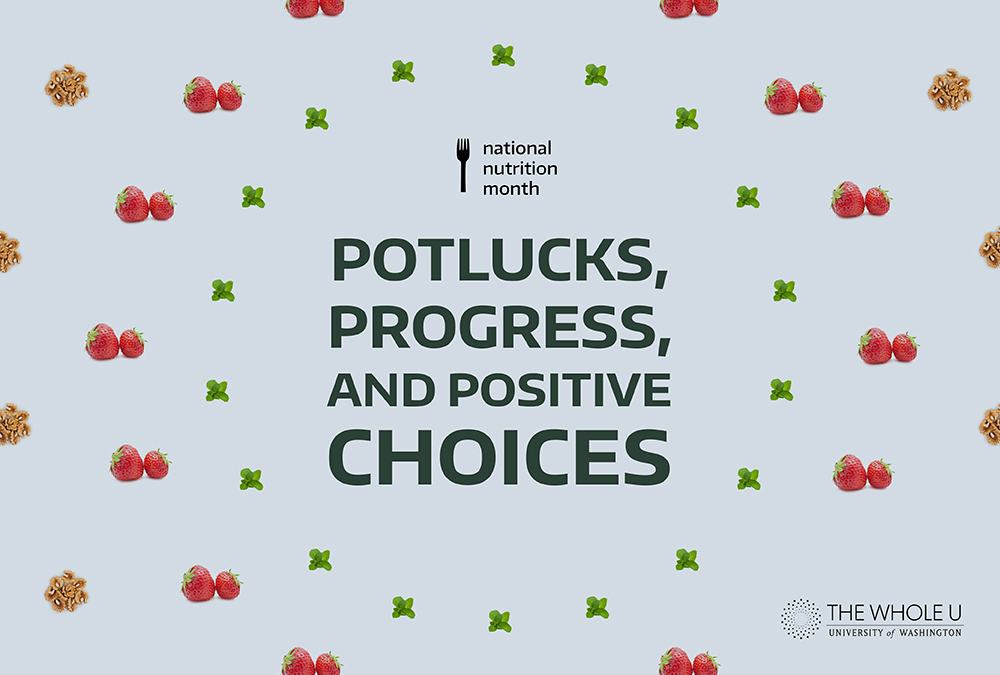 Small Changes, Big Impact Cap National Nutrition Month
There is a National Month for everything, but we'd argue March is a month for days—St. Patrick's Day, Pi Day, National Puppy Day, the first day of spring. All those and more make March one of our favorite times of year, but we also love it because we get to celebrate National Nutrition Month.
This nutrition education tradition, launched by the Academy of Nutrition and Dietetics and held every year in March, reminds us of the importance of making informed food choices and developing sound eating habits.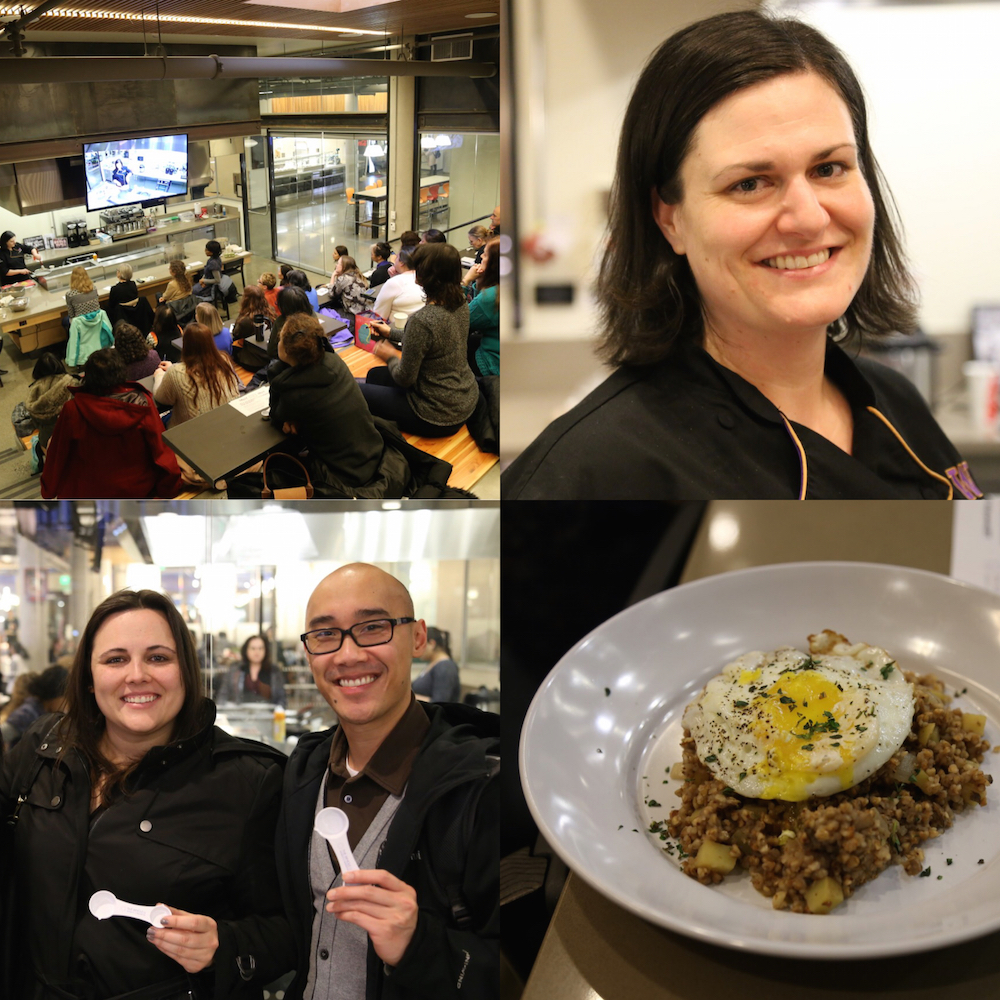 This year's theme was "Put Your Best Fork Forward," reminding us that "each bite counts and making just small adjustments can add up over time." To celebrate making small changes in our eating habits (one forkful at a time), we hosted cooking classes, nutritional seminars, a 28-day challenge and healthy potlucks throughout the month and across campuses!
Thanks to our UW Medical Center and Harborview Medical Center dietitians, these past four weeks we learned what balanced and healthy breakfasts, lunches, snacks, and dinners look like. We also created downloadable handouts to make choosing healthy foods easier and fun. Whether we made healthy toasts for breakfast, created homemade salad dressings, baked healthy snacks, or used herb and spice blends to naturally enhance the flavor of our food, we incorporated more healthy eating habits into our lifestyles.
Over 800 people participated in the "Put Your Best Fork Forward for 28 Days" challenge, which focused on making one small change a week for four weeks. Out of the 20 small changes list, created with the help of UWMC dietitian Charlotte Furman, the most chosen options were eating more vegetables and fruit, replacing sugary drinks with water, packing lunches, cooking dinner at home, and eating slowly and mindfully. By the end of the month, these small changes had become habits for many of the participants.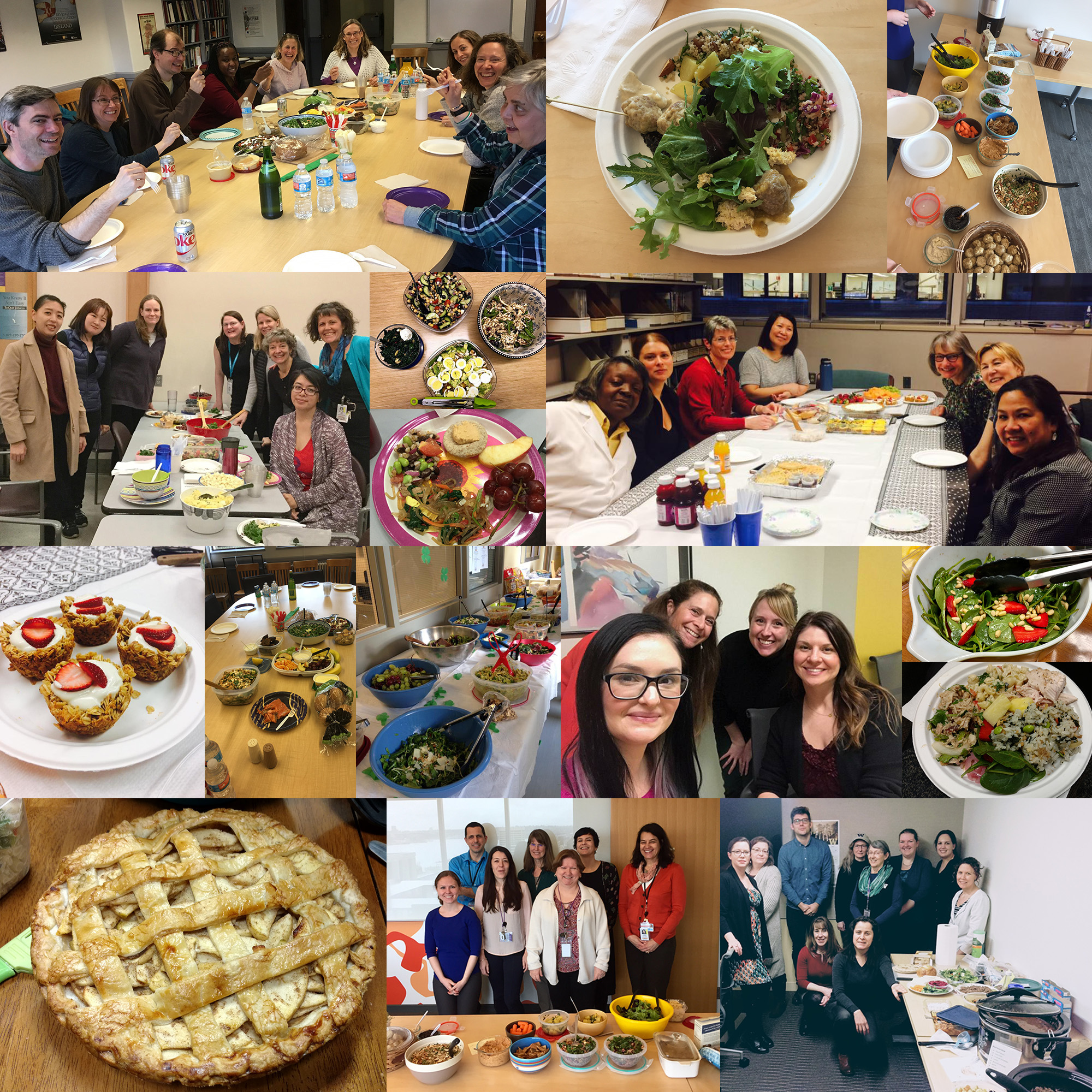 Many of you shared success stories spanning all areas and choices. We'd like to share a few of them here.
Some said they practiced more aware eating:
Becoming more aware of what I was eating, how I was preparing my food, and being more mindful of my experience at meals has improved my relationship with food.
Others made the effort to drink more water and said they'd never felt better:
Switching to water from other beverages saved me money and now I don't consider other beverages necessary to get through my day.

Drinking more water was the biggest change for me. I've always known I needed to drink more water, but it's been a struggle. Since I started Put Your Best Fork Forward, that's been my biggest goal and I've been doing pretty well with that throughout the 28 days! Foot and leg cramps at night have diminished and I attribute it to my water intake. I am also enjoying cooking again!       
Including more vegetables in packed-from-home lunches proved popular.
Having more veggies throughout the day really helped me stay full without overeating. Packing my lunch also helped me not give into cravings to go get something unhealthy for lunch (and saved money!)


I hadn't thought too much about the amount of vegetables I had been eating until I began this challenge. By starting with a goal to eat vegetables as a snack every day, I've transitioned into eating vegetables during the day and am making sure to include them in my evening meals as well. It feels good to be making small steps toward a healthier me!

I tried beets in a new way, and they've gone from a disliked vegetable to one of my favorites!
For others, it was just the excuse they needed to make a change:
I have lost 12 pounds and hope to continue with my journey. This is the jump-start I needed to get motivated!

For me, I noticed how much better I felt when I prepared my own food at home and had pre-prepared snacks. It was hard and took a lot more planning but it's something I want to continue.
A big thanks goes out to the 60 departments from all over UW that hosted healthy potlucks (pictured above and below). From Tacoma to Spokane to Harborview Medical Center, over 350 faculty and staff marked National Nutrition Month by sharing healthy, delicious dishes with colleagues—and mouth-watering pictures with us. Many said they had such a good time, they are now planning regular monthly potlucks into their calendars.
This month went by so fast, but we plan on continuing to offer activities around nutrition all year round to keep you motivated! Eating well is not only possible, but can also be fun—we showed it this past March. Keep up the good work!
---
We would like to extend our appreciation and special thanks to our dietitians:
Charlotte Furman, dietitian and Technology and Wellness Manager in the Department of Food and Nutrition at UW Medical Center
Judy Simon, dietitian at the UW Medical Center Roosevelt Clinic
Diane Javelli, clinical dietitian at the UW Medical Center
Ben Atkinson, dietitian and manager of Outpatient Nutrition, Informatics, & Wellness in the Nutrition Services Department at Harborview Medical Center
Special thanks also to Executive Chef Andrea Benson, general manager of Local Point.
Last, but not least, thank you to our discount partners Pacific Coast Harvest and Seattle Farmers Market for donating produce boxes and "Market Bucks", which will be awarded at the end of this week.