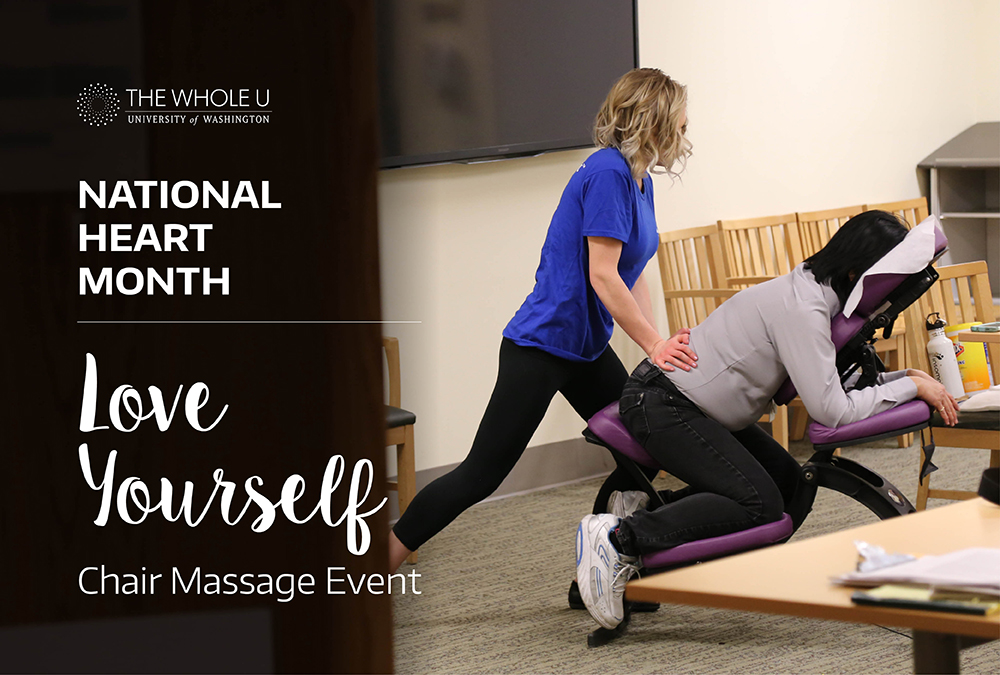 Kneadful Things: The Benefits of Massage
On February 21 and 22, The Whole U surprised doctors, nurses, and staff with free chair massages at pop-up locations at Harborview and UW Medical Centers. In four sessions across two days at eight separate locations, 12 licensed massage therapists volunteered their time and mastery of the musculoskeletal system to provide more than 400 staff members with a free 5-minute massage.
Chair massages administered by dedicated professionals have been proven to lower anxiety, increase circulation, decrease stress, as well as relieve muscle pain and headaches. A relaxing break and chance for staff to recharge during otherwise busy days, the massages were our way of providing a moment of self-care for those UW employees who spend so much of their time and energy caring for the wider Washington community. Whether they were ending a shift at 6:30 in the morning or about to begin one at 7:30 at night, we wanted to be there to meet them where they make a difference.
Once the last massage was complete, we caught up with one of the volunteers, Dr. Shane Walton of Ultra Chiropractic, and asked him about putting the "rest" in "stressed" and the health benefits massage brings. His answers were evidence that a little relaxation really can go a long way.
What are the benefits of chair massage?
Chair massage is an efficient and effective way to provide relief, relaxation and improve productivity at the comfort of your own space. It is easy to transport a massage chair just about anywhere and the way they are designed is comfortable for both the therapist and the client. Some of the benefits I have heard from chair massage clients is that they feel more relaxed, they have better mobility and more range of motion, and they feel more energized. Some of the other therapeutic benefits include: increased circulation, decreased blood pressure, improved immune function, improved sleep quality, and decreased anxiety.
Many staff appeared to walk away visibly relaxed—and stated as much. Why did the chair massage participants relax so easily in just 5 minutes?
When we think of a five-minute massage, most of us would say that it is just a tease. In reality, five-minutes of chair massage, when done by a professional, can be incredibly therapeutic and beneficial. As a chiropractor or licensed massage therapist (LMT), we are thoroughly trained in the musculoskeletal system, which is made up of the body's muscles, bones, and joints. We perform specific techniques in specific areas to help provide relief to areas that are related to the problems you experience. Five minutes gives us enough time do a brief overall assessment and be able to apply our techniques to help provide relief to the problem area.
How often should people get massages? Is it possible to have too much of a good thing?
How often you should get a massage can vary. Someone who lives a very active lifestyle, eats a proper diet, gets sufficient rest, and keeps a positive mindset might not need as many massages as someone who lives a sedentary lifestyle, eats a poor diet, doesn't sleep, or has a negative outlook and lots of stress. The best way to find out what schedule is going to be best for you is to schedule a massage with a LMT and talk with them about what you are experiencing and what your goals are with massage to come up with a plan together.
What are some ways people can prevent shoulder and neck pain? Stretches or exercises?
Shoulder and neck pain can be caused by a number of factors. First, try to identify what might causing the pain in the first place. Pay attention to your body on a normal day and see if you can identify activities, positions, or times of day that cause an increase in pain. Depending on what you find, you may want to stretch the muscles or you may want to strengthen a specific group of muscles.
For example, if someone spends the majority of their day taking phone calls holding the phone between their ear and their shoulder, they will most likely want to stretch those muscles because they spend the whole day in a shortened, contracted state. On the other hand, if you are a conductor of an orchestra and are constantly holding your arms in the air and you experience neck and shoulder pain, you will most likely want to strengthen specific muscles related to the movements of conducting.
A big thank you to the licensed massage therapists at Dream Clinic and Ultra Chiropractic for their time and skill to help make this event possible!