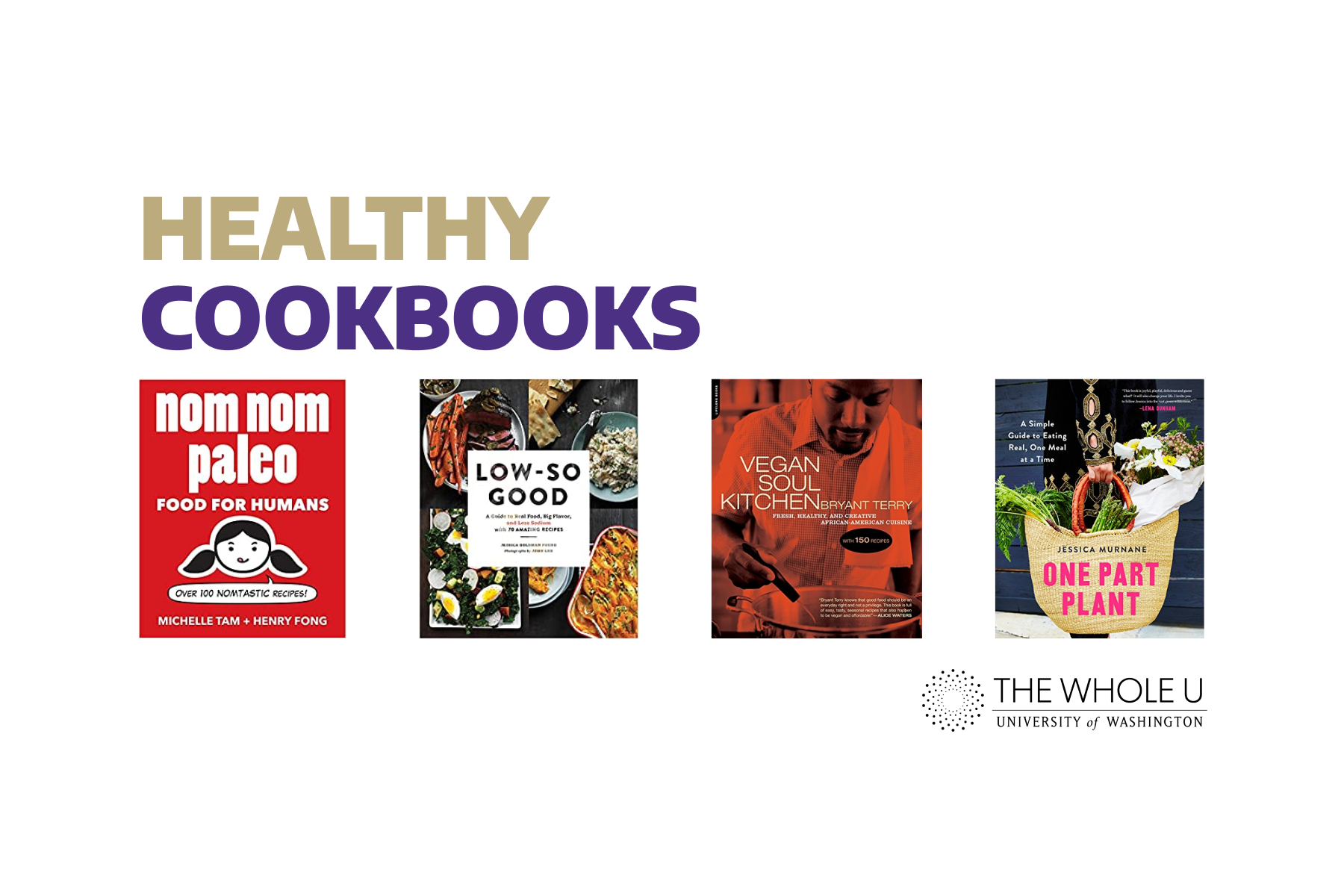 4 Deliciously Healthy Cookbooks
Who says healthy can't be tasty? In recognition of National Nutrition Month, our team at the University Book Store put together an appetizing selection of books that make finding a balance between eating well and feeling good entirely attainable. Whether you're looking to layer a few more greens into your day or try a new eating approach entirely, one of the following is sure to become your new culinary codex.
One Part Plant
Making a change—even a good one—isn't always easy, and that's why Jessica Murnane's One Part Plant is so great. This new book was only just published this past February and makes the undertaking of eating healthier less intimidating by giving you one simple mission: eat one plant-based meal every day.
Mouthwatering photography will have you eager to test Murnane's yummy, allergy-friendly recipes. Get ready to discover new favorites like spicy broccoli rice, creamy mushroom lasagna, easy vegetable curry bowls, red lentil soup, and triple-berry skillet cobbler. Written in a warm, nonjudgmental style, this cookbook isn't about telling you what you can't eat; rather, it's about adding things to your life: whole foods, fresh plant-based recipes, and an increased sense of wellness. Think of it as your plant-based starting guide. One bite, one meal at a time, you'll realize once you start, anything's possible.
---
Low-So Good
What we love about Jessica Goldman Foung (of the popular Sodium Girl blog) is that she's really been there and back. After being diagnosed with Lupus and kidney failure in 2004, she had to make drastic change to her eating and cooking style. Low-So Good comes from over a decade of low-sodium living and irrefutably proves a low-sodium diet doesn't have to be one that's low on flavor.
The 70-plus recipes include practical weekday breakfasts and lunches, low-sodium updates on holiday staples like brisket, and casserole, and delectable takes on the favorites we thought we'd have to give up (try salt-free bacon, chickpea-flour pizza, and coconut "panko" pork tonkatsu with orange ginger sauce). Helpful tips for decoding labels, rebooting taste buds, enhancing flavor, and entertaining turn it into a guide as much as a cookbook. Whatever it is, it's oh-so low-so good.
---
Nom Nom Paleo
If you've ever thought about going Paleo (eating only foods early humans could hunt or scavenge), we have to recommend Nom Nom Paleo. Hailed the "Martha Stewart of Paleo," author Michelle Tam is known for her easy-to-follow, award-winning recipes, popular blog, and zany sense of humor.
Tam, an admitted food-lover, has created a fun and accessible introduction to the "caveman" diet that emphasizes unprocessed foods. Flavorful dishes like Yankee pot roast, walnut prawns, and siew yoke (crispy roast pork belly) ensure the question, "What's for dinner?" always has a satisfying answer.
Savor 100 fool-proof recipes seasoned with step-by step photographs, humorous cartoons, and tons of Asian and California-inspired flavors.
---
Vegan Soul Kitchen
When we think of soul food, the first word that comes to mind is "delicious." Unfortunately, "healthy" is not the second. West Coast chef Bryant Terry flips our expectations with his craving-satiating cookbook, Vegan Soul Kitchen.
Popular dishes are reimagined with plant-based recipes that are light on salt and refined sugar, but rich in flavor. Fresh, seasonal, whole ingredients are front and center in over 150 recipes, including double mustard greens and yam soup, Cajun-Creole-spiced tempeh pieces with creamy grits, sweet cornmeal-coconut butter drop biscuits, and caramelized grapefruit, avocado, and watercress salad with grapefruit vinaigrette. Bryant's kitchen is where you go when you want food that's good for the body and for the soul.
---
Go ahead and dig in! Our stomachs are already rumbling.