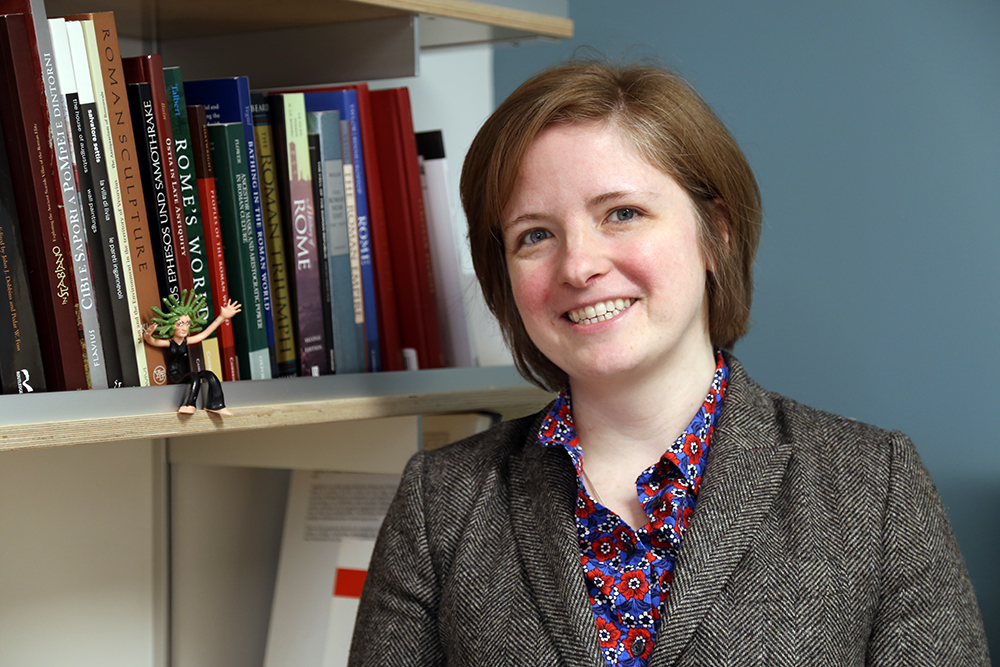 Faculty Friday: Kathryn Topper
Growing up in the suburbs of Philadelphia, Kathryn Topper thought she wanted to be an astronaut or astrophysicist. That was until tenth grade, when she fell in with a different crowd. This group made a habit of gathering late into the night to talk, sing, and drink—sometimes making a competition of flinging dregs of wine at targets around the room. The best part? These raucous house parties hardly ever got busted. Chalk it up to good timing. They occurred more than 2500 years ago.
So it was that in tenth grade Topper walked into a class on the history of western civilization and made acquaintance with the ancient Greeks.
"That's when I knew I wanted to become an archaeologist," she says. "In order to make sense of this culture that we're living in, I had to know as much as I could about these other cultures that contributed to it."
Her experience in that class prompted her to write a letter to an archaeology professor at Bryn Mawr whom she had read about in the local paper. He invited Topper to the college (which she would later attend as an undergraduate) to sit in on a few classes. The rest, one could say, is history.
Today, Topper is an associate professor of Classics at the University of Washington with a focus on Greek art and material culture. As an archaeologist, she's done her share of excavating, but her primary focus is on breaking ground of a different sort. This quarter she's teaching a new course, Gender and Sexuality in Classical Art and Archaeology.
"It's not a topic students always know to associate with our field," Topper says, adding that as the quarter draws to a close, she's asked students what they've been most surprised to learn. "One thing students point to is how deeply embedded our assumptions and stereotypes about women are and how long these have been around."
Women—along with resident foreigners, slaves, sex workers, and assorted "barbarians" (anyone who didn't speak Greek)—were excluded from citizenship in Athens, the long-heralded "pure democracy" of the ancient Greek world. One place from which women were explicitly barred was the symposium, the aforementioned late-night drinking parties that so defined the thinking—and later perceptions—of the age.
"What does our picture of ancient Athens look like when we start taking seriously that it wasn't a democratic utopia?" Topper asks. "That life was going to be bad for slaves, as well as for many of the women and resident foreigners there?"
Topper says it's a question that's been asked more often in academic and archaeological circles since at least the 1970s, adding that the fact we're asking these questions now is directly related to contemporary political and cultural trends.
"The stories that we tell about the ancient world can tell us a lot about how we're trying to see ourselves," says Topper, whose area of expertise is imagery of the symposium in Greek vase-painting.
The vases themselves, with their depictions of the "competitive egalitarianism" of the symposium, serve as literal vessels for how Greeks with power and high status (i.e. male citizens) wished to express their sense of what it meant to be Greek.
"There's a certain hierarchy expressed," Topper says. "They're not telling the story as it actually was or as it actually is happening. They're telling stories as vehicles for how they want to see themselves and their history."
It's this notion of "learning to look" and to contextualize media, images, and information that makes studying the classics more vital and versatile than ever. It's more than just re-engaging the notion of a classical tradition—but fashioning it anew.
"I think the question is, which classical tradition?" Topper says. "Every tradition is constructed. The traditions at the time center those that are in power."
Perhaps people in the 21st century are not so much losing sight of civilization's classical roots, as they are rediscovering and reinterpreting them in new ways that reflect who they are and what they value. For Topper, it's about exploring the tension between the alien and the familiar when we consider ancient lives and the inherently unequal, often casually violent worlds those people created.
"You can't just sweep away the human rights violations because these cultures produced some beautiful art and literature, and you can't just sweep away the great art and literature because these cultures committed what we'd now understand as serious human rights violations," Topper says. "You have to include both."
Students should be encouraged to explore the disparities and contradictions of ancient history, not ignore history because of them, Topper says, and that the ancient Mediterranean serves as a perfect practice ground for students to engage in ideas that might be at odds with their own. Examining the good, the bad, and the ugly parts of ancient cultures primes them to understand their own cultures as equally complex.
"Because it's so distant in time and in place, it makes it safer laboratory to think through some of these explosive topics we're dealing with right now in our culture—whether that's sex or immigration or religion or government," Topper says. "Learning to get into the mindset of someone who configures the world differently is one of the most pressing things we can be teaching students."
---
Kathryn Topper holds an A.B. in Classical and Near Eastern Archaeology/English from Bryn Mawr College and a Ph.D. in Classical Archaeology from Harvard University. Learn more about her book, The Imagery of the Athenian Symposium, here.