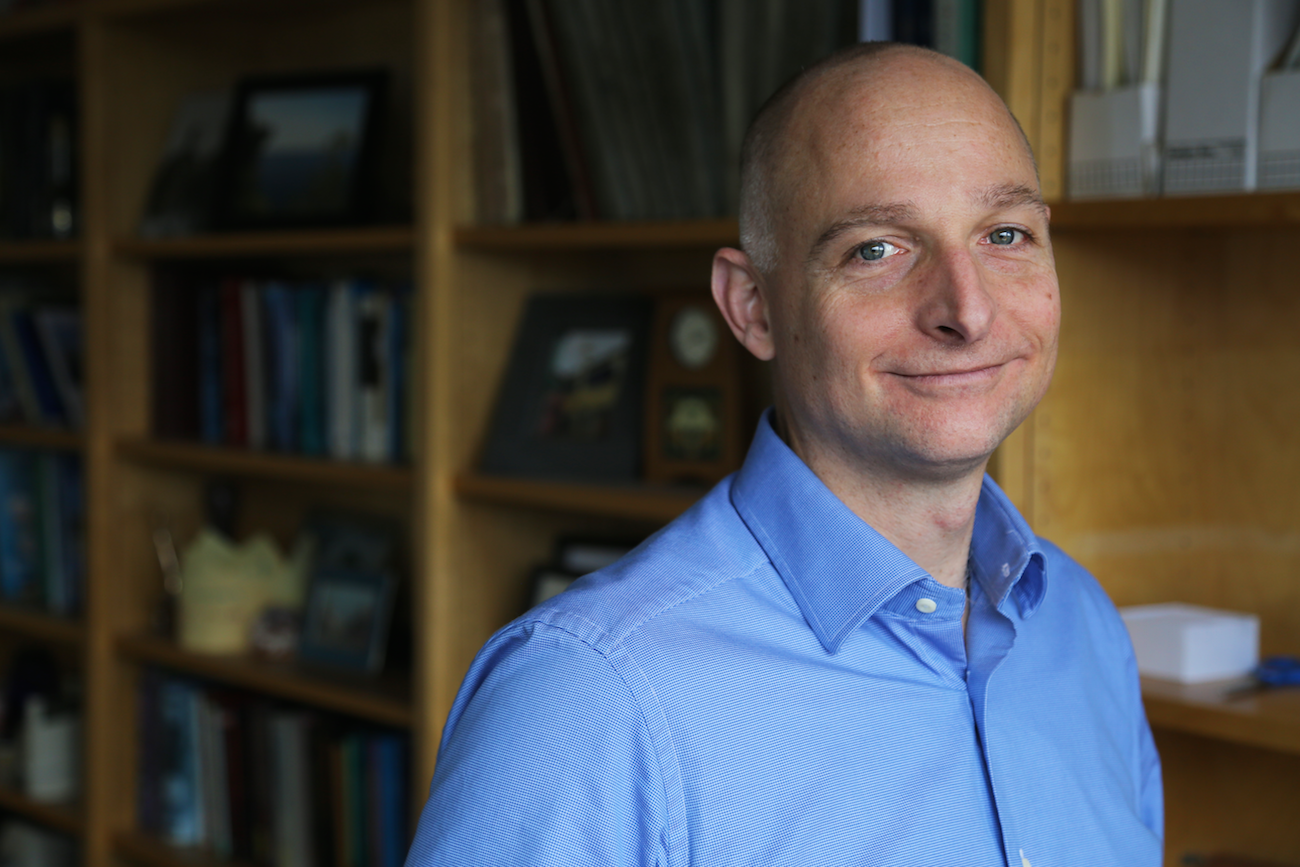 Faculty Friday: Tim Essington
To deliver the perfect presentation, prepare to embrace your mistakes.
That's the philosophy Tim Essington brings to Applied Improvisation for Science Communication, a course the professor of aquatic and fishery sciences developed to help scientists more confidently and effectively communicate their research.
"Giving a good talk isn't just what you put on your slides, it's conveying a story about your research," Essington says. "If you're so worried you're going to misspeak and filter everything you say, you're going to come off as stifled and you're not going to communicate effectively."
It's a hang-up Essington acknowledges hampers academics of all disciplines, but says can plague scientists in particular for whom careful self-editing and rigorous cross-checks benefit lab- and field-work, but often work against researchers when speaking publicly or in lecture settings.
"The thing that's drilled into us as scientists is, 'don't make a mistake,'" Essington says. "But the mistake is a wonderful thing. The way you handle it totally changes how the audience perceives it."
Essington wasn't always so at ease.
"I was one of those people who didn't want to make a mistake in front of people," he says, adding that when he first started taking improv classes at the urging of his wife, who had attended a conference where she'd seen improv used as treatment for anxiety, he would dread going. But after just a few classes, he began to sense a change. And it wasn't on-stage at Fremont's Atlas Theater, but in the lecture hall.
"I could tell the difference in how I might give a lecture," Essington says. "I had more confidence and was more willing to take risks in how I was presenting material. I got to seeing that this is kind of useful."
He found himself becoming a better listener with improved attention span. He took a second class. Then a third. The more he practiced and performed, the more connections he found benefitting his communication in the classroom. One night after a practice, he was chatting with improv instructors Alex Grindeland and Dave Bogan at CSZ Seattle about workshops they were developing and hit upon the idea of devising one for science communication.
Working together in the evenings, the trio outlined a structure of games and activities for scientists with Essington providing guidance on key takeaways. After offering the class twice at the theater, soliciting feedback, and gauging the level of interest among participating students, Essington approached the College of the Environment, who approved a five-week course on campus. More than 40 graduate students applied for 20 open spots.
"It's an example of bringing people together with different skill sets to provide something that's way better than any one individual could do," Essington says of working alongside the two professional improv instructors. "I think it is really cool that the college was down with that."
For his part, Essington takes a back seat to the instructors during each two-hour class session. He casts his role as that of an interpreter—helping students establish the connections between what, in the moment, can seem bizarre, and then apply those lessons from a scientific perspective.
Scientists hesitant to step into the no-holds-barred world of improvisational theater are usually surprised at what they find once they do. A closer look reveals Essington's course to be a laboratory all its own—a place where scientists can conduct bold experiments in a controlled environment.
"It's about stepping out of their world and practicing making mistakes," Essington says of the course, which emphasizes acting quickly, committing, and doing so with enthusiasm, with special attention paid to non-verbal aspects of communication. "We'll do an improv exercise and then talk about how you might fold that into a presentation."
Much like in science, the focus is on process, but unlike in science, the outcome is of less consequence. However, that doesn't mean the results aren't there. Essington records students at the beginning and end of the course delivering what he describes as a "one or two minute lightning talk." In comparing one talk against the other, students come to realize how much information can be conveyed independently of words. It's a connection that proves electric, no matter the stage or setting.
"There's this buzz afterwards that's indescribable," Essington says of the thrill of performing and seeing the audience respond. "It's collaboration with the audience; they're a part of it. Together, it's getting over the fear of the unexpected and the unknown."
The same could be said of science.
What Lies Beneath
It's wonder at the unknown that first attracted Essington to marine research.
"There's something mysterious about the ocean," he says, adding that this question of what lies beneath the surface is what initially attracts many to his field. "I even say the same thing about lakes."
Growing up in Detroit, Essington and his family would spend holidays in Canada on the shores of Georgian Bay. With more than 30,000 islands, the sheltered stretch of Huron's northern shore constitutes one of the largest freshwater ecosystems in the world.
"All summer, I would be in this freezing cold water or in some creek turning over rocks looking at what critters were underneath."
Essington would go on to study biology as an undergraduate, but quickly realized working in a hospital wasn't for him. He began asking professors whose classes he'd enjoyed questions about their work, which eventually landed him in one's living room for a graduate seminar. Listening to one graduate student present his work on stone flies in northern Michigan, Essington experienced what he calls his "eureka moment."
"He puts up his first slide and it's a picture of him standing in the middle of the Au Sable River and he's got his hip-waders on and he's picking up rocks and looking at them," he says. "I went, 'That's a job? Why didn't anyone tell me that? I spent all my childhood doing that. That's what I want to do!'"
Essington would go on to completed graduate work in freshwater systems, conducting population modeling work on lakes before applying it to tuna fisheries in the central Pacific as a post-doc. Working as an assistant professor at Stony Brook University's Marine Sciences Program, he learned of an opening for a Marine Fish Ecologist at the UW.
"When I got the phone call that I got the job, I was jumping up and down in my office," he recalls, adding with a dash of humor, "If you are a psychotherapist, New York City is the place to be. If you are a fisheries ecologist, it's Seattle."
In addition to the craggy inlets of the Puget Sound and the watery expanse beyond, it's the diverse and interwoven ecosystems at the UW Essington finds so rich.
"There's so much going on here—not only in this department, but also in the School of Marine and Environmental Affairs, in Forestry, Oceanography, Applied Physics, and Civil and Environmental Engineering," he says. "On top of that, there's two NOAA fisheries labs right here. It's just a great place to be."
Essington's own research at the School of Aquatic and Fishery Science applies principles of how ecosystems work to derive better conservation and management outcomes for marine life. In a simplified sense, it tackles the question: how can we have our fish and eat them too?
He explains that where there are rules and structures in place that dictate actions in response to conditions, "you end up doing a pretty good job" of managing marine populations. However, the specter of climate change stands to alter all that. As water temperatures rise and seas acidify, stretches of ocean are rendered inhospitable, spelling drastic changes in populations' movements and behavior.
"Species are already moving to the poles and deeper into the ocean. And that's causing problems with some of our management structures."
In addition to other projects, including one on how to maximize corals' ability to adapt to changes in pH and CO2 levels, Essington is one of two UW professors leading efforts to help U.S. fisheries consider the larger marine environment when managing a fishery, not just a single species. He traveled to Washington D.C. in November to present what he calls "a blueprint" for the future of fisheries ecosystem plans.
"We're venturing into a future that's very unlike the past," he says. "We're moving into an unknown condition."
But Essington is confident in his ability to respond to unknowns—whether modeling populations of fish deep in the Pacific or the actions of fellow improvisers on stage. It's about surveying the broader context, acknowledging the other players, and realizing we're all in it together.
"When it all clicks, it's magical."
---
Tim Essington holds a B.S. in Biology from University of Michigan, a M.S. in Fisheries from the University of Minnesota, and a Ph.D. in Zoology from University of Wisconsin.