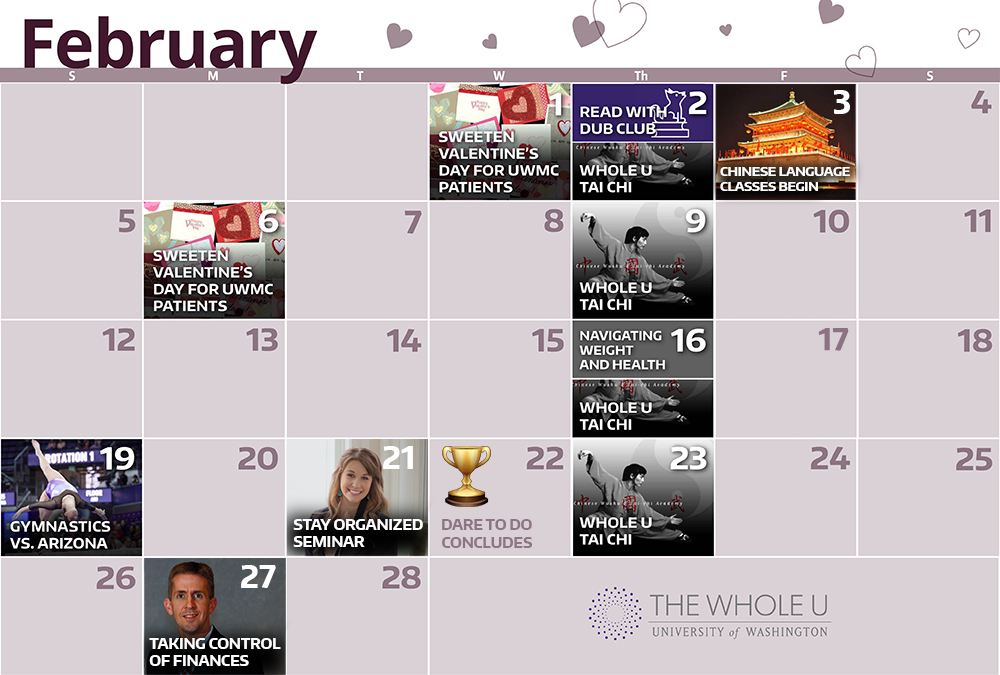 Find Balance with These February Events
A theme in Week 2 of our Dare to Do 30-day challenge is "balance is not something you find; it's something you create." With the busy holiday season firmly behind us, there's no better time to catch your breath and set goals for the New Year, but that doesn't mean needing to slow down. This February, maintain balance in your life with events and opportunities aimed at helping you and your family stay active, informed, and constantly improving. Whether you want to craft handmade Valentine's Day cards, create a balanced budget, or make space for harmony of mind and body, these events will help you chase winter away while still making the most of each day.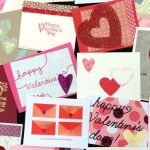 Sweeten Valentine's Day for UW Medical Center Patients (February 1 & 6)
Love is in the air, but we're counting on you to help spread the warm fuzzies as Valentine's Day draws closer. UW Medical Center's Art Program and The Whole U invite you to participate in the ninth annual Valentine Card Project. Throughout January we got creative—crafting cards toward the goal of creating 550 handmade Valentine cards for all UW Medical Center inpatients. Now, let's finish strong to reach that goal so that when cards are delivered on February 14, everyone will have something to smile about. After making a card for a patient, you will be able to make one for someone special to take home with you! Join us for crafting sessions February 1 and 6.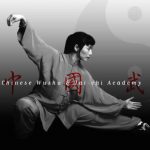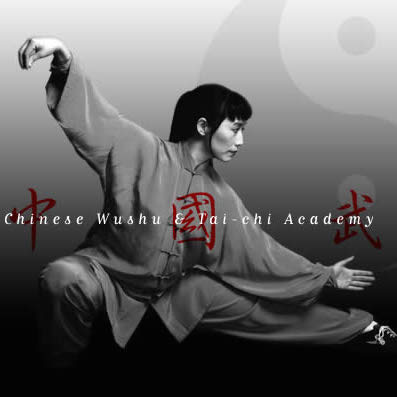 Whole U Tai Chi Yang and Chen Style by the Confucius Institute (Every Thursday)
Stressed? Want to relax, but also want a workout? Tai Chi is an ideal aerobic exercise for any age and can be practiced for a lifetime. Tai Chi helps maintain spine health and increases bone density while benefiting the cardiovascular, respiratory, nervous, and digestive systems. Two class sessions will be held every Thursday in February. At noon, Master Instructor Yijiao Hong will cover authentic Chen Style Tai Chi Silk Reeling and, at 1 pm, she will cover Yang Style Tai Chi. Both styles will emphasize self-centering, body relaxation, and breathing techniques and help increase flexibility, strength, coordination, and balance.
Read "We Could Not Fail" with DUB Club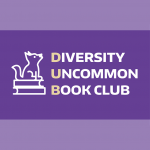 (February 2)
The OMAD Diversity Uncommon Book Club (DUB Club) supports the Race and Equity Initiative by focusing on books with topics such as race, ethnicity, gender, and socioeconomic disparities, LGBTQ, intersectionality, bias, and identity development. This winter quarter the group is discussing We Could Not Fail: The First African Americans in the Space Program, by Richard Paul and Steven Moss, a surprising and insightful story about the black engineers, scientists, computer programmers, astronauts and other pioneers who desegregated the space program and launch the United States to the final frontier. Mention that you are part of DUB club at the UW Book Store check out to receive a 20% discount on We Could Not Fail. Kick off your reading experience on Thursday, February 2nd at 5:00 p.m. in the Kelly Ethnic Cultural Center. The club meets monthly for discussions.
Chinese Travel Language Class Series Level 1 and 2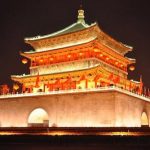 (February 3)
Do you dream of traveling to China? Is the language barrier stopping you? No longer. The Whole U has partnered with the Confucius Institute of the State of Washington (CIWA) to offer a Language Tourism Chinese Course for UW faculty and staff. This 10-session course is designed for non-Chinese speakers who want to improve their communication skills while traveling in China. By the end of the course, you will have mastered the basic vocabularies for traveling in China, developed Mandarin (Putonghua) listening and speaking skills and gained familiarity with Chinese culture. The class will meet every Friday at the HUB Room 337, from noon to 1:00 p.m. beginning February 3. For those who have already taken this class or who possess basic proficiency, but want to learn more or brush up on skills, sign up for the Level 2 class here.
Navigating the Complexity of Weight and Health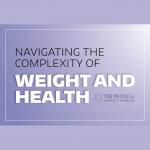 (February 16)
How do we as a society evaluate health? What assumptions get made about health from a person's appearance, body shape, weight, or observed behaviors? These complex issues will be discussed at an informative, interactive presentation by Erin Harrop, a doctoral student at the UW School of Social Work, and Julie Church, RDN, CD, CEDS from Opal: Food+Body Wisdom, a University District clinic founded by two UW alumni committed to helping those struggling with food and body concerns. Judy Simon, a Roosevelt Clinic dietitian and instructor in the Nutritional Sciences Graduate program at University of Washington, will facilitate the talk.
The presentation will address how to navigate the complexity of weight and health through the introduction of the Health at Every Size approach to wellness. Essential to this approach is an understanding of how size-stigma and weight discrimination affect health and access to care.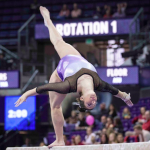 2017 Husky Athletics Appreciation Day – Gymnastics vs. Arizona (February 19)
In January, the UW's women's gymnastics home-opener meet ended with a season high—the GymDawgs notched their highest score of the season and placed five top-3 finishers. With a few months left of the season, the GymDawgs have limited home meets left, so come experience the high-flying action in person. Stick the landing by bringing your family and friends to cheer for the squad as they take on Arizona. We're proud to partner with UW Athletics for The Whole U Appreciation Day.
Stay Organized with Kammie Lisenby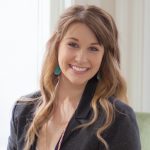 (February 21 and 28)
You first met Kammie Lisenby as our Organizing Expert for the Dare to Do challenge. Now, get her expert advice in person at two seminars on how to get—and stay—organized. Kammie's ethos is that it shouldn't take years, months, or even weeks to get your life organized and she believes the best reason to do so is to reap the benefits of the confidence that follows cleanliness. Learn how to reorganize your office, bedrooms and closets, garage and cars, kitchen, living room, and more with Kammie on February 21 and 28.
Take Control of Your Finances Workshop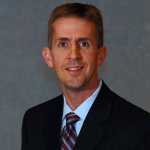 (February 27)
Have you decided to save money this year, but still aren't sure where to start? Join us on February 27 at noon and learn how to take control of your finances in 2017 with our Dare to Do finances expert, Doug Stucki. Doug, a Fidelity director and retirement planner with more than 17 years with the organization, will speak on how to establish a budget, developing realistic savings plans, and how to start an emergency fund. Whether you're saving up for a big goal, your child's college education, or paying down debt, this seminar will help you establish new habits to achieve your goals. Check out more tips from Doug in our weekly Dare to Do series, here and here.