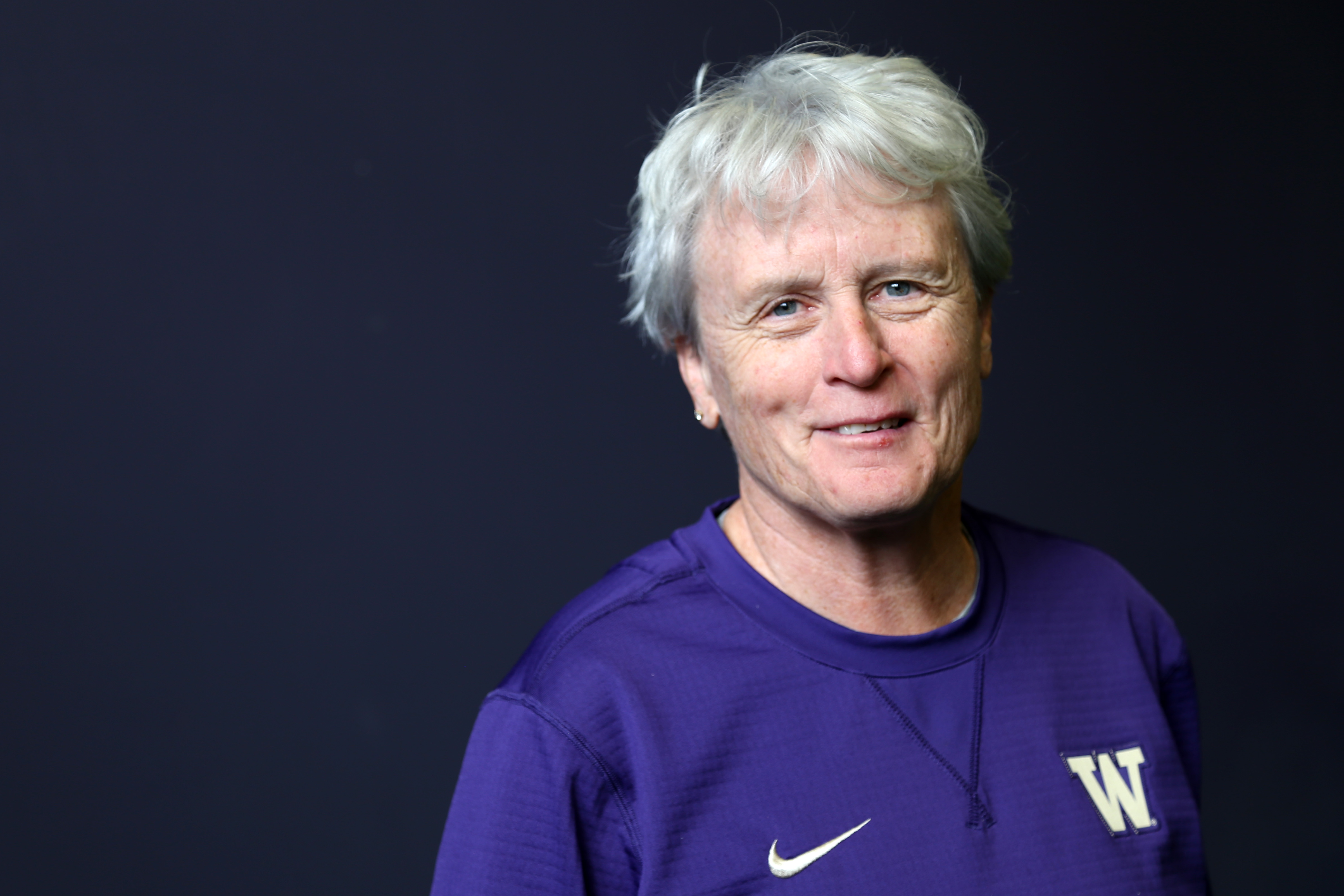 Coaches' Corner: Mary Lou Mulflur
Even after 33 seasons as head coach of the University of Washington women's golf team and a 2016 run to the program's first national championship, Mary Lou Mulflur is quick to shoot down any notion that she has it all figured out.
"The minute I think I have it figured out, I'm done," she says. "When you stop learning, you stop growing."
Mulflur, who was recently named 2016 NCAA Women's Golf Coach of the Year, sounds like she's just getting started. In her world, there are only new narratives—and that's coming from the only coach to have attended every PAC-10 and -12 championship since the inception of a women's conference tournament in 1987.
"Every year you start with a blank canvas and, no matter what you do, every year is different," she says of golf's particular way of producing any possible scenario or outcome.
It's the nature of the sport Mulflur first played as an eight year-old with her father, a Portland sportswriter. One of the perks of his job was a golf club membership, so when he wasn't covering games on weekends, he'd head to the golf course and ask if anybody wanted to come along. One of eight children, Mary Lou always leapt at the opportunity.
She recalls first getting interested in the sport after attending a group golf clinic: "a circle of 40 kids with a professional in the middle, going through basic stuff. I was like, 'Oh, that's kind of cool.'"
Mulflur continued to play golf throughout high school and during summers before becoming one of the first women to receive an athletic scholarship at the UW, joining the women's golf team in 1976-77, then in its third year under its coach and founder Edean Ihlanfeldt.
Upon graduating, Mulflur says she considered playing professionally before deciding to pursue a career in real estate. Within a few years, however, the coaching job at UW had opened up and the sport was calling her back.
"I remember my dad calling me and asking if I was going to apply and I laughed," she says, explaining she initially didn't give the possibility much thought. "The more I thought about it, I realized I had a great experience here. I thought I could just give back for a little while. I never dreamed I'd be sitting here talking to you 33 years later."
Mission in mind
Over that span, little has remained constant besides what Mulflur describes as her "love affair with this University" and the golf program's underlying fundamentals. Coaching a sport where so much depends on individual performances comprised of countless concentrated actions demands a unified approach, which, for Mulflur, is mostly mental.
"Practice is not what you might think it is," she says. "We only spend 5 or 10% of our time actually teaching the golf swing."
It's less about working on your swing as it is working on your game—and working on your game often means working on yourself. Mulflur says she likes to remind players, "Golf is what you do, not who you are."
If it sounds Zen, it kind of is. Mulflur dedicates three minutes to meditation at the beginning of many practices, while volunteer assistant coach David Elaimy holds an optional mindfulness class each Thursday at the Golf Performance Center.
"I've done a lot of research and I've studied a lot to get to a point where I feel our practices are most effective," Mulflur says, crediting discussions with other coaches and members of her team in shaping a philosophy and process that emphasizes mind-engaging activities over endless reps at the range. "All this neuroscience is telling us is if the brain is not engaged, it's not going to learn."
While the common adage might be to "train smarter, not harder," for Mulflur and her squad, it's about training smarter and harder, only for less time. It might stand to reason then, that for a national champion coach, Mulflur doesn't play much golf herself.
"I play maybe twice a year," she says of the rare round she plays with the team or with her 90-year-old father and 16-year-old son.
Right now, she's focused on the spring season ahead. January finds her organizing the team's two-day winter retreat, during which time she says she plans to draw focus away from last year's championship.
"Let's turn the page. It's not going to change the fact that we're champions," she says, "But that doesn't define us."
So what does define them? For Mulflur, it's a mission.
"We've never forgotten our purpose, which is education," she says, citing the approach of athletic director Jennifer Cohen and a network of coaches, including Chris Petersen, Lorenzo Romar, and Mike Neighbors, whom she views as "beacons" of an education-first attitude.
"It's not about how many pairs of shoes you have, or how many uniform combinations you have," she says. "It's the person in the uniform. This place has never wavered from that and that's not changing."
Beyond impossible
For Mulflur, a winning outlook is earned as much as learned. She says one goal for the upcoming two-day retreat is to reemphasize the golf program's culture of work, grit, and toughness—rebalancing her athletes' hard-earned right to revel in their national title with the hard-nosed determination necessary to compete for it again in a field of more than 260 teams this spring.
"As a coach, I want to make sure they're still hungry; that they're not satisfied; that we are going to grab our lunch pail and get to work when it's 40 degrees out and you're miserable."
She say's it's part of what helped the team become champions in the first place. The team mantra for 2016 was be comfortable being uncomfortable.
"I make my players do the impossible," she says of a penchant for assigning difficult-to-complete drills. Mulflur describes one exercise in particular—what she calls the bunker game.
"You get in the bunker with seven players in a row and you each have to get the ball to what is reasonable distance from the hole—usually three or four feet. The first three players hit and now you're player four and, if you miss, we start over. By the time you get to the sixth or seventh person, that's a lot of pressure."
Another drill involved holing a bunker shot, holing a short pitch shot from five yards out, and then sinking a 50-foot putt.
"When you put that out there, that's pretty impossible," Mulflur says. "In their heads, they're thinking this is going to take the entire practice. Especially holing a bunker shot — how many times does that happen?"
But a little visualization goes a long way. The entire team finished in 45 minutes. Two players holed their first bunker shot.
"A third lipped out," Mulflur says. "They started to realize, 'I can do anything.'"
Ask the impossible and you might well get it. Last year, Husky women's golf cruised to the finals of the NCAA Women's Championship when then-freshman Sarah Rhee holed a bunker shot for birdie. A day later in the Championship match, senior Ying Luo sank a 61-yard pitch shot on the 18th hole of her match to win a point for Washington. And to wrap up the first national title in program history, then-freshman Julianne Alvarez got up and down from 90 yards on the 19th hole to continue her match before sealing the Washington victory with what Mulflur describes as "a very challenging up and down on the 20th hole from approximately 30 yards out."
"People saw us holing out these shots, but they didn't see how much work we did," she says. "It wasn't luck—though you do have to have a certain amount of luck—but they worked their butts off."
Over 34 seasons, so has she.
"If I wasn't passionate about it, I might not have lasted that long," she says. "But I'm coaching at my alma mater. Not everybody gets to do that, let alone do that for as long as I have."
She describes the state of mind she and the team strive to attain as one of effortless effort.
"It's a lot like life," she says. "You gain control by giving up control. You can't force it to go where you want it to go. You do your prep-work and then swing with freedom and just let it go."
"Work long enough, finally one goes in."
---
Mary Lou will deliver a motivational talk on goal-setting Tuesday, January 17 as part of The Whole U's Seattle campus Dare to Do Kick Off celebration in the HUB North Ballroom. Learn more about our expert-led 2017 Dare to Do New Year's Challenge here.