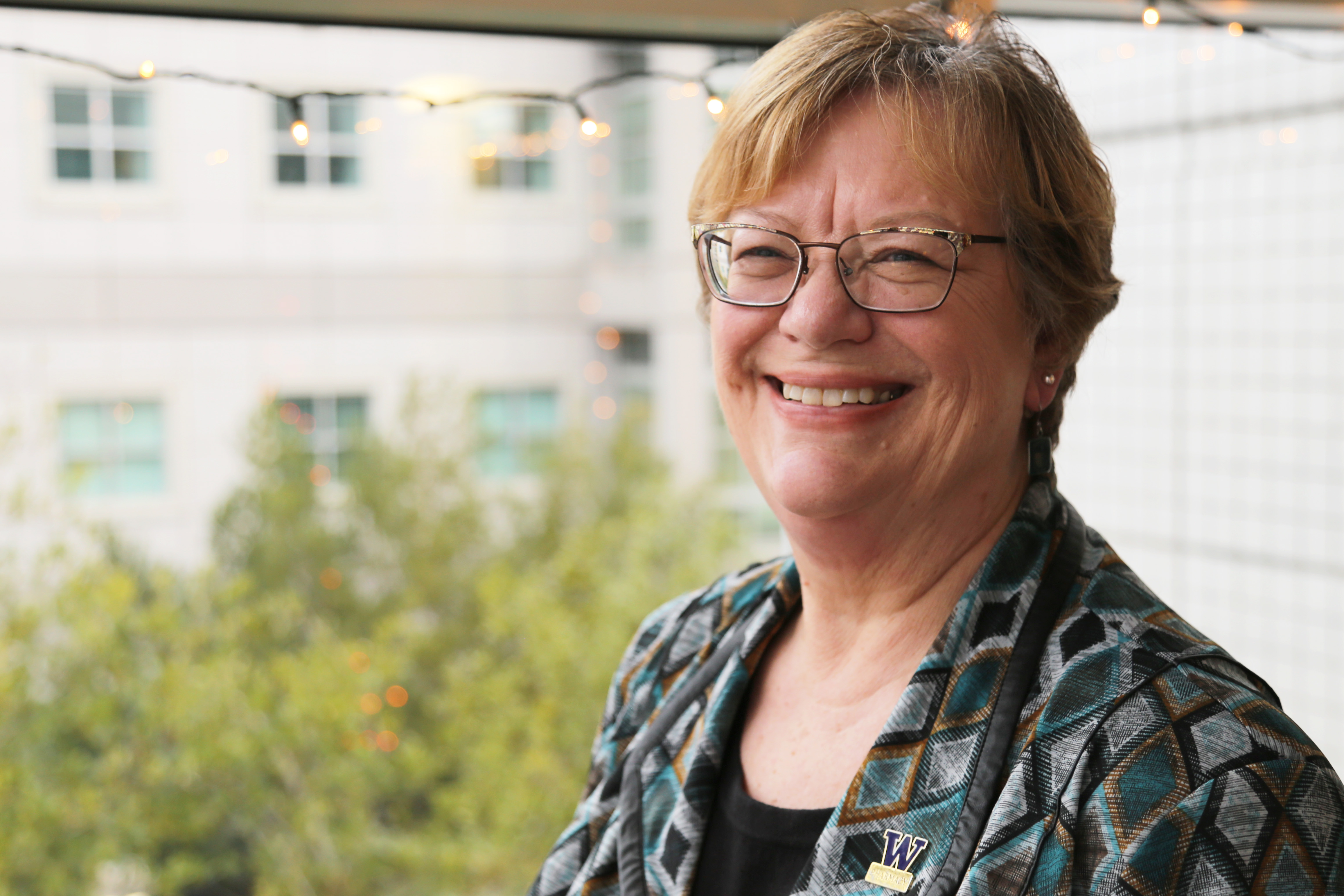 Whether she's meeting faculty at the School of Pharmacy or Fidel Castro in Havana, Penny Evans likes staying a step ahead.
It's a strategy the graduate program advisor for the School of Pharmacy's Pharmaceutical Outcomes Research and Policy Program has brought to work every day for the past 25 years and the advice she says she'd impart to any staff member hoping to make meaningful impact over time.
"Get to know someone, their work ethic, and how it meshes with your work ethic," she says. "Then try to anticipate what that faculty or student might need next."
For the past 13 years, Evans has guided cohorts of master's and Ph.D. students from admission to graduation, helping them navigate the School of Pharmacy's numerous networks and resource channels and surmount any challenges that arise along the way. That could mean anything from creating personalized coursework plans for students who become pregnant to driving from Lynnwood to the Registrar's Office under eight inches of snow and a University closure to get a transcript notarized for a student who needed it for a Visa back from Kenya.
"I like to know that I am contributing something," she says. "That I am being counted on for something."
Part of the Pharmaceutical Outcomes Research and Policy Program since its inception in 1995, Evans joined the Department of Pharmacy in 1991 as a secretary senior, assisting faculty, doing database mailings, and planning events. In order to get placed, she was required to take a typewriter and a Dictaphone test.
"The university has come a long way since then," Evans says.
So has she.
From typing out memos and assisting in assembling syllabi, Evans took to organizing and coordinating continuing education courses, growing right alongside the School's offerings. Working in so many different capacities across the School of Pharmacy helped her gain the knowledge, experience, and confidence she says prepared her for her current role as pathfinder and problem-solver for faculty and students alike.
Evans says it's the connective quality of her work that drives her.
"The most rewarding part of being here is seeing the students get to the completion point—going off and getting a postdoc, faculty appointment, or becoming vice presidents and presidents in the pharmaceutical industry," she says. "Then it's fun to see alumni come back year after year and to introduce new students to these students who graduated 20 years ago."
Evans' next step might be the biggest she's taken since the Washington native moved back to Seattle from California in the early 1990s. She's planning to retire at the end of June.
"It's a scary transition," she says. "I'm healthy and it's hard to give up the work."
Evans says she plans to draw down her hours gradually as she works to impart what amounts to a quarter century of institutional memory to whoever is hired to fill her shoes. And while she looks forward to devoting more time to yoga, community service, travel, and spending time with her twin grandchildren, Evans says she plans to remain connected to what she describes as her Health Sciences family.
"It's such a wonderful school and atmosphere," she says. "I've made so many friends here among students and faculty. This is where I made my home."
It's a story come full-circle that began when her family left Seattle for Southern California when she was 11.
"I missed seeing the World's Fair and the Space Needle go up," she says.
But while Evans may have missed out on iconic landmarks, she still managed to make an indelible mark of her own as the internal binding agent for a program that, in the course of 20 years, rose to national prominence as a center for pharmaceutical policy research.
"Other states now look to Washington for new, groundbreaking laws and regulations," she says, demurring from further discussion of policy, citing a preference for the person-to-person work.
But what about that meeting with Castro in Havana? It's a story Evans says she sometimes reveals as a surprising fact about herself at School of Pharmacy conferences and team-building retreats.
When President Jimmy Carter eased travel restrictions as a first step toward normalizing relations between the U.S. and Cuba in 1977, Evans and her husband traveled to Havana in place of a relative who'd opted out of a spot on a business junket. At an official reception, Evans—who was working as a dental assistant at the time—spied the Cuban leader across the room.
"I need to make the most of this," she recalls thinking, formulating a line of questioning as she skirted past a phalanx of bodyguards to introduce herself. She and Castro shook hands and, after exchanging a few pleasantries, Evans made her move.
"I asked him, 'If you ever went to America, where would you like to go?'"
Her steps-ahead thinking hit its mark. Castro paused, considering the question for a few moments, before answering.
"Disneyland."
For a dental assistant to go toe-to-toe with a dictator took pluck. But at the end of the day—as most any student or faculty in the School of Pharmacy from the past 25 years would attest—Penny Evans is nothing if not a people person.