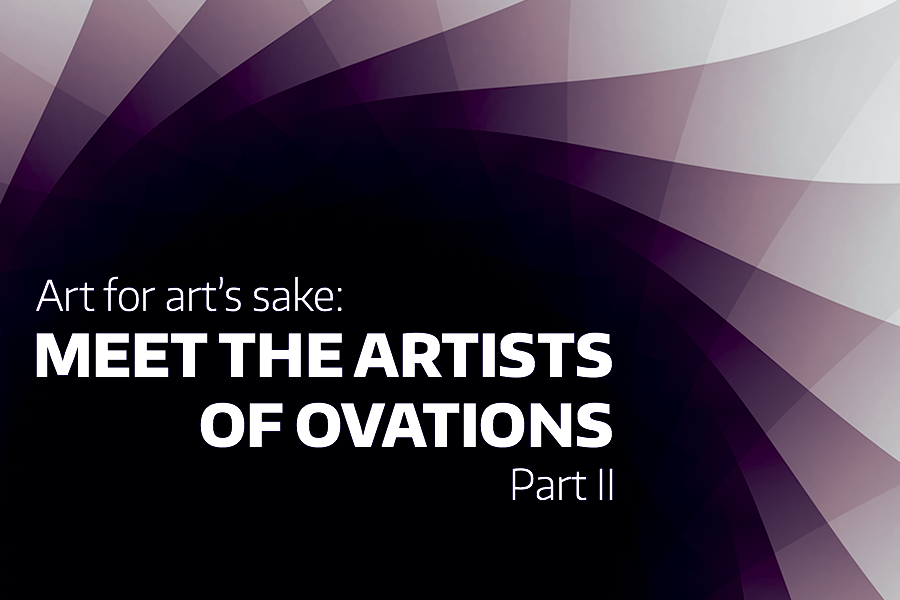 Meet the Artists of Ovations, Part II
A professor in the Psychiatry and Behavioral Sciences Department. A medical coder in the Radiology department. A program coordinator for the Office of Admissions. What do these UW employees have in common? They are all remarkable artists. Whether they are working with paint, wool, black ink, or in countless other mediums, they bring otherwise inexpressible emotions to life, communicating the essence of ideas and concepts, all while celebrate the beauty that surrounds us. Join us in getting to know the final set of eight artists whose work will be on display this Sunday at Meany Hall as part of Ovations 2016. (If you haven't checked out Part I of our artist profiles, meet the first eight artists here.)
Dana Arnim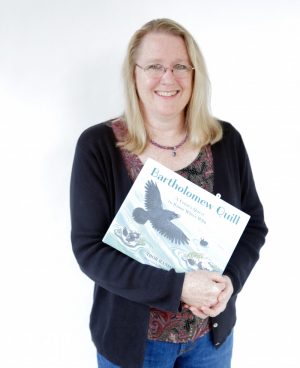 A program coordinator in the Department of Psychology, Dana Arnim has been drawing and painting for as long as she can remember. An illustrator who works in watercolor and ink, she says she is "in love with the world visually."
It's a vision that translates easily to the page. Most recently, she created illustrations for the children's book, Bartholomew Quill: A Crow's Quest to Know Who's Who, published this past April. The illustrations drew praise for their scientific accuracy, which lend the book—and the animals within it—a naturalistic depth of character.
"The interaction between my eyes, arms, hand, fingers, tools, paper, and paint puts me in a state of being that's lovely and meditative—at least when things are going well! It's what's referred to as 'flow.'"
Her approach to telling stories with images is direct and filled with narrative intent. She says the emotions and actions in images should draw readers in and evoke questions, the most important of which is: "What happens next?"
We're definitely on the lookout for her next illustrated offering. Right now, Dana says she is satisfied that her illustrations are reaching an audience of young readers—becoming a part of their own journey with books.
"The feeling that my art is out in the world in the form of books for young readers never ceases to fill me with happiness. Each time a child enjoys my work, I hope it's a step towards the love of books. That's how I can make a mark on the world."
CAT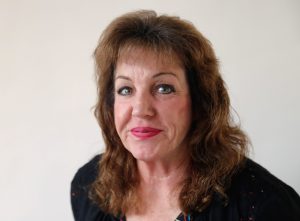 CAT, who has worked for Harborview Mental Health & Addiction Services for almost 18 years, grew up coloring and drawing.
"I love to experiment and enjoy bright colors," CAT says. For her, art is a no-holds-barred evocation of creative exploration and experimentation. When asked to describe her favorite that she's ever created, she said she once made "a really fun pumpkin for a Halloween contest with monsters dancing on top and ghost and jack-o-lantern hanging lights, and a mummy pulling up in a sports car."
That sense of playfulness and humor carries throughout anything she creates. Art, after all, should be fun. It's a lesson she learned from an American master.
"Get out the paint colors that Bob Ross uses on his PBS show, The Joy of Painting, and set up your canvas and paint with him. I did that one vacation day and it was a blast."
Sarah C.B. Guthrie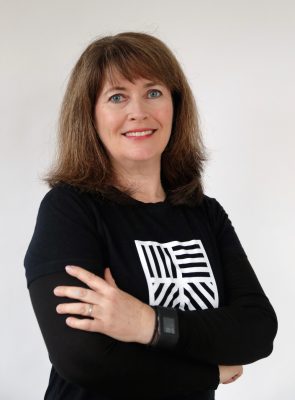 Successfully balancing a full-time job, family life, and art is not an easy thing to do. But Sarah Guthrie, the director of communications for the UW School of Pharmacy, has it figured out.
When in her twenties, she read that author Margaret Atwood woke up at 5 o'clock every morning to have time to write. Adopting the practice herself took some adjusting, but she says she now understands that going straight to the productivity of her studio early in the morning, tea in hand, is the only way she can be an artist.
In those early hours, she creates images using acrylic paint and pencil—post-abstract landscapes that mix grids, landscape, and drawing. She loves to paint grids.
"There is something profoundly satisfying about creating a set of rules for a painting and executing them."
Her current series, Seattle: A Love Story, brings representational imagery into the grids, "either as a landscape reference, such as The Burke, or a drawing of a crow or the Space Needle; I'm enjoying this new interplay of colorful, pixelated grid and 'reality.'" She says she wants her pieces to work on an aesthetic level as well as narratively.
The series tells the story of her cross-country move to Seattle. "A story," she says, that "couldn't happen in many parts of the world or at other moments in time. My paintings are a celebration of the opportunities afforded to women in the U.S. at this moment in history; they are social justice."
The work is a celebration of present, as well as place—drawing inspiration, she says, from the "vibrant community here at the university—the faculty, students, and staff—engaged with life and solving the world's problems."
"That kind of extraordinary, forward-looking energy is powerful to be immersed in every day. People at the UW are inventing the future and that is so exciting and inspiring to me as a person and an artist."
Chris Kwong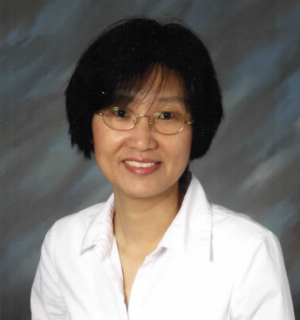 You might say Chris Kwong is in her element. The program coordinator for the Office of Admissions at the Bothell campus says she usually draws or paints on cloudy or rainy days. It would help explain her acumen controlling water with a brush.
Interested in art since she was a child, Chris uses many mediums to draw and paint, but has always been drawn to watercolors and sumi-e, a style of painting in washes of black ink that dates back centuries.
"The result from mixing water and color is miraculous," she says.
For her, art is all about sharing. She says she likes the idea that a piece of art can bring pleasure and happiness to anyone who encounters it.
"There is so much natural beauty around us that each day is a gift with many things to discover. By sharing my artwork, I would like to show how the simple things can bring so much richness to life."
Grace Lee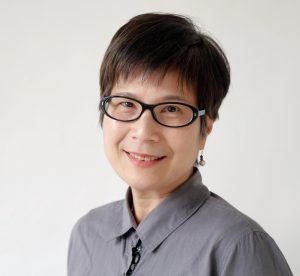 During the day, Grace Lee provides fiscal and administrative support to a group of research scientists in the Department of Pharmaceutics, but she fills her evenings with art.
"Art brings sparkles to my everyday life," she says. "I visit museums and galleries everywhere I go."
Although she mostly focuses on painting and drawing and her preferred subjects are still life and animals, Grace also makes jewelry and sells it to raise funds for animal shelters and creates greeting cards to bring joy to patients at the UW Medical Center.
"I want my art to bring joy to people and celebrate the aesthetics in nature and kindness in humans," she says.
Her advice to aspiring artists is a simple, but fearless message: "Don't be afraid to try. Keep creating."
Connie Lobo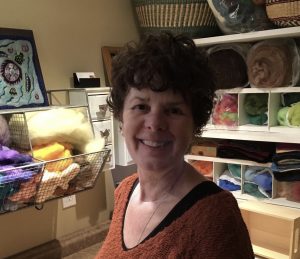 A medical coder in the Radiology department, Connie Lobo loves working with her hands to create "beautiful, useful items." Although she has enjoyed knitting, crocheting, embroidery, basket making, and making beaded jewelry in the past, when she started experimenting with 2-D needle felting, she discovered her true passion.
Needle felting is a process by which a sharp needle is used to turn wool roving into intricate designs and patterns. With felt as her canvas, colorful wool roving as her paint, and a barbed needle as her paintbrush, Connie creates needle-felted paintings using a technique of layering colors, then sculpting away with a variety of barbed needles to create depth and texture.
"I love working with wool," Connie says. "It is a medium that creates warmth and texture. It invites you to touch it."
Connie says she finds her inspiration in the beauty of the woods, the mountains, and water of the Northwest. Her favorite subjects are ravens, crows, and trees. She believes that, "art heals us, those who create it and those who see and appreciate it." In fact, each one of her paintings tells a story that she says  she hopes "will touch or inspire the viewer in some way." She created a hawk prayer flag for a young man who was fighting cancer "as a symbol of strength and power during his difficult journey."
She adds, "I am happy to report that he is in remission."
Tracy Simpson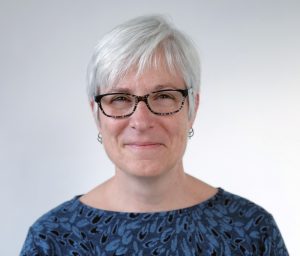 For Tracy Simpson, an Associate Professor in the Psychiatry and Behavioral Sciences Department based at the Seattle VA, making art isn't really optional.
"Some of us need to do it or we are not really being ourselves," she says.
Employing a manual off-set printing technique, she uses acrylic paint on the flat surface of a bit of potato along with embroidered or textured fabric, dried grasses, or "bits of interesting street debris," to transfer images from these things onto paper via the paint.
"It's something that children generally do in kindergarten and never do again after that," she says. The resulting pictures resemble quilts or mosaics in that they are typically comprised of hundreds of adjacent and overlapping shapes.
Most of her work is quite abstract. Through her artwork, she says she wants "to communicate an essence of an idea rather than a clear explication of it—almost like what you might glimpse out of the corner of your eye and register at a subconscious level."
"Generally what happens is that some issue or concept, like forgiveness or communication, will lodge in my mind and I will work out how to represent it non-literally. Most of my day job as a clinical research psychologist requires me to use written and spoken language extremely precisely to convey information about often quite nebulous concepts and situations, so getting to dispense with words and instead use shapes and colors to communicate is refreshing. I think it keeps me relatively sane."
Jeannette Takashima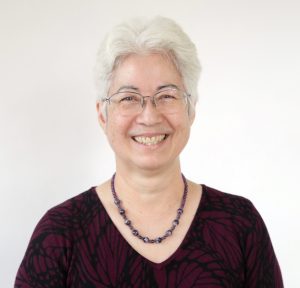 Few parents encourage their children to draw on the walls. But growing up, Jeannette Takashima's did just that.
"When I was little, my parents would tape butcher paper to the walls of the staircase and we could draw as much as we wanted," the Publication Coordinator for the Department of Biology says. The allowance came at the expense of coloring books. None were allowed in the house.
"My mother said it was so we would learn how to draw our own lines," she says. "I think that worked."
Although Jeanette has experimented with many different mediums, including graphite and photoshop painting, lately, she's been practicing sumi-e, a traditional form of ink wash painting that finds its origins in 5th century China.
"It is semi abstract," she says. "Your first stroke is your last stroke. No re-dos."
But the one-and-done technique is also part of the allure.
"My personal challenge is to make things as realistic as I can. I am trying to capture the essence of the subject in that moment."
In creating each of her paintings, she says, "a dimension—something of myself—is automatically added. If I am lucky, it becomes a more universal theme."
For Jeanette, inspiration comes in the form of nature in all its intricacies. She says she used to find it, "40 feet up a certain cottonwood tree with the wind blowing in my face and the tree trunk moving about five or six inches back and forth." More recently, it was the old Biology greenhouse.
"The desert room was incredible. Every time I walked in, I thought I was in a Dr. Seuss book," she recalls. "There was also the mid temperate tropical room full of orchids of all sizes, smells and adaptations. And a water table filled with goldfish, flowering water lilies, bladder plants and Papyrus, with huge pitcher plants over hanging." At about 3 o'clock each day, the sunlight would filter down through the taller plants and hit the pitchers, turning them translucent.
"The smells and colors of the blooming flowers, it made it all truly magical and would spark the imagination."
---
Thank you to all the artists for participating in our exhibit and for sharing their stories and love for art with the wider UW community. We can't wait to view their pieces this Sunday. You still have the opportunity to enjoy their diverse breadth of work. Register for Ovations—admission is free!