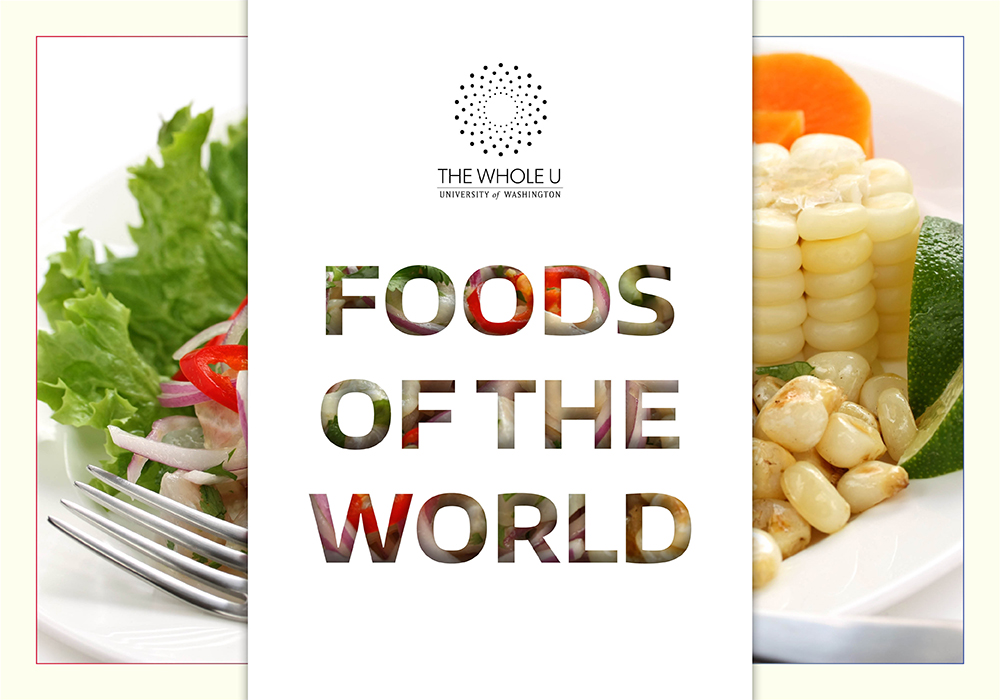 Conchitas a la parmesana. Sudado de pescado. Lomo saltado. I had never heard of these dishes until a few years ago. I was completely unaware of what, in recent years, has been defined as one of the best cuisines in the world, until I met my half-Peruvian husband and explored Peru for the first time. I soon discovered a land of lush jungle, hidden ruins, mystical citadels, sacred peaks, vivid textiles, exuberant festivals, welcoming people—and incredible food.
Unpretentious, yet refined; traditional, yet innovative, Peru's cuisine is simply superb. There are a few staples like corn, potatoes, and white rice that will likely appear at the table almost every single meal, but the food is extremely varied and regional. This diversity reflects Peru's three main geographical zones (the Andes, the coast, and the jungle) and the historically cosmopolitan roots of Peruvian culture. Under Spanish colonial rule, immigrants from Asia, Africa, and Europe arrived in Peru and introduced new flavors and ingredients to the indigenous cuisine. This fusion of indigenous pre-Inca and Inca traditions with various international influences has shaped what we know as Peruvian food.
Each dish is a feast for the eyes. Bright colors—yellow, red, orange—make food even more inviting. An essential element to dishes' beautiful color and the wonderful flavoring are the ajíes, hot peppers, which have been cultivated in the Americas for around 7000 years. With over 300 varieties, ajíes are at the heart of Peruvian cuisine and almost every Peruvian dish is accompanied by a paste made of ajíes: some spicy, some mild, but all very colorful and full of flavor. These pastes can bring even the simplest dish to life. Two of my favorite Peruvian chiles are ají amarillo and rocoto. Ají amarillo, a yellow-orange medium-spicy chile pepper, is probably the most prevalent and important ingredient in Peruvian cuisine. Rocoto peppers, which come in red, green or yellow, can look like small bell peppers; however they can be extremely spicy!
It's hard to find fresh ají amarillo and rocoto in US supermarkets, but you can easily find them frozen or jarred in many Latin American grocery stores. Do not buy the pre-made pastes; it's super easy to make your own. Buy whole jarred (or frozen) peppers, drain (or defrost, if using frozen), cut in half, remove veins and seeds (keep a few seeds if you like your sauce spicy, but watch out with the rocoto!), and process them in a blender with a touch of vinegar and olive oil.
Now that we've got the ajís covered, we can move onto the recipes! There are so many spectacular dishes, it's so hard to choose a favorite, but here are two staples.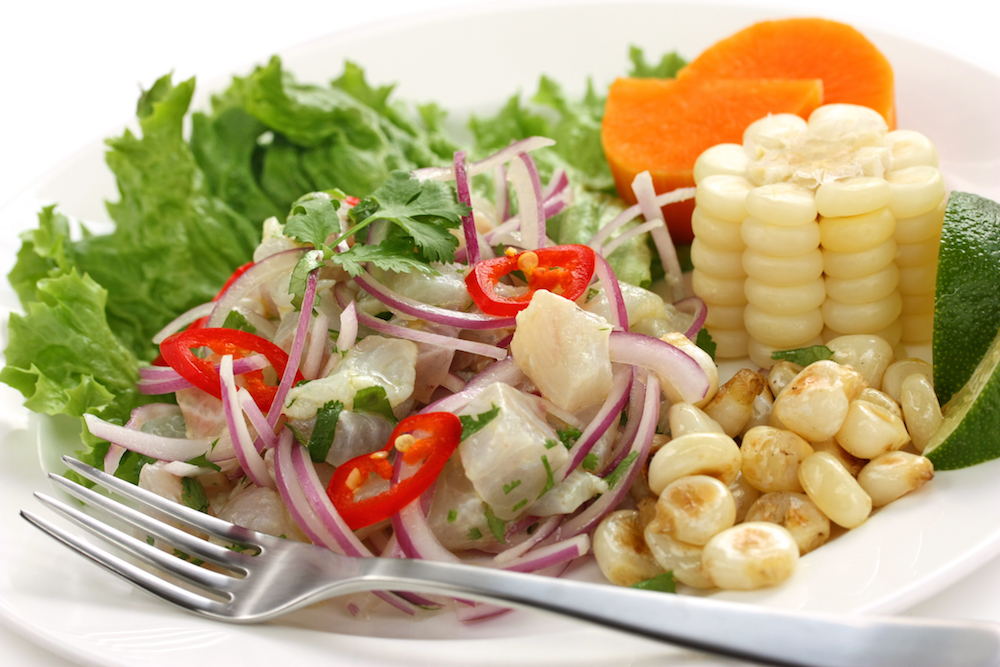 Ceviche Recipe (by Maximina Ponce)
My husband's family is from Trujillo, a beautiful colonial town on the Northern Coast of Peru. That's where I had the best ceviche—fish marinated and "cooked" in lime juice. Ceviche, which has been declared part of Peru's national heritage, is usually served with sweet potato or choclo, a white Andean corn with extra large, chewy kernels. It's typically only served for lunch to ensure its freshness. Peruvians drink the delicious leftover citrus marinade, which is known as leche de tigre (tiger's milk).
4 servings
2 sweet potatoes, boiled and cut into thick slices
2 ears of corn, boiled and cut into 4 pieces
1 red onion
2 pounds very fresh, white fleshed fish fillets (tilapia, sea bass), cut into bite-sized pieces
1 cup lime juice
1 pinch ground cumin
1 garlic clove, minced
1 habanero pepper, seeded and minced
Salt and pepper to taste
1/3 cup cilantro leaves, chopped
4 lettuce leaves ají amarillo paste
Slice the onion really thin and place in a bowl of water and 1/2 tablespoon of salt. Let stand for 15 minutes. Rinse in cold water.
In a large bowl, combine fish, lime juice, cumin, garlic, red onion, and hot peppers. Season with salt.
Cover and refrigerate for an hour, stirring occasionally. The fish is ready once it turns firm and opaque.
Line serving bowls with lettuce leaves. Place the ceviche over the lettuce into each bowl with, and sprinkle with finely chopped cilantro. Serve with potato slices and corn.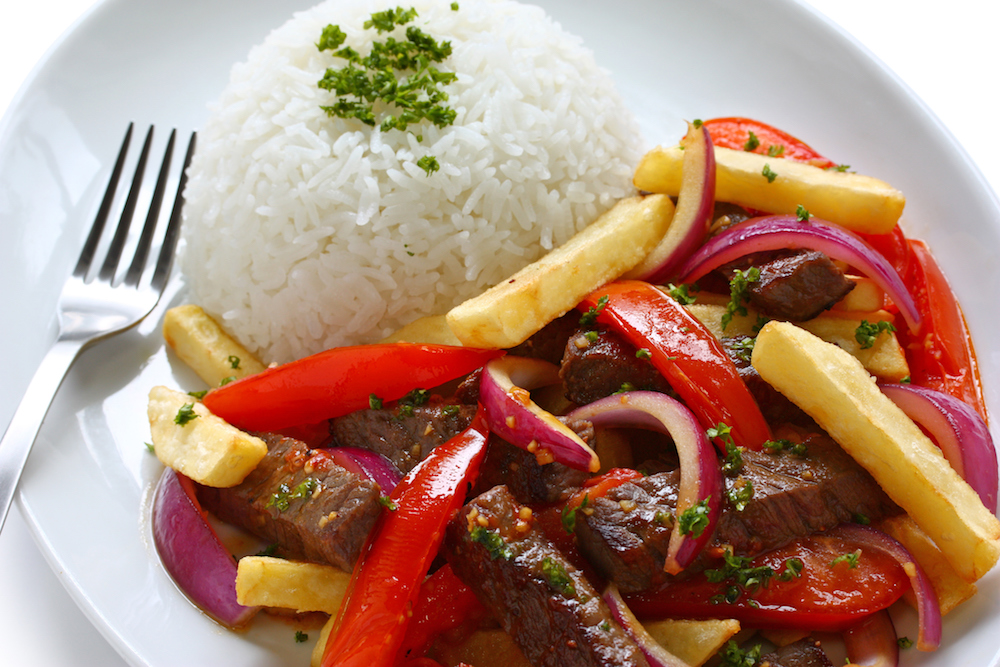 Lomo Saltado
After a long day hiking the majestic Incan ruins of Machu Picchu, an enormous plate of lomo saltato in the town of Aguas Calientes was awaiting us. This dish—made of tender, juicy beef strips marinated in soy sauce and cooked with onions, tomato slices, and fried potatoes—exemplifies Chinese influence on Peruvian cuisine.
4 to 6 servings
2 lb. Yukon Gold potatoes, sliced
Deep-frying oil
1 1/5 pounds sirloin steak, cut against the grain into slices
2 garlic cloves, minced
Salt and pepper to taste
3 tablespoons vegetable oil
2 red onions, cut into thick strips
3 ripe plum tomatoes, cut lengthwise into thick strips
1 ají amarillo, seeded and ribbed, and cut into thin slices
¼ cup soy sauce
3 tablespoons red wine vinegar
2 tablespoons cilantro, chopped
Serve with hot cooked white rice as a side dish
Fry the sliced potatoes in hot vegetable oil. Place on paper towel to absorb oil and set aside.
Season meat with salt and pepper. In a wok, heat up a small amount of oil over high heat. Once it starts smoking, add half of the meat and cook for 1 minute. Remove from heat and set aside. Add the remaining meat, cook for another minute and set aside.
Heat up the pan again, add the onions, garlic, and tomatoes and cook for a couple minutes. Add soy sauce, vinegar and ají and cook for just a few seconds. Taste and add salt, if needed.
Add the meat back into the pan, along with the fried potatoes, sprinkle with cilantro and serve with a side of white rice.
If you'd like to share your knowledge about a particular country and its cuisine (United States included, of course), contact me at chiarai@uw.edu to contribute to our series. As a token of our appreciation, the contributors of featured recipes will get two beautiful Whole U stemless wine glasses. Help us share the world's varied and amazing flavors!