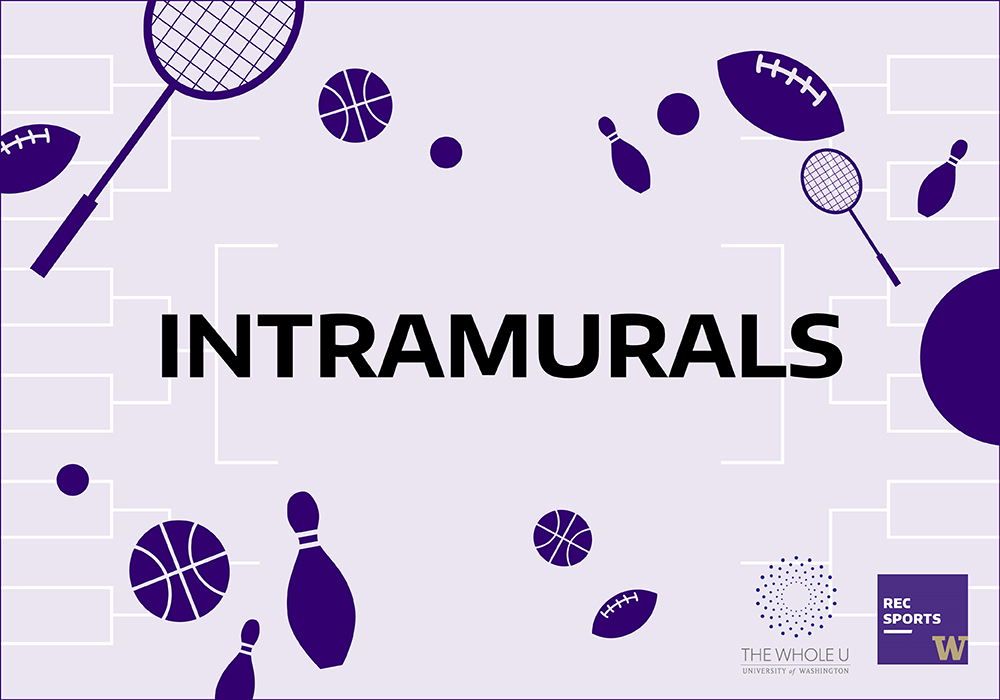 Whether you're a seasoned pro or brand new to competitive sports, there is a place for you in the intramural program! Team, dual, and individual sports are designed to accommodate all individuals regardless of their skill level and experience. Competition is offered in sports for women, men, and co-rec (gender combined teams). There are leagues, tournaments, and special events each quarter, so you can pick the option that is best for you.
Here are the divisions of Intramural sports at UW:
Rainier: This is a recreational division and applies to all sports. It offers a less competitive environment for teams that desire to participate in a more relaxed atmosphere. Competition is open to undergraduate students only.
Cascade: This division is offered for teams seeking a high level of competition and is offered for all sports. Faculty/Staff and graduate students may participate in this division.
Olympic: This is a recreational division. Competition is open to graduate students and faculty/staff members only. Undergraduate students may be permitted to participate in this division with permission from the Program Coordinator.
Many of the activities are structured so that students and faculty/staff members may participate on teams together. Specific eligibility requirements are included in activity information bulletins that are available in the Programs Office (Room 300) in the Intramural Activities Building (IMA) or on the IMA website.
Programs offered:
The programs offered through autumn, winter, spring, and summer quarters are illustrated on pages 16-17 of the Intramural Sports Handbook.
Options include:
Badminton Tournaments (Singles and Doubles)
3-on-3 Basketball Tournament
6' & Under Basketball Leagues
Bowling (Co-rec)
Dodgeball Tournament (Co-rec)
Innertube Basketball League (Co-rec)
Flag Football Leagues (Men's, Co-Rec)
Racquetball Tournaments (Men's Women's, and Co-rec; Singles and Doubles)
3-on-3 Soccer Tournament (Women's and Men's)
5-on-5 Soccer Tournament (Co-rec and Men's)
5-on-5 Football Passing
League (Men's and Co-Rec)
Swim Meet (Co-Rec)
Tennis Tournaments- (Men's, Women's, and Co-rec; Singles and Doubles)
Ultimate Leagues (Men's and Co-Rec)
Volleyball Doubles Tournament (Co-Rec)
4-on-4 Volleyball Tournament (Co-rec)
Flag Football, Basketball, Soccer, Softball, and Volleyball are all in the Olympic League, so graduate students and faculty/staff members play against one another. There is a $25 Intramural Sports Membership fee per quarter for persons who do not have an IMA membership. This policy only applies for outdoor sports. People can organize a team or register as a free agent and join the open team for those who want to play and do not have a team. All playing schedules are available online on IMLeagues.com and posted on the bulletin boards located in the hallway on the first floor, opposite the first aid office
Entry Procedures
Entries for all intramural programs are available online at our website: washington.edu/ima. You must log in using your UWNet ID to register. Entries must be submitted by the date and time specified in each activity bulletin. Questions can be answered in the Programs Office from 8:30 a.m. until 5:00 p.m. Monday through Friday. Entries are taken on a first-come, first-serve basis; spaces are limited.
Team, individual, and dual sport registration must include each captain's first and last name, team name, and contact information. Official rosters must be maintained on IMLeagues.com. Each team captain may only register one team, individual or dual sport for each activity. Each team is permitted to list twice the number of players required to play the sport on the team roster on IMleagues.com. For example: seven person flag football is permitted to have fourteen names on the roster. It is recommended that all captains consider a full roster to allow for player shortage during the season/playoffs. 
The free agent program assists in helping individuals to become participants on teams or to find doubles partners. If you have an interest in a particular activity, please go to IMLeagues.com while entries are open and sign-up on the Free Agent Roster. Individuals on the Free Agent Roster are encouraged to attend the free agent's meeting for their activity.
Schedules
Schedules will not be emailed or given over the phone to participants. It is the team captain's or individual player's responsibility to check the appropriate bulletin board or on IMLeagues.com for scheduled games, changes, and updated league/playoff standings.
Sports find their origin in the basic human need for the spirit of play. Winning and losing are mere outcomes of this play spirit. What really matters is the pure satisfaction of participation: fun, fitness, friendships, stress release, etc. Without your opponent, you have no game, no contest, and no fun. You are indebted to them, as they are to you. The spirit of play, then, is based on cooperation. Upholding high standards of integrity and fair play acknowledges this idea of cooperative competition. All players are encouraged to exercise good judgment in caring for the safety of others as well as themselves.
We hope to see you on the field or court with us soon!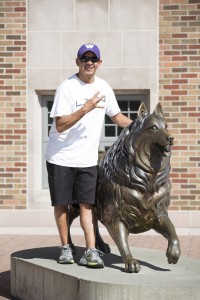 Luis Bowden has been the intramural coordinator for the Department of Recreational Sports Programs since 2004.