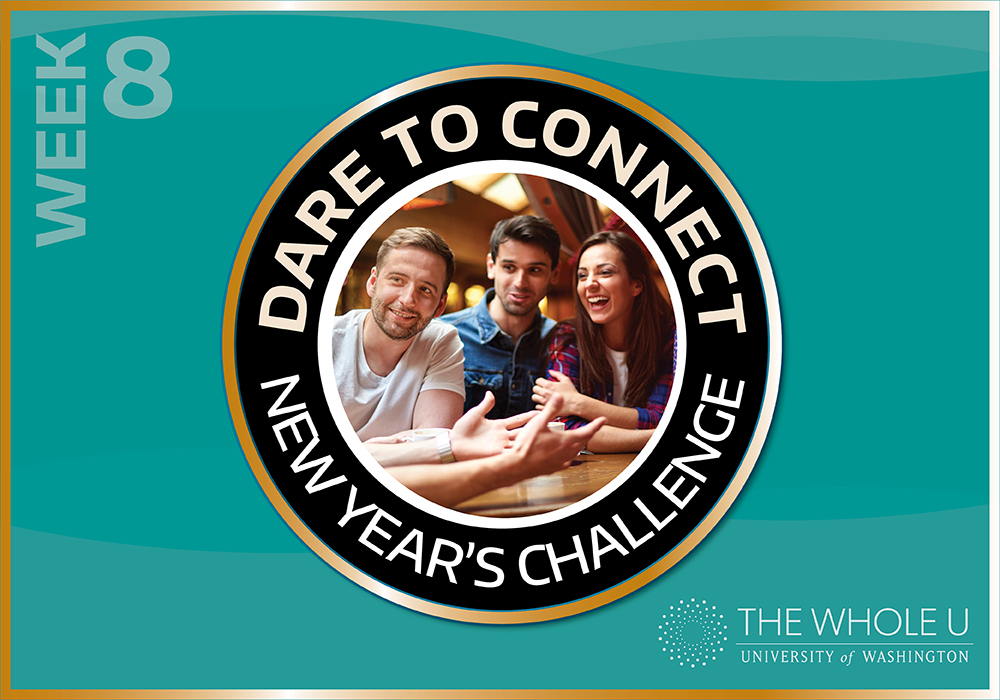 Welcome to the last week of the Dare to Do Challenge! If you're like me, January already feels very far away and 2016 is flying by. As we look forward toward the next nine months, what should you focus on? What will make the most meaningful impact on your life, and make you the happiest when it comes time to reflect on the year?
The Harvard Study of Adult Development offers some deep insights. For 75 years, Harvard researchers have studied the same 724 men over the course of their lives. They found that although people believe that money and fame are paramount, social connections are the true secret to happiness — and to health.
It turns out that people who are more socially connected to family, to friends, to community, are happier, they're physically healthier, and they live longer than people who are less well connected. And the experience of loneliness turns out to be toxic. People who are more isolated than they want to be from others find that they are less happy, their health declines earlier in midlife, their brain functioning declines sooner and they live shorter lives than people who are not lonely. 
The director of the study was featured in a TED Talk that you can watch for more details:
So how do we connect with others? We make it a priority. We plan for it, schedule it, and seek out new opportunities. Here are a few ways to get started.
Unplug
One of the most powerful ways to connect with others is to give them your full attention. Challenge yourself to commit to technology breaks. Maybe that means unplugging for an hour a day, a day a week, or even a week per year. Think about what makes sense for your life, and then make it happen. Without the go-to option of checking your phone or your computer, you're much more likely to try something new, reach out to a friend, or strike up a conversation with someone in your family. Professor David Levy of the Information School recently wrote a book about this topic, was featured in Faculty Friday, and will host a Whole U event on March 31.
Social Groups
Joining a group is an easy way to regularly connect with new people. At UW, there are affinity groups for faculty and staff, as well as groups that target a specific interest. The knitting group meets in UW Medicine and in Upper Campus, Dr. Merrill offers a free yoga class at Harborview, and the Tower Trotters run or walk together once a week. There's even a Facebook group for UW Working Moms that offers social support without finding the time to meet in person. See all the affinity groups and interest groups here.
Events
UW is constantly buzzing with free and low-cost arts and entertainment events. Invite one of your favorite people or someone you'd like to get to know better to something unique. A few ideas from the events calendar:
Take an ArtBreak at the Henry and try Mindfulness Meditation. It happens the second Thursday of each month, so the next one is this Thursday at 12:30 p.m.
The UW Botanic Gardens offer tons of fascinating classes that are open to the public. For instance, Dr. Richard McDonald (a.k.a. Dr. McBug) will lead a night hike in the Arboretum on Wednesday, March 23 to show how UW light is being used to find predatory beetles.
The East Asia Library in Gowen is hosting Coreanos en Cuba, an exhibit on "Korean Cuban immigration history, showcasing resources on this relatively lesser-known topic in Korean diaspora history." You have until Sunday, May 1 to check out these illuminating photos.
And of course there's always a Whole U event around the corner. Our next big event is the Scavenger Hunt on Friday, April 8 and Saturday, April 9. It's a free, fun excuse to enjoy campus with friends, family, or colleagues.
Investing in relationships for the rest of 2016 is time well spent for all of us. When you think about your most treasured relationships, what ways of connecting have paid off most? Please share in the comments!