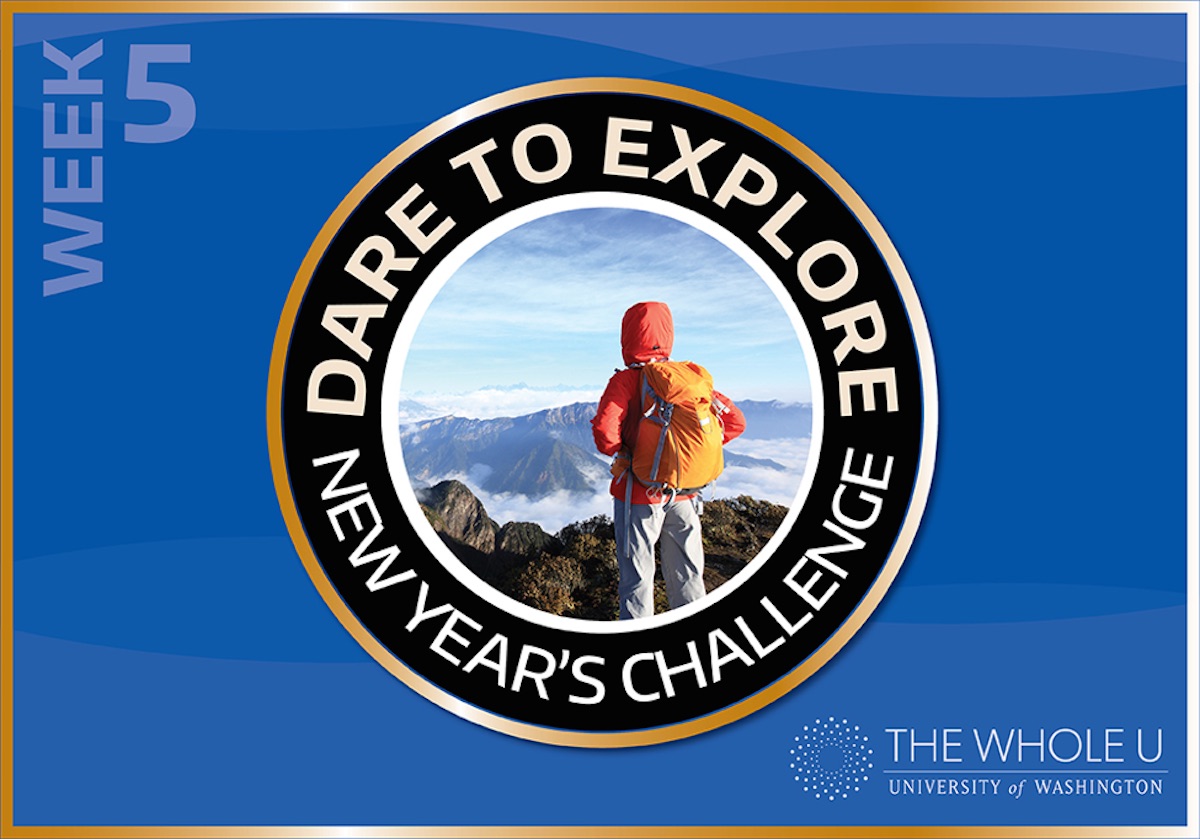 We often resist change because we find comfort in routine. Routines allow us to find time to exercise, be productive at work, make heathy meals, spend time with family and friends, and check items off of our to-do lists. Essentially, a pattern promotes discipline.
But the comfort of a routine can shield us from the spontaneity and surprise of life. So why do we resist diverting from the routine? Fear of the unknown. This week, I challenge you to dare to explore — to leap out of your comfort zone to embrace and celebrate the unknown.
Let's start with something easy: break your routine. Even the simplest of changes can bring a little excitement to life. The Dare to Do challenge centers on the idea of thinking of the new year as a fresh start. According to a study done at the University of Pennsylvania, this fresh-start mentality is one of the best ways to launch into life-changing behaviors, which can motivate us to reach goals and tackle challenges. Fresh starts come in a variety of ways, but one of simplest ways is to break up your routine.
Here are some examples:
Give your morning a makeover. If you've always been a coffee person, try getting your caffeine from tea instead. If you're the kind of person who skips breakfast, make a point to grab something every morning: oatmeal, smoothies, protein shakes, or fruit will give you a burst of energy to make it through the A.M.
Switch up your typical workout. Add an extra mile on the end of your jog, exercise before work instead of after, or try out a new class like yoga or Pilates.
Choose a new spot to eat on campus (our discount network features loads of restaurants).
Explore our beautiful campus! Grab a packed lunch and a few colleagues and take a stroll through campus during your lunch break. Sylvan Grove and Greig Garden are two of my favorite (and somehow widely unknown) spots on campus, especially on a sunny day.
Break away from UW and explore areas outside of Seattle. Hiking is a favorite pastime for Washingtonians, but venturing out during the winter can seem daunting. Take Whole U Ambassador Laury Istvan's lead and go hiking in Mount Rainier National Park to get above the rain and stay dry. If you'd rather wait until spring to explore the PNW, pick one of these beautiful Washington hikes.
Explore different commute options. If you spend too much time each day sitting in traffic, public transportation may be the answer to finding a simpler and shorter commute. Biking and walking might be options, too! The Commute Concierge can help you with all your transport questions and help you build a personalized commute.
After work, read a book or take a walk instead of turning on the TV. This will clear your mind and allow for a productive tomorrow!
Another great way to explore and challenge yourself is to learn a new skill. Learning does not have to stop once you are solidified in your career. In fact, the benefits of lifelong learning have measurable impacts on your life. According to this article from Bellevue College, lifelong learning can boost your brainpower and increase your self-esteem, which benefits you personally and professionally. It's never too late to learn a new skill, and you'd be surprised how seemingly unrelated activities can help in other areas of your life. So take the time to learn something new — you won't regret it.
Luckily, there are tons of opportunities for you to continue learning:
Take up photography. Whether you simply snap a picture with your phone once a day or take a class, taking pictures lets us see the beauty in life and in others. The UW Botanic Gardens is offering a class called Picturing Your Garden in Winter this Saturday.
Combine learning a new skill with self-improvement. Maybe you've always wanted to rock-climb, practice yoga, or take a spin class. Now is the time (and the IMA offers all of those activities and more for you to try).
Build on an old hobby or passion. As life gets busy, activities that bring us joy can often be pushed to the side when we have so many daily tasks to accomplish. If you used to love to play a sport or an instrument, get back into it! Sign up for a weekly class and set aside some weekend time to pursue your passions.
Another Whole U ambassador, Jed Thompson, is a cast member at Jet City Improv in his spare time. Follow his path and sign up for a class — you'll meet new friends and perhaps even discover you have a hidden talent as a comedian.
And for those of you who still love the idea of routine, make a habit out of trying something new. Whether it's once a week or once a month, blocking out some time in your schedule to do something different or check something off your bucket list will allow you to keep the comfort of your routine and find time to explore!