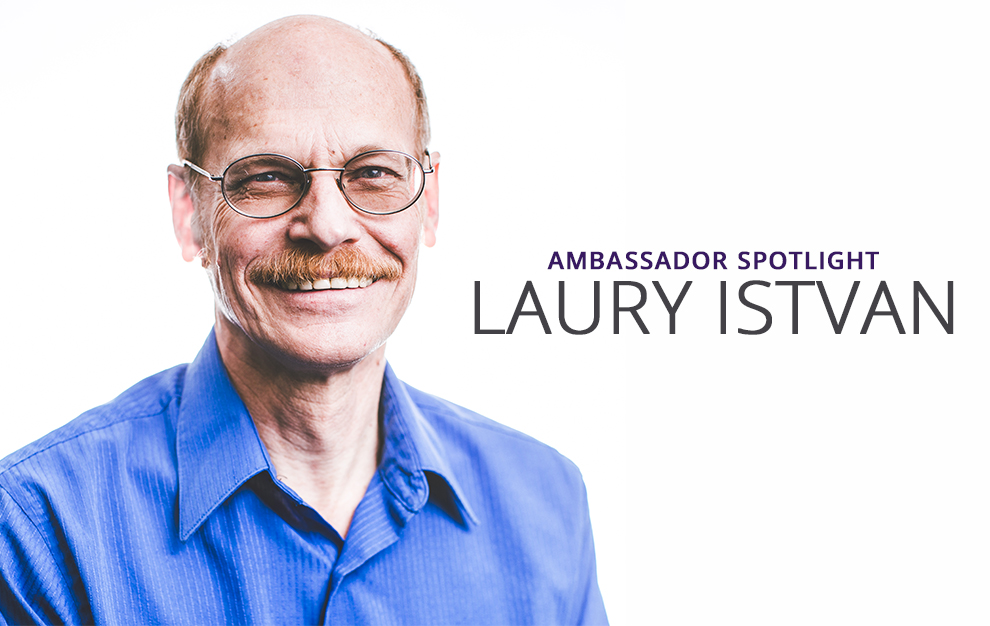 Ambassador Spotlight: Laury Istvan
We talked with Whole U Ambassador Laury Istvan, the assistant director of operations in the Office of Animal Welfare, about what The Whole U can offer an outdoorsy introvert.
How long have you been at the UW?
Coming up on three years. I spent 20 years running a consulting practice, helping government agencies and private companies manage their land to have sustainable forestry, fisheries, waterfowl — whatever it might be. Then I spent 12 years with a high-tech company. I did my graduate work mid-career at the UW, through the College of the Environment. I came out of a doctorate and went back to doing consulting work. I was looking for a change and saw this position opened up.
What is the Office of Animal Welfare?
We oversee all the use of vertebrate animals throughout the University for research, for teaching, and for testing — although we do little testing here at the University. There are a lot of federal rules and regulations that govern how you care for those animals and make sure they are humanely treated. Our office is responsible for making sure that occurs. We provide training, information, and guidance to all the researchers.
When did you first hear about The Whole U, and why did you want to be a part of it?
It was when The Whole U was starting out. Being newly back to the University, it was interesting to me to see an initiative starting out that was focused on something outside of the work life. I've always been very pleased that it's not just focused on the physical fitness. It's focused on the entirety of people. The fact that we do stuff with cooking, wine tasting, cultural events — that's in keeping with what I view as the importance of The Whole U: looking at the whole person. Physical fitness is what many people here in Seattle are focused on, but having the cultural and intellectual part of that is just as important. I really try to emphasize that it's The Whole U for the whole person.
Have you been in a program similar to The Whole U in past workplaces?
Not really. Most workplaces have the stay-healthy type of initiative, trying to get people to exercise. The level of activity and opportunity to take part in events, I've never been involved in anything like this. To me, it's a chance to explore different things I wouldn't get exposed to otherwise.
Have you had a favorite event?
The walk in the Medicinal Herb Garden was a great one. Having been in the forestry school, I was familiar with it, but I didn't really know its history. Some of the other walks around campus have been fun. The big ones — the umbrella dance, the kettlebell — both of those became an internal challenge in our office. But I enjoy the smaller, quieter ones the most.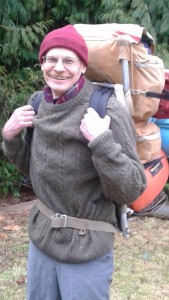 If someone was reading this who hasn't participated in The Whole U yet, why should they get involved?
It's a way to get to know the University better, and to get to know people you wouldn't get to know otherwise, under the guise that it's healthy for your mind and your body. If you need that guise, fine; if you don't, it's just a way to go out there and meet other people. I met people I never would have when I went to the session on climbing Mount Rainier — which is always something I had on my bucket list, but I've never gotten around to it yet.
Do you have a fitness-related bucket list that has other things like that?
I don't really have a bucket list of things to do, I just go out and do. I'm always hiking, cross-country skiing, kayaking. The winter is my favorite time to camp; my wife thinks I'm nuts — she won't join me. I'm an introvert. Winter camping is great because you don't get wet. Camping in the wet is not fun. It's going to snow, but you can deal with that. As long as it's 25 degrees or less, you're not going to get rained on. Get a good sleeping bag and you're good to go.
Thank you to Laury for serving as an Ambassador. Find your Whole U Ambassador here.