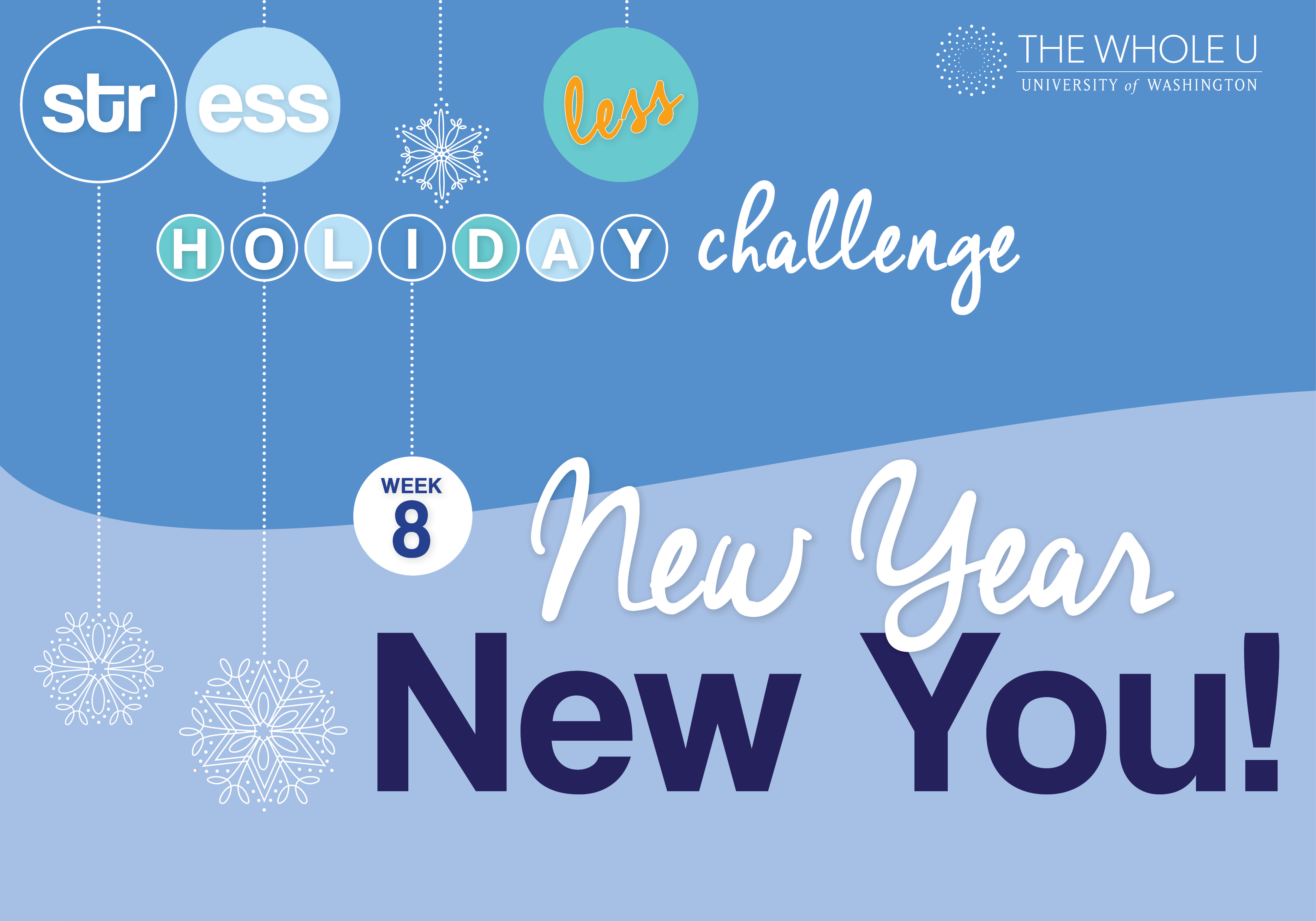 Stress Less Holiday Challenge Week Eight – New Year, New You
Congratulations! We made it through the holiday season with a little less stress. Now it's time to reflect on 2015. Do you remember what your goals were for the year? Were you successful? No matter what your answers may be, carve out some time this week to try these tips for reflection and goal setting:
2015: Reflection
Take out or write down your 2015 goals and review them.
Write down what was successful this year.
Write down what wasn't successful and all of the reasons why. What were all the setbacks or barriers to reaching your goals?
2016: A New You!
Get out a fresh piece of paper and write down your goals for 2016.
Try to set three main goals:

A personal one
A professional one
A health-related one

Make sure all goals are measureable and realistic.
Write down any barriers you foresee and how you can overcome these barriers.
Share your goals with a friend, colleague, or family member.
Hang up your goals somewhere where they are visible and can act as a friendly reminder throughout the year.
Find a tool or create a way to track your progress.
Look for programs or challenges that your community or friends are doing that can help support your goals.
The Whole U is launching Dare to Do beginning Tuesday, January 19 to help us all stay on target in 2016. Do your goals include improved fitness or health, weight loss, taking more time for yourself, connecting with others, giving more, or simplifying your life? Then this program is for you. Weekly articles will provide ideas and resources to make it easier.
Here are some anonymous testimonials from a few UW faculty and staff that participated in last year's Dare to Do challenge.
"Surprisingly effective for a virtual challenge! I enjoyed tracking, and the timing coincided perfectly with my new goal to exercise more and work to lose 30 pounds. It's hard to stay motivated in January, and this challenge was very helpful in keeping the momentum going."
"Enjoyed the weekly summary progress and the weekly activity thoughts interspersed with celebrity workouts … It wasn't a gung-ho, do-or-die kind of pushing to help me become a better person. No one was looking at me and saying this person is not doing it correctly or is giving up. It was up to me and the encouragement I received from your team that helped me get the steps and miles in to help me feel better."
"This event was the thing that kept me from skipping workouts and putting in the miles. I went from 236 down to 220 lbs, my blood pressure dropped from 150/90 down to 110/70 and my blood sugar level dropped back into the normal range from a pre-diabetic level. Walking was the key, 100,000 to 120,000 steps per week, about 2 hours a day. Congratulations to all who participated I hope your results were a good or better than my own."
Register here and let's welcome 2016 together!