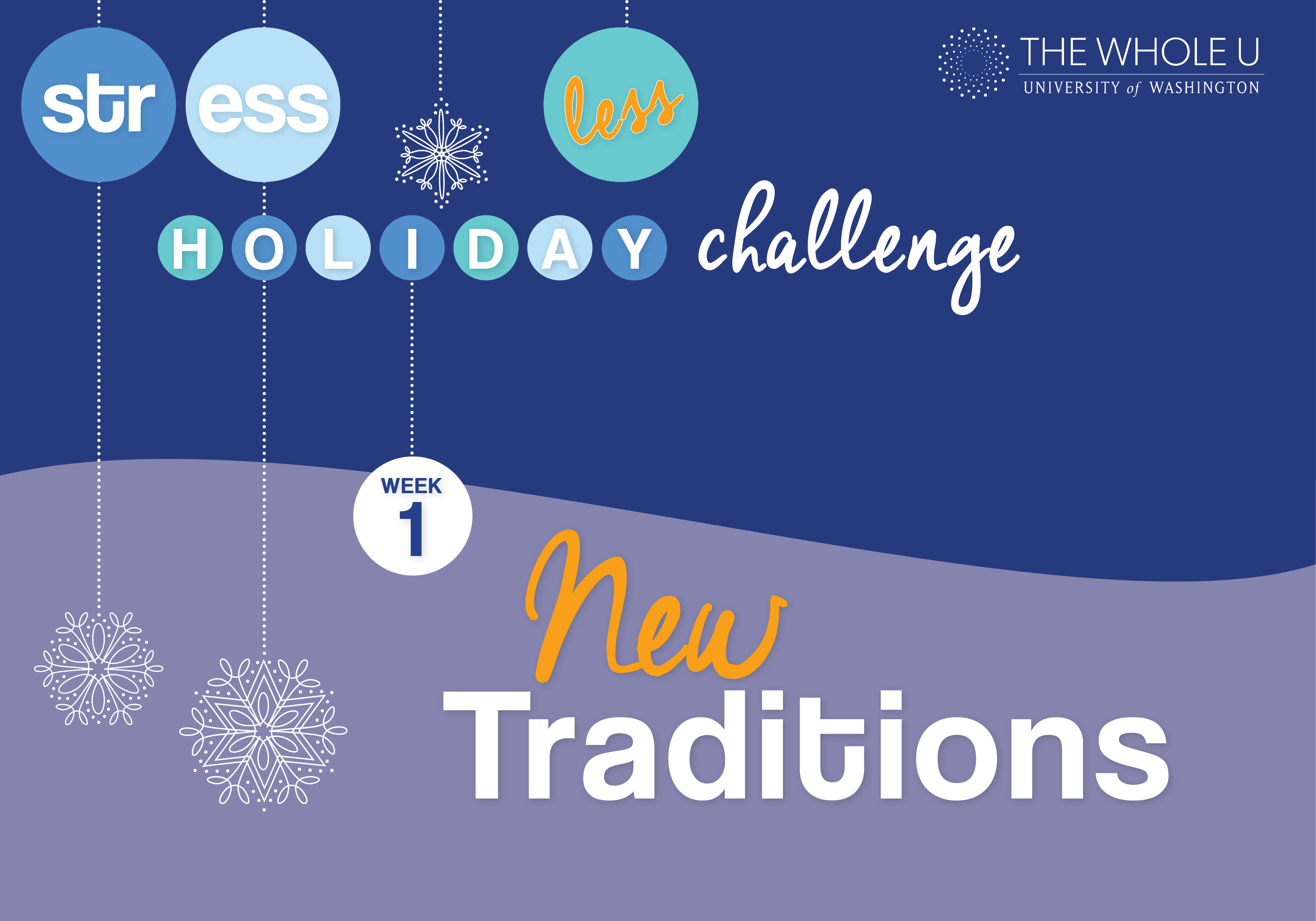 Stress Less with Traditions
Welcome to week one of the Stress Less Holiday Challenge! If you haven't already registered, sign up now to have recipes, workouts, and articles emailed to you for the next eight weeks. We're going to make the most of the holidays together!
Last year I wrote about how traditions can reduce stress by taking us out of our normal routine. Traditions connect us with the past and the future in a powerful way. Suddenly our to-do list is less important when placed in a longer context.
But what if you're on your own, or you can't do your usual traditions? One staff member emailed us and explained, "Not everyone has children, aunts, uncles, cousins or parents," and many people "struggle with the popular images of holiday cheer at this time of year."
Can you relate? Here are some tips for reinventing your holidays, whether you're flying solo this year or just want to create a new memory:
Commit to doing something unusual
Think about how you spend your free time. Now think about how you wish you spent your free time. Set aside time this holiday season for those activities that will enrich your life but don't usually make it into your routine. For me, this would mean pushing pause on the Netflix and writing a letter, or visiting a town in Washington I've never been to, or having a DIY spa day. Perhaps there's a park that you love on the other side of town or a meal you rarely take the time to prepare. Use the extra days off to make it happen. Perhaps you'll enjoy it so much that you'll make it an annual tradition.
Reflect on the year
What made you happiest in 2015? What do you want to accomplish in 2016? Make yourself a cup of coffee or tea and write it down. It will be so illuminating to come back to these writings during the next holiday season.
Find an annual event
Make it a tradition to attend the same event each holiday season. Here are a couple ideas to get you started…
Ovations

This signature Whole U event is a celebration of the arts and the incredible talent of the UW community. This year it's on Sunday, November 22 at Meany Theater. Come cheer on your colleagues, sample a chocolate sculpture, and enjoy free entertainment. Sign up here.
Jingle Bell Run/Walk
The Jingle Bell Run/Walk is Sunday, December 13 in downtown Seattle, and all proceeds benefit the Arthritis Foundation. There is a Children's 1K Run for the Elves, an Adult 5K race for runners and walkers, a costume contest, a "Cheer Garden," an Elf Village for kids, and much more! Best of all, all UW faculty and staff are invited to join the Roosevelt/Montlake All-Stars team.
Annual events like these are an easy way to connect with a community and get in the holiday spirit.
You can find more ideas for traditions in last year's article. What will you be doing this year to make it special?