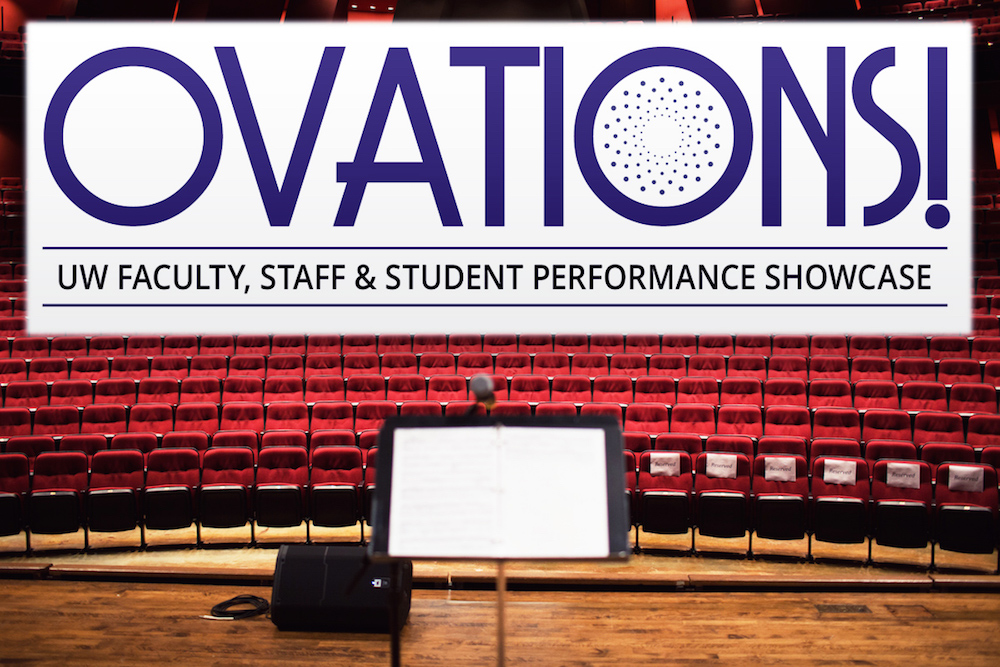 Ovations 2015: An Afternoon Extravaganza
On a chilly autumn afternoon, sometimes the best place to be is inside.
How about sinking into a cozy red seat in Meany Hall?
That's where The Whole U will be hosting Ovations 2015, our annual talent showcase, from 2:00-4:00 p.m. on Sunday, November 22.
Last year, nearly 800 staff, faculty, and family members came out to cheer on a lineup of 21 acts. They saw singers and dancers, magic tricks and sword fights. If you missed it, here's a recap of the evening.
This time around, we're packing Meany Hall with an audience of 1,200, and we're opening the show up to students to perform and attend. We're also diversifying the talent pool to include poets, improv comedy, and character actors. You'll experience big-band performances, acoustic sets, and instruments you didn't even know existed, transporting you to bygone decades — and even centuries.
Stroll in after a lunch date or rally the kids for an afternoon of family fun. We'll be rolling out a purple carpet for our guests to sashay down, and a professional paparazzi will be there to capture pictures. Come as you are, or get a little dressed up if you want.
Here's a cool feature of the event: the intermission will be just as exciting as the show. That's because intermission is another show. The lobby will be filled with paintings, sculptures, and other pieces submitted by our visual artist performers. Bay Laurel will provide refreshments and snacks.
On top of all that, we've got a lively pair of hosts for the evening: Mindy Kornberg, vice president of Human Resources, and Denzil Suite, vice president of Student Life. A dull moment will be hard to come by!
Over the next few weeks, we'll be unveiling this year's lineup with articles on our website and portraits of the performers on Instagram.
We look forward to celebrating UW talent with you. Seating is limited, so register now!
Ovations 2015
Sunday, November 22
2:00-4:00 p.m., doors open 1:15 p.m.
Register Now!