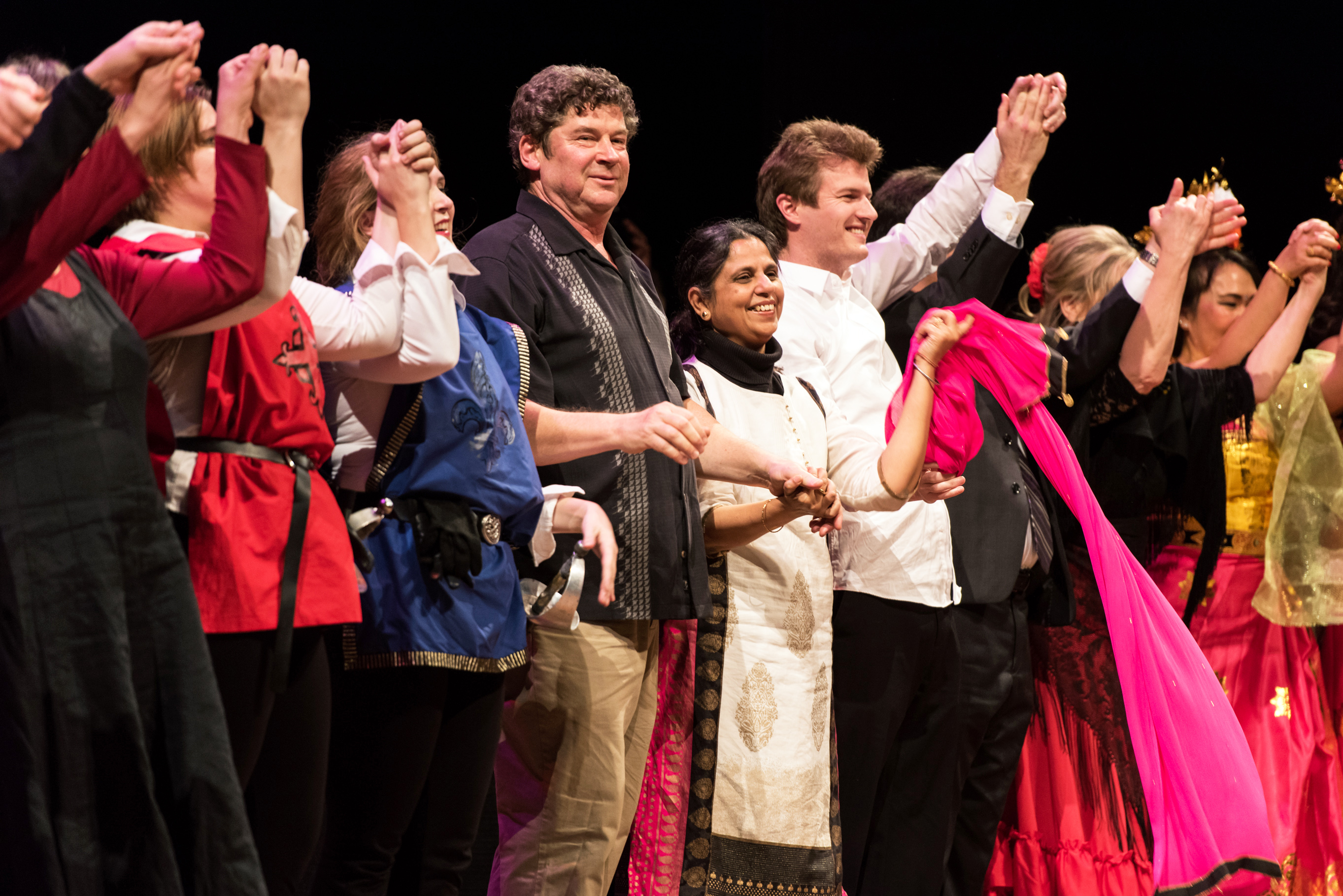 Ovations! A Night to Remember
On Friday night, 800 people came together at Meany Theater for Ovations, a UW faculty and staff performance showcase. Twenty-three of our brave colleagues took the stage to perform a program featuring jazz and heavy metal, ceremonial dance and pop and locking, sword fighting and short filmmaking, and much more.
The tone for the evening was set by Hadea Yasui, an administrative coordinator in the Department of Civil and Environmental Engineering, who opened the show with a stunning rendition of Adele's "Make You Feel My Love." Haeda was one of many performers sharing a secret talent.
"Tonight, alter egos will come out," Marti Young said as she greeted the audience after Haeda's song. She couldn't have been more right.
Other talents were well known prior to Ovations. Classical guitarist Michael Partington, the artist in residence at the School of Music, performed a song from one of his CDs. Jim Earnshaw, who does magic tricks for his Department of Chemistry colleagues, showed the audience how to make a banana disappear.
Tara Brown and I were busy photographing the night's events. If you couldn't make it out, scroll down to see what you missed. And if you did come, you can live it all over again!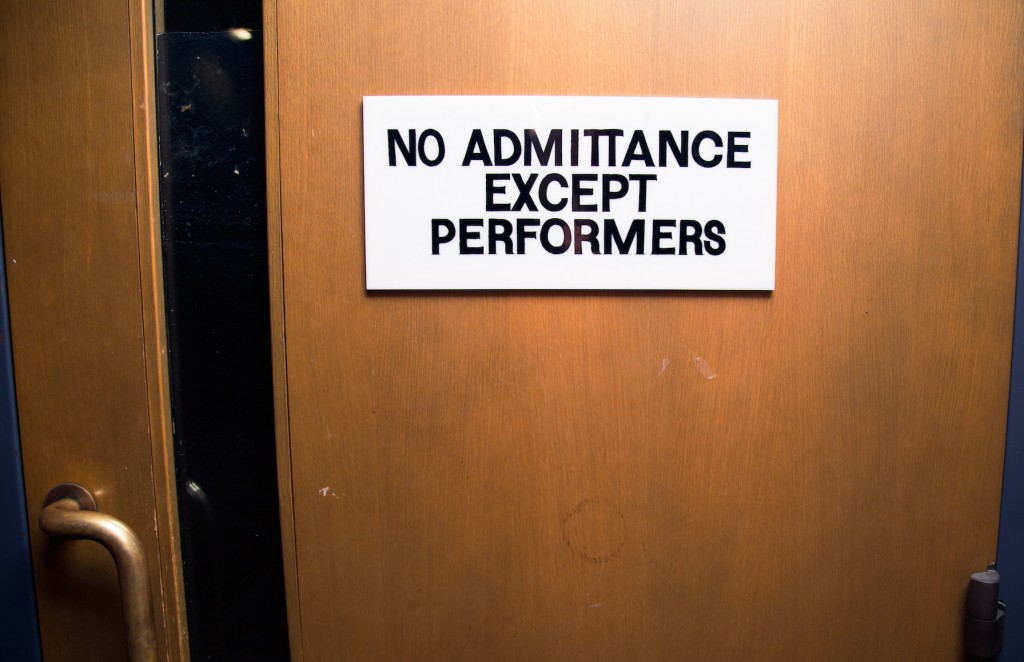 The door leading into Meany Theater's green room, where the talent waited before they were called to the stage and relaxed when they were finished performing.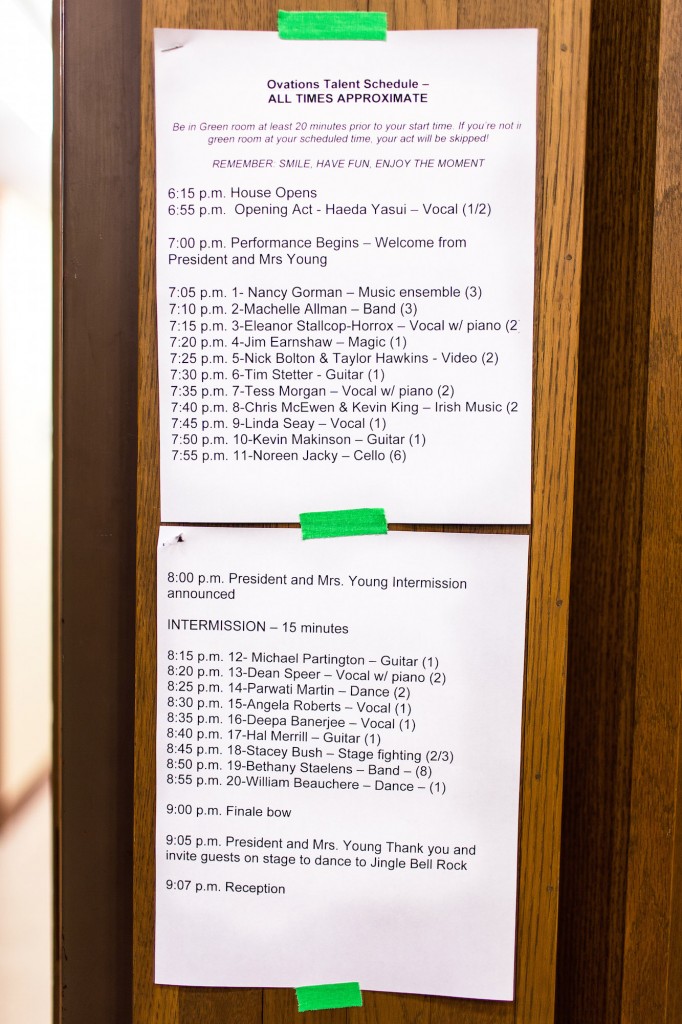 The lineup: 21 acts in two hours.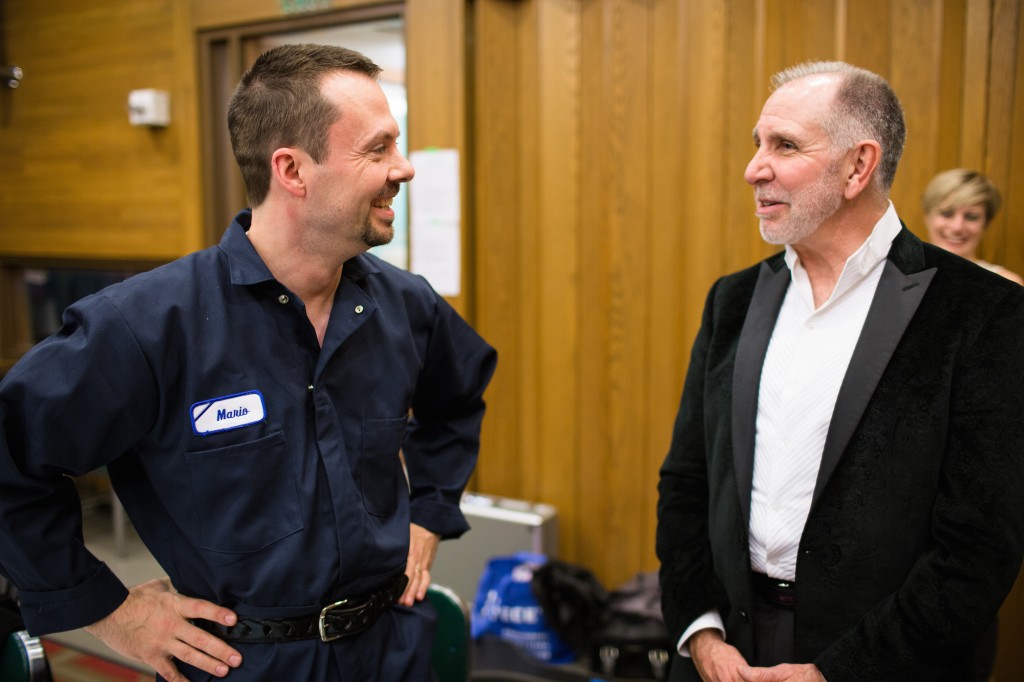 Ovations performer William Beauchere, left, talks with UW President Michael K. Young before the show.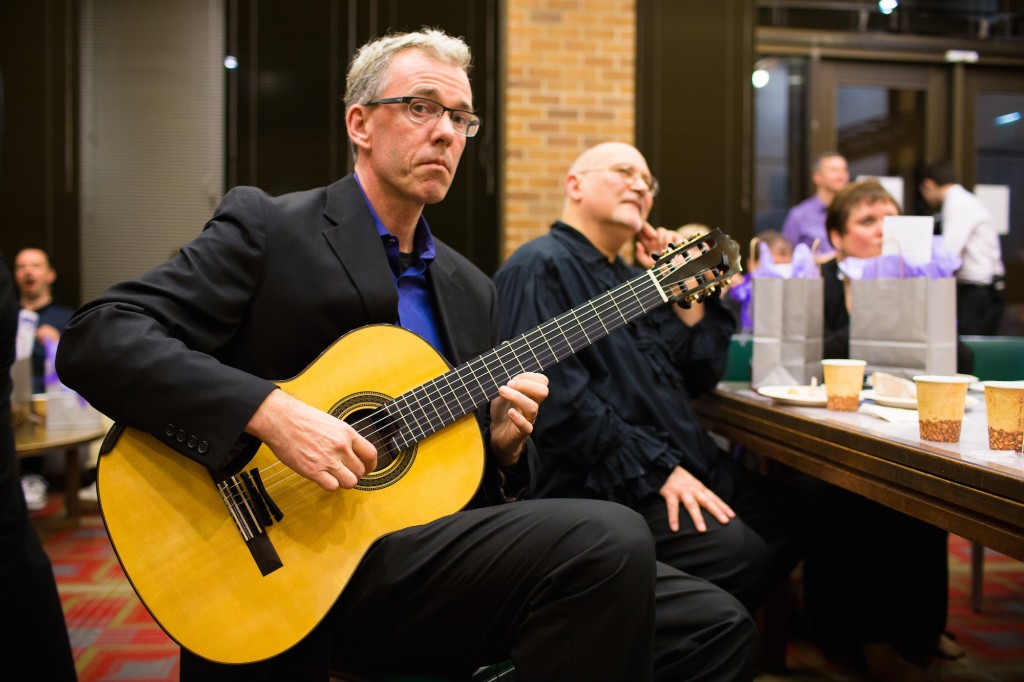 UW Artist in Residence Michael Partington plays his guitar in the green room before the show.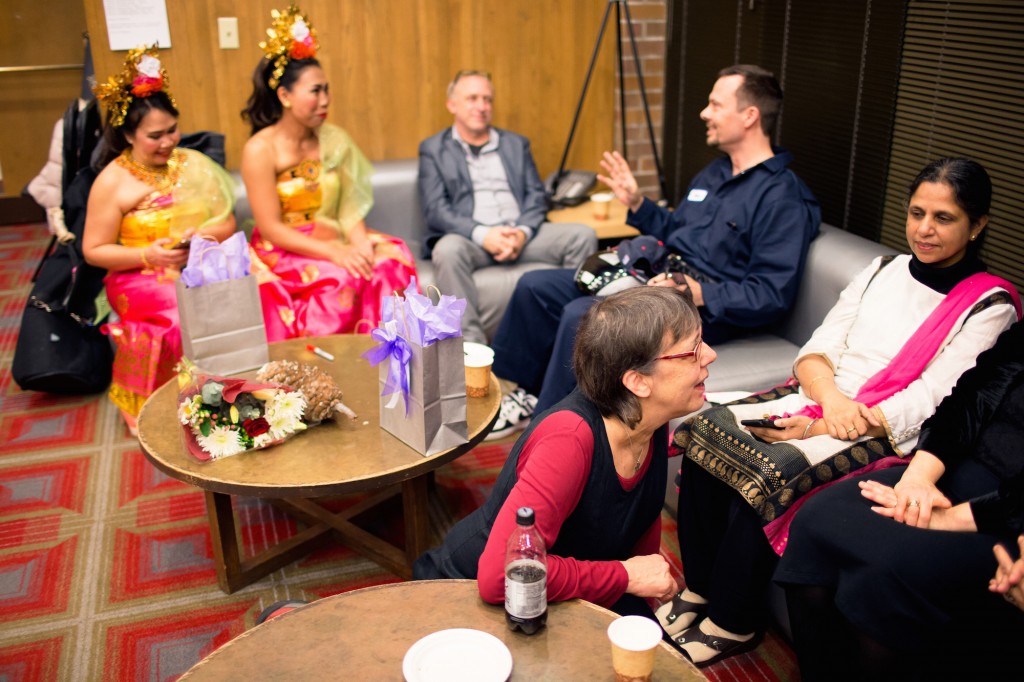 Noreen Jacky, kneeling in center, talks with Deepa Banerjee and others in the green room before the show.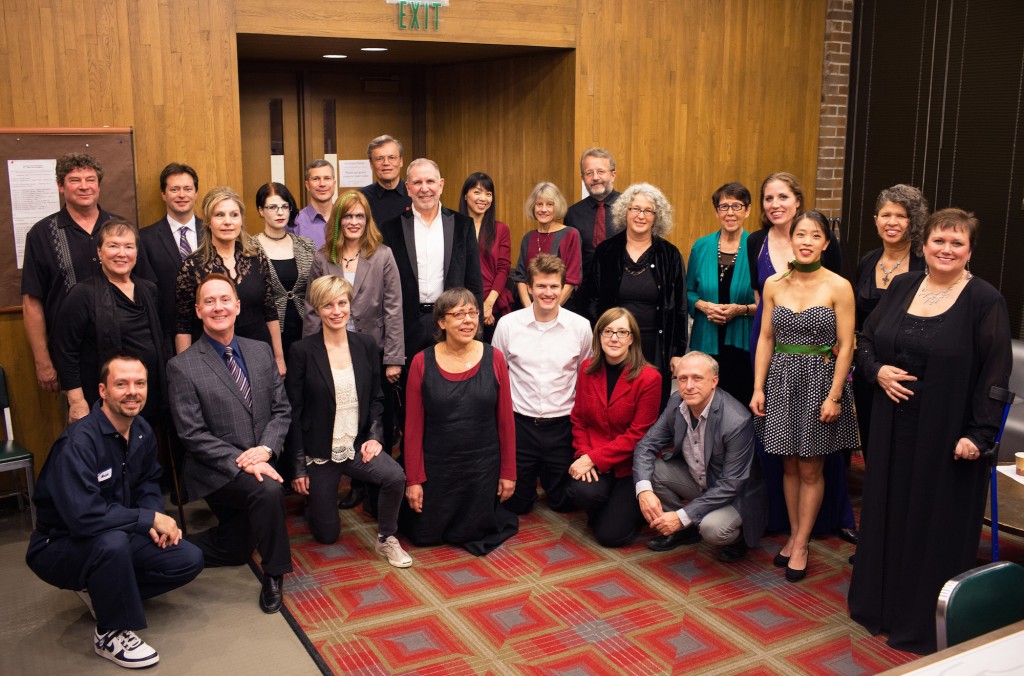 The performers pose for a picture with President Young.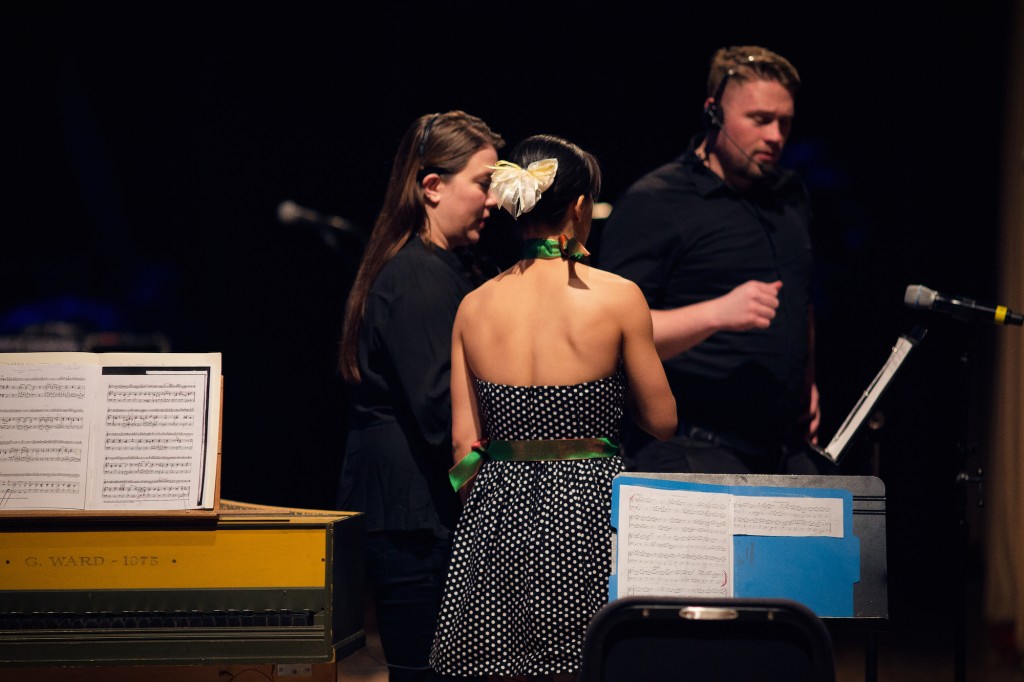 Haeda Yasui, the night's opening act, waits backstage moments before stepping out to sing.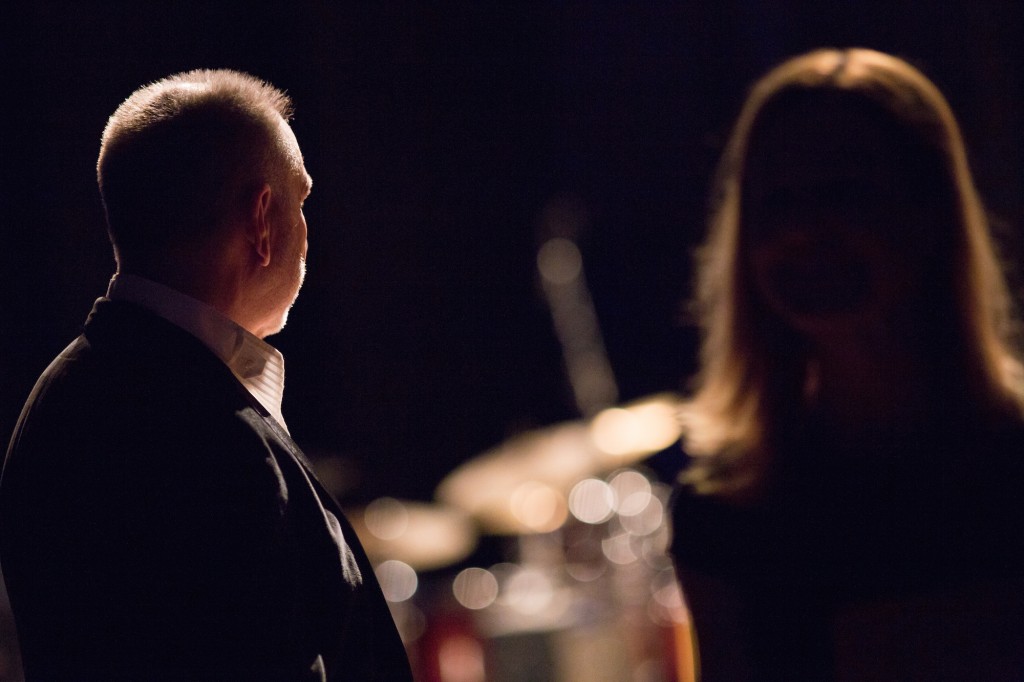 President Young looks on as Haeda sings.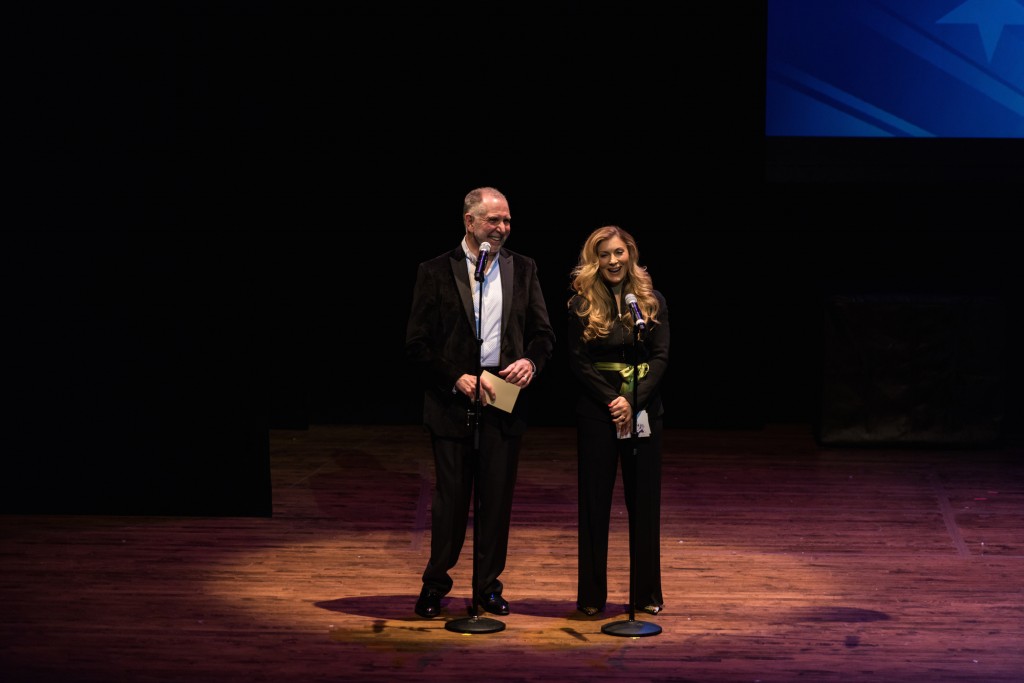 President Young and Marti Young greet the crowd.
Nancy Gorbman, right, plays recorder while Gerrity Shupe accompanies her on piano and Noreen Jacky plays viola da gamba.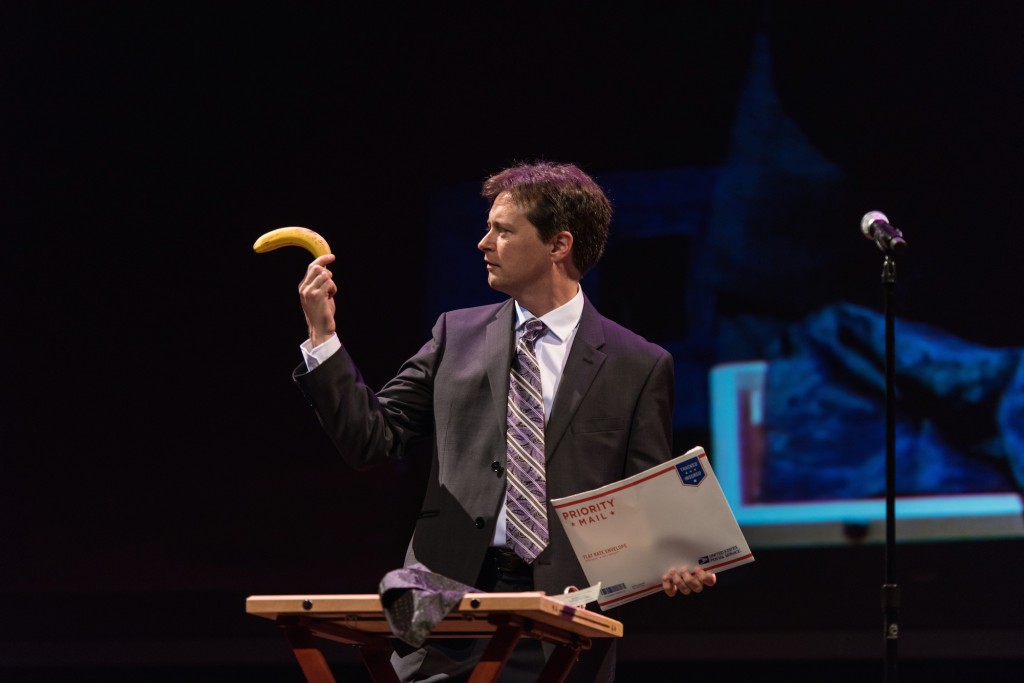 Magician Jim Earnshaw acts confused as he holds up a banana, which was supposed to be a bandana.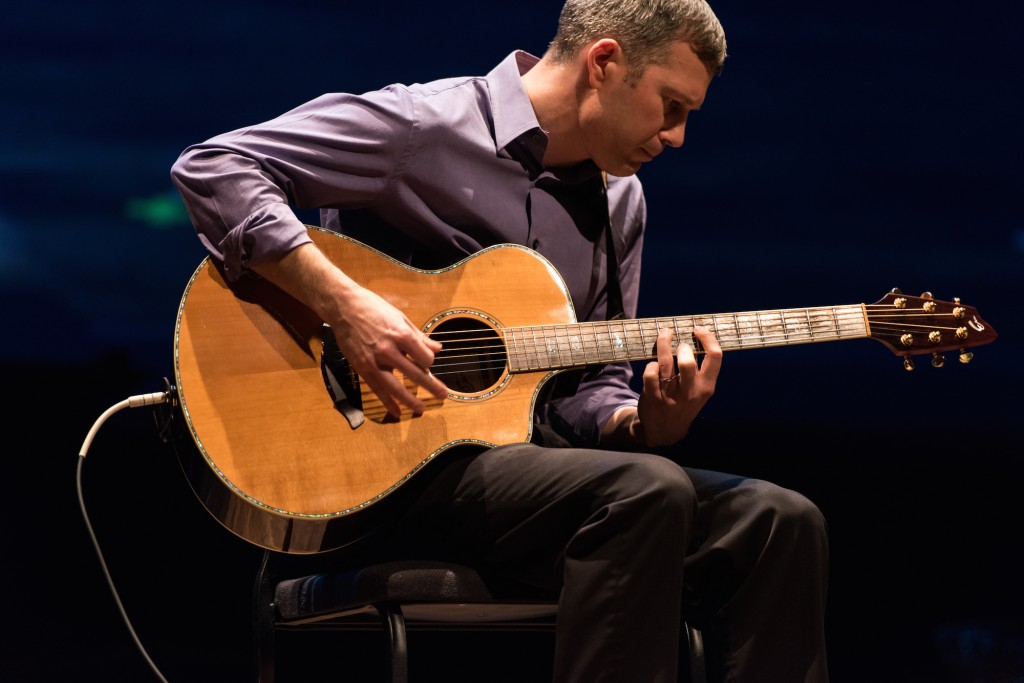 Tim Stetter strums his guitar during a largely improvised set.
Linda Seay holds out her arms while singing a song from Kinky Boots.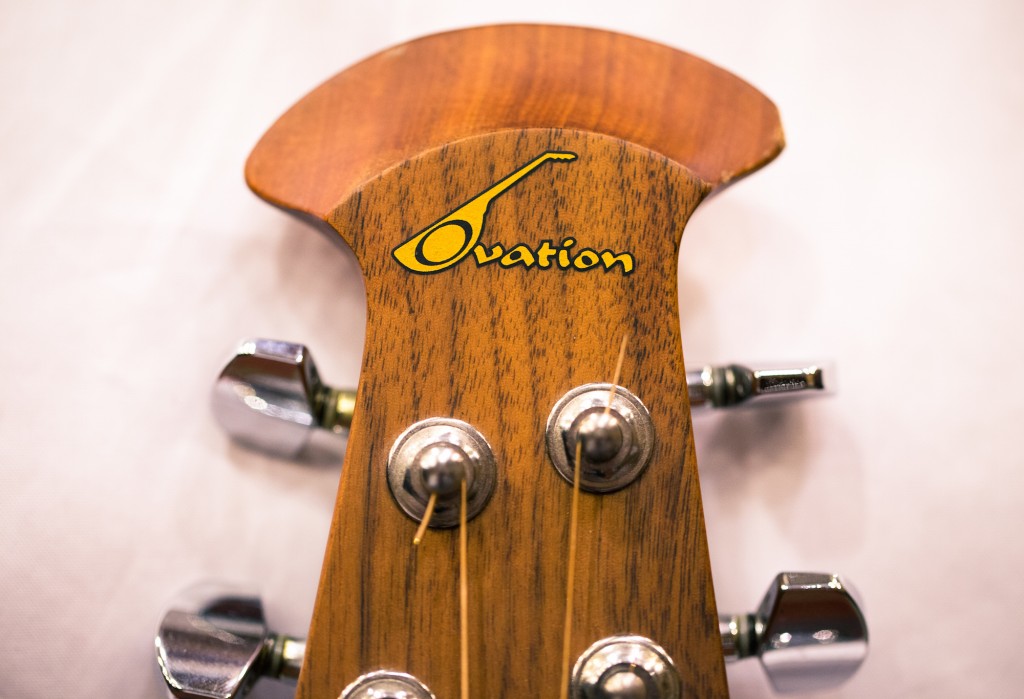 The brand of Kevin Makinson's guitar seemed very appropriate.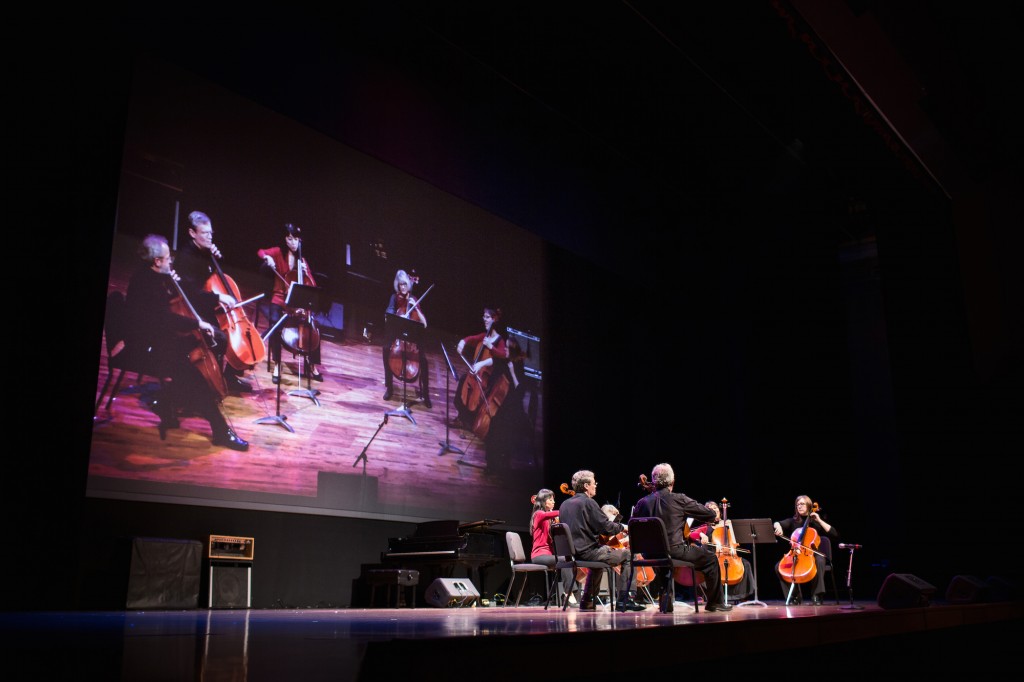 Six cellists from the Seattle Philharmonic Orchestra perform as part of Noreen Jacky's set.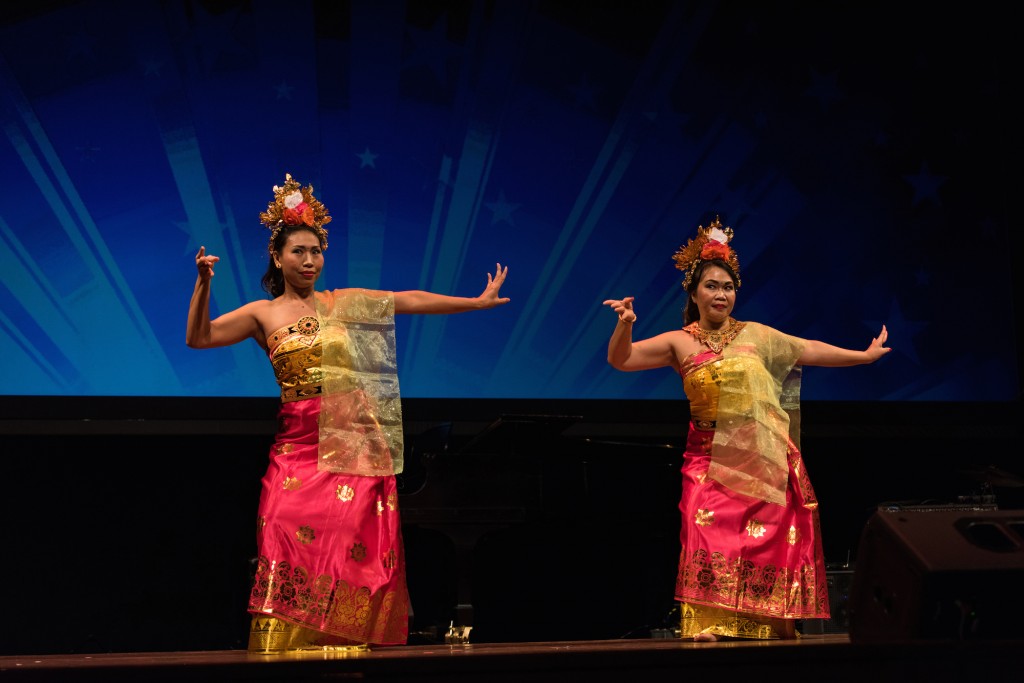 Parwati Martin, left, performs a Balinese dance with Niluh Saraswatini Porter.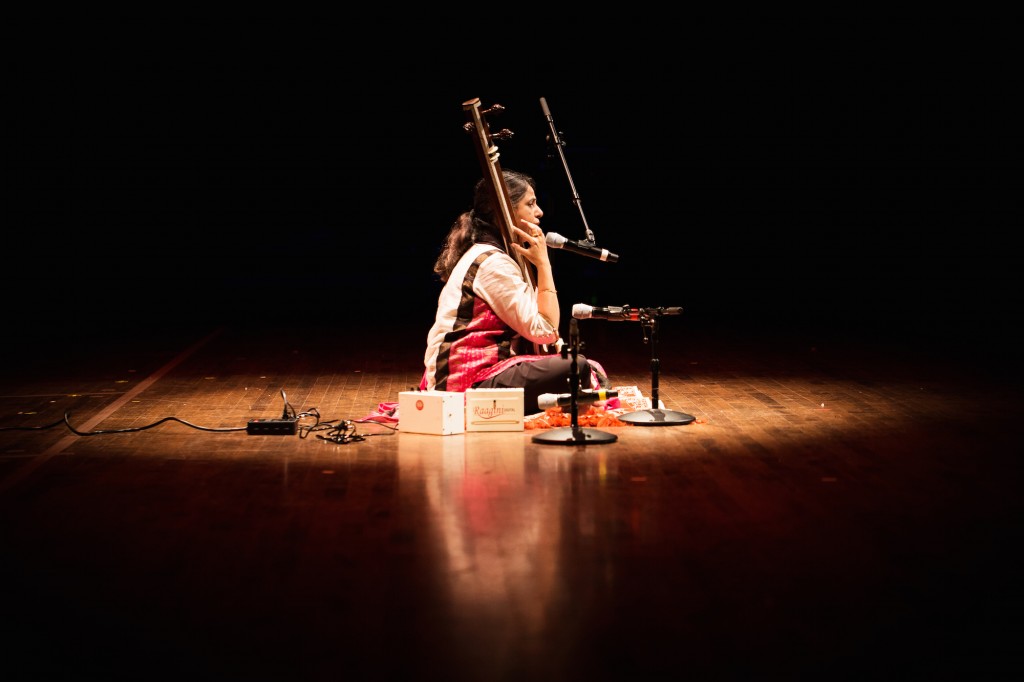 Deepa Banerjee performs North Indian classical music.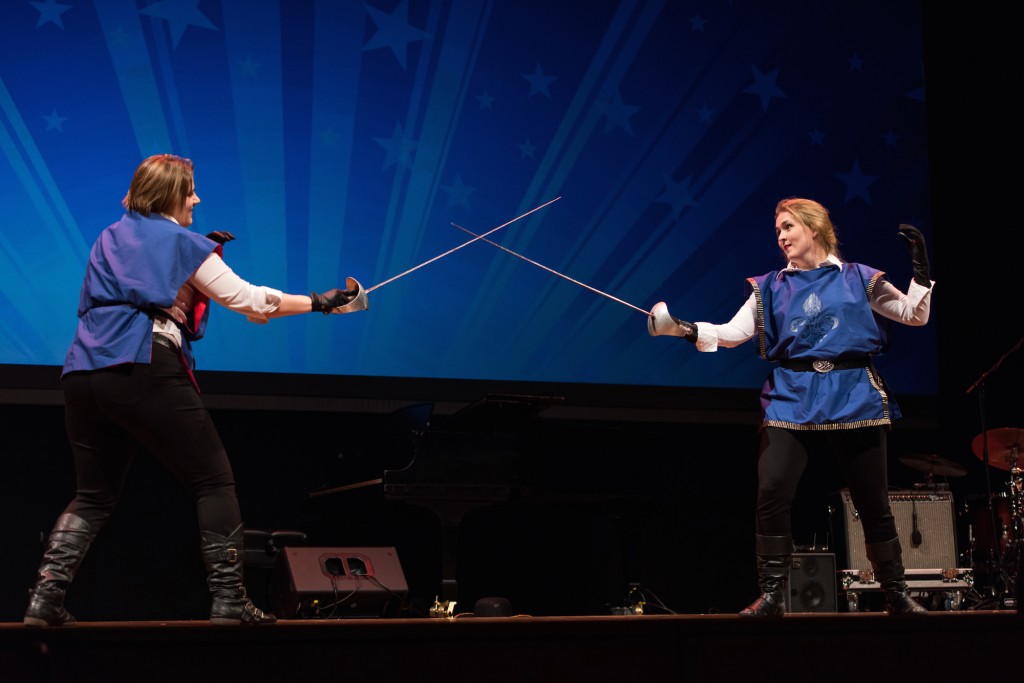 Stacey Bush, right, fights with Sarah Beeson over who gets to play D'Artagnan, the famous captain of the Muskateers.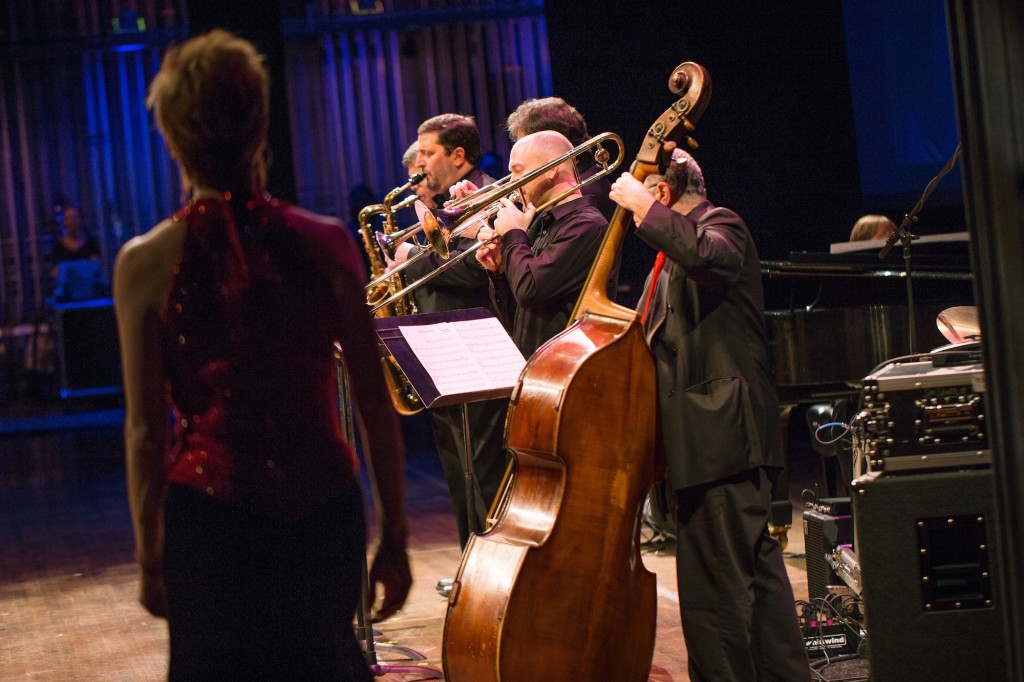 Jazz singer Bethany Staelens, left, walks onto the stage as her six-piece band plays.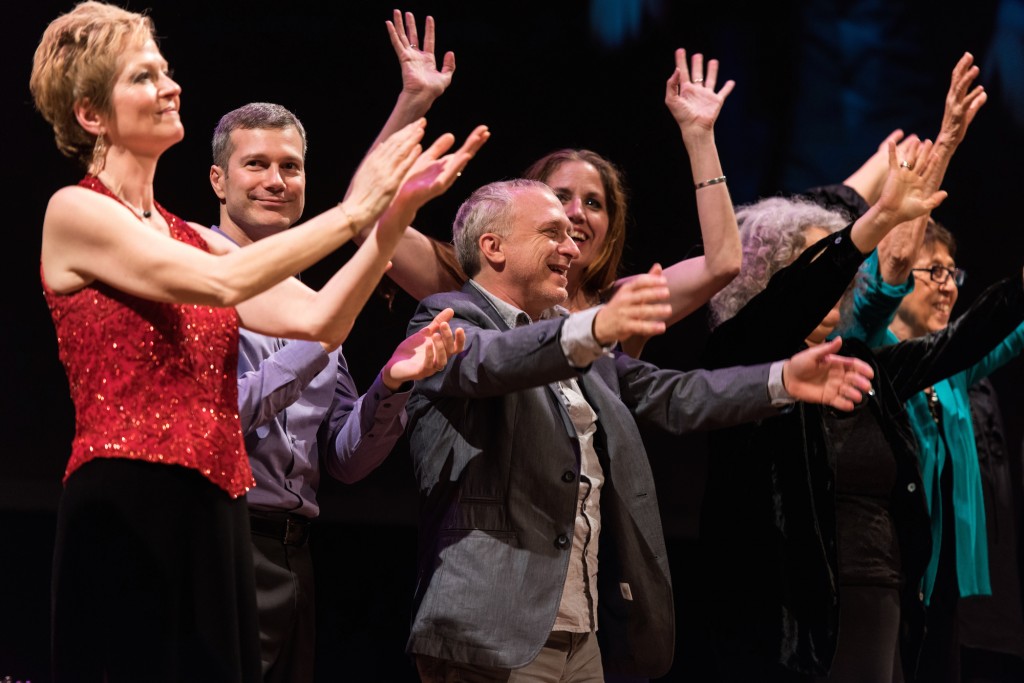 Performers line up for the finale bow (from left): Bethany Staelens, Tim Stetter, Eric Ring, Tess Morgan, Nancy Gorbman, and Gerrity Shupe.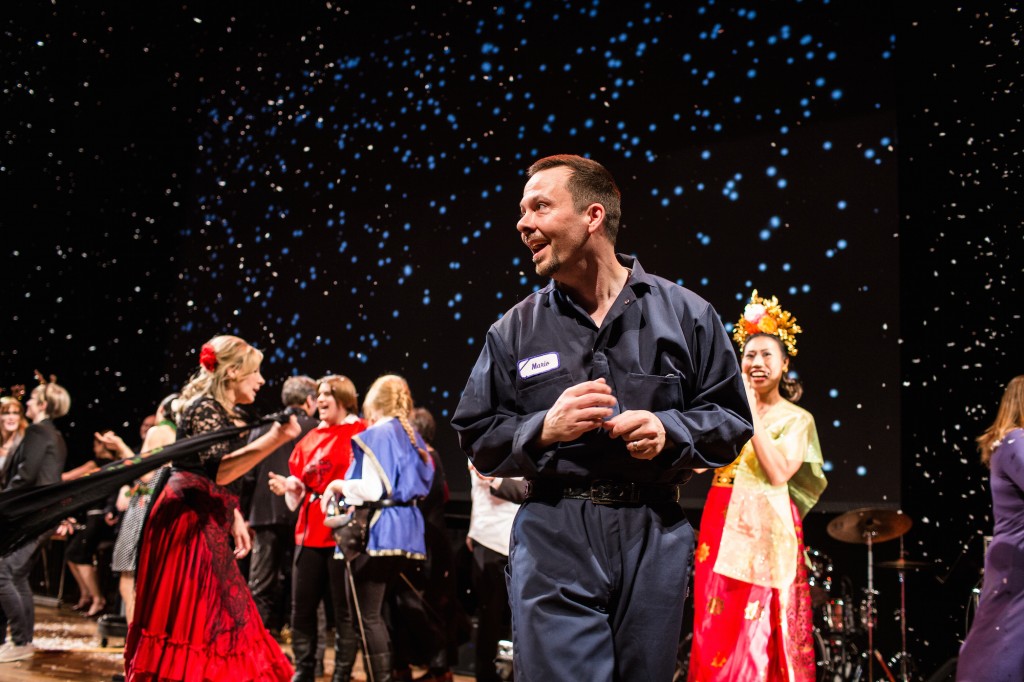 William Beauchere, center, smiles as snow falls onto the stage.
These are just a few of my favorite moments. You can find more photos from Friday night in our Facebook gallery.
Thank you to everyone who came out to watch these wonderful performers shine. As a show of our gratitude, we're giving out tickets to upcoming performances in Meany Theater to randomly selected attendees. The winners are Eric Bonham, Michael Iorga, Ann Nez, Cheryl Price, Ebasa Sarka, and Tian Xiaowei. Thank you to UW World Series , School of Drama,  School of Dance, UW School of Music, and Pacific MusicWorks for their donations!
Ovations was a wonderful night of self-expression and spectacle, and we've received glowing responses from those who attended. We can't wait for next year!