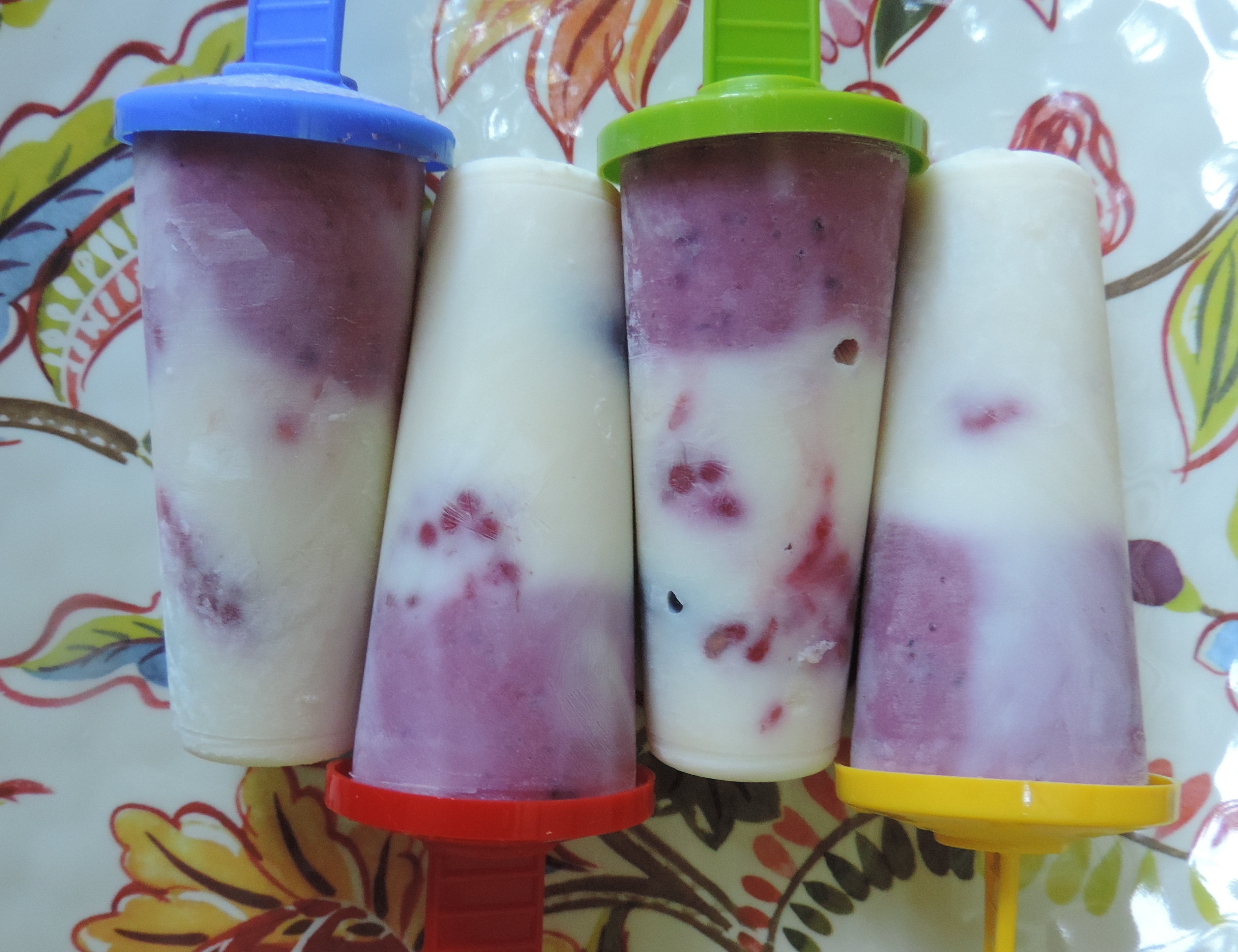 Beat the Heat with These (Healthy) Icy Treats
As the summer sun heats up, nothing sounds better than an ice-cold popsicle. Oftentimes, ice pops are loaded with sugar or artificial sweeteners. Here are five guilt-free treats that are easy to make, will help you cool down, and are perfect for kids and adults alike!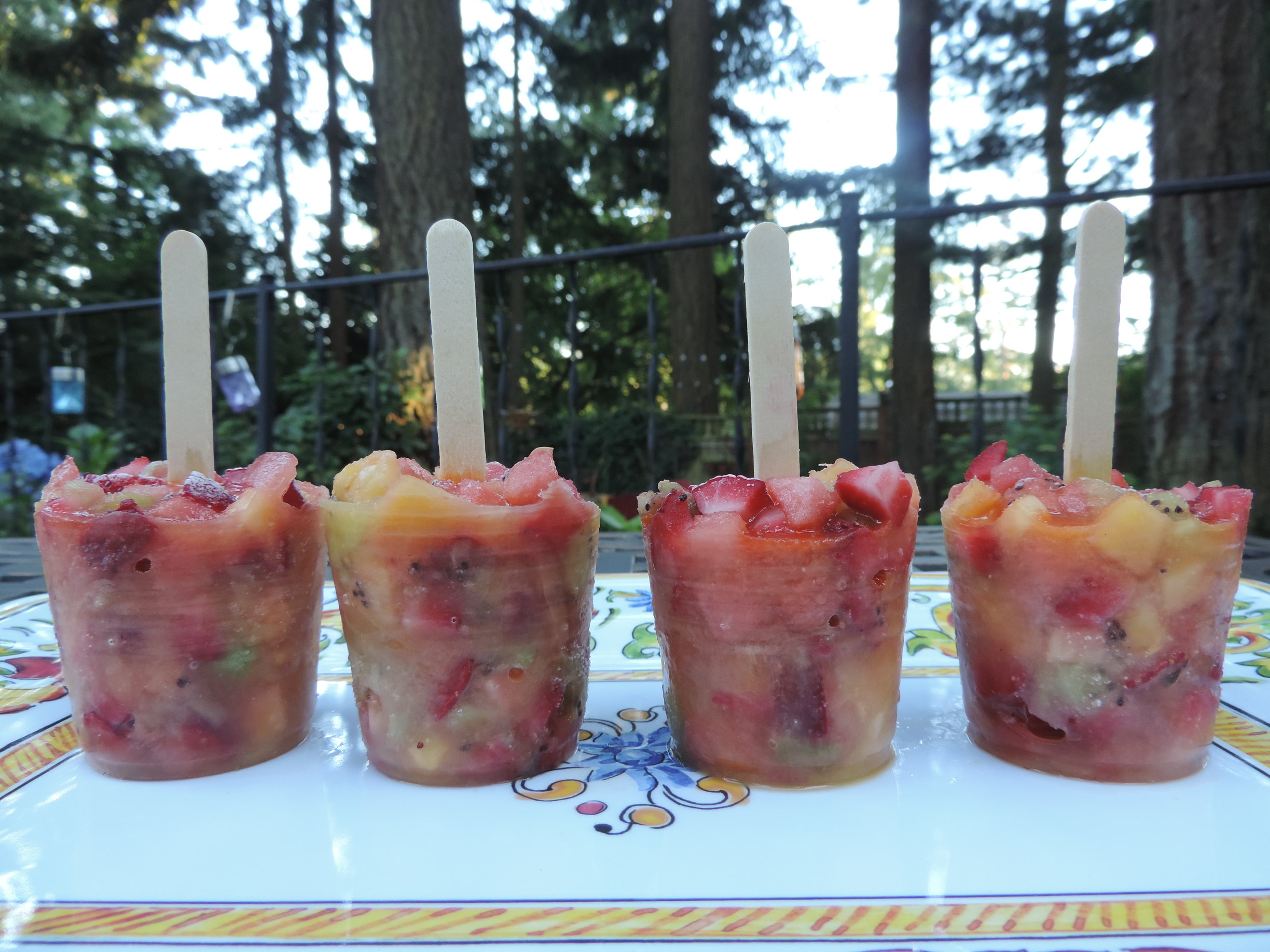 Frozen Fruit Pops
Lots of fruit loaded into these!
You'll need ice pop molds or 5 oz. disposable cups and craft sticks. Makes 4.
Ingredients:
1/3 cup diced kiwi
1/3 cup diced watermelon
1/3 cup diced strawberries
1/3 cup diced pineapple
1/2 cup fresh pineapple juice or orange juice
Directions:
1. Combine diced fruit in a bowl and fill each 5 oz. cup with fruit.
2. Add 2 tablespoons of juice and insert craft sticks into each cup. They easily stay in place because of all the fruit.
3. Place in the freezer a few hours until firm.
4. To remove the pops from the cups, run under warm water a few seconds.
Calories (for 1 pop): 32
Strawberry, Hibiscus, and Watermelon Ice Pops
Did you know that dried hibiscus flowers are packed with antioxidants and vitamin C?
Hint: you can find hibiscus flowers at Whole Foods and other specialty retailers. You'll need an ice pop mold. Makes 12.
Ingredients:
4 tablespoons dried hibiscus flowers
1 cup water
3 tablespoons maple syrup
1 cup strawberries, hulled
2 cups watermelon, roughly chopped
pinch of sea salt
Directions:
1. Put the hibiscus flowers and water in a saucepan and bring to the boil. Remove the pan from heat and leave for about 30 minutes so the flowers can flavor the water. Strain and chill.
2. Place the chilled hibiscus water with the other ingredients in a blender and blend until smooth.
3. Pour the mix into ice pop molds and freeze for at least 4 hours.
Calories (for 1 pop): 25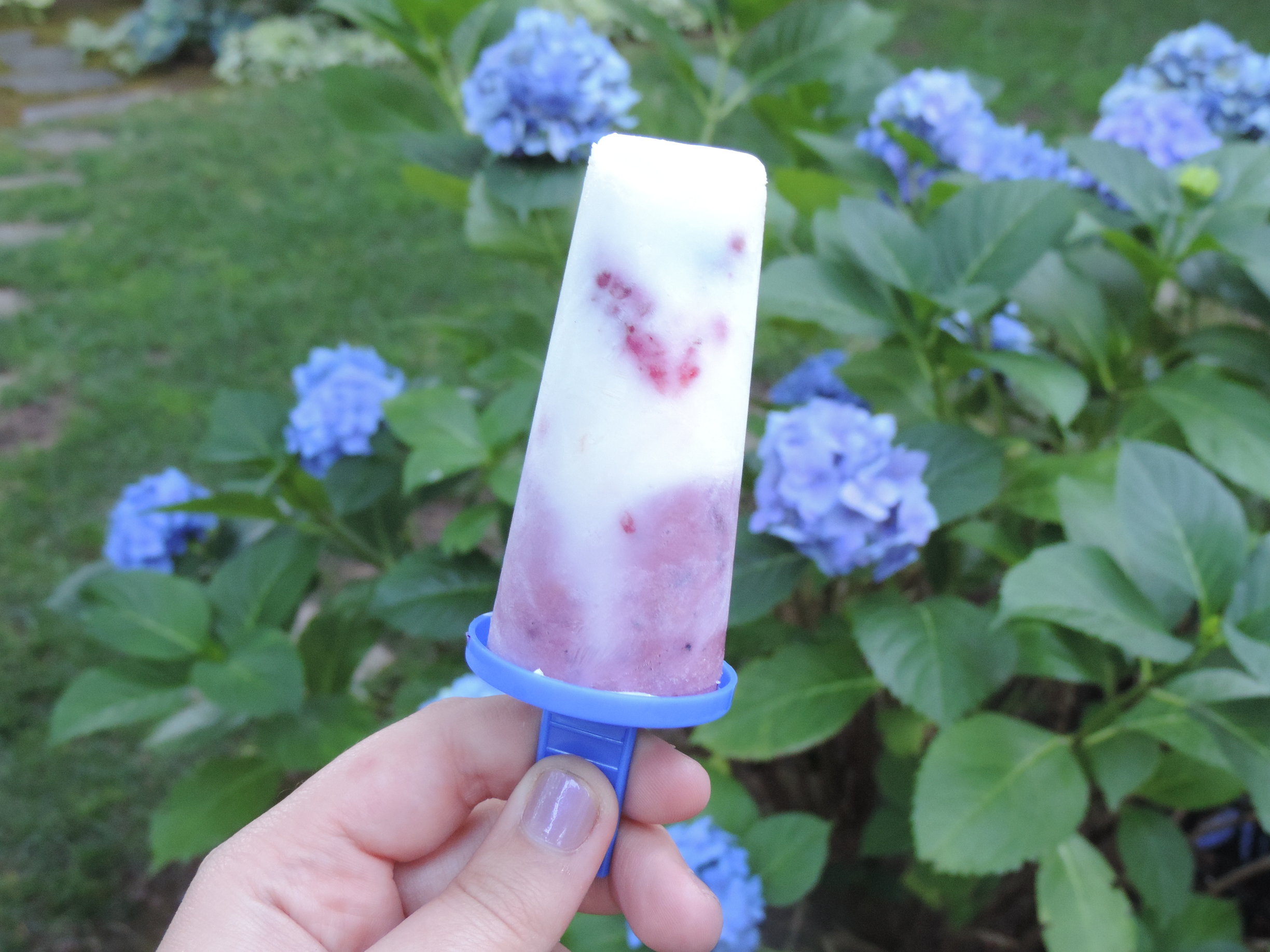 Greek Berry Pops
A little bit tart and very high in protein!
You'll need an ice pop mold. Makes 10.
Ingredients:
2 cups nonfat plain Greek yogurt
3 tablespoons honey
1 teaspoon vanilla extract
1/2 blueberries
1/2 raspberries
Directions:
1. Mix the Greek yogurt, honey, and vanilla extract until well blended.
2. Add half of the mixture to the ice pop molds.
3. Add a few whole berries in each mold and push to the bottom of the mold with a toothpick.
4. Freeze the pops for about 15 minutes just to harden them up a bit.
5. Meanwhile, in a blender, puree the remaining Greek yogurt and berries.
6. Add the mix to the ice pop molds and freeze at least 3 – 4 hours.
Calories (for 1 pop): about 53
Banana-Chocolate Fudge Pops
Delicious and vegan (and almost too easy to make)!
You'll need small disposable cups and craft sticks. Makes 12.
Ingredients:
6 frozen bananas
3/4 cup cocoa powder
Directions:
1. In a high-speed blender or food processor, cream frozen bananas and cocoa powder until you achieve a thick, smooth ice cream.
2. Poor into cups.
3. Place craft stick in the center of each cup, leaving about an inch to the bottom.
4. Place in freezer for several hours or until firm.
5. When pops are ready to eat, simply cut and rip the cup.
*For peanut butter lovers (and to add a little protein): Once the cup is about an inch full, add a small dollop of peanut butter. Continue to fill the cup with the banana mixture.
Calories (for 1 pop): about 72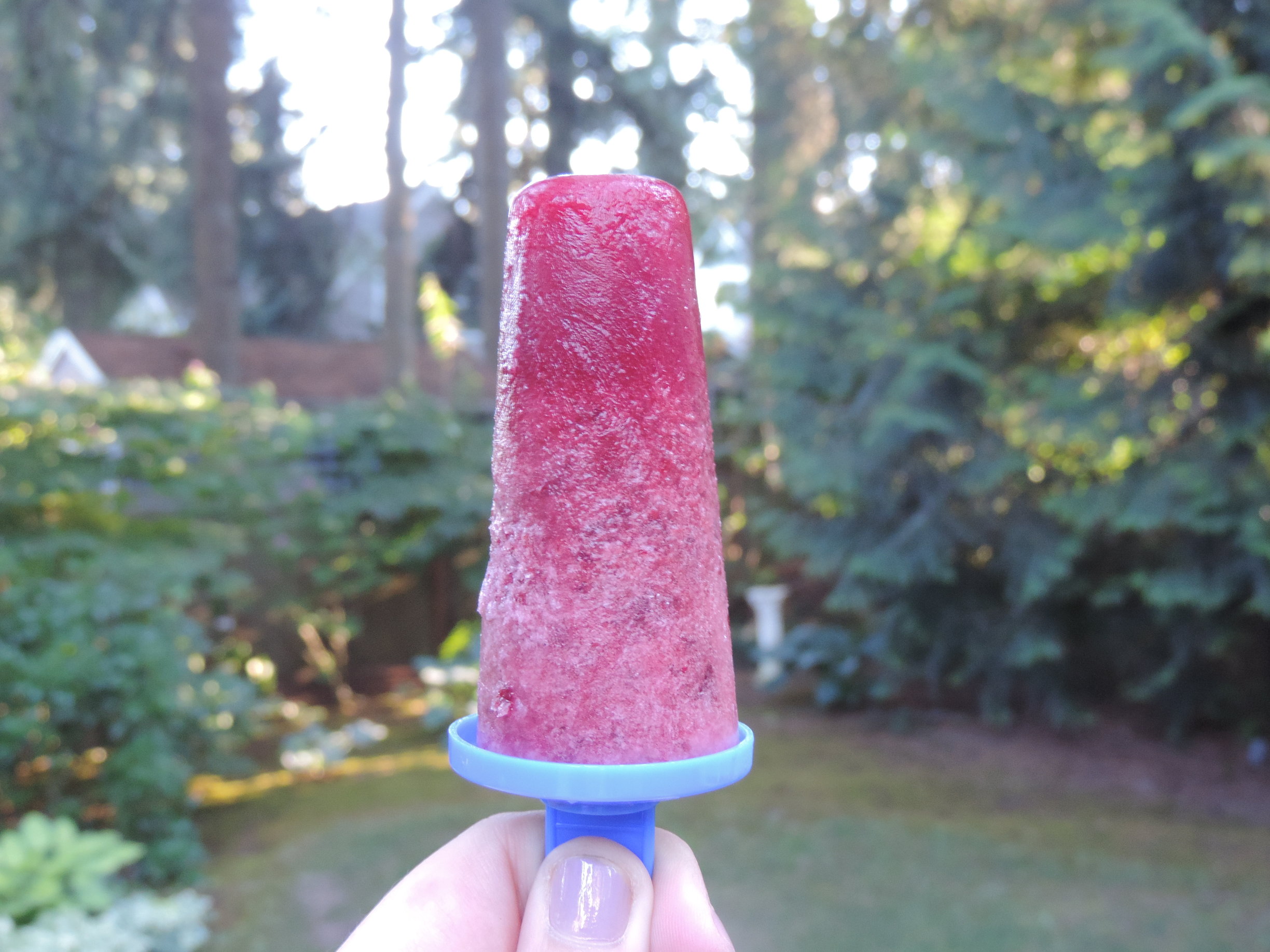 Cherry Lime Pops
Sweet and sour (and high in vitamins A & C)!
You'll need an ice pop mold or small disposable cups. Makes 6.
Ingredients:
1 cup water
1/4 cup honey
2 cups cherries
1/3 cup lime juice
Directions:
1. In a sauce pan, combine the water and honey. Heat on medium-high while stirring until most of the honey has disintegrated. Some foam might occur. Stir and set aside.
2. Pit the cherries and juice the lime. Combine in a food processor.
3. Add water and honey mixture. Process until smooth and almost no cherry pieces remain.
4. Pour into cup or a popsicle mold and add wooden sticks. Freeze for at least 6 hours or overnight. Carefully remove from molds using hot water along the outside. Enjoy or store in freezer.
Calories (for 1 pop): 63
Bonus: Sparkling Strawberry Pops
Not quite as guilt-free as the others, but still a delicious treat with a little kick.
These pops call for sparkling wine, but substituting sparkling white grape juice will make it kid friendly.
You'll need an ice pop mold. Makes 8.
Ingredients:
3/4 cup sugar
1/4 cup water
6 cups sliced fresh strawberries (2 lbs.)
2 tablespoons fresh lemon juice
2 teaspoons agave nectar
1 ¼ cups chilled Champagne or sparkling wine
Directions:
1. Combine sugar and water in a microwave-safe bowl; microwave on high for 3 minutes or until boiling. Stir until sugar dissolves, then cool.
2. Combine strawberries, lemon juice, and agave nectar in a food processor; process until smooth.
3. Combine the sugar water, strawberry mixture, and wine (or grape juice).
4.  Divide mixture among ice pop molds. Freeze 4 hours or until thoroughly frozen.
Calories (for 1 pop): 146
Do you have a popsicle recipe of your own you want to share? Post about it on our private Eating Well Facebook page or let us know in the comments below. We'd love to hear how you stay cool and healthy during the summer months!