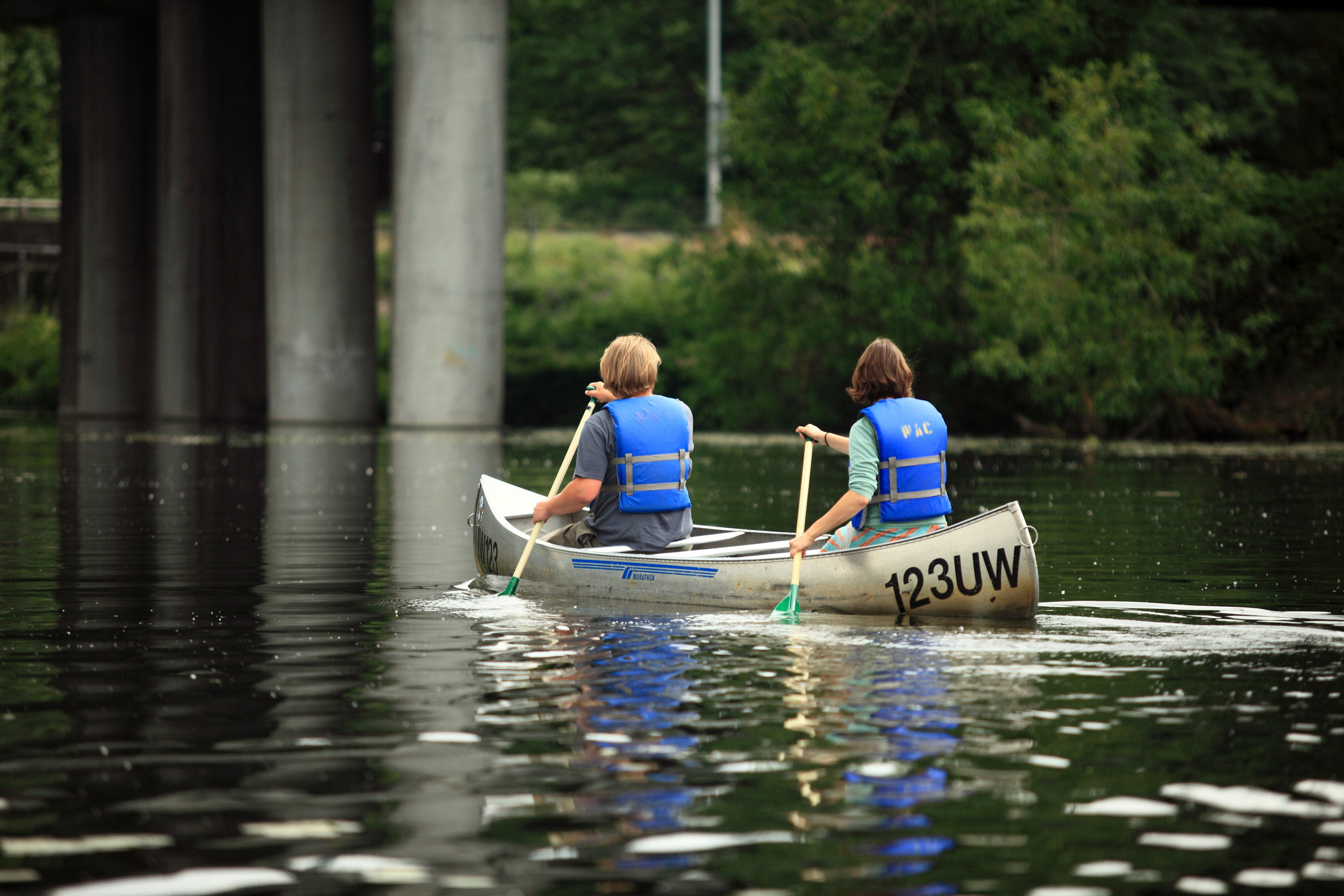 We now have 220 discounts for UW faculty and staff! Click on the categories hyperlinked below to find these deals for making the most out of summer.
Let's get outside and enjoy these long days! Showing your Husky card or badge gets you 22% off canoe and rowboat rentals at the WAC and the golf range at the IMA. Wildwater River Guides also offers 10% off any white water rafting trip or stand up paddling session.
If you're a cyclist, you have lots of options. There are a variety of discounts at Bike Works in Columbia City, BikeSport in Ballard, and Recycled Cycles in Freemont and the U District.
Love to swim? AquaGear Swim Shop gives 10% off online orders for swimming, water workouts, and snorkeling gear.
Maybe all this sun makes you feel like dancing? Dance For Joy offers 25% off instruction in waltz, swing, and zydeco. If you want to give it a try, they are also part of Dancing Til Dusk, a series of free dances in local parks. They are happening all summer in Westlake Park, Occidental Park, Freeway Park, and Bell Street Park.
If you're looking for a real challenge, the Spartan Race is coming to Washougal on Saturday, August 8. It's a three to five mile obstacle course about four hours south of Seattle. They are offering 20% off!
Taste the best of Washington state wines on Friday, July 24 on a rooftop park in downtown Seattle. Tickets for Red, White, & Brew are 10% off!
If you're a fan of lacrosse, you won't want to miss the Arena Lacrosse League at Xfinity Arena as part of their 11-city showcase tour. This weeklong lacrosse event takes place July 20-25.
Want to get away for a weekend? Check out discounted deals at Great Wolf Lodge in Grand Mound or Lazy River Vineyard in Yamhill Oregon. Or you could beat the heat at Wild Waves in Tacoma.
If you'll be in southern California you can enjoy 30% off LEGOLAND California Resort Hopper Tickets and get your second day free!
If you can't get away, you could take staycation at Little Red Day Spa, a couples retreat in Georgetown. They're offering 10% off all services.
If your car is in need of servicing or detailing, check out Eco Car Café for 15% of services or $99 for a custom package. They were founded by a UW alum and use eco-friendly methods. Pro tip: they are located inside parking garages at Northgate Mall and Bellevue Place so you can shop while you wait.
Do your trees need some love this summer? Elite Tree Care can take care of all of your needs for 20% off.
Huarachitos Cocina Mexicana in Rainier Valley offers an authentic taste of Latin America by combining a fun atmosphere and the best ingredients. Enjoy good food with family and friends with 10% off.
There is nothing more refreshing than fresh-squeezed juices and smoothies on a hot summer day. Jujubeet is offering 10% off their artisan foods and drinks in Bellevue.
Enjoy the spectacular view and outstanding food at Maggie Bluffs in Magnolia! Take your seat on the patio overlooking the ocean while enjoying seafood and 10% off.
If you're looking for award-winning clam chowder, look no further than Pike Place Chowder (and take 10% off your meal!). It's world-famous for a reason!
Great food and great prices – what more could you ask for? Take advantage with $1.00 off at Ballard Brothers Seafood and Burgers!
These are just some of our most summer-friendly discounts. Check out all the discounts or follow us on Twitter to see when new ones are added.