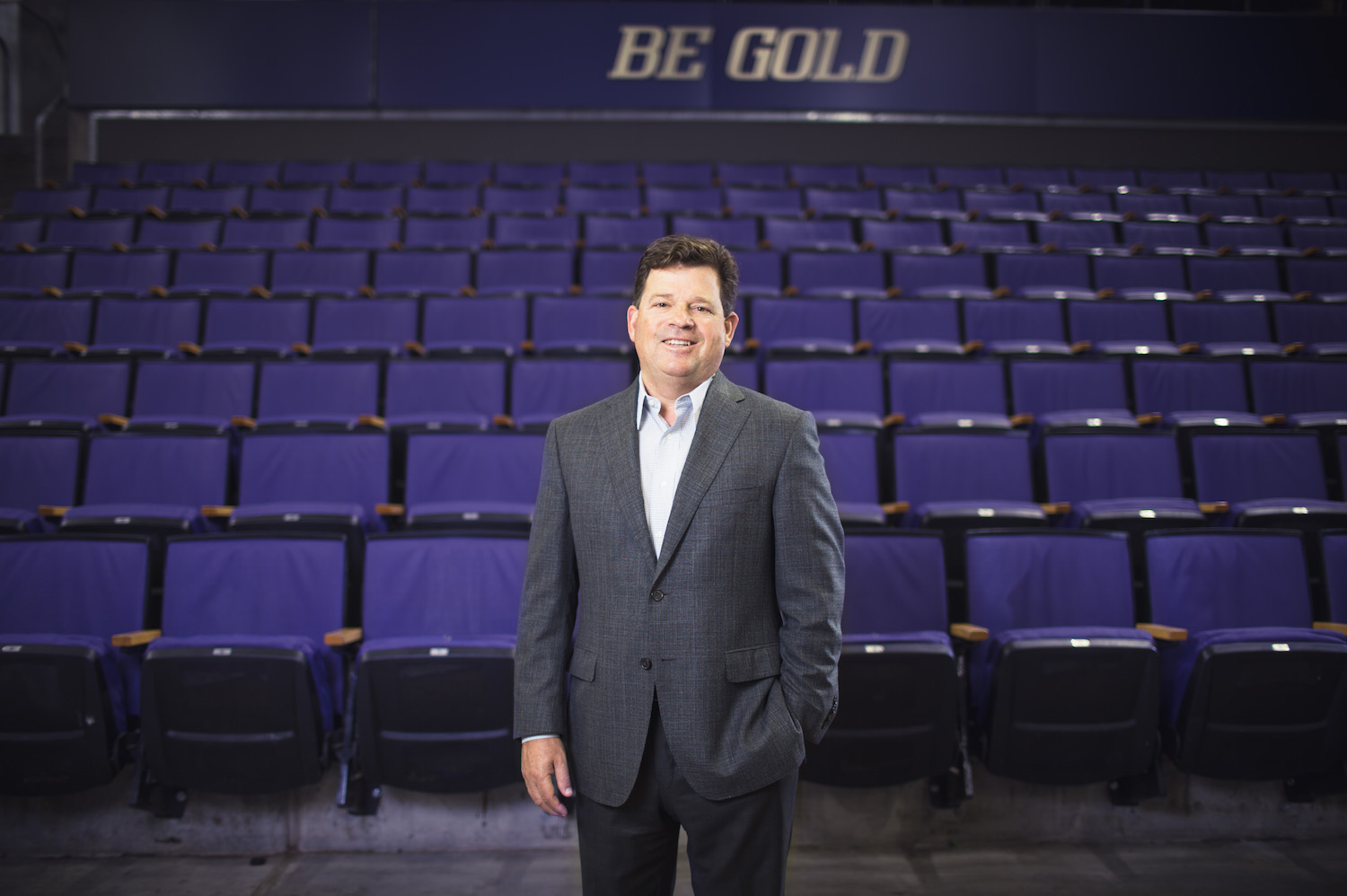 Talking Fitness with UW Athletic Director Scott Woodward
With The Whole U Summer Fitness Challenge launching in June, we thought it was the perfect time to interview UW Athletic Director Scott Woodward about what health and fitness means to him. He has been an innovative leader in sports, higher education and government for more than 25 years.
The UW's athletic programs have flourished under Scott's leadership, capturing four national championships and multiple Pac-10 and Pac-12 titles. Husky Football returned to bowl game play in 2010 for the first time since 2001, and the men's basketball program won the Pac-10 Conference Tournament Championship and reached the NCAA's Sweet Sixteen in 2010. UW also ranks second in the Pac-12 in student-athlete graduation rates.
What do you love most about working at The University of Washington?
Scott Woodward: The students. Our student-athletes are inspiring. Their commitment, dedication, and passion for learning and competing is truly amazing. The fact that I get to come to work each day and be involved with them makes me one of the luckiest guys alive. Being able to play a role in their development as young men and women makes this not a job, but a true pleasure.
Describe the UW coaches in a few sentences.
SW: I am incredibly fortunate to work with some of the most talented coaches in the country. They are the best at what they do, and they do it with integrity. They care about the whole student-athlete experience – not just the wins and losses on the field. The staff in our department is also top-notch. From senior administrators to interns, everyone in athletics loves being here and is fully committed to providing opportunities for our student-athletes and our fans to enjoy.
The Whole U focuses on opportunities for faculty and staff around eating well, being active, volunteering, staying healthy, and life changes and events. How do you personally lead a healthy lifestyle?
SW: I am committed to exercising four to five days per week, and try (not always successfully) to get adequate sleep. I am careful about my diet and stay away from empty calories and starchy carbs. I do love to cook, so I enjoy creating healthy farm-to-table meals.
Define the word 'fit' in your own words.
SW: For me, being fit is about lifestyle. It is about strengthening your body, and adopting healthy lifestyle habits, but it is also about stimulating yourself intellectually. Whether it is delving into a good book, listening to music, or engaging in conversation, fitness is just as much about achieving a healthy state of mind as it is a healthy body.
Why is health important to you?
SW: I had a wake-up call in my late 30s in the form of a cardiac event that forced me to make changes to my lifestyle. It made me aware that good health is a gift, and it is something that has to be nurtured and preserved –not taken for granted.
The Whole U is launching an eight-week Summer Fitness Challenge for UW faculty and staff. What advice would you give participants to stay motivated?
SW: Motivation has to come from within you. It has to be a belief that your fitness and health are important to YOU and not to anyone else. Success is also linked to establishing habits — and a "habit" does not happen by doing something once or twice. Establishing patterns and practices that are healthy, seeing success from those habits — this all results in the additional motivation needed to keep going.
Chris Kirchoff will be our coach at our celebration workout for everyone who successfully completes the challenge. You have been one of her clients. How would you describe her as a coach?
SW: Chris is a wonderful personal trainer. She teaches the whole body/mind connection and has been an integral part of keeping me on track with training sessions. Her knowledge of nutrition and how that impacts our physical goals makes her stand apart from most other people in her field. We are lucky to have her!
Thank you to Scott Woodward for sharing some personal insight into fitness, and for supporting wellness at the University in general. UW Athletics has consistently sponsored Whole U events to create opportunities open to all faculty and staff.
Ready to create some healthy habits and have fun doing it? The Summer Fitness Challenge goes from June 29 to August 29. The first 1,000 to register will receive a Whole U exercise band. You'll get free passes to local gyms, extra bonuses from discount partners, and invites to fun picnics and workouts. The Whole U also has a private Being Active Facebook group where participants can support each other. Register now!