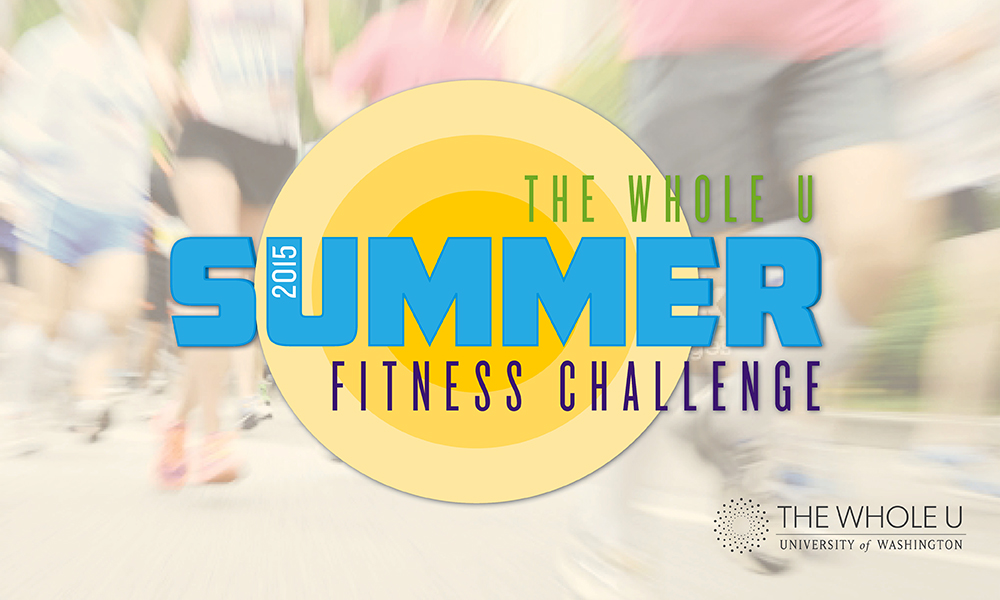 Summer Fitness Challenge – It's Time for Some Fun!
The sun is out and the days are gloriously long. If you're like me, it makes you want to move more and spend as much time outside as possible. Let's make the most of summer together! Register for the Summer Fitness Challenge, an eight-week checklist for making sure we squeeze every moment out of the longer days. By registering, you'll have access to free passes to local gyms, walking tours, picnics, group challenges, and workouts on the Bothell, Seattle, Tacoma, and Harborview campuses. We'll also send a weekly email with tips on produce that is in season and ideas for new adventures.
The Summer Challenge Checklist includes these five items:
Set a SMART goal for yourself (specific, measurable, attainable, relevant, time-bound)
Try 2 Whole U opportunities (i.e. virtual training, local fitness facility, seminar, small activity or event)
Exercise five times a week for at least 30 minutes. Exercise for the full half-hour or break it up throughout the day into three 10-minute or two 15-minute intervals.
Get in the daily recommended servings of fruits and vegetables (fill half the plate) for any meal at least once a week
Take the stairs instead of the elevator whenever possible
Everyone who completes the challenge will win a celebration workout with celebrity trainer Chris Kirchoff, who trains UW's own Athletic Director Scott Woodard. You can do the challenge on your own, but I encourage you to go for it with a partner or team. It will be more fun, and that's really what it's all about. Take it from a few of your colleagues who took on the challenge last year:
Walking at lunch with my teammates helped keep me motivated, just in general, to get more movement during my work day, and because I was staying more active, I was able to stick to a schedule of 3 runs per week (after work and on weekends) for the whole summer.  I just ran my first 10 mile run last weekend, and it felt great! 

-Christine Fry (Van Loan), Human Resources Specialist, Housing & Food Services

There is a medley of small victories that I can attribute to the fitness challenge [including] greater camaraderie and respect for each other amongst my teammates

-Liz Beigle-Bryant, Program Coordinator, UW Medicine

So many times I have let my friendships be all about fun and saved the strenuous exercising as "me" time but I learned this summer that it is so much more fun to combine the two. Also I feel that I got so much closer to my colleagues so I am very thankful for this experience!

-Dianne Won, Conference Coordinator, Housing & Food Services
If you want to do the challenge with a colleague, simply commit to each other and sign up individually. To do the challenge with a spouse or family member, add them as a guest in your registration.
Last year's Summer Challenge brought out over 400 participants and 100 teams. Teams tried paddle boarding, canoeing, kayaking, barre classes, and hiking, and also took advantage of the free fitness passes. We also launched our private Be Active Facebook page where participants could seek social support. Members of this group have continued to support one another for the entire year.
So, we encourage you to either join again or try this fun Whole U challenge for the first time. We invite all genders, ages, and fitness levels! Register now! Summer is more fun together.