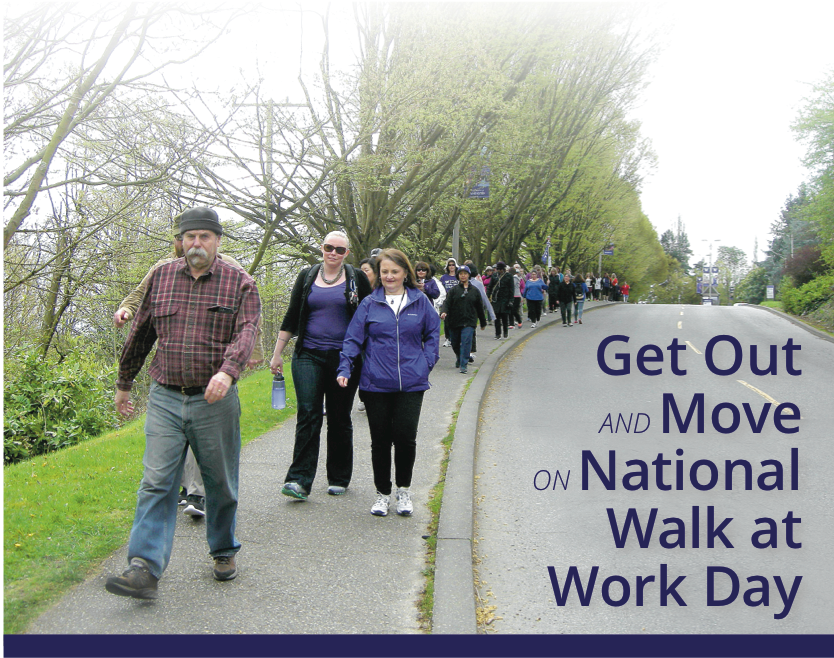 National Walk at Work Day
The UW is celebrating National Walk at Work Day with four walks lead by campus experts on April 3. Take a 45-minute break to enjoy the simple pleasure of walking while learning something new. Walk on your own, walk with your team, or walk with The Whole U at noon at the locations below:
Harborview: Learn how to walk more efficiently with the Chi Walk-Run approach led by Laura Houston, UW's own Chi Walk Run Master. This approach will have you waving goodbye to shin splits, sore muscles, hamstring pulls, and bad knees. Meet in front of the Research and Training Building.
UW Bothell: Join Grounds Supervisor Tyson Kemper and learn about campus history, native flora and fauna, and organic land care practices during the walk. Meet at the bronze W on the promenade.
UW Seattle: Take a walk with UW Sustainability and discover UW's environmental efforts from the latest LEED buildings to owl boxes and much, much more. Meet at the north side of Drumheller Fountain.
UW Tacoma: Take a stroll across campus with Tim Bostelle from the Library.  The group will meet on the Prairie Line Trail just below Metro Coffee and walk to the four corners of the campus for some breathtaking sights.
Special thanks to all of our tour leaders:
Laura Houston is a research scientist in the Department of Pediatrics, School of Medicine. She has assisted Danny Dreyer, the founder of Chi Running, in many workshops around the U.S. and Canada. In 2013, she was awarded the status of Master Instructor, enabling her to train instructor candidates to become certified Chi Running and Chi Walking Instructors. She enjoys helping others find the ease of movement that Chi Running and Chi Walking has brought her.
Tyson Kemper, UW alum and grounds supervisor, practices restorative and sustainable landscape gardening at the shared campus of University of Washington Bothell and Cascadia College. He came of age in the garden as he worked for his father's small landscape business. Later he earned a degree in Botany from the University of Washington and a master's degree in Forest Resources from the University of Idaho. This education provided Tyson opportunities to wander, observe, and learn from the wild spaces of the Pacific Northwest while working as an environmental consultant and a rare plant botanist for the Washington Natural Heritage Program. Tyson has since come full circle and found his place beside the buttercups in the garden.
UW Sustainability coordinates and promotes sustainability information and programs at the University of Washington by engaging, educating, and involving students, faculty, and staff in activities across the university.
Tim Bostelle is the Head of Library Information Technology and part of the UW Tacoma walking group.