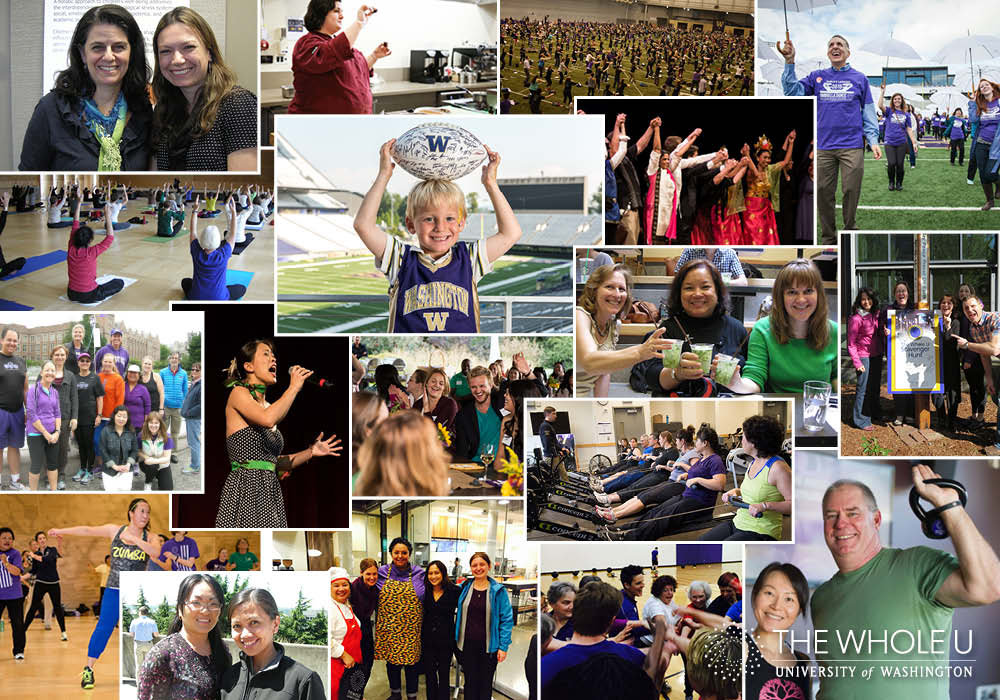 You've swung a kettlebell, done the wave with an umbrella, and smiled for the camera. From the spotlight of Ovations to the commitment required for the Summer of FUNction Challenge, UW faculty and staff have brought The Whole U to life by putting themselves out there and trying something new. After every event, the feedback was resounding: KEEP GOING! We've continued to increase the number and variety of events, and this Thursday, March 12 marks the 100th Whole U event since the program launched in January 2014.
It's hard to believe we've already reached our 100th event, but take a look at our top 10 events and you'll start to remember how much has happened in the last 14 months. Thank you to our Ambassadors for promoting, attending, and volunteering to make it possible. The events with an asterisk next to the number of participants were held on all three campuses.
World's Largest Umbrella Dance – 1750*
Guinness World Record Kettlebell Workout – 1465*
Free Photo Day – 1294
Ovations – 922
Scavenger Hunt – 750*
Kettlebell Workout Handbook – 736*
21-Day Yoga Challenge – 700*
Whole U Section at Husky Athletic Events – 675
Summer of FUNction Challenge – 398*
Harborview Stair Challenge – 350
Our 100th event is an introduction to mountain climbing with Tristan Vellema from the School of Medicine. It's perfect because it celebrates being active, trying new things, and the hidden interests of our colleagues. Tristan has summited hundreds of peaks in the Cascades including Mt. Rainier and Mt. Baker. He also skied from the summit of both Mt. Adams and Mt. St. Helens. Bring your questions and be inspired! Sign up now.
What's next? Check out our event calendar for more events in March and April. For May and beyond, we're using the results of the community interest survey to make sure the next 100 events meet the needs of UW faculty and staff. Got other ideas or leads for us? Let us know in the comments below!