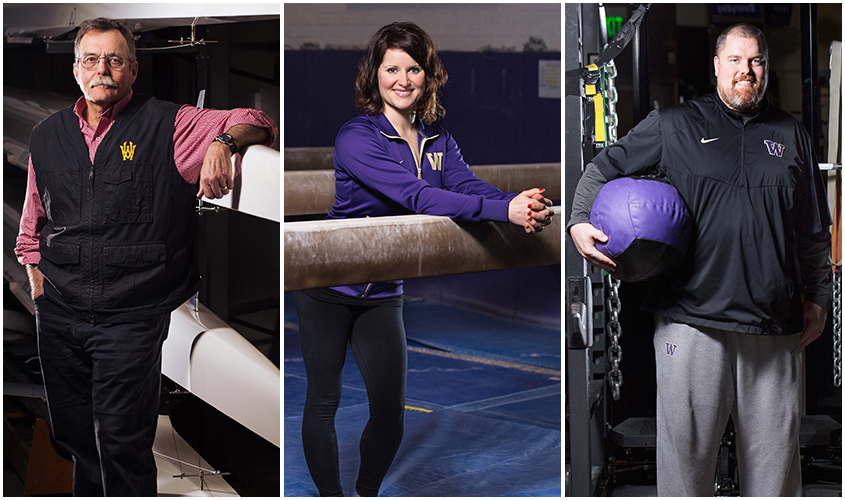 Dare to Do: Meet the Coaches
At the beginning of January, we issued a New Year's fitness challenge to UW staff and faculty. Dare to Do in 2015, a six-week program, encourages you to track your workouts by logging weight loss, steps taken, and/or minutes exercised. In addition to newsletters, weekly articles, and prizes, we've organized Dare to Do training sessions with coaches from UW's athletic programs throughout February. This week we're introducing you to three of the accomplished coaches and picking their brains about how to stay motivated.
Bob Ernst
Director of Rowing/Women's Rowing Head Coach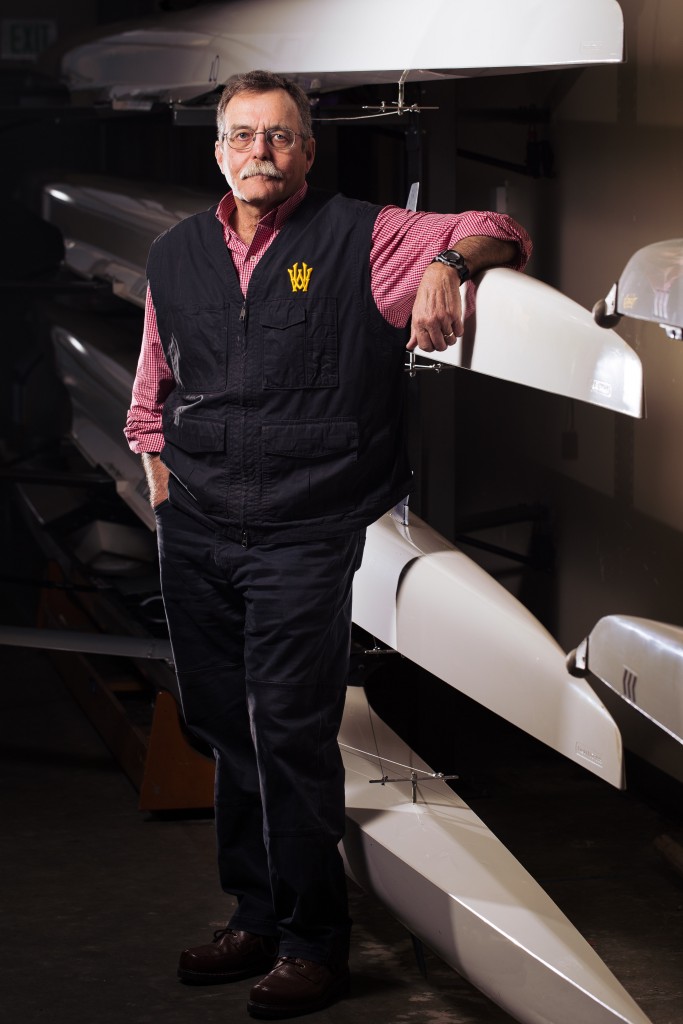 Bob Ernst has coached rowing at UW for over four decades. In that time, the Husky crew team has become the most successful sports team in the state's history. Ernst has coached future Olympians at UW and has also picked up a gold medal of his own at the 1984 Olympics in Los Angeles. Now 69 years old, Ernst says he's exercised at lunchtime almost every single day of his storied UW career.
What fitness advice do you have for people who are not athletes?
One of the things that's interesting about rowing at the University of Washington is that we have lots of walk-ons, people who haven't ever tried rowing ever before. It's been the backbone of our time for years and years. We seek out people who might be interested in trying something new. My job is to find people who are good students and are also very passionate. They have to be willing to work very, very hard to be the best rowers they can be.
How do you define success in your personal fitness life?
I think being fit is a lifestyle. I like feeling good when I wake up in the morning. I train every single day at lunchtime when I'm at work, unless something off the charts comes up. The people I work with will tell you that I get a little cranky if I don't get my workout in. It helps center my day, and my physiology.
Why is it important to push yourself physically?
I'd rather think of it as keeping yourself entertained, because clearly you're not going to feel like pushing yourself every single day. There needs to be minimum standards for gratification. The hardest thing for people when they're thinking about a fitness program is making the time to do it. Fitness can be found in jogging at lunchtime, a pickup basketball game at lunchtime, swimming laps in the pool. Make it a preference rather than a drudgery.
Bob's workout session will be February 3 at the Conibear Shellhouse.
Elise Ray
Assistant Coach – Gymnastics
Elise Ray is a proven winner on the gymnastics matt. She has a Bronze medal from the 2000 Olympics and also won that year's USA Gymnastics National Championships. After a decade of freelance gymnastics work, she joined the UW Gymnastics coaching staff in 2011.
Are there any lessons from Olympic training that apply to daily fitness?
I think the underlying thing is passion. I've always been passionate about gymnastics, and that was my underlying passion through all of that. Fitness is a passion for health. Whether your goals are weight less or not, there's a general goal for health. So if you have a passion for living a healthy lifestyle, that's going to motivate you to exercise, eat well, etc.
There are no judges and no medals to win in everyday life. How should we gauge success in our personal fitness?
I think it's based on how you feel. If the activities that you're doing and the way that you're eating is making you feel good, and you're energized through the day, and most importantly you feel good about your body — not even how you look, but how you feel inside-out. I think that's reaching fitness success.
Do you have any advice for staying focused on a fitness goal?
Consistency. Find either a type of activity that you like or a time of day that work for you, and stick to that. And then it becomes habit. And then when you don't do it, you miss it.
Is there one piece of advice that everybody could incorporate into their lives to improve their fitness?
Take baby steps. You have this big goal at the end of the tunnel, but how are you going to get there? You can't go from point A to point Z, there have to be all these little steps along the way. You have to have mini goals and mini successes along the journey, or else you'll just get burnt out and frustrated. But if you're hitting little successes along the way, it's extremely motivating. It keeps you going to the end of the path.
Elise's workout session will be February 14 at the Gymnastics Room in Alaska Airlines Arena.
Tim Socha
Strength & Conditioning Coach – Football

Tim Socha knows a thing or two about working out. He's been the head weightlifting coach for the football team since 2013, and before that he held the same position for eight years at Boise State, including during their historic undefeated season in 2006. Tim's own playing career included four years as an offensive lineman at the University of Minnesota.
Why is it important to lift weights in addition to other exercise?
Lifting weights is one of the greatest caloric burns you can do. The other thing is general strength and health over time: the stronger your muscles are around your bones, the stronger they are around your tendons, the healthier you're going to be long-term.
What advice do you have for people to stay motivated to go to the gym?
The biggest thing is how it makes you feel. There are a ton of days — I'm included, the other coaches are included — where you don't feel like working out. Then you just go, and you start moving, and at the end of it you're like, "Why would I ever think of not doing it? Because I feel so much better." Just start moving slow. All of a sudden the endorphins will kick in. We have a little saying around here, "If you're not feeling it, fake it." Because every day our guys go to practice, and they might not feel like they're 100%, but if they just start faking it, if they show up with energy, by the end of the workout they all want to be there.
How should you measure your personal fitness?
It goes back to goal-setting — and I hate going back to the same thing — but setting a realistic goal. If you're a person who has never done anything and then you say, "I want to run a marathon," make that realistic. Set goals along the way. That's how you measure success, those short-term goals. "Hey, I didn't feel like working out today, but I worked out today, so I was successful." Look at how you can win each workout, and win each day.
Tim's workout session will be February 11 at the football facility in Husky Stadium.
Sign up quickly for the opportunity to train with these inspiring coaches because spots are sure to go fast. And stay tuned for our next article with the rest of the Dare to Do coaches!