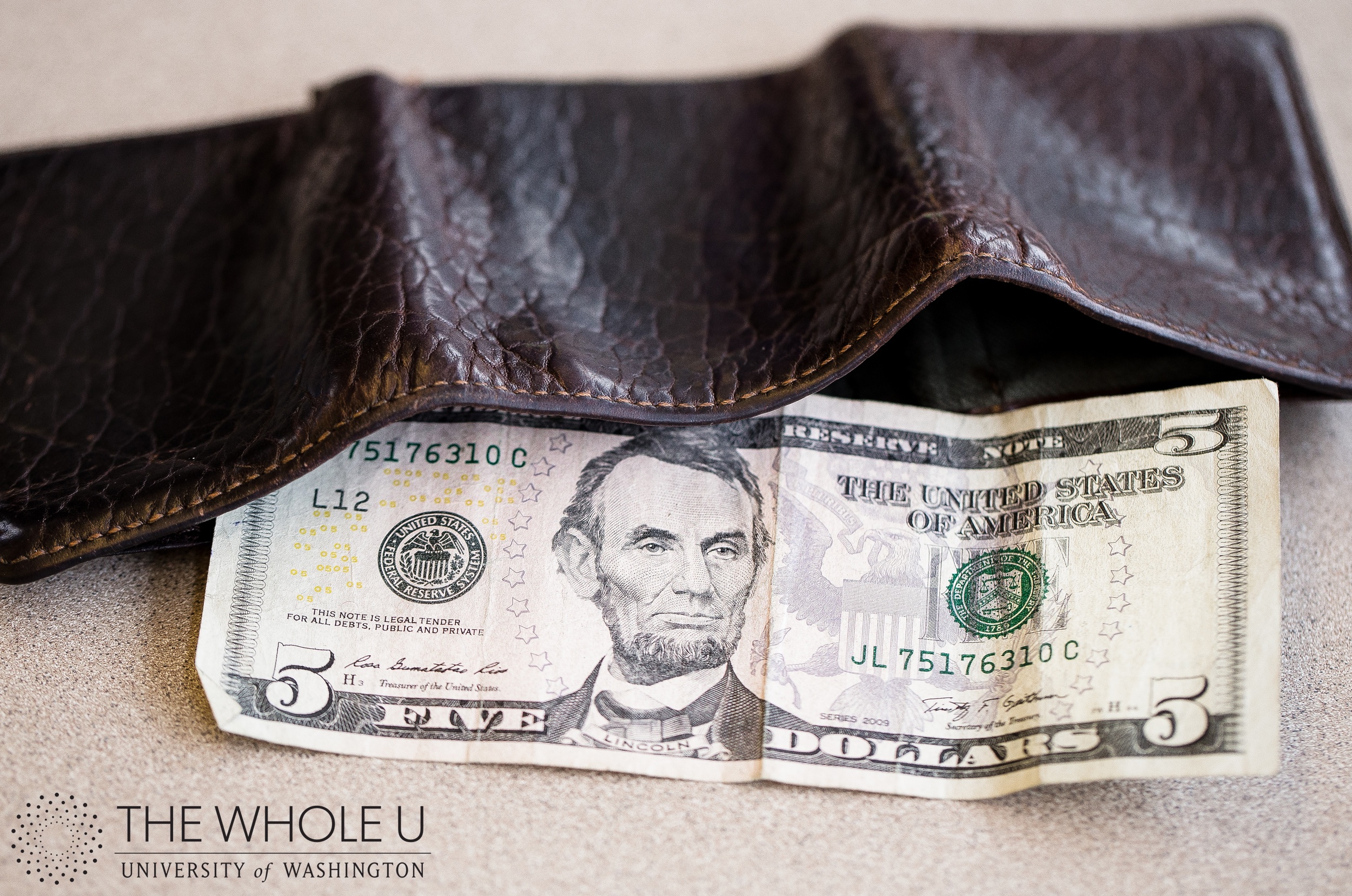 On The Ave: 5 Lunches for $5
The Ave is brimming with great places to grab glazed teriyaki, loaded burritos, and specialty sandwiches. But paying $7-10 for a meal can wear down your wallet. Since hefty prices are often due to big portion sizes, choosing smaller entrees can be good for both your budget and your diet.
I hit the Ave to find five lunches you can get for $5 or less — after tax.
1. Mini MOD Pizza
MOD Pizza
$4.89 after tax
It's hard to find better bang for your buck than the Mini MOD pizza. "We don't charge you for the toppings, we just charge you for the size of the pizza," said MOD pizza maker Ben. That means all the fixings you can handle. Choose a base sauce, some cheese, a protein, and a handful of veggies. Then, if you want, circle back and add more. Don't know where to start? Use the menu for inspiration. Ben suggests the Calexico (mozzarella, gorgonzola, chicken, jalapenos, red sauce, buffalo sauce) with added red peppers and bacon. You can also design a mini salad for the same price.
2. Burgers
Burger and Kabob Hut
$4.50-$5.00 after tax
Vegetarians and carnivores alike will delight in this diverse burger menu. Meat choices include beef and chicken; non-meat options are a veggie burger, eggplant burger, and mushroom burger. Hamburger and cheeseburgers are $4.50 and the others come out to be $5 flat. Fries and onion rings are extra, for better or worse. Cash is preferred.
3. Soup of the Day / Manager's Special
Cafe on the Ave
$3.83 / $4.38 after tax
If you're having lunch with a friend or just want to relax by yourself, you can't beat the vibes at Cafe on the Ave. Barista Jean suggested the 10 oz. Soup of the Day with bread, which is $4.38 after tax (the day I went the options were vegan lentil and tomato basil). If you're looking for something even lighter, the Manager's Special ($3.83) comes with drip coffee or tea and your choice of croissant, muffin, scone, bagel, or banana bread.
4. Mondito Burrito
Taco Del Mar
$5 or less after tax
I can't remember the last time I actually finished a regular-sized burrito. I always leave a few bites, and it can be difficult, if not impossible, to wrap up your leftovers. Taco Del Mar offers a modest Mondito Burrito that still packs a punch (think more a jab than a haymaker). A regular chicken burrito has 860 calories; the Mondito variation has only 460 and still delivers 21g of protein. Hearty vegetarian and vegan options are also available for under $5. You'll have to pay more for steak ($5.46).
5. Bun / Hombow
Mee Sum Pastry
$2-5 after tax
At Mee Sum Pastry, you can mix and match sweet buns and savory hombow: curry beef ($2.06), chicken ($2.75), coconut ($1.37), pineapple ($1.37), vegetable ($2.06), and BBQ pork ($2.06). Seattle Weekly has called them one of the city's defining dishes. It's usually hectic between 11 a.m. and 1 p.m., but there isn't much of a lunch rush during winter break.
$5 and some change:
Falafels at Aladdin Falafel Corner are $5.50 after tax. Bring cash, as there's a 50-cent charge for cards (my charge was waived because I agreed to buy the larger size, so I'm not exactly sure how that works). Also available at Aladdin Gyro-cery & Deli.
Best of Bento has $5 lunchtime deals including udon and pork katsu.
Stop by Sureshot Espresso for a sweet snack. "We have a ginormous strawberry shortcake for $5.12 after tax," said manager Kara. Or try a tall coffee and a vegan scone for $5.50 (every Monday there's a free refill on drip). Sureshot has pinball, free Wi-Fi, and even computers with printers.
If you're in a rush and have access to a microwave, check out the frozen food aisle of Dollar Tree. It's not the healthiest selection, but you can get burritos, hot pockets, fish sticks, chicken sandwiches, and TV dinners — each for $1! I put this in the over-$5 section because if you set foot into Dollar Tree, you'll definitely spend more than you expected to coming in.
If you're worried these portions aren't filling enough, try supplementing them with a desk snack before or after lunch. And as for drinks: cold filtered water is available just about everywhere, so take a break from the cost and calories of soda!
Do you have a favorite cheap meal on the Ave? Share it with us below.