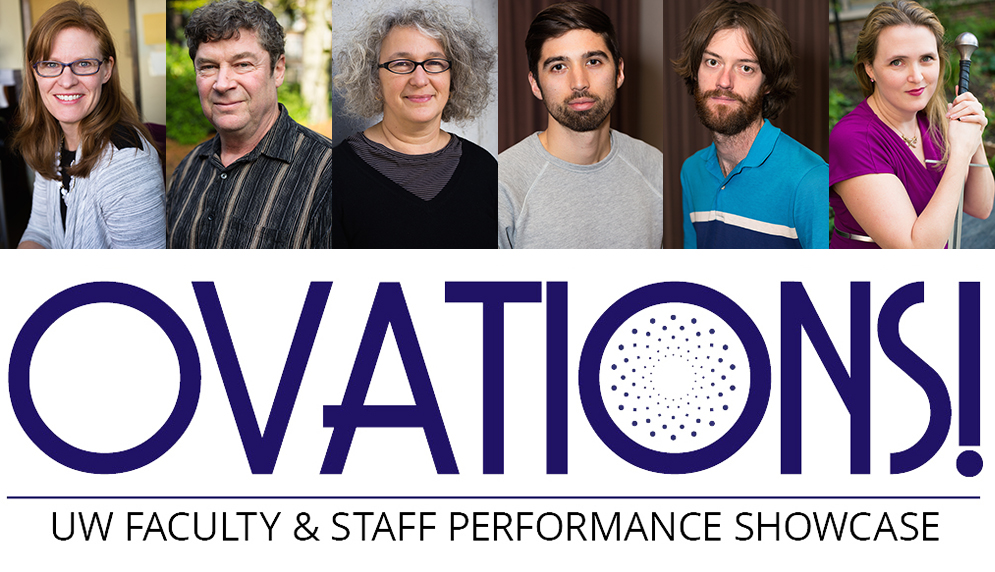 Your favorite TV shows might be taking a week off for Thanksgiving, but we're not! For the past two weeks, we've been introducing you to the marvelous talents of our Ovations cast. Today, the show goes on with a steel guitarist, a sword fighter, a pair of video producers and more. (Remember to register for Ovations here!)
Machelle Allman, Metal Bassist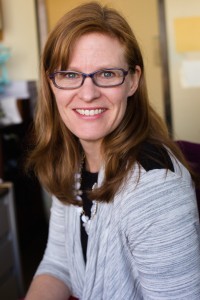 Position: Assistant Director, International Student Services
At UW since: 2008
Alma mater: St. Andrews University; University of Wyoming
Hometown: Asheville, North Carolina
Favorite band: Metallica
Favorite movie: Blues Brothers (1980)
Favorite place for lunch: Cultivate
What does your department do?
We advise the international students on their documents and their visas. I supervise all of the advisors.
How would you describe your talent?
I've been a performer for a long time: acting, singing, musical theater. In terms of being in rock bands, I've been doing that for two years. I'm a bassist and backup singer mostly. Keaton Whitten is our drummer — she went to UW law school — and Anne Hindman is our lead guitarist and vocalist.
What kind of music do you play?
It's metal, but a slow metal, so we're calling it doom metal. But it also has kind of a psychedelic kind of jam band sound to it.
Why metal?
Coming up through the 80s, I was listening to Metallica. A lot of my friends were into skateboarding. It's an aspect of life that you don't always get to express. And to be honest, as a female, to be able to get up there on stage and shred, it's another way of being very expressive that you don't necessarily get in your home or work life.
Why do you want to play in front of your coworkers?
I hope that by being up there I can show people you can do it. If you want to do something fun and exciting and express yourself, do it! Get together with your friends and shred, or make ceramics, or write poetry. There's not an age limit.
Hal Merrill, Steel Guitarist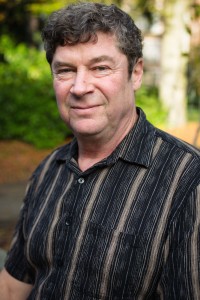 Position: Safety Professional, Environmental Healthy & Safety
At UW since: 1991
Alma mater: Eastern Michigan University
Hometown: Rochester, Michigan
Favorite musician: Charles Lloyd
Favorite movie: The Bridges of Madison County (1995)
Favorite place on campus: Denny Hall 
What does a Safety Professional do?
Routine inspections and safety surveys, mostly of laboratories. Fire code complaints, fire permits, and chemical safety.
What's the name of your band?
Hal Merrill Quartet. We play progressive jazz, original compositions. I've played at various venues. I've played at a place called Tula's in Seattle and a place called Olaf's in Ballard.
How long have you been playing the steel guitar?
I was always fascinated with it. I started at a very young age, at seven. I was inspired by a number of people, so I decided to pursue it in jazz. A steel guitar sits on legs, and the strings are raised up from the frets so that you use a steel bar to fret the strings, instead of pressing on them with your fingers.
Why are you doing Ovations?
I want to introduce the instrument and my music to more people. I see that as being an incredibly excellent opportunity. I'm very excited.
Nancy Gorbman, Recorder Player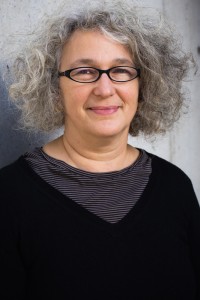 Position: Fiscal Specialist II, Suzzallo Library
At UW since: 1986
Alma mater: UW
Hometown: San Jose, California
Favorite musician: Matthias Maute
Last book read: The Known World
Favorite place on campus: Grieg Garden
What do you do in a typical workday?
I'm in the finance department, so I work on a variety of financial activities: reconciling, travel records, preparing financial statements for an endowment fund, and processing the incoming requests for reimbursements.
Have you always been at the library?
I started at Harborview Medical Center, in the Nursing Education department. I worked in the Alumni Association, the business school.
What are you doing at Ovations?
I'm a musician, and I'm going to be playing the recorder. I perform a lot of music from the 1600 and 1700s, the Baroque period.
How often do you practice?
Several times a week. Leading up to the performance I'll practice probably every night.
Taylor Hawkins & Nick Bolton, Video Producers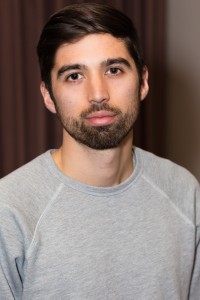 Position: Video Producer, Marketing & Communications
At UW since: 2014
Hometown: Lakewood, Washington
Favorite band: Radiohead
Favorite movie: Star Wars (1977)
Favorite place for lunch: Pho on The Ave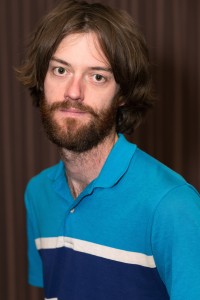 Position: Designer, Marketing & Communications
At UW since: 2012
Alma mater: University of Oklahoma
Hometown: Norman, Oklahoma
Favorite movie: Hal's Moving Castle (2004)
Favorite place for lunch: Thai Tom
What are your roles at UW?
Nick: I help the university's message reach a broad audience with graphics, photography, video — whatever is needed to help the university package their message.
Taylor: I tell stories about UW through video. Just capturing stories.
What is your Ovations video about?
Nick: Making a blackberry pie.
Taylor: I would say that's what it's about. I guess, underlying that obvious subject —
Nick: We'll let people make their own assumption about it!
Taylor: Okay, it's about making a blackberry pie.
You can't tell me anything else about the video?
Taylor: You could say that we wanted to make something that was unique to the Pacific Northwest, so that's why we thought about the blackberry pie. Going out to pick blackberries was something I did when I was younger.
What were your roles in the production?
Nick: Co-directors and producers. Taylor was behind the camera. It was submitted to a Vimeo Weekend Challenge. It ended up winning that. It's at around 300,000 views at this point.
Stacey Bush, Sword Fighting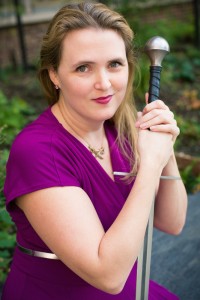 Position: Administrative Assistant, School of Medicine
At UW since: 2010
Alma mater: Whitman College
Hometown: Seattle, Washington
Favorite fight scene in a movie: The Hunted (2003)
Last book read: The Sparrow: A Novel
Favorite place on campus: Plaza Café
What do you do at UW?
I'm an admin to the Chief Financial Officer in the Dean's Office of the School of Medicine. I make people get to meetings on time.
What is your talent?
I do theatrical interpretations of historical swordplay. Our performances are small scenes with weapons of different styles. I've taken classes in unarmed rapier and dagger, broadsword, single sword, small sword, quarter sword, and knife. (Pause) And sword and shield.
How did you pick up this hobby?
I was a theater major. A couple years after I graduated a friend of mine saw an offer to take classes. I took a basic class with three weapons for a year and I got hooked.
Why did you sign up for Ovations?
It was kind of a dare from my coworkers.
Three weeks down, one to go! Check back next Friday for the final seven performer profiles.